Lupe Fiasco & Kanye West consistently jazz up their look by wearing glasses
Kanye is rockin' Tom Ford glasses above

Glasses. When you were little wearing them made you lame. People didn't like you, some even called you names. . . 4-eyes, goggles, etc. But now it's 2008. . . and the past few years have been slowly preparing us for this moment- GLASSES are HOT. The flyest dudes in the world rock glasses these days, and you might as well join the club. And the best thing about them is that they automatically make you look smart- boosting your IQ by atleast 50 points, lol. Glasses are absolutely a perfect addition to an Urban Gentleman's wardrobe.
Not every retail store carries clear glasses quite yet, but many do. There are several ways to get these glasses- check out the list below:
1. The Urban Gentleman Store
We have the latest styles are recession-friendly prices. We seriously have the best collection of all the latest trends in eyewear, clear glasses and sunglasses, at very low prices, check it all out here.
2. American Apparel
They always keep chic frames in stock. There online selection is okay, but the instore selection is much better.
3. Thrift Store
The thrift store carries the most unique frames, and more often that not, thrift store frames are the kind you see in pictures and movies. If you're from Atlanta- check out Little Five Points for these authentic frames- they have the best selection.
4. LensCrafters
If you want a huge selection of glasses and designer frames to choose from then LensCrafters is your spot. You can just buy the frames straight off the floor or get a prescription put in the lenses. LensCrafters also has coupons.
5. Drug Stores, Wal-Mart, or Target
Drug Store like CVS or Walgreens and places like Wal-Mart or Target carry reader glasses for really cheap prices. If the reader has a prescription in it then just pop the lenses out. This would be the best choice for someone who wants to test out the style.
6. Urban Outfitters
UO has a nice variety at their stores
7.
Shades
You can always just buy a pair of shades or use some old shades and pop the lenses out.
8. Online
Buying these glasses online are also pretty easy, and as always The Urban Gent store is your best friend. And don't be afraid to wear or buy glasses that are modeled by females- glasses are mostly uni-sex anyway.
Other online sites:
– ICUeyewear.com: Great styles for really great prices.
– Readingglasses.com: They have a great selection of reading glasses, including retro styles.
– Bleudame.com

Check Out these Specs
The Official RUN DMC glasses. If you want the authentic look, you should cop a pair of these bad boys.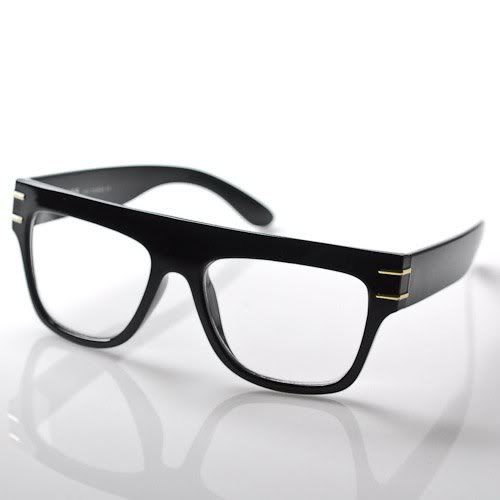 I loooooove these, they seriously add so much personality to any look. Get the "grandpa readers", here.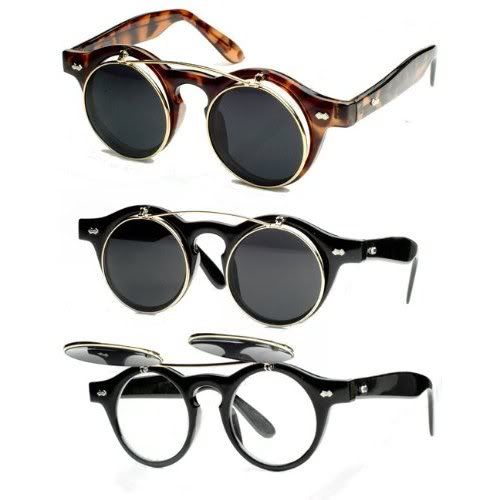 These vintage inspired clear glasses come in a variety of shades- black, pink, green, check them out here.
These guys are rockin glasses from American Apparel
---
4 Comments
---
Leave a Reply