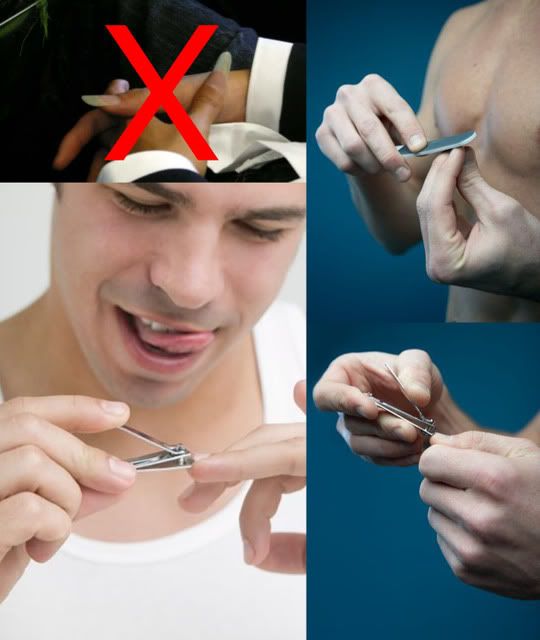 I am always shocked and amazed when I meet a guy with long nails. I ask myself, "Does he think that's sexy?" Because it's NOT- it's soooooo NOT sexy, not even a little. Then I'm even more shocked and appalled when I run into associates with long nails I'm like ,"Don't you read the Urban Gentleman… dude, you need to subscribe." Lol, but seriously meeting a man with unkempt nails is one of the most unattractive things ever! It automatically gives the impression that you weren't taught well and that you may be a dirty/messy person.
Gentleman, for the record, there are two things that even the most basic man must do outside of showering, washing his face, and brushing his teeth… he must:
1.) maintain his haircut /hairstyle
2.) cut his nails.
There is never an excuse to walk around with long nails- you can buy a pair of nail clippers anywhere for about 2 or 3 bucks. But each of you should own a manicure set of some type. If you don't have time to cut your own nails, just go to a nail shop and get a basic manicure for about $15-$20. (go on a Tuesday or Wednesday night if you feel self-conscious about being there b/c those are usually the slowest days).
I asked a variety of women from different backgrounds how they felt about long nails and they pretty much all responded, "ewwwwwwww". One woman even went on to tell a story about her boyfriend having long nails and how every night she's tempted to cut them while he sleeps. I personally think that she obviously doesn't have that close of a relationship with him if she can't just ask him to cut his nails, but who knows…. Anyway guys, I cruised the web and found 3 different quality maniucre sets in 3 different price ranges- check them out on the left or click here.
Please please Urban Gentleman, I implore you to cut your nails!
---
7 Comments
---
Leave a Reply