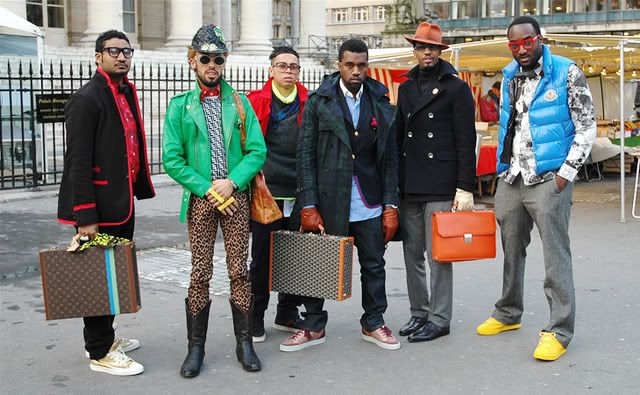 from left to right
Don. (aka deadstock don)
Taz Arnold. (a rapper/artist, has a line called Ti$a)
Chris Julian. (Owner FRUITION in Las Vegas)
Kanye West.
Fonzworth Bentley.(host of from g's to gents)
Virgil Abloh. (a creative force/ PASTELLE designer of sorts)
Ferrai Murakami. (his barber) (not featured here)
there's more depending on the day, the time, the moment.
*These guys pretty much refer to themselves as the G.O.O.D. Music/ Pastelle Fam. So basically everyone you see him rolling with is pretty much helping him with the label in some way or another.
Kanye and friends have been in Paris just "ackin a fool, stuntin' on em"
, but seriously though many of you all HATE the looks being worn by Kanye & Crew, I however have to applaud in many aspects— okay, yes they may seem to be trying to hard, but really they aren't.

Taz, well if you know anything about the dude he just dresses over the top- that's him. Fonzworth he's staying true to himself and continues to make us proud by looking like a true dapper southern-bred gentleman (Georgia-bred to be specific). And Kanye, well he just has a love for labels and that's just how some people are, but I'm pretty sure with age he will transcend the labels. And the other guys, well I don't really know their history per se, but from what I've been learning about them they seem to just be "doing them". They all may be turning it up a few degrees for fashion week, but hey Kanye's trying to launch a label so they're getting ALOT of publicity from this… and from what it seems they will surely have a superb line.
Sidenote: seriously though, these guys have style in their own way… I'll do an individual profile on each of them later.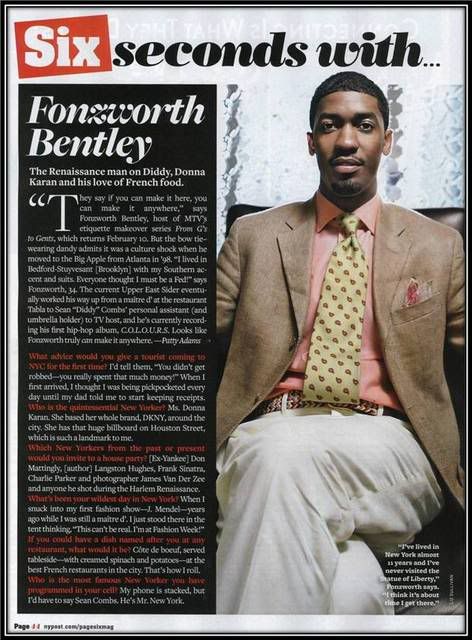 Mr.
Fonzworth

Bentley
is not just
stuntin
' with
Ye's
in
Paree
, he's
stuntin
' on the inside of Page Six as well. He talks about how Donna
Karan
and
Diddy
are quintessentially Mr. and Miss New York, click the image to read more.
But seriously though guys, with your Louis and MCM Bags, Gucci boots, Gucci shades,
Rayban
wayfarers, Gucci suits, and MCM coats…. but really though guys, can I be the chick in the crew next time-
puh
–
leeez
…. with cherries on top.
The runways of Paris and Milan have been
haute
for the past week or so as all the top designers flaunt their newest creations. Some left me overjoyed and totally inspired while others left me wondering "
why"
? I'll highlight different shows over the next few months, but I figured I'd start you all off with the ABC's- meaning a quick synopsis of the collection of a few designers whose names just happen to start with A, B, or C.
Fashion Week Milan Paris: (prepare yourself… I'm in fashion mode and I am therefore not responsible for the things I say…
lol
. just
kiddin
)
———————–

Adam Kimmel.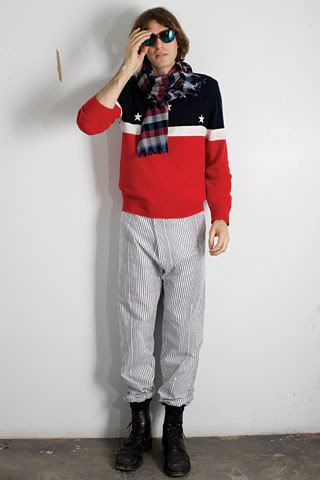 Adam Kimmel. frumpy see as frumpy do. Even though it seems as though many have moved passed baggy and saggy and turned to more clean lines and straight silhouettes, Kimmel like other designers this season, are showing otherwise. Here again we have a rising of the over-sized and bulky… do we leave it or do we love it…. who knows. But he certainly takes the worker look to a real level, almost giving each look its own personal story- and for that reason I am a fan… 7.8/10.
PS- I live for the star and striped sweater. People who dress like this in real life are always so cool.
—————————————————–
Alessandro Dell Acqua. flesh tones, cuffs, bigger tops smaller bottoms, structured shoulders… in the water we all must go (high-watered pants)… Though Dell'Acqua's new catch phrase is "bourgeois revolution", I for some reason, get a feeling of "modern goth with alot of class"- clean yet emotional in subtle ways- the elongated sleeves, cuffed pants, flesh tones… immaculate pieces for the most part… 7.9/10.
—————————————————–
Alexander McQueen.


Alexander McQueen
. drama is his middle name- always has been always will be. I must say aside from the scary faces McQueen unsurprisingly brings it once more-
his array of designs, patterns, textures, shapes, can easily be seen in the wardrobe of any well

dressed

man.
When viewing his collection, like always, you have to look at the individual pieces. And the pieces are very well executed. Though I feel like these models are going to jump off the screen and get me- I do like the overall collection… but I didn't however like the order of the show, I would have changed it a bit… 8.9/10… The man is a brute.
—————————————————–
Bottega Veneta.
Bottega

Veneta

.
"Excuse me gentlemen, but can I take you home with me," that is the feeling I get after viewing
Veneta's
collection.
These are the clothing of a

pristinely

dressed

gentleman

.
Great, I mean just great jackets- especially in the chocolate section- this is what fall is all about! My only
criticisms
would go to the short sweater and large trouser combos- oh how I do hate that
silhouette
, I am simply not a fan… never have been never will be. Overall,
Bottega
makes the
monochromatic
trend I spoke of earlier this month seem like a work of art. I
absolutely
adore this collection… (applauds) 9.3/10.
—————————————————–
Burberry Prorsum.
Burberry
Prorsum
. (Christopher Bailey) We all love you and we all buy you, but… if you don't mind me saying so- "the show" was completely uninspiring. Well, maybe completely is a bit harsh, but the only thing I found special was the use of velvet. Again we see the frumpy crotch heavy harem pants… I really do wonder if this trend will hit America in a big way. Seems totally appropriate for England and the pebble stone streets of Italy, but America,
hmmmm
– who knows.The highlight of the show was… well, there wasn't really one, but
I did like the 2

nd

to last look because of the blouse and jacket- so perfectly tailored, so

burberry
. Besides that, the ever changing shapes and cuts of the pants were completely distracting leaving me slightly annoyed. And the random graphic tees left me perplexed. But again, just for the record- we do all love you
Burberry
– today just wasn't your day.
—————————————————–
Comme Des Garcons.
Comme

Des Garcons
. dressing in the dark is so obviously the name of this game. Perhaps the
Comme
Des Garcons show would have meant more to me if I had been there, but since I wasn't I can only ask "When did the circus come to town"? The
girly
shoes, wide yet short pants, and unsuccessfully playful
silhouettes
left me thinking-
wtf
?
Rei
Kawakubo
', my darling, I hate to ask, but "when will the show end".
Though her shows are always playful, they also always include pieces that can be confidently worn alone- this years collection lacks that
.
Coincidentally
this is the same show
Kanye
and his colorful crew were photographed outside of and many weren't fans of their get-ups either… but hey, maybe we just didn't get the memo.
—————————————————–
Stay Tuned for more mini-
reviews of the
Fall/Winter 2009/2010 Menswear Collections
.
Cindy of the Urban Gentleman

During this entire election a guy by the name of
AlphaCat
has been doing Barack Obama impressions on
youtube
. I thought everyone was "hip" to his videos, but after talking to some friends it seems that everyone is not. So I decided to post his 4 funniest videos… this dude is h-i-l-a-r-i-o-u-s.
Barack Obama Before a Debate
Barack Obama After the Debate**
(this is my favorite)

Barack Obama Wins November 4th
(to T.I's "You Can Have Whatever You Like")

Barack Obama Inauguration
(to Beyonce's "Single Ladies")

Alphacat's real name is Iman Crosson. He's 26-year-old and is from Dayton, Ohio. He's a dance major who started perfecting his Obama impression while working as a waiter in Manhattan, but he's recently moved to Los Angeles to start his career in Hollywood.