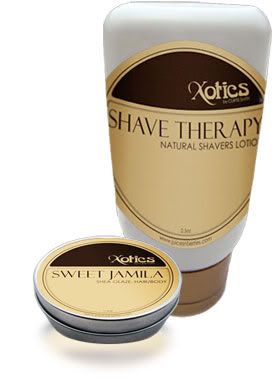 Hand made products the leave the hair and skin smooth and moisturized. Used by celebrities like Diddy, Usher, Ne-Yo, Nelly, and Dwayne Wade. The shave therapy soothes skin after shaving and can easily be used as a total body shaving creme.
Noted benefits of Sweet Jamila:
– Adds moisture and strength to hair (perfect as a leave in condition.)
– Helps against breakage and give hair body & manageability.
– Rich in vitamins A, D, and E, and omega-six that tones the skin.
– Reduces fine lines and wrinkles.
– Soothes dry, abused skin and protects against moisture loss.
– Works as an antioxidant and natural sunscreen.
Purchase both products at janellebeauty (they are now sold out).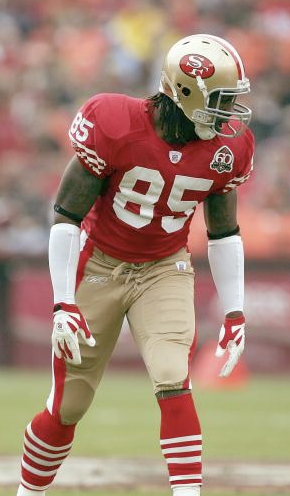 I had a chance to interview Urban Gent Vernon Davis. The interview is full of alot of good stuff including workout tips and tips on how to maintain your dreads. Enjoy!
A little background: Vernon played football for the University of Maryland and now plays for the San Francisco 49ers.
—-THE INTERVIEW—-
So what have you been up to lately? What's a day like in the shoes of Vernon Davis?
Vernon: Last weekend I attended ESPN the Weekend in Orlando, but on a typical day, I'm working out to get ready for the upcoming season as well as watching and supporting my brother Vontae get ready to be drafted into the NFL in April.
Does the daily routine ever get boring, do you sometimes wish you were doing something else?
Vernon: No, I am living my dream of playing in the NFL and playing football.
So if you weren't playing football, what would you realistically be doing right now?
Vernon: If I wasn't playing football I would be into fashion designing and interior decorating
I heard you were an art major in college, that's different- what made you choose that over say Business or even something like Health? Let's be honest here was it because you thought it would be easy A's?
Vernon: Actually, I had a dream about art, and my counselor suggested I give it a try. After taking some classes, I loved it and switched majors. Art is relaxing and allows me to show my imagination and thoughts on canvas. I usually paint what I see at that time or images that just come to my mind.
I'm an artist… I feel like I'm an artist in every sense of the word- I paint, draw, design… music, photography, fashion, and design literally consume me and I couldn't imagine life without those things… Who are you as an artist Vernon? Do you even really consider yourself an artist, if so, what type of artist are you?
Vernon:

I definitely consider myself an artist. I have a creative mind and apply it as much as possible (in some ways even on the football field.) I see myself as a creative and unusual designer when it comes to painting, and I think outside the box with my fashion selections. I can't imagine my life without art and/ or fashion.
What inspires you?
Vernon: My
family. Because of them I strive to be well rounded and to be the best at everything I do.
I heard you were at New York Fashion Week? How fun! How did you like it? What shows or events did you go to?
Vernon: I had a blast! I joked with somebody and said this is like the Super Bowl for designers. I went to Organic, YIGAL AZROUEL, William Rast, William Rast After party, and Madea Goes to Jail premiere, LuxuryFashion.com party, and of course I did some shopping. It was my first Fashion Week, but it won't be my last. It really fed my creative side.
Of all the shows/events you went to what was your favorite? Why?
Vernon:

I enjoyed all the shows, I loved Organic's use of live models to show off the collection, and me being an artist I really enjoyed how Yigal used his collection and artwork together during his show.
Could you see yourself being a fashion designer? What would you name your clothing line and what type of clothes would you design?
Vernon: I could see myself as a fashion designer I would probably design suits and shoes. I don't have a name for it but maybe could incorporate DUKE, the nickname that my family calls me, into it somehow.
In general who are your favorite designers?
Vernon:

Gucci, Salvatore Ferragamo, Louis Vuitton, Ben Sherman, Organic, Dolce & Gabbana
How would you describe your style? Describe how it has evolved from let's say high school to now.
Vernon: I prefer a certain fit in my clothes (not too tight, but not baggy), and I like to stand out a bit from the other guys. I'm not afraid to wear bright or unusual colors either. In high school I used to put fabric paint on all my shirts and cut holes in my jeans. I used to paint my sneakers too.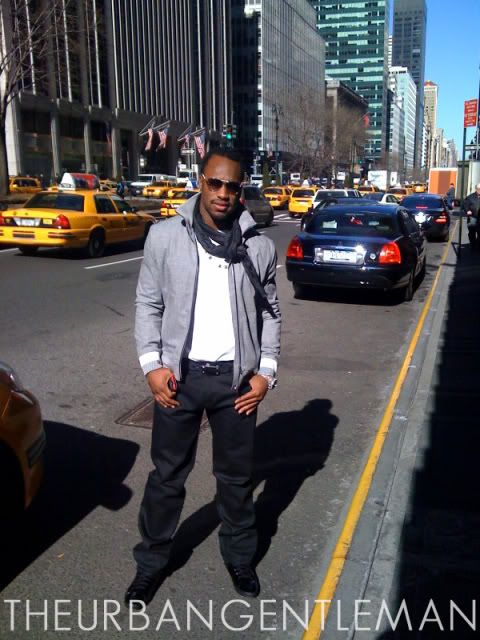 Vernon in New York City.
Vernons Wardrobe: shirt- Gap Thermal; scarf- John Varvatos; jacket- Louis Vuitton; glasses Louis Vuitton; belt- Louis Vuitton; shoes- Yves Saint Laurent

Is it hard to be an athlete and be stylish? Why or why not?
Vernon: It gets a little hard sometimes because a lot of brands don't make their clothes big enough to fit me. Then again, I'm able to have things made or tailored, so It's probably easier for us than it is for other big guys.

If you had to take the wardrobe and style of any person right now, who would it be and why?
Vernon: I would take the wardrobe of Kanye West because he thinks outside of the box and is very creative. I wouldn't do the skinny jeans or the hair cut, though.
What's your favorite trend right now? What do you do, besides reading The Urban Gentleman, to keep up with the current trends?
Vernon: To keep up with the trends I read all the men's fashion magazines, GQ, Men's Vogue, Esquire and Details. I also try to look at clothes that are different and how I can apply my own style to the designer whether it's a well known brand or upcoming designer. My favorite trend is embellished jeans. Oh and I love how sneaker brands are being more creative too.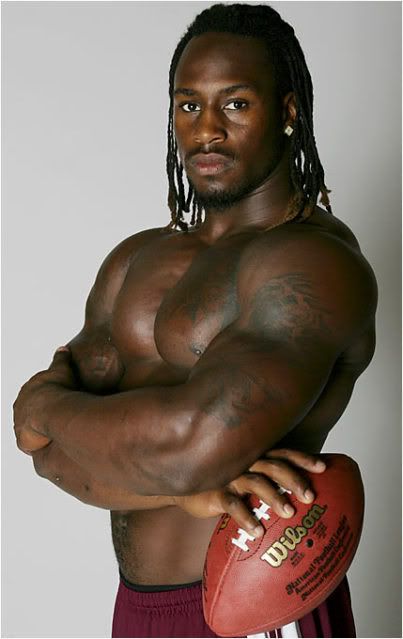 What tips can you give guys trying to stay in shape?
Vernon: Be consistent, get on a strict regimen, eat healthy and always include cardio.
What's your general workout routine during your off season? Any favorite health foods?
Vernon: Usually, I train heavier during the off-season because during the on-season I really want to focus on injury prevention workouts. I usually work out three days a week — Monday, Wednesday and Friday — focusing on mostly upper-body work. I incorporate resistance bands quite frequently, which I feel has gotten me really good results.
In conjunction to my strength training, I incorporated

Bikram Yoga

classes. These yoga classes are performed in a room set at 105 degrees and 30% humidity. The yoga helps flexibility and strength without weights to reduce injury. The flexibility factor is especially beneficial considering my muscular build. It also helps mental focus while being fatigue, the same mental toughness and focus I need to have on the field, especially on a hot game day. With the yoga, I get a chance to strengthen my joints and ligaments and is actually training internally which keeps me fresh for the next progression of the training regiment.

I also incorporate Deep Water speed and conditioning training. I am inside the pool in 15-16 feet with a harness around my waist that keeps me afloat, with water weights on my ankles. I do a number of drills and water stretching first. I then must sprint in a running motion 25 yards at a time from one end of the pool to the other with some rest in between. This workout is low impact and puts no stress on my body. Again, its a long season and off season, so we want to stay fresh as possible.

Another workout that I love is called, KNOCK-OUT! Knock out can be compared to a one on one street basketball game, but it is done on the football field. Other athletes participate in this workout; there is a quarterback and defensive back or linebacker against a receiver or tight end. The ball is placed on the 3yrd line, the receiver (me) can only run 4 different routes. The defender can play however he likes. The receiver must catch the ball in a small window in the end zone. Points are rewarded to the person with the most points from catches in the end zone. Defense vs. Offense, the defense can get points from either catching interceptions or batted balls. This exercise helps concentration levels on the field, similar to the concentration you need to have in the red zone. The drill is fun and adds a competitive element to the workout, which I think is needed because I am a competitive person.
Usually, I'll have egg whites, turkey sausage, fruit, and oatmeal for breakfasts. For lunch I'll have some grilled chicken or a turkey burger with veggies, fruit and wheat bread. Between lunch and dinner it's often a protein bar, and then my evening meal is pretty much the same as lunch.
Here's a sort of random question, but what do you do to maintain your dreads? What products do you use?
Vernon: I use beeswax and I get my hair twisted every two weeks
Anything else you want to say?
Vernon: Hard work equals success. Just work and study your craft and God will open doors to bless you.
Many guys have asked me how to wear their scarf, and I'm finally displaying 3 options.
First start off by folding your scarf from a square to a triangle, then choose from one the styles below: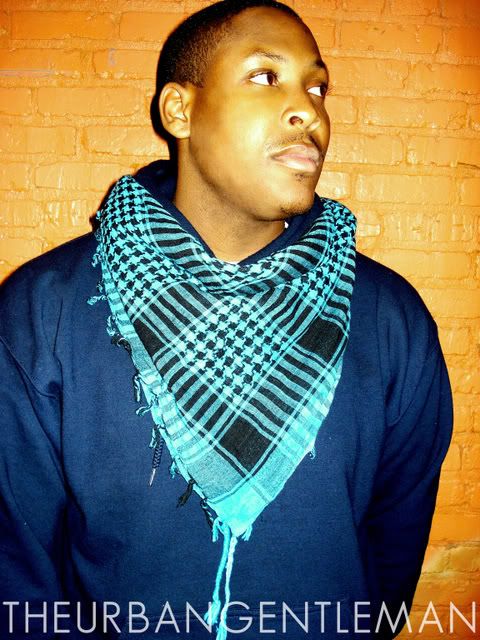 To achieve this look simply drape the scarf around your neck and tie in the back.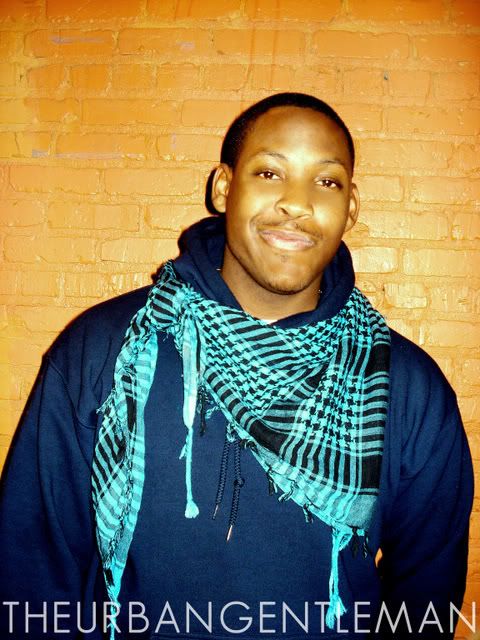 To achieve this look, drape the scarf around your neck and the tie the scarf in the back, but as you're tying the scarf bring the knot to the front of your shoulder, then loosely tie it again. At this point you can arrange the scarf to look similar to the picture above.
The Modified Basic.
Tie this scarf like you tie "The Basic", but much looser. And after its tied fold the pointed end under, then slightly mold the scarf to look like the picture above.
There are other ways to tie a scarf, but these are 3 easy to do options. You can purchase a scarf
here
.
*Special thanks to my friend Julian who got dragged into this spur of the moment quicky "photoshoot" in midtown Atlanta.
*The "scarf" above is not meant to reflect any religion, race, or creed. It's called "scarf" and is used as a "scarf" in fashion worldwide and in most english-speaking countries. The Urban Gentleman apologizes if this offends you, please feel free to look away or scroll down if these photos are unbecoming to you.
Question:
Hi
I am currently very gradually trying to smarten up my wardrobe, and I would like to wear more trousers (casually) rather than jeans, with fitted polos, nice shirts, blazers etc. However, I am finding it difficult to find some suitable footwear for such a smart casual look. I like boat-shoes, and will be picking up a navy or brown pair, but they are more kinda summer wear. I find most loafers, mocs to be too formal, so I was wondering to you have any advice on what type of smart-casual shoes can be worn with trousers.
Answer:
Hi (Urban Gent's name- who's from England),
I actually had a gentleman email me about a similar dilemma recently- he was trying to find an alternative to the sneaker (so
yanno
somewhat similar). I advised him to consider:
– boat shoes (sebago/sperrries)
– oxfords
– "dressy sneakers"
– vans (like Pharrell)
– boots
I see that you're already halfway there since you have purchased a pair of boat shoes (sebagoes/sperries). After securing a pair of those then the type of casual shoe you wear is totally dependent on your style. I am personally a big fan of oxfords- there are so many different styles of oxfords and they easily smarten up the wardrobe.
Other options:
– very casual wingtip lace-up
– drivers
– moccasins (only if this fits your personality)
Here's a link of examples from Urban Outfitters: click here. Since the pound is almost double the dollar you can easily order from there (but I think you have to add $50 to the total order)… I really like the Schmoove Oxford, the Generic Surplus Oxford, and the Ben Sherman Vacations Lace-Ups.
Drivers are basically the everyday casual shoe for the man that pretty much doesn't wear sneakers anymore unless he's going to the gym or participating in an outdoor activity (that's sort of my view on it anyway). I don't like all drivers because some tend to look a bit old and dated, but there are plenty that are sleek and stylish- check some of the drivers out at Neimans: click here. From that page I like the Gucci leather driver- 3rd row number 4, the other Gucci leather driver- 5th row number 4, and the Cole Haan venetian moccasin driver- 5th row number 1…. Also I know alot of men that really love the Ferregamo drivers. You don't have to buy those exact shoes, but those just give you an idea of the styles that may work for you.
If you want a shoe that is, perhaps, a step between sneakers and oxfords then you could try a "dressy sneaker"… basically like a leather converse or designer tennis shoes- Hugo Boss, Lanvin, etc etc (preferably in a solid color).
** this question is a little dated (about a month and a half– so the shoes I'm referring to may not be there anymore or in the same order, but you can still get the general idea).