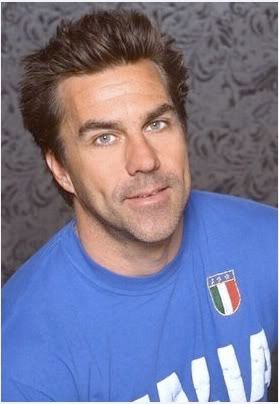 Hi guys,
One grooming issue that I have somewhat neglected is "the hair"– I know it's easy for me to say get a nice haircut and keep it clean, but sometimes you guys want a little bit more. Well, thanks to the good folk at Gillette, I had an opportunity to interview celebrity hair stylist,
Mitch Stone
. He has styled for the cast of major Hollywood films like
Angels & Demons
,
Tropic Thunder
,
Bobby
,
X-Men: The Last Stand
, and
8 Mile
(you know, Eminem's movie)– just to name a few.
Hopefully you will get a few good tips that you can implement into your hair routine.
—THE INTERVIEW—
So what is a typical day like in the life of Mitch Stone during this time of year?

Mitchell:
Well, crazy usually:) It is a busy time of year. I have been doing interviews, identifying and talking about trends and doing shoots!
Which celebrity's hair have you styled?
And of them all who is your favorite to work with and why?
Mitchell:
Too many:) But, my favorite male celeb to style is Ewan McGregor – he is professional, humble and just a great human being! As well as Al Pachino , he's a blast! And I love to work with Sean Penn very much..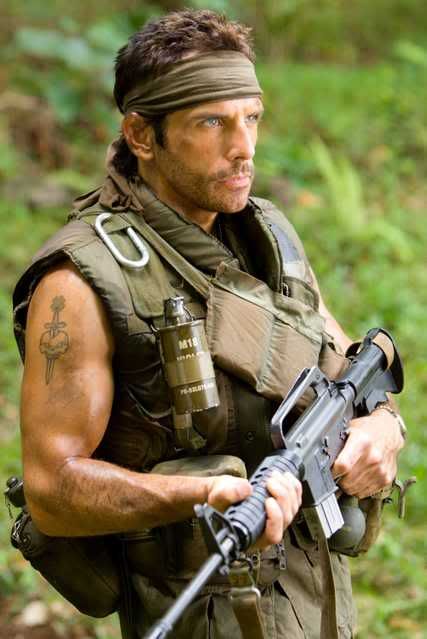 Ben Stiller in Tropic Thunder

I heard you were the hairstylist for Ben Stiller in Tropic Thunder, that movie was hilarious… how was it styling for such a funny guy? Any good stories from days on the set?
Mitchell: I loved watching the whole gang work together! I will say that shooting in Kaui for 4 months was very difficult in terms of weather relating to hair. I would have LOVED it if the Gillette styling products were out then because they last long and cover the bases for so many different types of hair, in so many different climates, ie: humid, beach, hot, cold:)
It's award season for the stars and it'll soon be prom season for alot of young guys, what styles do you recommend for black-tie/special events… What are popular styles for the stars on the red carpet?

Mitchell: Well, I really have been seeing a modern 40's look – shorter on the sides with a bit of tousled length on top like Robert Downy Jr., Zack Efron, and Josh Brolin. The length can be locked into place (perfect for Prom) by using a gel (like Gillette Power Gel ) on towel dried hair with a dash of spray to quicken the dry time. Then keep your hands out of it:)
What tips can you offer for the lazy or extra busy guy, that doesn't want to spend time on his hair- you know the type that pretty much just rolls out bed and goes…What's the absolute bare minimum all men should do for their hair?
Mitchell
: All you need to do is shower, grab a dollop of product, emulsify for a few seconds – which is basically rubbing it between your hands to warm it up — distribute throughout…and walk away!
A couple of years ago a lot of the male celebrities would have highlights and frosted tips- is that still in? What are the "in" hair styles for men these days?
Mitchell
: Not sure who or why highlighted and frosted tips came to be, but thank god they are no more!
IN styles are short, defined and textured
like Daniel Craig in James Bond. There's also the never die Faux Hawk, or just the handsome, short, parted Brad Pitt, George Clooney look. Again, the 40's modern version – shorter on sides, longer on top, handsome and sexy rolled into one!
What types of food can my urban gent add to their diet that would help them to maintain healthy hair?
Mitchell:
Anything green! Colloidal minerals with Trace elements
, which are found in organic fruits and vegetables! Watch you hair and nails grow like a weed!
A lot of my readers spend a good bit of time in the gym, should they take any hair extra precautions?..
Mitchell:
Dont get it caught in the treadmill.
Also, make sure to wash with a deep cleaning shampoo after a work out, to really remove the dirt and oil.
Can you give some general hair maintenance tips for different hair textures.
Straight hair:
Keep it trimmed up, it will stave off the stringy look!

African-American hair (more curly and textured textured):
Keep a good conditioner around and stay away from oily products.

Asian hair
(thick hair): Use a silicone type product to keep it shiny and smooth (and Gillette Sculpting paste to add texture! )

General curly/wavy hair:
Gillette Mess Constructor to keeps it in place, but with a matte finish. Make sure you use a good conditioner often too!
---
3 Comments
---
Leave a Reply