| Uncategorized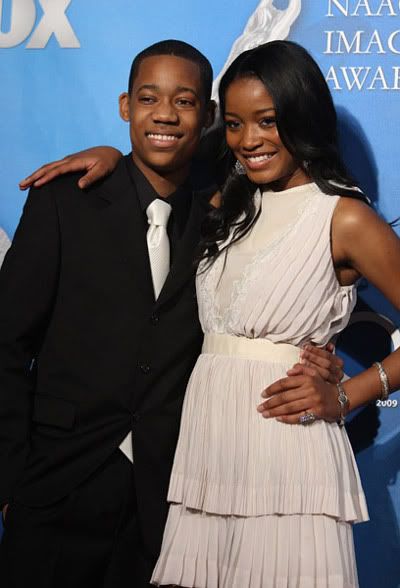 It's that time of year! Prom is around the corner for most of our high school readers. For some it's exciting for others it may feel more like a task, but either way I'm ready to help. When a girl gets ready for prom, she usually checks out the red carpet pictures at Hollywood events to find inspiration, and I feel guys should do the same. Luckily I have most of the
major red carpet events
featured, so
click here
to peruse the pictures.
You're either going to prom solo or with a date- this will somewhat decipher what you will wear.
(above Tyler Williams and KeKe Palmer)

_________________________________________________
When going solo, you don't have to be confined to a certain color scheme- which can be liberating to some guys while others prefer to be directly guided.
Here's your checklist:
– Buy ticket
– Secure a car or ride.
– Choose the tuxedo or suit
– Make pre and/or post prom plans
I'll give my two-bits of the pre and/or post plan later, let's start with the attire.
Prom Attire for Solo Guy:
Some people feel a tuxedo is the only thing a guy should wear to prom. I feel like a tux or suit is appropriate depending on the person, the budget, preference, etc. I cannot make that decision for you, you'll have to figure that out on your own. But I'm assuming if you choose a tuxedo you're renting (unless you have the money and plan to attend more black-tie events) and if you choose a suit you're buying. For the average guy, I feel like prom is a great opportunity to purchase a well-tailored suit that you can later wear to interviews and other events. For formal events like Prom I always feel like the simpler the better. This is not Easter Sunday below the Mason-Dixie line, so there is no need to search for the most fashionable (and colorful) suit.
When choosing a suit opt for darker colors: black or navy are the best. Gray, chocolate, and maybe, just maybe a light khaki-ish or tan color. But honestly black is best, and if you feel black is too plain then choose a pinstripe black suit.
The key, the KEY to choosing a suit (by my standards anyway) is the material -or- the look of the material. I understand that everyone cannot spend $800 or more to purchase a top-notch silk suit. But even with a budget of $100-$200, you can buy a suit that looks rich (trust me I've done it). The way to get a inexpensive suit that looks like it cost atleast $500 is to focus on the material, all top notch suits have a bit of a sheen to them. When the suit hits the light at a certain angle it should have a slight shimmer. These suits are extremely hard to find in a discount suit store, but they are there… you just have to search. (Though I suggest having a budget of atleast $200 plus tax).
Once you start your "suit hunt" in the store there are two things you should do to decipher the quality:
1.) feel it- it should be soft (not stiff)
2.) hold a section of the suit in your hand and pay close attention to how it looks against the light- it should have a sheen
Examples of the shimmer:
The suit is your core. Once you have secured it then you need:
– dress shirt
– tie and pocket square
– shoes
– belt and socks
– optional: vest
Dress shirt:
White is the best choice. If you choose a color, it should be a light hue, like light pink or light blue. If you're an innately stylish guy that likes to go a bit harder you may choose a pinstripe shirt, which can easily liven your look without making it seem like there's too much going on.
Tie and Pocket Square:
The colors of the tie and pocket square are dependent on you. Choose a color the compliments your complexion or eyes. If you have darker skin- golds and deep reds look great. If you have blue eyes- blue accessories would be nice, green eyes- green accessories. If you want a safe choice choose black, you can not go wrong with black.
For Tuxedo help, I'll refer you here. But basically look at the pictures of stars in tuxs and choose a style that fits you. Generally I like a notch-lapel tuxedo with a waistcoat and bowtie.
Popular tie designs: paisley, polka dot, velvet bow-ties
Shoes:
Obviously dress shoes… I don't care how different you want to be sneakers are NOT okay for the prom (unless you're known as the "class clown"). The shoe color should compliment the suit.
Belt should be the same color as the shoes.
Socks should be the same color as the suit or shoes, unless you're trying to be different. In that case they should be the same color as the tie /pocket square and it can be in any style or print.
Vest should match the suit or tie/pocket square.
_________________________________________________
(
Zac Efron and Vanessa Hudgens)
Going To the Prom with a Date
It's always nice to have a date when attending a formal event, it completes the experience. However having a date usually involves more planning.
Here's your checklist:
– Purchase tickets
– Ask someone to go with you (if you haven't already)
– Secure a car with driver or a car for you to drive with date. (I understand you may be on a budget, but try to get the nicest car you can afford)
– Ask your date what color she's wearing. If she has the dress have her send you pictures of it or if she's getting it made ask her for a small swatch of the fabric.
– Choose the tuxedo or suit
– Make pre and post prom plans (nice/upscale restaurant before)
– Order the corsage (the wrist corsage is usually preferred)
– Review the plans with your date
– Make plans for photographs (usually taken at the prom)
Prom Attire for Guy with a Date:
When you're attending the prom with a date you really only have two options:
1. coordinate with her
2. wear a neutral color that will match with anything.
When you are with a date you do NOT want to upstage her– she's spent hours and hours picking out the perfect dress. Your suit should compliment and highlight her dress. It's better to keep it classic, meaning your best bet is to wear a black suit.
There's two main looks that go with the two options above:
1. black suit, shoes, sock, belt, white shirt -and- a tie and pocket square that matches her dress.
2. black suit, shoes, socks, belt, bow-tie, white shirt and pocket square.
If you want to wear a color suit, check to see which color best compliments your dates dress:
Brown Suit: pink, orange, or yellow dress
Khaki Suit: black, blue, pastel/ powder colors- lavender, light blue, or light pink dress
Navy Suit: red, yellow, pink, white, brown, fuchsia, or purple dress
Gray Suit: blue, purple, green, and solid/jewel-tone colored dresses
Here's a few examples of how to coordinate one of the color suits with a dress:
– Your date has a black dress: you wear a khaki suit, white shirt, black tie and accessories.
– Your date has a pink dress: you wear a navy suit, white shirt, pink tie and pocket square, brown accessories (shoes, belt, socks).
– Your date has a green dress: you wear a gray suit, white shirt, green tie and pocket square, black accessories (shoes, belt, socks).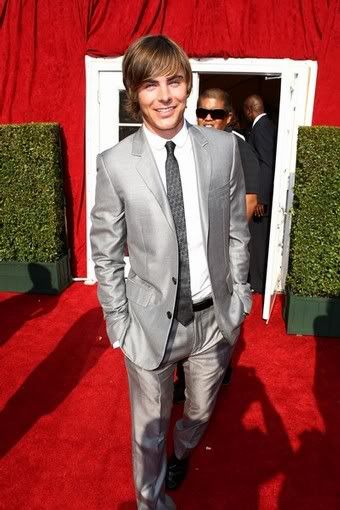 Zac Efron in a gray suit
Also, review the notes above for the "solo guy" on how to choose a suit or tuxedo.
Review, the best places to buy a suit.
_________________________________________________
Before Prom:
It's proper etiquette to go to a upscale restaurant before prom- you know, the kind if restaurant you only visit on special occasions. If you don't have the funds for it then try a nice, but less expensive restaurant. For example there's Pricci, Maggianos, and Olive Garden- all good Italian restaurants. Pricci is the type of restaurant you should take your date, but if you don't have the funds Maggianos would be a less expensive yet adequate enough back up. However, you do not want to go to Olive Garden for prom. Instead, if times really are hard, you should setup a nice dinner at your house or maybe even a family friends house (if it's nicer). Get a white table cloth, a few candles, roses, and create your own restaurant. You can order from Olive Garden and have your little brother or sister act as the waiter.
After Prom:
Just go home… no, I'm kidding. Usually after prom you're hungry, you know all that dancing and partying has left you quite famished. There are a couple common after prom options: change clothes (if you brought them) and hang with friends at a cheap, but good diner (like Waffle House) or attend a prom after-party. I recommend the first, it's just better. You can eat for cheap, relax, reminisce on the prom highlights, and maybe even make plans for the next night. It's also a time to take more pictures and just be goofy and have fun! If you go to an after-prom party be safe– seriously though people are crazy these days, so if you go to a party make sure you know who's hosting it and don't drink alcohol. It's always sad to hear the after-prom tragedies on the news–kids drinking and going to jail, fatal car crashes, etc.
Some teens also rent hotel rooms on prom night, I'm just going to be blunt about that– this is not your wedding night, so don't try to take her virginity. I hope that wasn't too forward, but seriously there's plenty of time for that and prom night just shouldn't be that night. But if you are sexually active then take condoms- wrap it up! There are just too many diseases out there!
_________________________________________________
For
Restaurant Reviews
:
Zagat.com
,
Yelp.com
,
Dine.com
For
Restaurant Reservations
:
Opentable.com
or call the restaurant.
For
Corsages
:
FTD.com
or order from your local florist (that's the best option). Oh and remember that it's best to buy a wrist corsage, the pin corsage may damage her dress.
So let's review…
Suit or Tuxedo and accessories– be sure to get it tailored if buying. If you're renting a tuxedo you should secure it atleast a month in advance.
Ticket (s)– order from school
Dinner Plans- make a reservation
Photographs– usually taken at prom, if not make plans
Car or Limousine– reserve in advance.
Corsage– order around 7-12 days in advance.
Extra Cash on hand– you never know what may come up (after prom meal, tips for valet, etc)
Personal camera– you or your date should atleast have a disposable camera to capture the memories.
Sometimes its easier to make these plans with a group, for example 2, 3, or even 4 couples go together. This also helps to cut cost down (limousine rental). If you choose to go in a group make sure that every gets along well- you don't want to ruin someones prom night:-)
More prom etiquette: just be on your best behavior, be a total and complete gentleman- open the doors, make sure she orders first, she should sit before you do, if she gets cold put your jacket around her, and cover all expenses. (If you do split cost- usually its the photographs and maybe the limousine depending on the arrangements made.)
I hope that helps make your prom planning easier. Good Luck, have fun, and be safe!
---
9 Comments
---
Leave a Reply