(… fyi: this

posting

is pretty

random

…)
Person A: Do you like fishsticks?
Person B: Yes.
Person A: You like to put them in your mouth?
Person B: Yes.
Person A: What are you… a gay fish? (laughter)
Person B: (blank stare) (laughter)
So, last night South Park premiered an episode that… well, that sorta chumped Kanye. If you didn't see it, then you can watch it here.
Basically they were getting on him and his ego… but to me, it didn't really make sense because I couldn't understand why they would make an entire episode- 22 whole minutes, just to rip on Kanye West— I mean 10 minutes, okay, but the entire episode???… it was sort of perplexing to the point that it wasn't really that funny (or as funny as I had hoped). I watch South Park pretty adamantly and there's always atleast one scene in which I laugh uncontrollably, but for some weird reason I sort of chuckled here and there, but it wasn't thaaaat funny *shrugs*, idk….
Anywho, so I posed the question (of why they would make an entire episode about one rapper) to friends and my friend Randall said:
"Supposedly South Park doesn't like Family Guy cause they feel like they're biting 'their' style….and then Kanye is gonna be in a Family Guy spin-off…..so this was their way of getting Kanye in the mix"
And for those of you who don't know Family Guy is going to do a spin-off called The Cleveland Show, featuring Peters neighbor Cleveland and his family. And after some research I found out that Kanye West is indeed suppose to play a character on the show named Kenny West who is an all-around cool kid and the archenemy of Cleveland Jr.
Sooo with all that said South Park bashed Kanye to bash Family Guy (or something like that)… again I just don't know, I feel they should have made it more obvious that they were bashing Family Guy because it was just too indirect…. anywho, this is how Ye responded:
SOUTH PARK MURDERED ME LAST NIGHT AND IT'S PRETTY FUNNY. IT HURTS MY FEELINGS BUT WHAT CAN YOU EXPECT FROM SOUTH PARK! I ACTUALLY HAVE BEEN WORKING ON MY EGO THOUGH. HAVING THE CRAZY EGO IS PLAYED OUT AT THIS POINT IN MY LIFE AND CAREER. I USE TO USE IT TO BUILD UP MY ESTEEM WHEN NOBODY BELIEVED IN ME. NOW THAT PEOPLE DO BELIEVE AND SUPPORT MY MUSIC AND PRODUCTS THE BEST RESPONSE IS THANK YOU INSTEAD OF "I TOLD YOU SO!!!" IT'S COOL TO TALK SHIT WHEN YOU'RE RAPPING BUT NOT IN REAL LIFE. WHEN YOU MEET LITTLE WAYNE IN PERSON HE'S THE NICEST GUY FOR EXAMPLE. I JUST WANNA BE A DOPER PERSON WHICH STARTS WITH ME NOT ALWAYS TELLING PEOPLE HOW DOPE I THINK I AM. I NEED TO JUST GET PAST MYSELF. DROP THE BRAVADO AND JUST MAKE DOPE PRODUCT. EVERYTHING IS NOT THAT SERIOUS. AS LONG AS PEOPLE THINK I ACT LIKE A BITCH THIS TYPE OF SHIT WILL HAPPEN TO ME. I GOT A LONG ROAD AHEAD OF ME TO MAKE PEOPLE BELIEVE I'M NOT ACTUALLY A HUGE DOUCHE BUT I'M UP FOR THE CHALLENGE. I'M SURE THE WRITERS AT SOUTH PARK ARE REALLY NICE PEOPLE IN REAL LIFE. THANKS FOR TAKING THE TIME TO DRAW MY CREW. THAT WAS PRETTY FUNNY ALSO!! I'M SURE THERE'S GRAMMATICAL ERRORS IN THIS… THAT'S HOW YOU KNOW IT'S ME!
(via kanyeuniversecity.com/blog)
But the whole reason or main reason for me creating this posting was actually to give South Park two thumbs up on re-creating Kanye and his crew– very cool. They matched everyone exactly- from the hair to the shoes. The only thing is that they completely left out Virgil Abloh… that's pretty lame, I know he's probably sorta upset they didn't recreate him (who wouldn't be).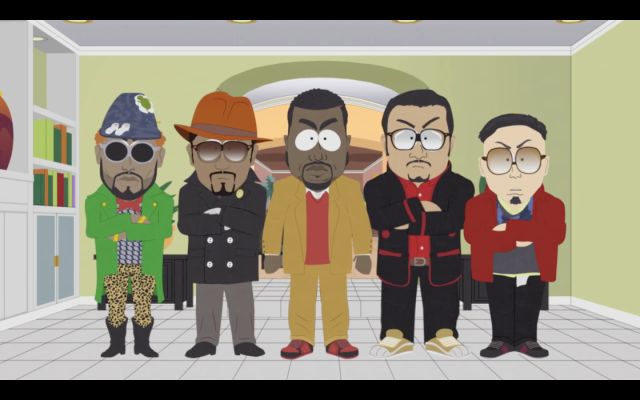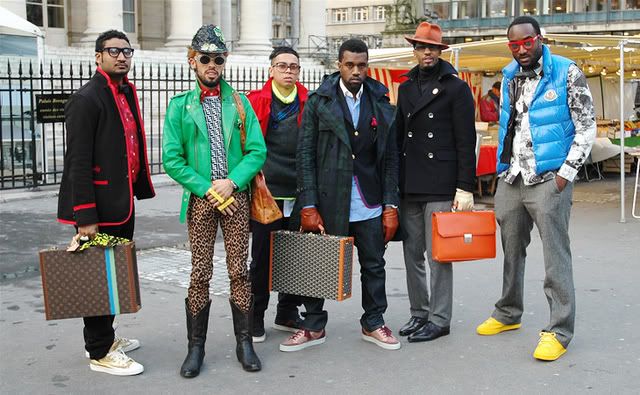 Don. (aka deadstock don)
Taz Arnold. (a rapper/artist, has a line called Ti$a)
Chris Julian. (Owner FRUITION in Las Vegas)
Kanye West.
Fonzworth Bentley.(host of from g's to gents)
Virgil Abloh. (a creative force/ PASTELLE designer of sorts)
Ferrai Murakami. (his barber) (not featured here)
more from the episode:
---
5 Comments
---
Leave a Reply