We're going back to the basics and re-starting some of the basic urban gent sections, like our beloved
Local Urban Gentleman
! So if you have serious style with a bit of swag send an email to
urbangentblog@gmail.com
, expressing your interest. Send about 3 pictures of your style and answer the questions below.
This weeks featured
Local Urban Gentleman is L.David Stewart.
He's a Chicago native that lives a double life as an architect and rapper– pretty impressive. He spends his weekends kicking, pushing, and coasting, basically he skates– seems like a popular recreation choice among chi-town rappers. Amongst his living a double life, Mr. Stewart also finds time to model and is a proud member of Alpha Phi Alpha fraternity…
Presenting L. David Stewart, aka Nizm…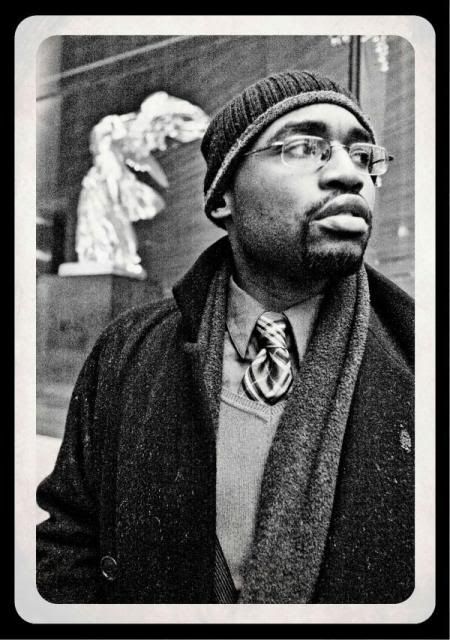 very nice layer combination.
Name: L. David Stewart
Age: 27
Location: Chicago
Occupation: Designer (Architectural)
Favorite Quote: "Character and temperament change under my dominant power"
Style Icons: John Legend, James Bond, Sean Carter
Favorite Brands (up to 3): Ben Sherman, Do Denim, Seven
Favorite Store: Too many
Favorite Piece of clothing: T-shirt
bow-tie or tie: Tie
flat front or pleated pants: Flat front
Shades, hat, or scarf: Hat
Description of favorite accessory: something that works within the architecture of the outfit as it's own piece but has it own character.
Ultimate career/life goal: architectural designer of the restaurants and offices worldwide Favorite Book: The Bible
Hobbies: Rollerskating, writing, traveling, reading
Grooming product of choice:
ANY type of AXE body washes mixed together (2 minimum)
1. How would you describe your style?
A grown hip-hop/sophisticated casual with a touch of business.
2. How did you become so stylish? Where did it come from or who inspired it? In terms of stylish I feel its because of my love for design and music. Can't be into creating style without loving style. I outline my style by my persona and character. As far as inspiration my mother as well as successful Black men in all industries.
3. What advice would you give someone trying to find their personal style? Like music, don't go with trends, our personalities are not trends, we are who we are, and let your attire market the corporation that is you and be the best representation of that.
4. What's the best clothing advice you ever received? Be yourself.
---
2 Comments
---
Leave a Reply