This weeks featured
Local Urban Gentleman is Kendrack Lewis.
The moment I opened Kendrack's submission I was sold. His style is exactly what I envisioned when I initially created The Urban Gentleman– polished, preppy, fallaciously easy… classic yet modern. I implore you all to take a few notes from one of the best dressed educators in Texas
Presenting
Kendrack Lewis
…
I love this look because it can be worn in so many ways.
Don't like the bow-tie? You could take it off and undo a few buttons.
Not a fan of the lime green? Wear light blue.
This look can be re-arranged and re-styled into something for any guy.

I really like the clean white pants (perfect for spring/summer)
with the white loafers worn sockless.
And I feel all well dressed gentleman should own atleast
one

classic navy blazer with gold buttons
Location:
Houston, TX
Occupation:
7th Grade Teacher/ MPA Graduate Student
Favorite Quote:
"If you look good, you'll feel good"
Style Icons:
Kanye West
, John Legend , Brad Pitt and George Clooney
Favorite Brands (up to 3):
Zara, Express and
Polo
Favorite Store:
Goodwill ( Any thrift store)
Favorite Piece of clothing:
Oxford Dress Shirt

bow-tie or tie:
Bow-tie
flat front or pleated pants:
Flat front
Shades, hat, or scarf:
Shades

Description of favorite accessory:
A very slim and sleek watch "Skagen" that's timeless and perfect for any occasion.
Ultimate career/life goal:
To become a university professor and U.S. Senator
Favorite Book:
Dreams From My Father
Hobbies:
Basketball, Reading & Thrift store shopping
Grooming product of choice:
Chrome by Azzaro & Mania by Armani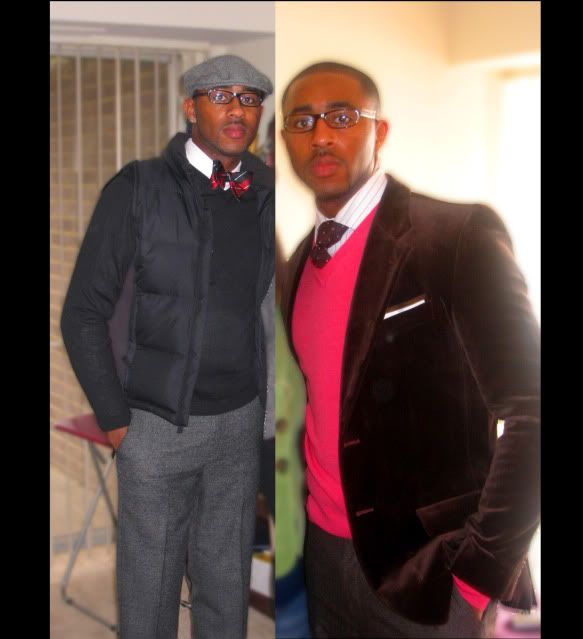 Take note of the layering and the color choices.
On the left, he has a simple black to white color palette and uses the red bow-tie for a splash of color. On the right, a charming chocolate and pink color palette. In both he plays with textures- from tweed to velor and does a great job creating a modernly dapper look.
1. How would you describe your style? A classic approach to a contemporary frame! I like to let my style speak for itself because the first impression is the last impression.
2. How did you become so stylish? Where did it come from or who inspired it? I wanted to break away from the normal everyday mainstream trends and fads, so I began redefining what my attire should look like. I am inspired by those who know every occasion presents an opportunity to fashionably express themselves.
I adore this ensemble because it shows how easy it is to have great style.
He pairs a simple navy jacket and pants with a white v-neck and leather moccasins- creating a very nice comfortable easy-going look.
3. What advice would you give someone trying to find their personal style? Rock what makes you feel comfortable! If you don't believe in it no one else will!
4. What's the best clothing advice you ever received? Wear your size !!! Not two sizes bigger, clothes are designed to fit you not hang off you!!!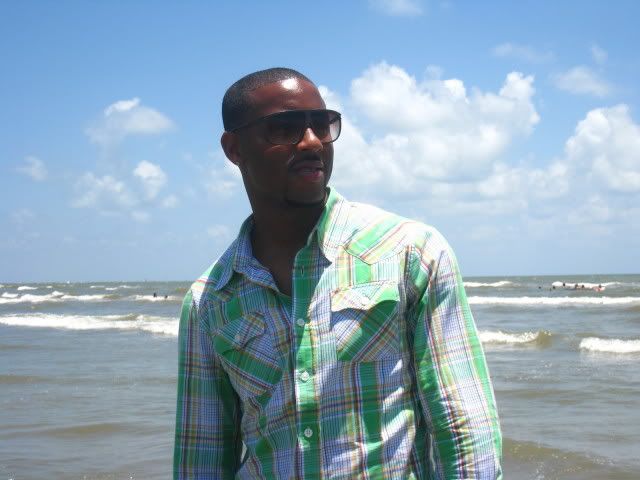 Kendrack is also immaculately groomed– its very important to keep your hair (including facial hair) cut, trimmed, or styled. Maintain your skin and complexion by keeping it moisturized.
Are you the next Local Urban Gentleman?
Answer the questions above and submit them to
urbangentblog@gmail.com
along with 3 or more stylish pictures.
---
8 Comments
---
Leave a Reply