Long time overdue. I've probably gotten an email a day asking me to post up information on what I think you guys should wear for the spring and summer… this should have been posted in late February/ early March,
buuut
its cool because global warming has many of us still feeling winter on certain days… spring on others… there have been days in Atlanta and NYC in which I felt like I experienced every season and type of of weather within ONE week…. But anyway, we have about another 5 (maybe 6) warm months to look forward to and my list of spring/summer looks will have you guys fully prepared.
(<—- I wrote that in April,

geeez

I really don't why I procrastinated with this article,

lol

… anyway its here,

yay

!)
There's nothing more refreshing than seeing Americans go back to the basics. Focusing on simplicity and ease, the "Farmer's Delight" look is the spring version of the
blue-collar worker.
.. but instead of dressing like you're working in factories and coal mines you dress like you're about to plow the cornfields.
Get the Look: Plaids, gingham, stripes. plain tanks, suspenders, rolled up jeans and sleeves, khakis and cords, fedoras, grandpa reader glasses… combining rustic colors and bold solids work best.
Designers for this look: Paul Smith, Junya Watanabe, Z Zegna
Wayfarers, band jackets, and ripped jeans- its time to party, let's Rock n Roll! Retro Bandstand is a mixture of the 50s/60s and 80s… think James Dean "Rebel without a Cause" meets Michael Jackson "Thriller" plus a bit more… let's add The Beatles in the mix too.
Get the Look: Alot of denim- ripped and worn, retro glasses, basic shirts and basic color combinations mixed with overly glamed or basic band jackets. Everything you wear should be well fitted.
Designers for this look: Gucci, True Religion, BBC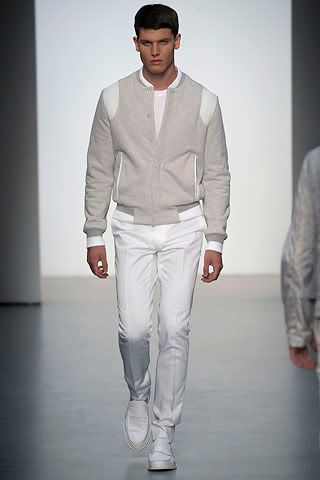 *Pale Ambitions:

Spring's

Monochromatic
Earlier this year I wrote about the monochromatic trend that has been showing up in many designer collections over the past 3 seasons -and- upon trendsetting stars. Well, Spring's Monochromatic seems to revolve around 3 main colors: khaki, grey, and white. Keeping it clean and simple for spring is the high-fashion thing to do.
Get the Look: Flat front pants, light blazers, windbreakers that look like baseball jackets, basic tees, man capris (lol, sounds sort of funny to say that), and skinny ties. To take this look to another level pair your khaki/grey/white with a pastel sorbet color (ex. pink, green, yellow.)
Designers: Calvin Klein, Alexander McQueen, Lacoste
"You look like you don't care, yet your work is impeccable." That's what people will say when you rock this look. This is the new-baggy… no it's not gangsterish instead it's care-free and beggarly. It's all about seemingly oversized clothes that may leave some mistaking you for being destitute (but don't worry it's only a mistake).
Get the Look: Harem pants, exaggerated cardigans, loose fitting button-ups, and wide leg trousers. This trend can be best accomplished with visiting your local thrift store- just one visit to a Salvation Army and you'll atleast have 2 articles of clothing to rock.
Designers: Junya Watanabe, Bottega Veneta, Burberry Prorsum
Barack Obama has inspired us all. He has even inspired people who have, well, completely hated America for atleast 8 odd years to have hope in the US of A once again. Many designers have candidly said that Mr.President has had alot to do with their design choices these days, some even creating logos based upon their renewed since of patriotism (i.e Justin Timberlake/William Rast). The point is– we're proud. So rockin' red, white, and blue has Neeever felt sooo good.
Get the Look: loafers with no-socks, ray-ban clubmasters, polos, leather goods (belts, shoes, watches, murses/manbags ), canvas shoes, khakis, baseball jackets, you should always look like you're about to go sailing or to a barbecue.
Designers: Ralph Lauren, Marc Jacobs, Michael Kors
Some people are tired of the bold bright colors and seemingly random pairing of styles from opposing decades. Their answer: Technically Polished. This look is Exactly how it sounds… hair should be perfect, facial hair well-groomed, suits perfectly fitted, obvious matching, and very clean straight-line silhouettes.
Get the Look: Keep it simple. Nicely fitted blazers and suits, satin ties, loafers and lace-ups, light colored button-ups, and white pocket squares. Combine black with a light neutral color.
Designers: Tommy Hilfiger, Louis Vuitton
* original Urban Gentleman trends
+men.style.com inspired.
__________________________________
Best Designer for this Seasons Trends:
Band of Outsiders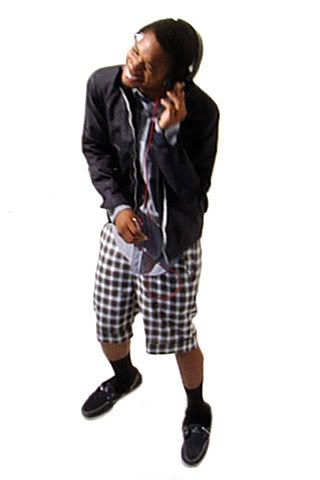 They cleverly combined many of this seasons freshest looks: Mr. America, Clodhopper, Retro Bandstand all covered, and they even used Charles Hamilton in their ads to boot!
(DSqaured came in a close second, followed by Gucci.)
Best Star to watch for this seasons Trends:
I Hate to be
soo
cliche, but
Kanye

West
.
Well, no I can't say him because it's way to cliche' so I'll say,
Zac

Efron

.
(And to be honest they're both neck and neck…
with a slight edge to

Zac

because he just seems so amazingly cool.)
Whether he's premiering a movie or cruising around Hollywood with girlfriend Vanessa
Hugdens
,
Zac
Efron
is always sporting the latest trends.
Must-haves for the Spring/Summer
:
– plaid shirt
– wayfarers or the modified wayfarer (aka "the lady gaga glasses)
– jean jacket or light weight baseball jacket
– canvas shoes
– worn or ripped jeans
– a pack of quality white tees
– gold jewelry is still hot on the scene
– consider putting a "ring on it" with a silver knuckle ring
The thing I love most about these trends- they're RECESSION PROOF. Over half of these trends can easily be created by simply taking a trip to your own closet… perhaps depending on your closet. Everything else can be found at a variety of stores– from Target to Bloomingdales, Salvation Army to TJ Maxx or Filene's Basement.
---
12 Comments
---
Leave a Reply