I bet some of you didn't know (or forgot)

Michael Jackon's

BAD

video

was actually a short film…. well now you know, so check it out:


via theurbangent.com

The full music video for "Bad" is an 18-minute short film written by novelist and screenwriter Richard Price, directed by Martin Scorsese and starring Michael Jackson. Jackson portrays a boy named Daryl who has just completed a successful term at an expensive private school. He returns to the city by subway, arriving in a derelict neighborhood.

Daryl arrives to find his house empty (his mother is played by Roberta Flack, albeit in voiceover), but is greeted by his old friends, led by Mini Max (an emerging Wesley Snipes) and spends an evening with them. At first relations are friendly, if slightly awkward, but the situation deteriorates once the rest of the gang realize how much Daryl has changed, and in particular how uncomfortable he has become with their tendencies towards petty crime. In an attempt to show his friends he is still "bad", Daryl takes the gang to a subway station (The Hoyt Schermerhorn Station in Brooklyn) where he attempts to mug an elderly man but bottles out at the last minute. Mini Max berates Daryl and tells him that he's no longer bad.

After more abuse from Mini Max, the video jumps from black and white to color and Daryl, now dressed head to foot in leather and joined by a crowd of dancing punks, sings "Bad" (it is at this point that the edited video generally begins when played on television). His insistence that Max is headed for a fall are nearly Daryl's undoing, but eventually his friend accepts that "that's the way it goes down", and, after a final handshake, heads off leaving Daryl. The scene shifts back to black and white as Daryl, alone and back in his tracksuit, watches them leave.
The summer of give-a-ways continues… next up an AXE Instinct Grooming Kit.
Instinct is AXE's latest fragrance collection.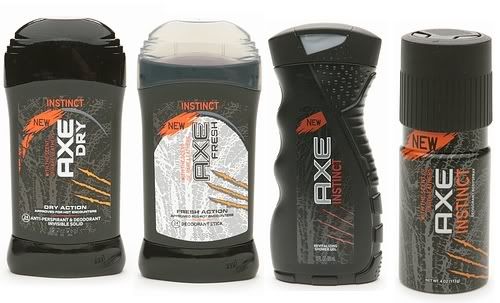 "The new fragrance is inspired by the scent of rare leathers – think hides worn by primitive hunters to the cool black leather bomber jackets worn by some of America's biggest pop-culture icons.
Developed with the help of world-renown fragrance expert Ann Gottlieb, Instinct includes hints of spicy pink pepper, raw-leather accords and warm pepperwood. It is available in a deodorant bodyspray, shower gel, deodorant stick and antiperspirant stick.
"
This is my favorite collection of theirs so far- the dark chocolate was pretty good, the fixer collection was cool, but instinct is a hit. And… check this out, we're giving away not one, not two, but 10 sets, yesss you read that correctly 10- t e n Axe Instinct Grooming Kits! So this time you will have a GREAT chance of winning! (this would make a nice gift for someone)
To win this AXE Grooming Kit: *fan us on facebook (if you're on there), leave your name and email in the comment box below (put your addresses in the long/safe format: jack (at) yahoo (dot) com ), and answer this question:
*if you are not on facebook (you can follow us on blogger or on our "coming soon" twitter page)

How many squirts of cologne do you usually spray?

(there's no right answer)
Legends in Leather

collection at the
Power of Leather launch party for AXE Instinct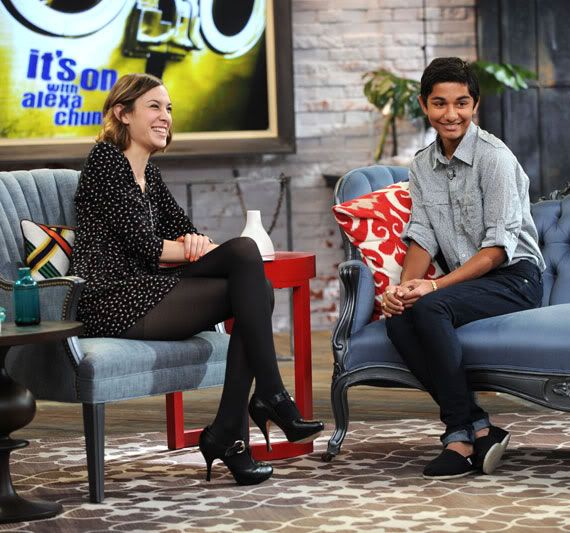 Mark Indelicato

(of Ugly Betty) wearing TOMS on the "It's on with
Alexa Chung" Show,
she's like the MTV version of Chelsea Lately
(but Chelsea is a bit more hilarious).
For the past couple of years, depending on what store I enter, I'll see a pair of shoes that remind me of earnest and simple living of people in certain foreign countries. When I see these shoes many images come to mind- monks, kung-fu, and nature in general. I used to only see these simple shoes here and there now I see them everywhere, but for good reason. These shoes are espadrilles and the brand that I see everywhere are called TOMS.
Tom shoes are truly inspirational, the company gives away a pair of shoes for every pair that is purchased. Not for every other pair, not for every 500 pair of shoes, but for EVERY pair of shoes that is bought. That's extraordinarily commendable, and that makes you feel guilt free when shopping. Other companies have had similar missions; for every shirt you buy they'll give 25% percent to a charity- which is nice, but nothing compares to directly giving a person in need the full amount or worth of the product… read more about TOMS mission here. Oh and TOMS basically stands for "Shoes for Tomorrow" or "Tomorrow's Shoes".
The shoes come in a variety of colors and textures,
here's a few of my favorite for men: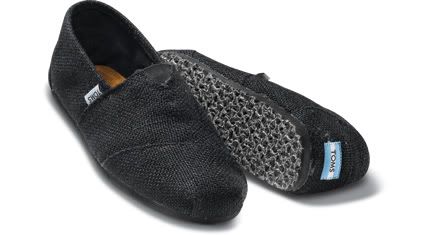 Black Burlap
, $48
VEGAN Khaki Herringbone Stitchout, $65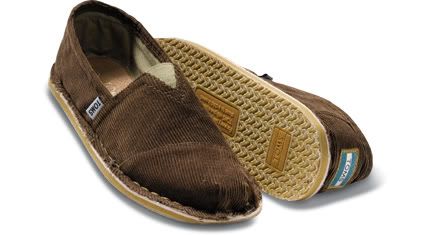 Chocolate Corduroy
Stitchout,
$58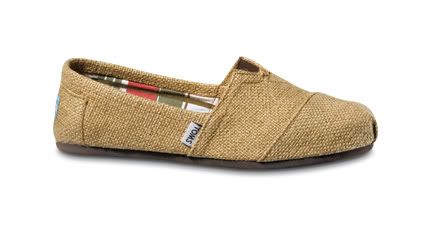 Burlap Woven, $48
Other angles, click to enlarge:

And they have very cool packaging:
The shoes come tucked inside their own TOMS drawstring bag.
If you have some extra cash and you're in need of a new pair of casual shoes, then order a pair of TOMS.
One more day, to win the shaver for yourself, a friend, family, boyfriend, husband….
http://www.theurbangent.com/search/label/giveaway