I've recently become an avid reader of your blog and I appreciate all of your tips, caveats, and suggestions regarding men's fashion and style. With that said, I was wondering if you could opine on color theory with respect to fashion/putting outfits together. I have a hard time coordinating (as opposed to matching) colors and patterns (What should I wear my baby blue Dunks with? (or) What can I wear with a fire red pique polo?). At the end of the day I just end up looking like a monochrome. Help! lol.
Answer:
Thanks for reading the blog! Okay, so you have an issue with coordinating and matching colors– there are many things you can do to overcome that minor glitch:
1. Match/coordinate 2 colors at a time- one neutral (navy, black, khaki, brown, gray, white) and one color- yellow, blue, red, orange etc.
2. Fashion and art coincide and there are certain colors in art that "match" or "belong together"- purple and yellow, green and red, blue and orange- those are complementary colors. You can wear different shades and tints of those colors together.
3. Then remember that there are color families like brights, emeralds/jewel-tones, pastels. For example, all pastel easter egg type colors will coordinate because they have the same light tone. Colors like burgundy, hunter green, navy, plum purple, burnt orange, and deep gold (aka old gold) will coordinate well, as will basic crayon-box colors- red, green, blue, yellow.
4. There are also colors that coordinate or go together because they represent a certain season or country and we see them over and over again: red, white, and blue -or- yellow, black, and green -or- red, green, and black -0r- purple, silver, and black -0r- burgundy, white, and heather grey… there are a plethora of these combinations.
With keeping all of that in mind, you will more easily be able to match patterns and designs. For example, if you have a hunter green striped button up- you can pair that with dark khaki pants (neutral) and a navy or burgundy cardigan (same deep color family) -or- you could pair it with navy trousers and a plum or old gold cardigan… and with this color family brown accessories opposed to black usually look best… so brown loafers, brown belt. These are often the colors traditional, old-english, ivy type designers use.
Another technique to keeping your colors cohesive and stylish is by adding a splash of color (sometimes opposing color) to a neutral or one shade palette. For example, if you're wearing black and white you'll add a splash of red, sherbet orange, hunter green, or whatever color you like -or- if you're wearing all red you can wear one yellow piece.
You can also do this with patterns- if you're wearing a navy plaid shirt and navy pants you can add an electric purple sweater, or shoes, or bag… This can also be used for shades/tints/tones- if you're wearing all jewel-tone colors- turquoise, emerald purple, etc then you could wear one pastel piece.
All in all go with the colors that feel right. Color evokes a particular mood and its always good to pair the same moods together. If you're wearing a happy yellow, pair it with a happy blue and happy green. If you're a bit shy of colors then follow the sapuer rules of 3 principle– never match more than 3 colors at a time… I think that's a good rule for everyone because few people are able to successfully match more than 3 or 4 colors.
So baby blue dunks or fire red pique polo?
– Baby blue dunks with rugged stonewash jeans, and a light yellow polo or a graphic tee that has yellow and baby blue.
-Fire red pique polo with purple baggy skinny jeans, and shoes that have some red or purple in them -or- if you're more fashionable then wear a pair of blue high-tops that match in tone.
You just have to try out different color combinations- look at them in the mirror and see what you like. Also watch the men's runway shows and see how designers pair colors.
And don't worry about looking too monochromatic this season because its in

Here are a few photos:

here i've paired a plaid shirt with purple jeans.
The shirt consists of two main colors- red and blue. when you mix red and blue what color do you get? purple. This is an easy technique to use to coordinate colors- white, black, and gray -or- yellow, blue, and green -or- blue, white, and light blue, etc etc.
etro spring 2010
If you need help matching patterns, textures, and colors- just go through Etro's past collections. No one coordinates patterns like Etro.… so many colors, and styles you'll learn alot by just spending a few hours browsing their collections: 2005-2010. Their color and pattern palette is very bold, so you may not agree with the looks they create- it may be too overwhelming for some you, but look past that and focus on the coloring- it's quite beautiful.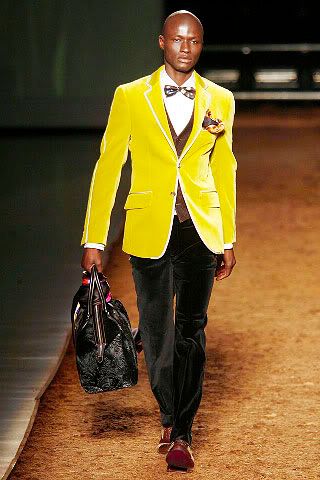 etro fall 2008
For a more traditional color palette, look through Ralph Lauren's past collections.
Also check out the Local Urban Gentlemen- they do a superb job at coordinating.
And here's a few more photos I pulled from the Urban Gentleman archives: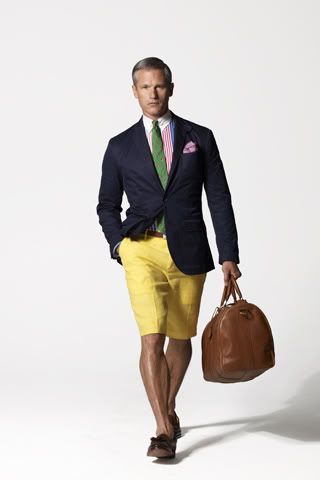 his color palette is basically gold, white, black (= gray)
then he adds splashes of colors with the blue shoe string
and purple croc murse.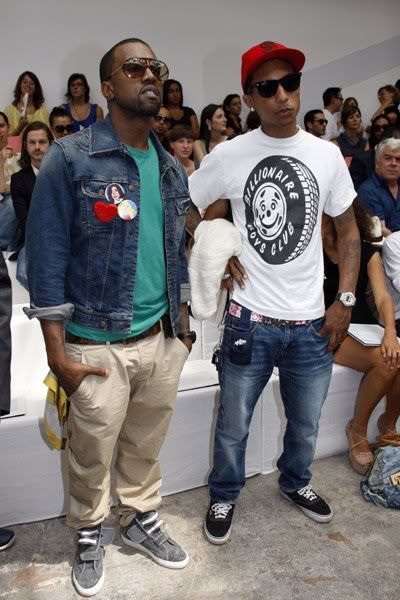 this picture isn't the best to show for an example, but its good enough.
pharrell-
note his basic coloring, then pops of color with the red hat and belt.
kanye-
he's working with a nice color palette- mixing neutrals- gray, khaki, and jean, then a pop of color with the green. he wears brown accessories- belt and shades.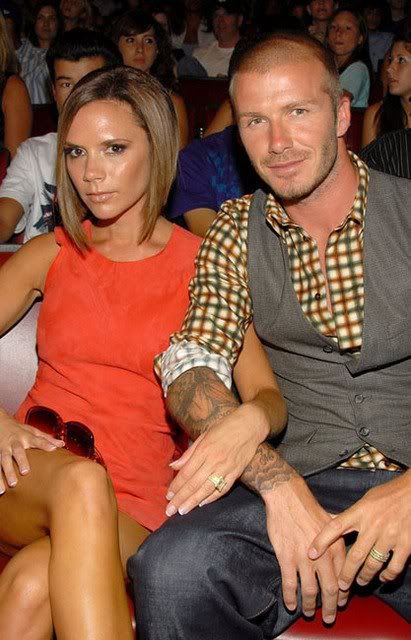 there's nothing like having a pretty lady to match your fly 😉
david and his wife victoria coordinate flawlessy (without being too
matchy matchy). their color palette is sort of autumn-like.
burnt-orange, basil/olive green, warm gray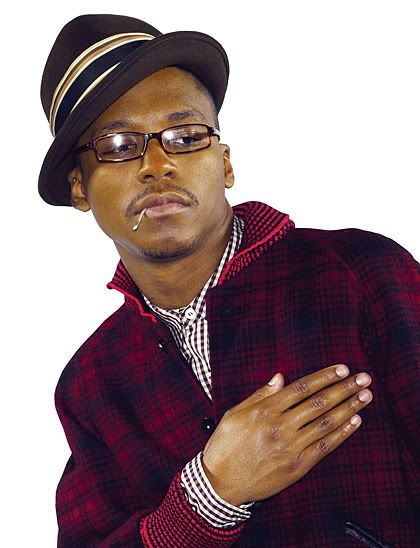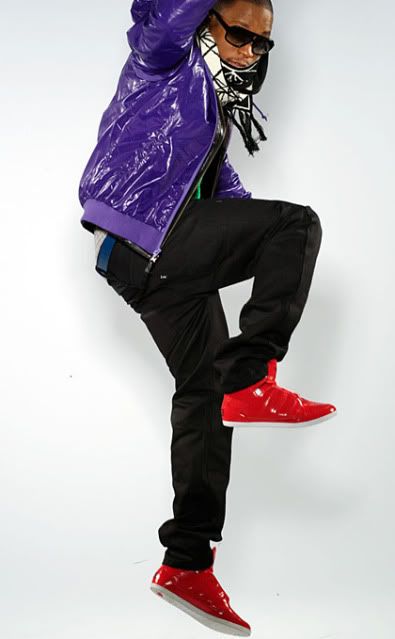 this is where texture and color come into play.
coordinating colors are easiest when you also match the texture.
here lupe sports patent leather jacket and shoes
both are crayon box colors- red and purple.
black is usually a great neutral for crayon box colors.
---
8 Comments
---
Leave a Reply