I'm super excited to introduce our newest local urban gentleman. His name is Jamie McFarland and he hails from England, United Kingdom! Yesss, finally, the
FIRST non-American local gent (round of applause)
… I heart it. His style game is sick, and he's definitely one of my favorites thus far- you'll know why after you see his pictures. Oh, and did I mention he's from England, that's right I did
Without further adieu…
Presenting, Jamie Ryan McFarland…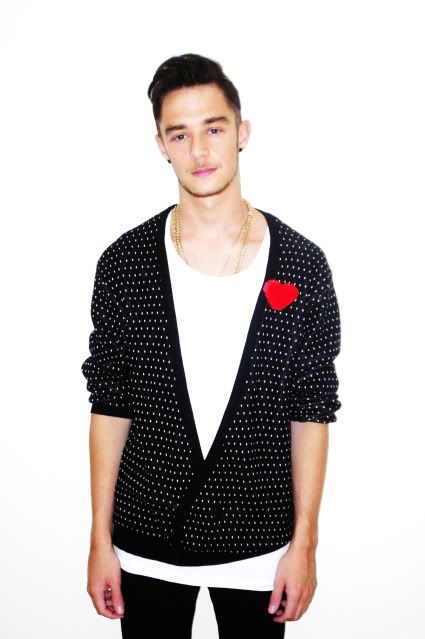 someone's been paying attention, Jamie exhibits the hautest trends
of this year… rolled cardigan, skinny jeans, gold chains,
heart brooch, all seamlessly combined in a subtle way.
My favorite part of this look? the gold chains.
why? well because its the little things that go a long way,
Jamie wears 2 different sized chains- a thin herringbone and medium cuban
He chooses to wear them

under

his shirt.
This helps to focus and fine-tune the look.
If he had worn them over the shirt it would take away from the
red brooch and the chains would perhaps appear too "blingy".

Name:
Jamie Ryan McFarland
Age:
20
Location:
England, UK
Occupation:
Student
Style Icons:
Taz Arnold, Gok Wan, Kayne West
Favorite Quote:
It is better to regret something that you've done, rather than something you haven't.
Favorite Brands:
Its not about the brand, its how you rock it!
Favorite Store:
Topman
Favorite Piece of clothing:
Denim Jacket
Bow tie or tie:
Bow Tie all the way!
Flat front or pleated:
Flat
Shades, hat, or scarf:
Shades!
Ultimate goal
: To become recognised for something I am good at and enjoy…
Favorite Books
: Twilight
Hobbies
: Shopping, Swimming, Raving (Clubbing/Partying), Drinking 😀
Grooming product of choice:
Hair Gel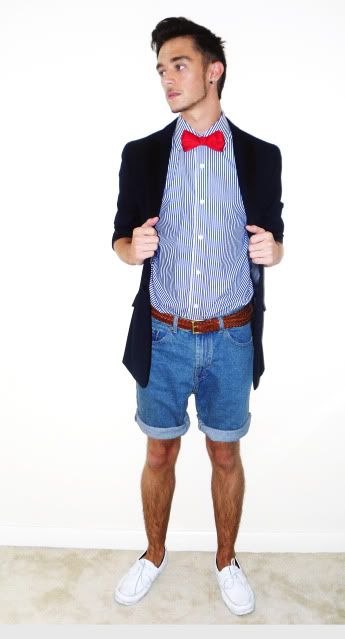 simple summer dandy.
the blazer. the shorts. the white boat shoes. the brown braided belt.
everything gets a check mark
in my book
.
jamie made these perfect summer jean shorts by cutting a pair
of jeans and rolling the edges- very clever.
1.
How would you describe your style?
I would say my style is eclectic, I like taking different styles and merging them together then adding my own touch.
2. How did you become so stylish?
Ever since I was young, I had always went with the fashion, but in the past 3-4 years I have purposely tried to achieve a specific style of my own and one that suits me.
3. What advice would you give someone trying to find their personal style?
Wear what you like, as long as you feel comfortable. Try to make a statement, however keep in mind that some times less is more! – but that doesnt mean less clothes and walk around naked lol!
4. What's the best clothing advice you ever received?
"Wear clothes that bloody fit!!"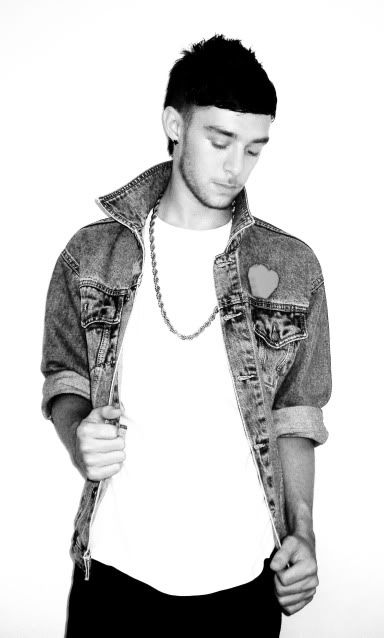 What I like most about Jamie's style is the versatility. One minute he looks like a polished hipster, the next a traditional dandy, then a trendy urbanite. He even changes the style of his hair…. seriously they're different in every picture- who does that? I'll tell you who- cool people, lol. One of my best friends gets his hair a tad different every time he cuts it… he has 3 main looks – caesar, high-top fade, and tapered. (His hair texture is similar to Jamies, but a bit thicker)… Hmmm this inspires me to do some hair articles for you guys…
Get Mr.McFarland's Look….
Dee & Ricky Heart Badge
, $60,
click here.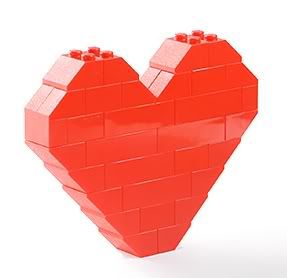 Levi's Jeans Jacket, $68, click here.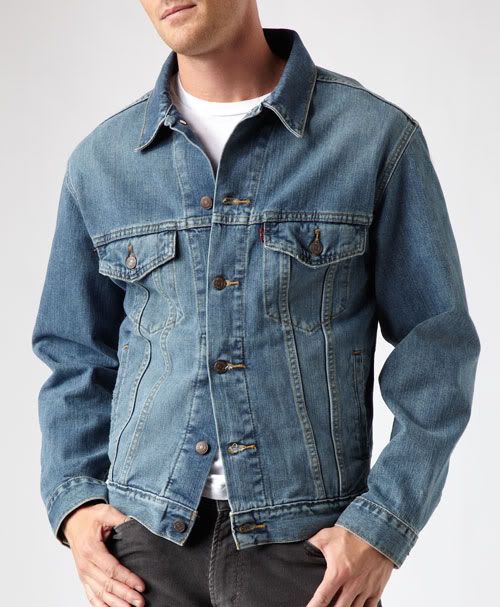 I think I'd go as far as saying these two items or similar items are essentials in an urban gentleman's wardrobe these days. I've been getting alot of emails about jean jackets, so I searched some online stores and placed a few in
The Urban Gent Store
, check them out
here
.
Are you the next Local Urban Gentleman?
Answer the questions above and submit them to
urbangentblog @ gmail . com
along with 4 or more stylish pictures.
Now that Jamie has broken the ice for the non-Americans I expect to see more entries from you guys… so Canada, South America, all the guys who email me from Japan, China, Australia, etc, yes all of you- I hope to be featuring you soon
---
6 Comments
---
Leave a Reply