I won't call it blue-eyed soul, that's cliche'… plus his eyes aren't even blue. What I will call it however, is panty-throwing soul music, lol. Too crude? I hope not, but that's exactly what
Mayer Hawthorne
will possibly have the ladies doing in due time. Drawing his inspiration from Smokey Robinson, Curtis Mayfield, and the legendary songwriting and production trio of Lamont Dozier, Brian Holland, and Eddie Holland Jr. this retro soul singer just has it. Yes, it- that special something that few new artist have embodied these past few years.
Press Play:
(listen to about 30 seconds then continue reading the rest, with the song playing).
Would it be too much to say I have impeccable taste in music, hmmm I think not… I just sorta have that indiscriminate ear for the best, eh, what can I say (as I dust my shoulders off), lol. No but seriously, very few artist make me fall in love with their music after only listening to a singular track, but
Mr. Hawthorne
somehow became one of the hand full of artist who left me that mesmerized. I was introduced to the new era soul singer not too long ago by Urban Gentleman Fan Robert (aka Russ), and, well, Mayer Hawthorne has been on repeat in my itunes player ever since. Did I mention how much I love urban gent fans? well I do, you guys are best.
When listening to his music, it feels like he's an old pro. But actually the Detroit, Michigan native never ever planned on making an album full of soulful- doo wop- finger snapping hits, he was actually a DJ and if anything would have emerged on the scene as a
hip-hop artist.
Then one day his "on the side, playful, sort of a joke"
Mayer
(his middle name)
Hawthorne
(the name of the street he grew up on) material got into the hands of DJ and
Stones Throw Records
head
Peanut Butter Wolf
. To say the least, Mr. Wolf went wild, especially when he learned Mayer played most of the instruments on his tracks, wrote the songs, and of course sung it all like he was beamed in straight from Detroit circa 1969.
Has this unsuspecting soul singer began a movement that will put Hitsville, USA back on the map? Well… I darn sure hope so, anybody who's somebody knows
Motown is #1
, so a return to those classic sounds would only bring happiness to these hard (recession) times.
His debut album, A Strange Arrangement drops September 9th, that's right 09.09.09. Pick it up at record stores near you or online at Stones Throw Records.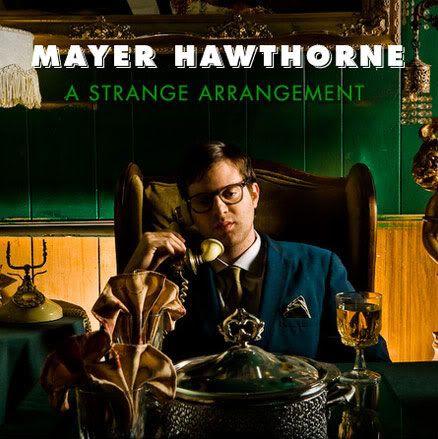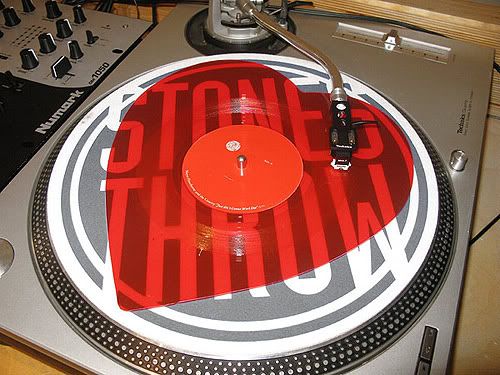 the answer is yes. yes that is a heart shaped vinyl. Mr. Mayer is a vinyl collector so he wanted to make sure his first album was sort of a collector's edition for DJs and vinyl connoisseurs.
Check out more Mayer Hawthorne:
Official Label Page:
http://www.stonesthrow.com/mayerhawthorne
Myspace:
http://www.myspace.com/mayerhawthorne
Mayer Hawthorne: Just Ain't Gonna Work Out (Official Video)

Mayer Hawthorne: Maybe So, Maybe No Video (*Official Video)

One of the best songs, if not the best song, on his album is sort of like an ode to his native city. "Maybe So, Maybe No" is a cover of Motown's legendary Detroit group The Holidays. The original song is one of Mayer Hawthorne's favorite songs (ever).

He also has a song on the album entitled, "I Wish it Would Rain".
Which I'm sure is inspired by David Ruffin and the Temptations.

Mayer Hawthorne's "I Wish it Would Rain"

Soooo, what do you guys think?
I'd love to see
Bobby Ray (B.O.B)
,
Mayer Hawthorne
, and
Janelle Monae
on a track together that's partially
written and produced by Andre 3000.
.. that'd be crazy hot. And then if they made a video together? Omg… craaaazy. There could even be a remix of the track with
Adele or Kate Perry
…. sick-o-ning. I'd love it.
---
4 Comments
---
Leave a Reply