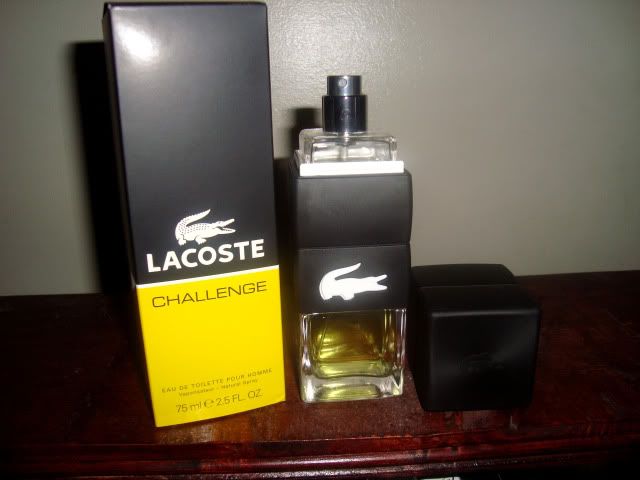 I think, still until this day, that Body Kouros by Yves Saint Laurent is
my favorite cologne for men
. I was quite smitten with the fragrance when I was… I guess "dating" a guy who wore it. I seriously was magnetized by the scent, plus the guy spoke french and he was such a gentleman so he was just an all around good packages… but I digress. Anyway since proclaiming Body Kouros my favorite, the only colognes that have rivaled it upon their release would have to be
Gucci by Gucci and Pour Homme by Versace
. But today, another cologne makes my "best" list…
I initially figured that it would be okay- sort of plain or overly masculine smelling like many "sports colognes", but when I received and opened it I realized I was wrong. The cologne is light and refreshing, it's the type scent that a girl would probably create for a guy if she was hand-picking ingredients to make a cologne from scratch.
The key would be to not wear too much of this (or any cologne in general), 3-4 sprays should be plenty. This fragrance gets 4.5/5- this is hands down my favorite new frangrance.
More Info on the scent, bottle, and inspiration behind Lacoste Challenge:
Challenge is the invigorating new fragrance for men from Lacoste; a positively energizing scent which captures the youthful dynamism of today's assertive male urbanites. Epitomizing the tenacious attitude and effortless panache of the brand's founding father, tennis legend René Lacoste, this energetic new scent is aptly named, having been designed to inspire the wearer to confidently embrace whatever challenges or surprises life throws at him – its motto: 'Never resist the call of the game.'
The Fragrance:
Top Note – THE SERVE
The fragrance opens strongly with fresh and energetic notes of tangerine and lemon, augmented by a burst of aromatic lavender – one of the most classic ingredients in masculine perfumery – which works to sustain the citric zing of the top notes into the heart of the scent.

Middle Accord – THE VOLLEY
The energy of the middle accord is driven by spices including ginger, aptly representing René Lacoste's formidable skills at the net, which he used sparingly to sting opponents when least expected, bringing an exciting kick to his overall game play.

Base Note – THE BASELINE
Just as the legend was renowned for his stamina at the base line; so the base notes are powerful, steady and consistent. Precious rosewood brings a modern edge to the scent, teak has an almost antique quality that reinforces the distinguished heritage of the brand, and the blackness of ebony corresponds to the slick modern design of the flacon. Together they create a sustained strength, giving the fragrance its solid foundation.
Emulating the shape of a tennis racket handle, the solid glass bottle is encased in a lustrous black 'soft touch' grip emblazoned with the iconic Lacoste crocodile logo, while the juice is a bright, eye-catching yellow. The color scheme is also a direct reference to the world of tennis in general, with its classic bright yellow balls and black racket grips.


---
3 Comments
---
Leave a Reply