On Friday, when I was on the way to my local park for my daily jog, I was met with a few
very
disturbing sites… So I'm driving along and was stopped at the intersection because of a red light, so I'm sitting there, waiting, then looked around and noticed two, seemingly high school aged, young guys sort of joking around with each other. This was normal- I know guys can be goofy, especially in high school. What was abnormal though were the clothes they wore…
tightly fitted jeans that hugged their lower thighs, knees, and calves
; their undergarments were fully exposed as their belts were strategically tightened below their buttocks.
I sat there.
in my car.
highly perturbed.
at what I was seeing.
Two FULL grown boys wearing jeans that were not only ill-fitting, but quite frankly made them look foolish. They paired these atrocious jeans with white v-necks, studded belts, and sneakers- now those things were okay and actually coordinated with their brightly colored extra saggy skinny jeans… but I… I was just upset. I just couldn't understand how these, probably intelligent young men of color, could not just look in the mirror and see that their ensembles were absurd.
The light turned green, so I moved on, I couldn't wait to jog now- to ease my temporary frustration.

So I'm driving along and then I am met again with yet another crazy siting. This time I had the displeasure of seeing two young guys wearing
extra baggy jeans that could literally fit two average size humans in them
. But that's not the worst of it, the worst of it is that they were actually holding their books in one hand and in the other-
their jeans.
… (sigh).
I thought to myself "this is amazing, this foolishness still floods the streets and it's 2009"… you guys just don't understand how truly perturbed I was. The neighborhood I was in was a nice one- one of the wealthiest in America even. I KNOW that these kids can afford a belt, but yet and still their pants were hanging off them as if, well I hate to be cliche', buuut as if they were members of a chain gang.
soccer (football) stars David Beckham and Thierry Henry
At this point I was in d e s p e r a t e need of a jog. I spent the last few minutes of my short drive thinking about men with style and trying to figure out who these young guys were trying to appeal to. It's an obvious and a mute point that the men with the most style wear pants that actually fit them: David Beckham, Kanye West, Tom Ford, Ralph Lauren, Thierry Henry, and the list goes on. I thought about the best-dressed men in my life… none of them have ever worn baggy/saggy jeans (including my brothers). So it is clear that stylish men do not wear clothing that expose their briefs, that means these young high-schoolers are obviously not trying to be stylish… so maybe they're trying to impress someone?
I do know that most of what young men do between the ages of 12 and 18 is in an attempt to impress girls. So this led me to quickly bbm (black berry messenger) a nice sampling of females- ranging in age 15-27, european-american, african-american, hispanic, and asian about 9 girls total. I simply asked them "what's your take on guys sagging- do you like, dislike, and why?" The results were unanimous and two of my friends actually answered with the same phrase "sagging pants? so unsexy." All of these girls are gorgeous with alot style, their backgrounds vary: 2 professionals, 1 married, 3 of them my mentees (in high school), 3 college girls… and every last one of them prefers a male who wears his pants on his waist with a belt rather than hanging below his derriere.
Alright, so now there's two things that are clear, guys who wear sagging/baggy jeans are:
1. Not stylish
2. Not Attractive to (attractive) women.
Sooooo? ? ? What the heck is going on?
Firstly, from about 1989-2005 there was an overwhelming issue of guys wearing quadruple X clothing and sagging like belts were taboo. We all know that this trend was inspired by "gangster rap" and music icons like Tupac. And their original inspiration was from experience in state penitentiaries. And you know what, I'm not even going to knock that because trends stem from many places and they come and go- that's life. But then thanks to guys like Pharrell and Kanye most guys started wearing jeans that properly fit them. This started around 2003, but has heavily caught on over the past 3 years. But now, noooow, somehow guys are wearing jeans that are tooooooooooooo small and they're STILL sagging. Okay, now let me be very clear- I don't dislike skinny jeans, I even love them on certain guys- usually slim built artistic types and rock stars. I just have a MAJOR issue, a m a j o r issue, with guys going from a dramatic 5XL to a dramatic XS… the extremes are so very unnecessary.
Skinny jeans have been a topic on this blog several times… first, last summer discussing 'can men wear them', then a look back on skinny jeans, Lil Wayne in skinny jeans, Jay-Z's take on skinny jeans, etc.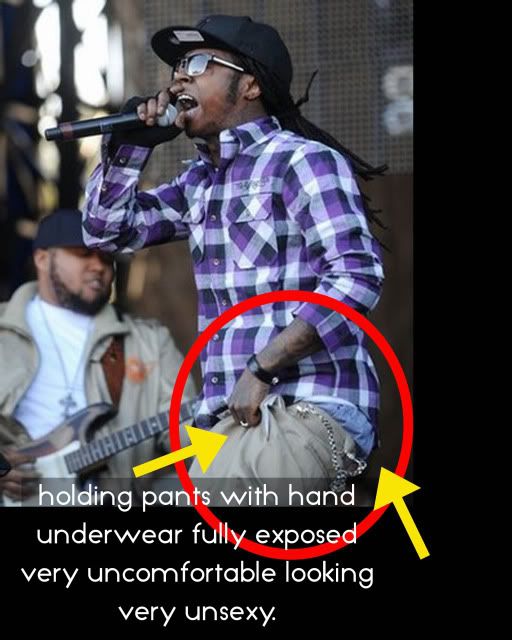 What you young guys must realize is that females may like stars like Lil Wayne and think he's the sexiest thing in the world, but that's just it- it's because he's a star. Every star, male or female, has their groupies. Mr.Belding from Saved by the Bell has his groupies… girls don't like these guys because of their clothes per se, they like them because they're famous… famous people, especially male celebrities, can unfortunately get away with wearing foolishness like this. Plus this look goes along with Wayne's demeanor and image- lackadaisical, marijuana lover, "don't care" type personality, etc.
Unless you plan to be exactly like him
(i pray you don't) then you can't dress like this without someone getting the wrong impression. I'm not saying everyone has to wear button-ups and oxfords, I'm not saying that in the least bit. I'm just saying pull your damn pants up, please
I still stand by who I think can and can't wear them, but I don't think I was clear on what kind to wear or how to wear them. There are several types of skinny jeans and the type that I think is appropriate for most guys (even heavyset/husky men) are the kind that are skinny but a little baggy- meaning they don't tightly hug your thighs, they technically are not even skinny jeans, but they're skinny in comparison to the over-sized pants a good number of guys were wearing before.
I know that in the past I said Lil Wayne has style in his own way, but that's where that ends- he has style in his own way. His individualized "I get high every single day, I let little girls dance on stage with grown men" rapper type way— this is NOT an example of how you should dress or even of how you should want to be (no offense to Mr. Carter). Realize that there are some people who you must only admire as artist and for their works not necessarily for who they are or how they dress- you can't emulate all of your favorite people even if you think their lyrics or words changed your life.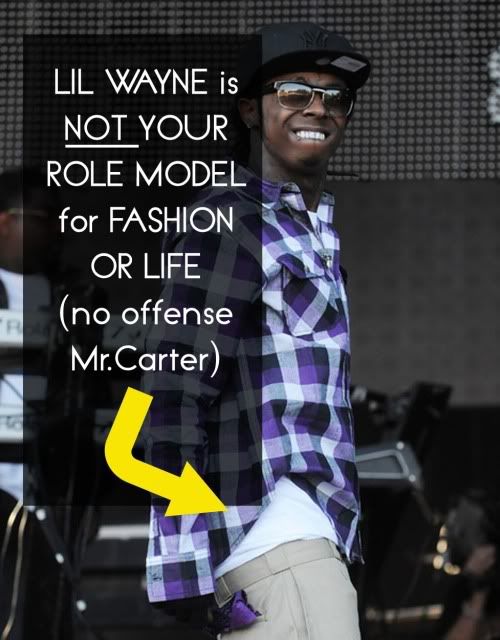 Okay, I don't want to drag this out any longer than I have to, but I just had, just HAD to write about this. Urban Gentlemen wear jeans that fit them, they do not wear jeans that expose their undergarments as they walk or that are 3xs their proper size. Guys, especially my young readers, understand that people do judge you by your appearance, this may not be fair, but it's life.
The moment you walk into the room people are trying to figure you out: how you look, how you dress, how firm your handshake is- these are queues people use to evaluate you. Leave a bad impression and it may last forever. You never have a second opportunity to leave a first impression. And these days with this tough economy, and with opportunities not being as vast, you really want to paint yourself in the best light- that includes wearing clothes that properly fit you.
I really really want you guys' feedback on this topic-
why do you or your friends wear sagging pants?
These days alot of skater kids wear sagging pants too… like I mentioned in the skater king article, skater style has grown to be the stereotypical hip-hop style (a style that can only really be seen on tv and in movies since most rappers dress preppy these days).
I would fully appreciate everyone's candidness about this, be honest and open and I promise not to judge. If you want, be anonymous, but just honestly and straightforwardly think about why you wear jeans that expose your underwear or why your friends or associates do, then post a comment.
*I know some of you are thinking, "what the heck, you know I don't sag my jeans!!" so I'm sorry if I've insulted any of my readers with this, I know the majority of you do not wear derriere exposing jeans, but I'm thinking some of the youngsters do and that's mainly who this article is for. I know no educated man over 25 would be wearing sagging jeans even if Weezy is his favorite rapper.
---
40 Comments
---
Trackbacks
Leave a Reply