The Urban Gentleman
first covered marching band jackets over a year ago
– when
Lupe Fiasco
, troubled youngster
C.Breezy
, and a few rock stars were the main ones rocking them. But after the Fall 2009 Runway shows the popularity of these jackets rose dramatically. And with that many people began visiting the urban gent to read more about marching band jackets. When I wrote the
first article
, most designers did not carry jackets that emulated that of a drum major or military sergeant, so my list of where to buy them was small. Now, since marching band jackets are more mainstream, they can be found almost anywhere, but the task isn't as easy for men as it is for women. So I've compiled an updated list of where to get them online.
First lets start with designers… D&G. They're the only designer label that had an overwhelming amount of marching band and military jackets in the Fall 2009 shows- from what I can remember anyway… I think Rag & Bone had one, and well my memory goes blank after that (feel free to let me know what other designers had military and band jackets in their show).
Those are really nice, especially the first one, but I know everyone doesn't have $1300-$1500 to spend on a jacket. After searching, I found about 4-5 similar jackets on eBay. And though you may be reading this one month after it was written I'm sure that similar jackets are still on eBay.
Here's 1 current auction: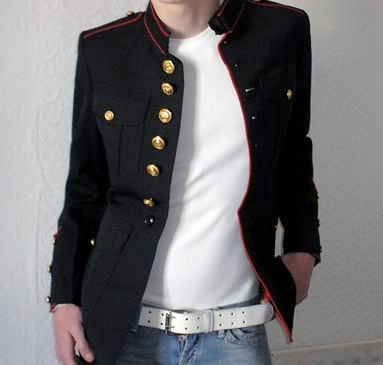 *(sold as of 9.03.2009)
I also found some great simple military style jackets that would make for great staples in any man's fall wardrobes (plus they're perfectly priced):
*(geez louise guys you all made this jacket

sell-out in less than 3 days

)
The overall online selection for
men's marching band jackets
still isn't that wide, but the in-store selections are okay or solid. So visit the trendy stores in your area to further search for military/varsity/marching band type jackets. I would also suggest calling stores in advance to save yourself time, just google the store and location and call to ask if they have any marching band type jackets. If you live in a suburban type area then your retail center is probably a mall, so find the website for the mall and pull up the store directory then go down the list- calling stores you think would have the jacket.
Hope that helps! Feel free to leave suggestions on where to specifically find more marching band jackets.
---
2 Comments
---
Leave a Reply