Did you hear about the rose that grew from a crack in the concrete?
Proving nature's law is wrong it learned to walk with out having feet.
Funny it seems, but by keeping it's dreams, it learned to breathe fresh air.
Long live the rose that grew from concrete when no one else ever cared

.
Tupac Shakur's
Rose From a Concrete
poem portrays the exact message that NBA superstar Lamar Odom is trying to get across- given the opportunity, anyone can grow. And that's what Rich Soil is all about.

Rich Soil is a clothing line that promotes creative design, spiritual iconic imagery, and the shared idea that growth can come from virtually anywhere. Started by Lamar Odom and designer Jonathan Garcia, Rich Soil seeks to be at the forefront of new ideas. Drawing inspiration from an eclectic mix of experiences, musical taste and personal philosophy. Rich Soil uses the T-shirt as a vehicle to promote more than a brand, but a movement that represents the creative spirit of all people.
You'll also notice that many of Rich Soil's designs include a lion, rose, and or trumpet. The lion and trumpet are iconic imagery taken from biblical references and represents the spirit inside everyone. The rose, as mentioned earlier, represents growth.


LA Forever, $28
(also in purple and gold)
*(this is a new one in their collection and one of my favs)

Heart of a Lion, $28

City Breaker, $28

Creative Spirit, $28
(also in black and white)
Featured artist for Rich Soil includes: Chuck Anderson, Mike Perry, Carine Brancowitz, Joe King, and more.
More than just a clothing line…
Besides producing stellar tees featuring some of the most creative artist of today, Rich Soil clothing further promotes its message with their Rose Campaign. Originally, based off of the "Rose Court" t shirt, the Rich Soil Team wanted a symbolic representation of growth and human spirit to thrive in any condition. By planting and documenting the Rose in unusual situations, these photos are meant to represent each of our personal struggles and the ability to grow into something beautiful. To partake in this movement email
rosecampaign@richsoilclothing.com
with your name and a photo of a rose with the appearance of growth from an unusual place/location that represents you as an individual.
To view
Rich Soil's collection
,
go here
.
Oh, let me not fail to mention that Odom's line also carries women tees that are hot as well. So if you get one for yourself be sure to purchase one for you girlfriend too.
Lamar wearing his Heart of a Lion tee.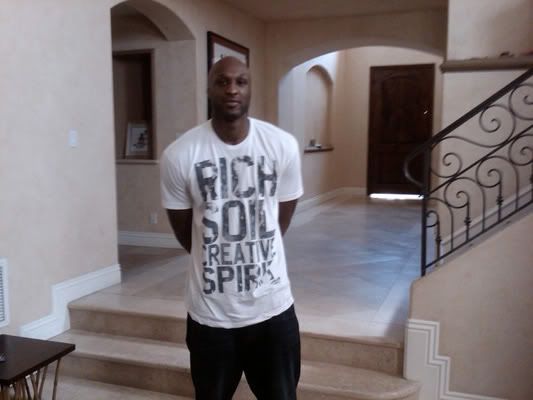 Lamar behind the scenes of his Rich Soil photoshoot
Lamar at L.A Confidential Magazine photoshoot
---
4 Comments
---
Leave a Reply