It's fashion week in New York and all the designers are showing their Spring/Summer 2010 collections. While many sites are covering the actual collections I feel it would more beneficial to cover the street style… to see what the guys are wearing as Fall sweeps in. (I'll cover ss2010 later).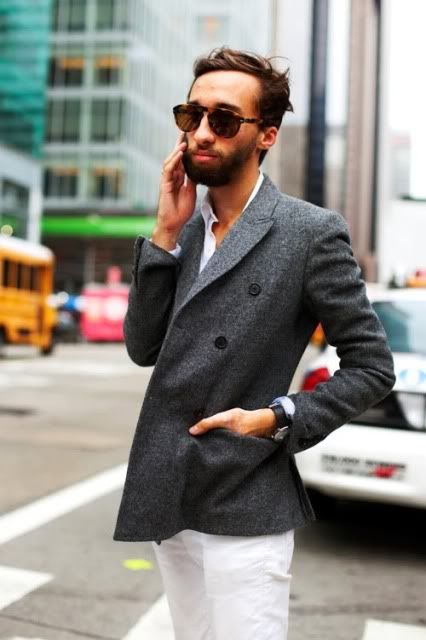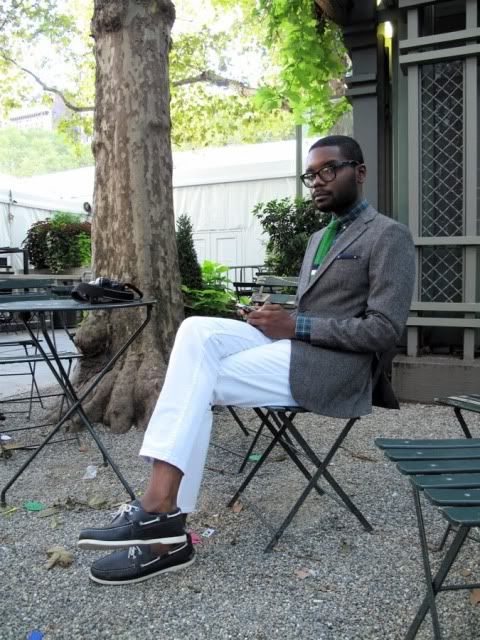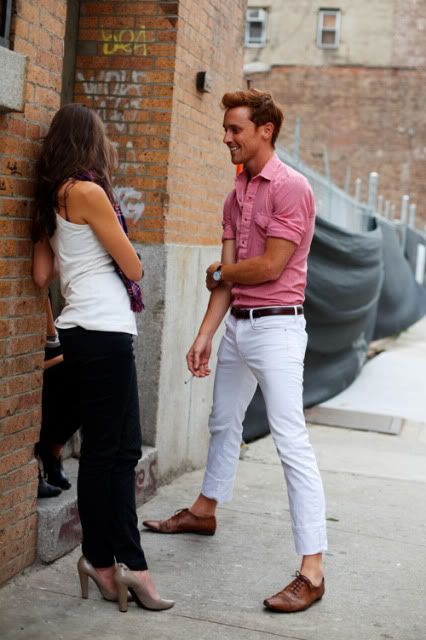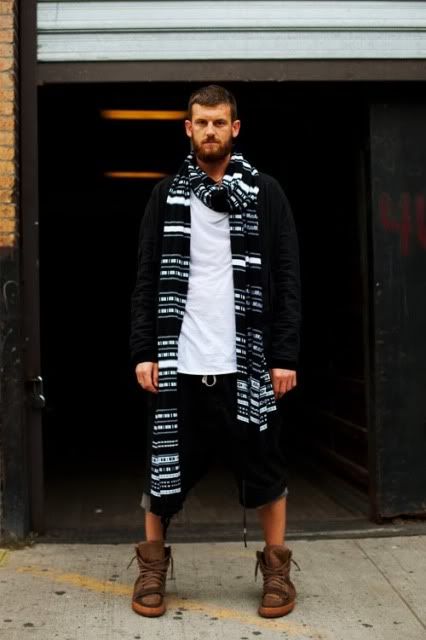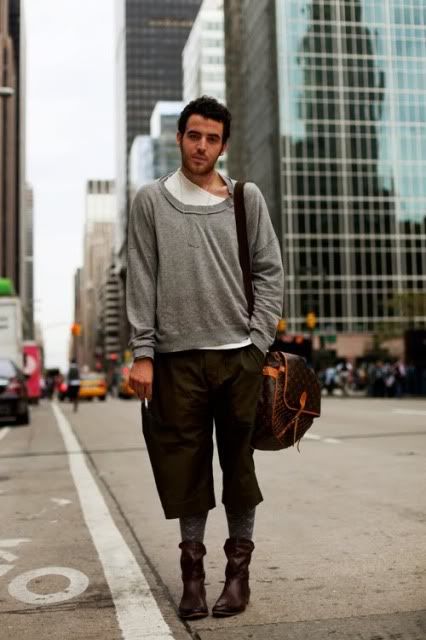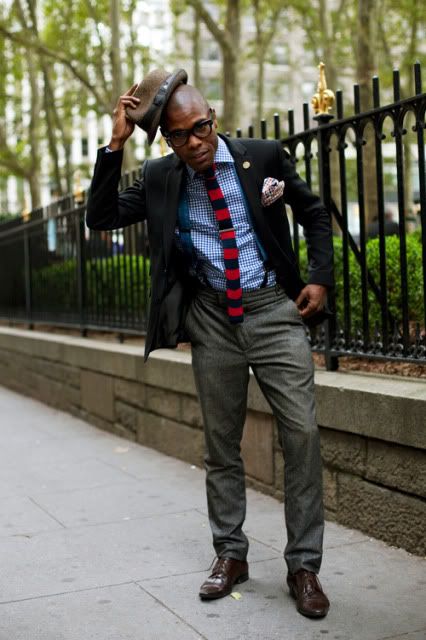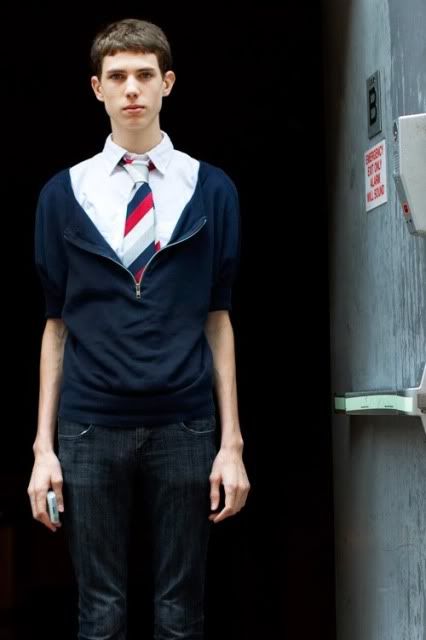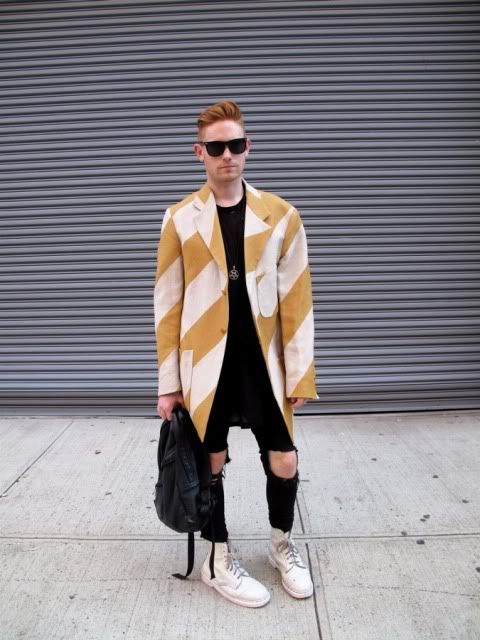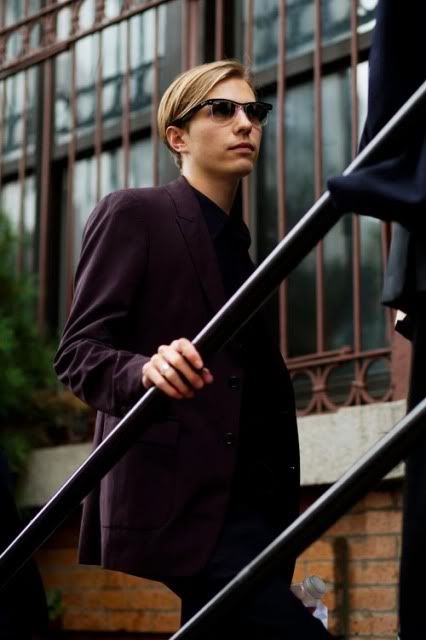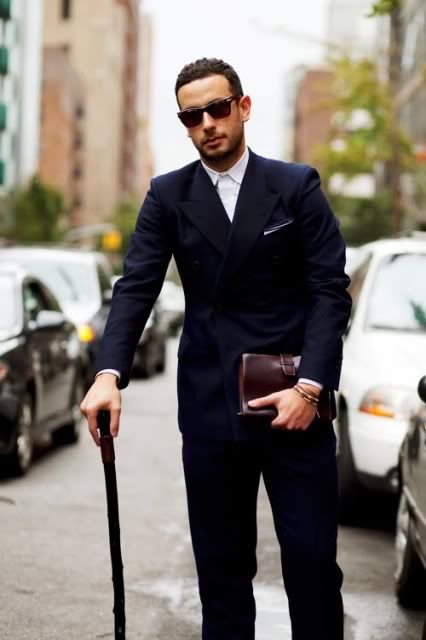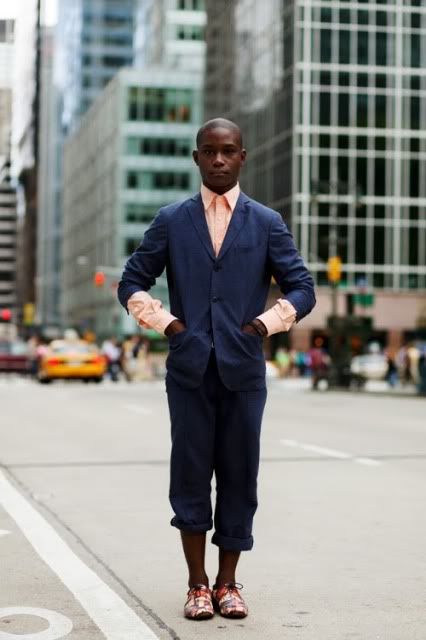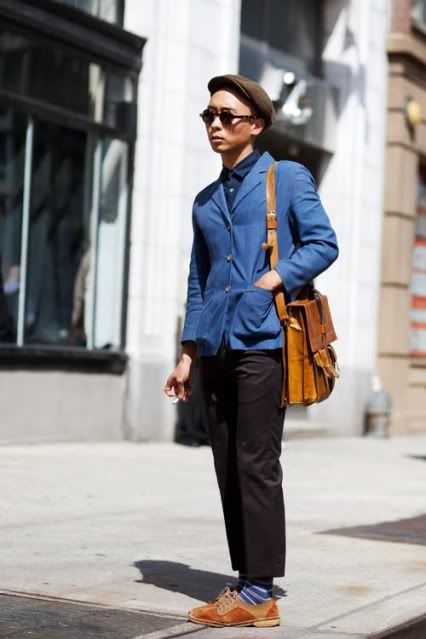 Bryan Boy (sunglasses: Marc Jacobs, tulle top: Veejay Floresca, pants: Gucci, sleeveless shirt: Zara, shoes: custom made)
Ykiro Nigel, designer for the clothing line Laissez-Faire.
(jacket: Laissez-Faire, top: Laissez-Faire,
jeans: Cheap Monday, shoes: Top Shop)
Teen Vogue editor Andrew Bevan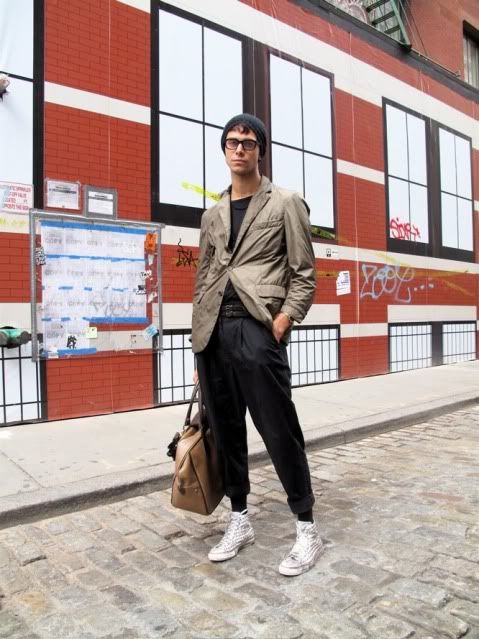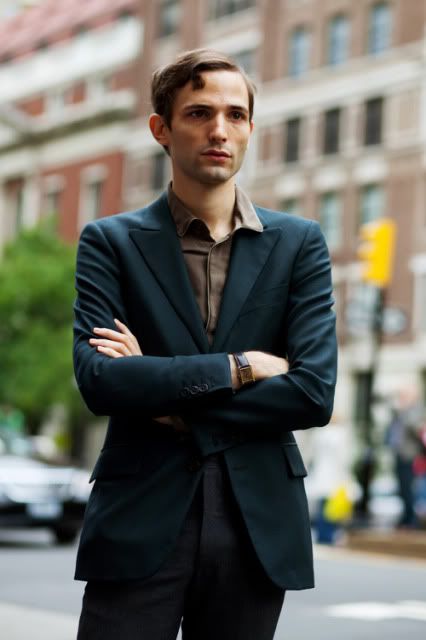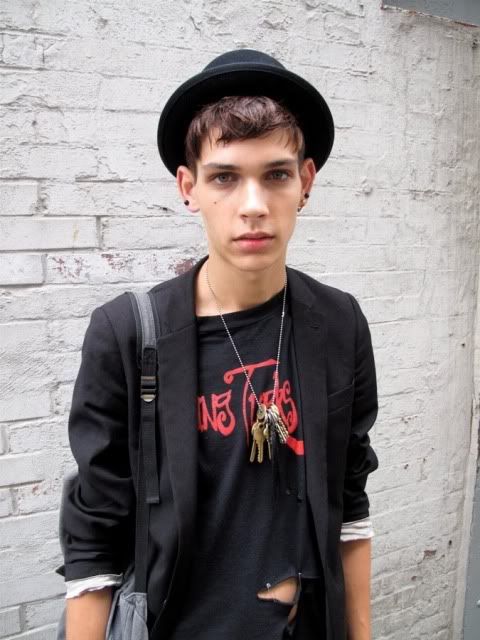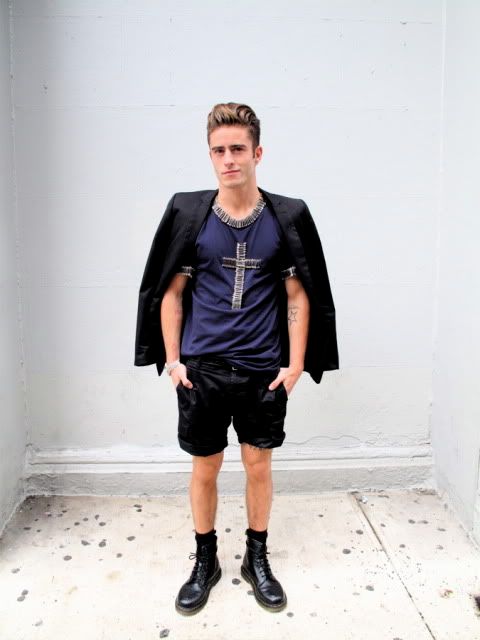 designer Kristopher
(white Gap shirt, rolled up torn Levis Jeans, Ferragamo loafers)
As a woman- the thing to envy about men's fashion is that it doesn't radically change. The styles subtly adjust overtime allowing a stylish man to really enjoy the current trend. And as per last Fall there's still these extremes of men's style: the over-sized vagabond type look, very skinny/very tailored styles, rugged/torn edginess, authentic preppiness, rolls rolls and more rolls. It's interesting to see the trajectory of only a few guys consistently rolling up their pants in Spring 2008 to now. It's hard to catch a stylish guy without them rolled/cuffed up in Fall 2009. I wonder how this will play over in deep fall and winter? Will patterned and colorful socks be all the rave again, so that guys can keep their Thom Brown look without their ankles getting cold, hmmm, I wonder?
For now I advise all guys to purchase a really nice pair of oxfords and boots. Get one pair of each that you feel you can wear with almost anything. I'll do a post on my favorite oxfords and boots sometime this month.
photos from: thesartorialist.blogspot.com, facehunter.blogpsot.com, altamiranyc, streetpeeper, jack&jil.
Here's a little something for an after work/school laugh…
… this guy (Iman Crosson) is hilarious, check out a few of his other videos here.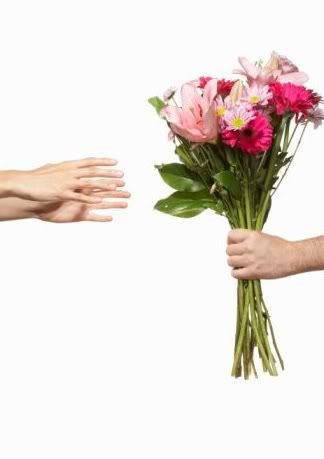 AXE is giving a big boost to guys that need to get in touch with their sensitive side. The iconic leader in men's care released a Sensitive City Study, conducted in partnership with Bert Sperling's "Best Places," to launch the brand's newest Skin Contact shower gel, AXE Sensitive. California rose to the top of the list with Los Angeles and San Francisco tied for 1st place as the best cities for guys to show off their sensitive side. The South surprisingly came in with the worst marks, naming Nashville as the worst place to try to win a girl over by turning on a softer side.
The study was designed to identify the U.S. cities that are most in tune with the sensitivity girls want — and men need — to help them in the mating game. To produce the study, Sperling's "Best Places" examined a series of criteria and ranked the cities best equipped to help guys tap into their softer side when it matters most to girls. The criteria included types of magazine subscriptions, abundance of cultural centers such as museums and music venues, types of retail stores and restaurants, and the least amount of "dude-friendly" activities such as fishing and hunting. The findings separated the sensitive from the insensitive, with some interesting results:
Best Cities
for Showing Off Your Sensitive Side
Los Angeles/San Francisco, CA (tied for first)

New York, NY

Boston, MA

Washington, DC

Newark, NJ

Chicago, IL

Santa Ana-Anaheim, CA

Miami, FL

Cambridge, MA
Worst Cities
for Showing Off Your Sensitive Side
Nashville, TN

San Antonio, TX

Cincinnati, OH

Charlotte, NC

Kansas City, MO

St. Louis, MO

Pittsburgh, PA

Fort Worth-Arlington, TX

Jacksonville, FL

Virginia Beach-Norfolk, VA
California Cities Rise to the Top
The AXE Sensitive City Study revealed that the West coast, with many options for a romantic night out, is the best coast for guys to show off their sensitive side. Los Angeles and San Francisco tied for the No. 1 spot, each boasting a large number of top-rated restaurants and cultural centers. In fact, the Golden State came out on top overall, with six of the top 15 spots going to California cities – not bad odds for Cali guys!
Step It Up Down South
While their charm may impress girls at first, guys in the South need to step up their sensitivity if they want their girls to stick around. Despite the famous concept of "southern hospitality," six out of the ten least sensitive cities are in the south. Surprisingly, Nashville fared the worst with a high concentration of very typical guy-related activities like motorcycle and RV enthusiasts, and relatively few cultural centers or date-friendly restaurants. Not to worry though, for those sensitive guys in Nashville, there is still plenty to do. Consider a jaunt to the Country Music Hall of Fame and Museum or peruse the Frist Center for Visual Arts for your first date with a girl.
(top pic: Nick at AXE Lounge in the Hamptons; bottom pics: Nick knew how to use a bit of sensitivity to get pop diva, Mariah Carey)
Overcoming Obstacles
AXE partnered with Nick Cannon, host of "America's Got Talent," and dating expert Anna David to help guys find ways to turn on the sensitivity, regardless of where they reside.
"Guys, it doesn't take much effort to show your girl how much she means to you," Cannon advises. "Listening, understanding and sharing your 'inner sensitive guy' are keys to making your girl happy."
Guys don't have to be discouraged if their city didn't top the list — AXE has them covered with some tips from dating and relationship expert Anna David. Now, no matter where you live you can turn on your sensitive side to keep your girl happy.
Approach
Trying to get the girl by following the old dating playbook is only a numbers game. Throwing out lines until you find someone who responds will only get you your last choice. If you want to get the right girl, you need to really focus on her.
If you take a girl to a party, don't abandon her and expect her to fend for herself. Introduce her around proudly. Get her a drink. But don't feel like you have to babysit her, either.
Make small gestures to show her that you care — whether it's sending a sweet text or grabbing a bag of cherries from the corner store because you know how much your girl likes them.
If the girl in your life would rather cuddle up with a book than with you, odds are you need to take your grooming to the next level. Using products like AXE Sensitive Skin shower gel is a great way to keep your skin clean, smooth and irresistible… just how she likes it.
If you're not a softy your skin can still be, with new

AXE Sensitive Shower Gel.

The new mild formula is enriched with cucumber and milk protein, gently cleansing guys' skin and leaving it soft. The dermatologist-tested shower gel is significantly milder and less drying than regular bar soap. The result is irresistibly soft skin with a calming fragrance that will make girls lean in close and keep coming back for more.
Sensitive is the latest addition to the Skin Contact line, which also includes Hydrating and Smoothing shower gels. Skin Contact Shower Gels feature subtle scents with ingredients such as aloe, cactus milk and cucumber protein and make guys' skin feel irresistible to the touch.
Be sure to pick up a bottle from a store near you.
This years VMAs were sort of… reckless. Kanye on stage with Taylor Swift, Lil Mama jumping on stage during Jay-Z's and Alicia Keyes performance, Lady Gaga's costumes were scary, it was a mess. But I guess that's what makes it fun to watch- it's just a random fun award show. And for that same reason celebrities don't always take their attire seriously. From both the women and men their were more plain, okay, and bad clothing than good. On the women's side, I think Solange Knowles had the best total look, and from the men… I'll let you guys decide, who do you think?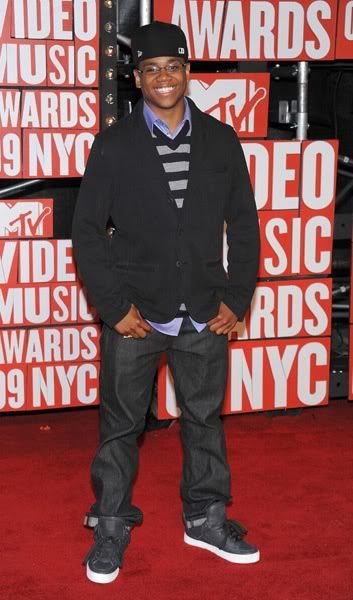 Tristan Wilds
The new 90210 sports a very casual ensemble… looks like something a prep school kid wear when they have casual day at school. He has alot of potential though, I could see him dressing like
Chris Paul
once he matures.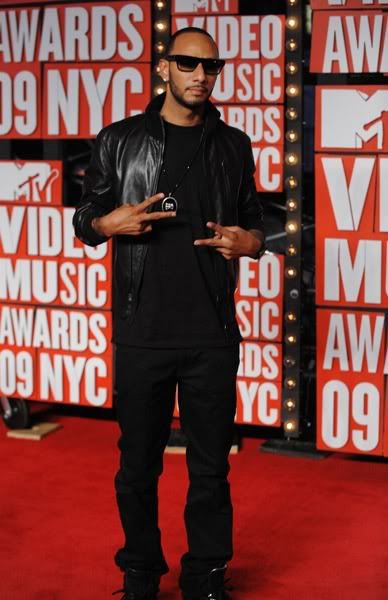 Swiss Beatz
All black, simple, classic, casually clean. Everything fits well- the jeans, the tee, the jacket. His shades are really hot.

Jermaine Jackson and guest
A very nice, top-notch quality marching band jacket. Very appropriate for the tribute to MJ.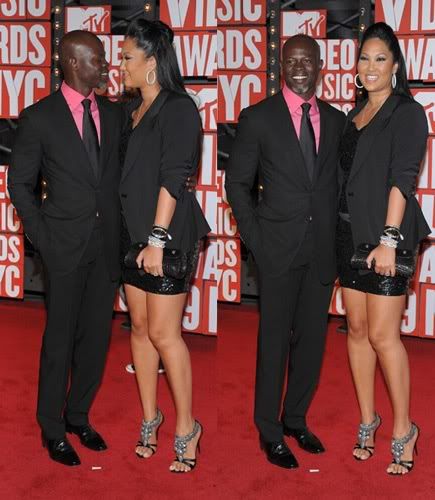 Dijmon Hounsou and Kimora Lee Simmons
cute couple, her baby weight is coming off nicely.

Adam Brody
Superb grooming. He has the whole "I just got off of work from my 6 figure job" look going. You know how it is when some of your banker friends get off work: they have a really nice suit on, tie a tad loosened, and their attire looks very relaxed- since they've been mostly at a desk all. That's the look Adam has going on, I like it.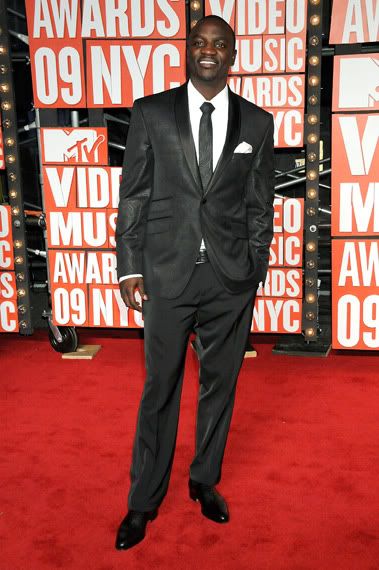 Akon
This is okay, I saw a close-up of the prints on the suit and it's not my favorite thing in the world, but it fits his style and taste.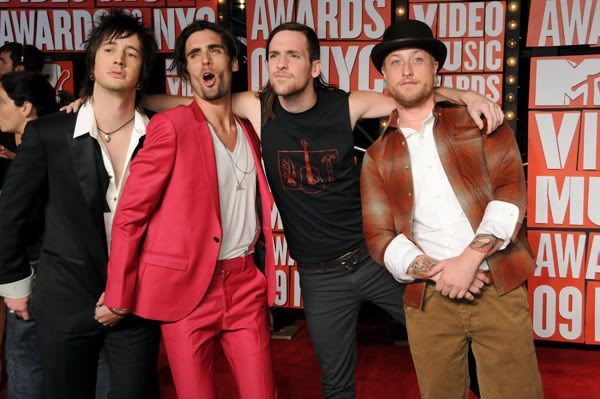 All American Rejects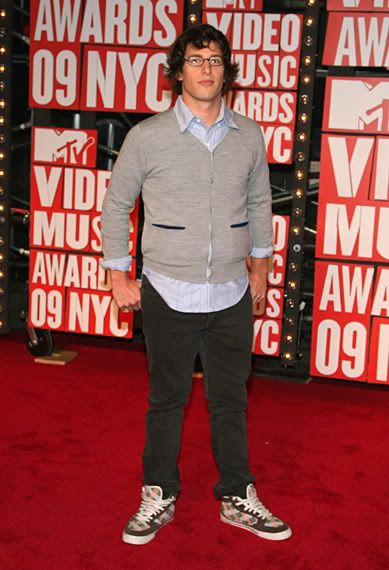 Adam Samberg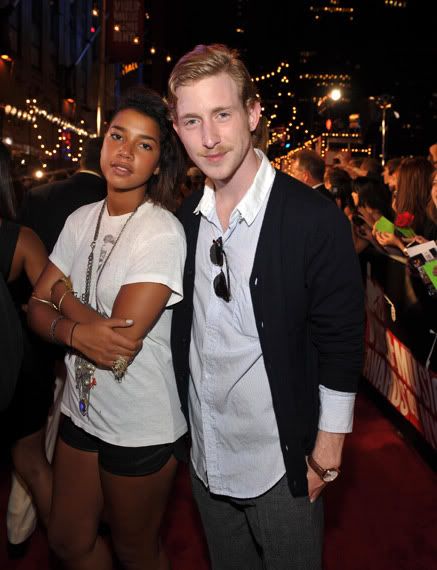 Asher Roth
This is opposite of his usual look, but I think I like it with the mustache.
He looks like a dad from the late 50s.

Chace Crawford
He looks just about perfect, good job Chace.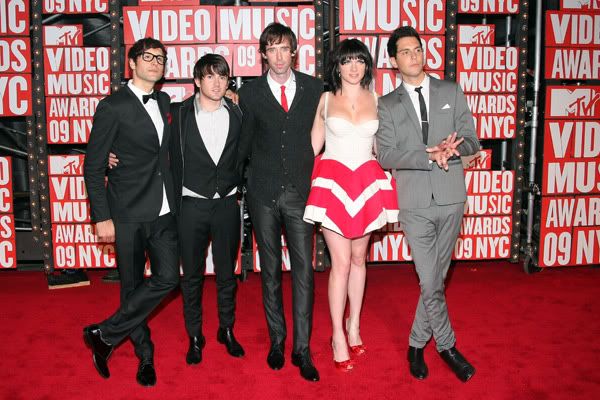 Cobra Starship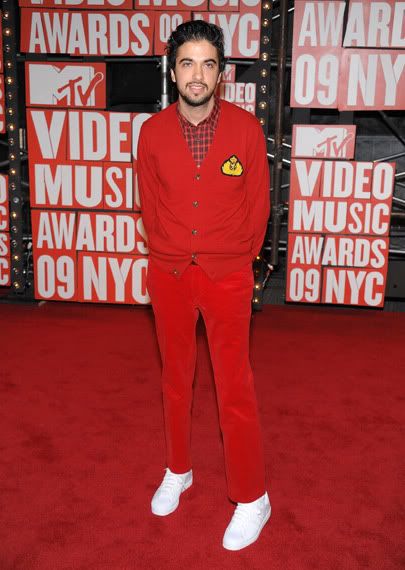 DJ Cassidy
I get what he's doing, but the look would have been much better with loafers, and if he stood up straight.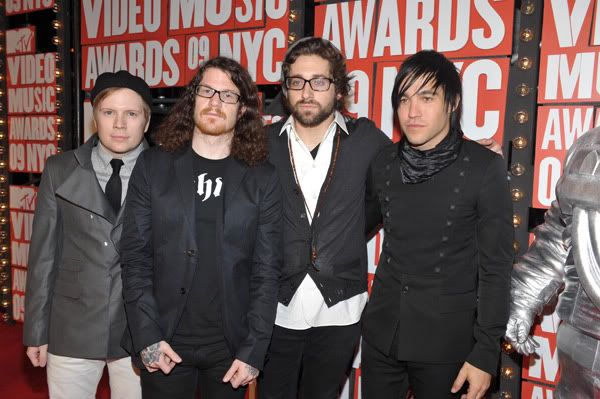 Fall Out Boys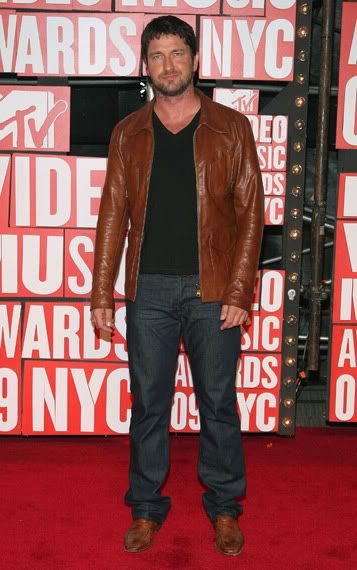 Gerald Butler
I wanna say this looks sloppy, buy I think it's mainly the camera angle. But actually, his pants are too long, jacket sleeves a little long, shirt is too short for his body type, and I wish someone would style his hair and beard better because they always look messy (not in a good way).
The Ugly Truth was really good though.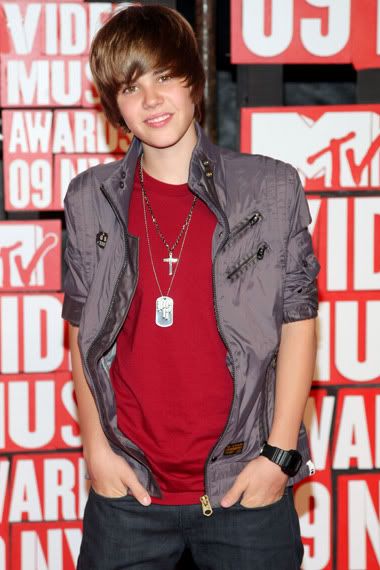 Justin Bleber
This is a very nice look for our young urban gents.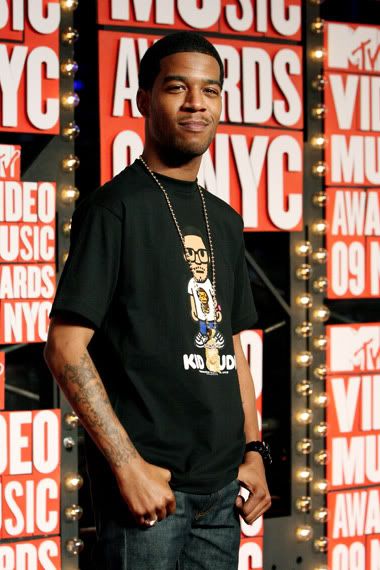 Kid Cudi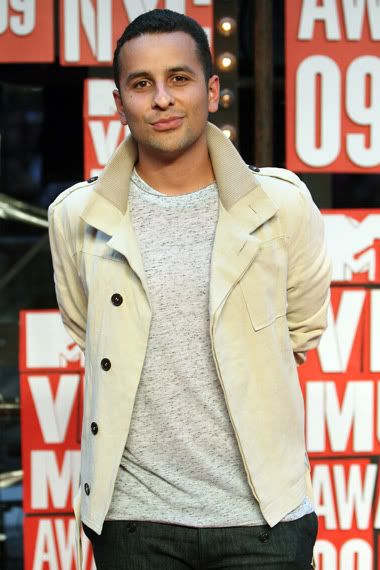 Mando Fresko
The quality of all his clothes are superb- jacket, jeans, and t-shirt

OK GO

Pitbull
Very clean

Russell Brand
(no comment)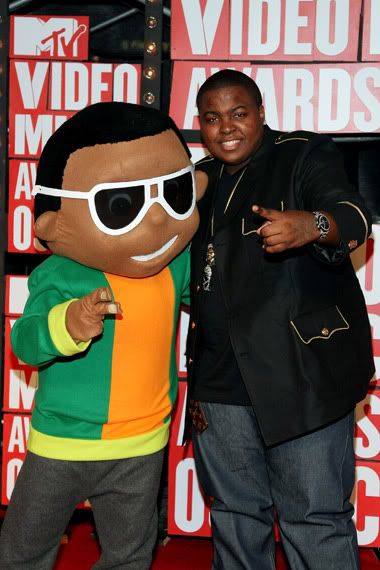 Sean Kingston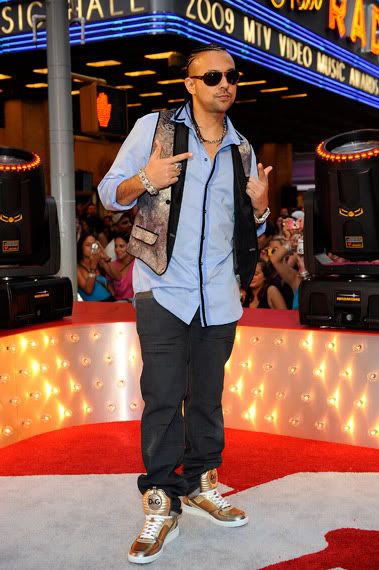 Sean Paul
I like Sean Paul, but his style is just off… its sort of stuck or something, he hasn't allowed his style to evolve. Idk, but he needs some help.

Taylor Lautner
Another almost perfect look
My favorites are probably Taylor Lautner and Swiss Beatz…