Sooo, where do I start?
Okay, I had a reader who sent me an email about 4 weeks ago, discussing Kanye West. Michael (the reader who wrote in), basically touched on that fact that his semi-style icon Sir Kanye had been disappointing him as of late… not really with his style so much, but with his "extracurriculars" with a certain girl. I asked Michael to do an article on the topic which I was going to post last week, but was saving for this week. Annnnd, after Kanye's tom-foolery last night it seems like all the blogs will be writing posts about him and his behavior. Which is cool, but now I'm sort of wishing we had made our post last week so it could have been pre "it's official kanye's a douche" buuut, it is what it is so we'll just combine it all.
Here's the original piece, by Michael:
This is Louis Vuitton Don night
So we gonna do everything that Kan like
Heard they'd do anything for a Klondike
Well I'd do anything for a blonde-dike
And she'll do anything for the limelight
And we'll do anything when the time's right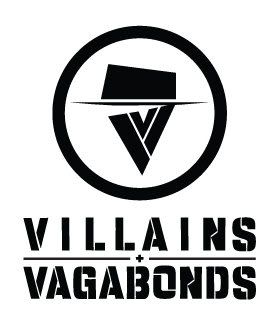 They say every girl wants a bad boy- at some point. Or atleast a guy that looks bad, even though he may be a good guy at heart. Well, there's one brand that will give you just the edge you need, while indirectly upping your street cred in the midst-
Villains & Vagabonds
. Named accordingly, V&V will surely toughen up your wardrobe.
Launched by the guys who created the clothing line KONTORSION, Villains & Vagabonds works to give classic "bad boy" designs a modern twist. Many of V&Vs shirts feature sexy graphics, scantily clad women, and guns, lots and lots of guns (pistols, ak-47s, magnums, etc)- basically all the makings of a classic Quentin Tarantino flick. This up-and-coming line is Southern California based, and all their tees are crafted at the company's in-house screen printing facility (gotta love a t-shirt that's made in the USA).
I know late August/early September is a very busy time for people, but it's also a time in which many of you up your wardrobe by 5-20%. Meaning there's usually a boost in confidence and style… we want to see! So if you have the style, the attitude, and great pictures to match be sure to submit yourself as the next
Local Urban Gentleman.
Send 4 stylish pictures to urbangentblog @ gmail.com
And answer the questions below…
Name:
Age:
Location:
Occupation:
Style Icons:
Favorite Quote:
Favorite Brands:
Favorite Store:
Favorite Piece of clothing:
Bow tie or tie:
Flat front or pleated:
Shades, hat, or scarf:
Ultimate goal:
Favorite Books:
Hobbies:
Grooming product of choice:

1.
How would you describe your style?
2. How did you become so stylish?

3. What advice would you give someone trying to find their personal style?
4. What's the best clothing advice you ever received?
You guys know I like to do a complete Sartorialist post every now and again… so I visited his site and chose a few of his recent men's street style.
true gentleman, Brooklyn
perfect cuff, Florence
slim jeans, dapper style, Florence
skippers, sweater, cotton in Florence
Cucinelli suit, Milano
how to match red in the Fall, New York City
accessories, Florence
blue, khaki, white- always matches, Paris
monochromatic in Milano
casual in Milano
When I look at the photos, I can't help but think about how much I love seeing older well-dressed men, and women for that matter. It's just something about it… as one of my close friends always says "it gives me this strange kind of pleasure", lol. No but really, I think its like seeing real-life perfection. Everyone, no matter your income or social status, wants to be elegant in old age… and the Sartorialist does a great job of showing a variety of people who look how we all want to look when we're in our 60s, 70s, and beyond.
And a style note for you guys, minus two pictures, notice how all the men have creases in their pants, even their jeans. Creases are a subtle but definite way to show that you care about the way you look. Do I think all pants need them? perhaps not. But the men that I admire, that indirectly and directly taught me about Men's Style… almost always have them- even in their lounging attire…
Scott Schuman's book is out now, it would be a great permanent coffee table book for anyone remotely stylish… buy the
bespoke edition here
(around $100) or the
paperback here
(around $16)