Someone sent us the photos above and below that feature alot of "stuff" that we'll call "his basics". Alot of creative types have taken pictures of their basics before– be it a pair of wayfarers, their iphone, favorite watch, and hat -or- their daily spectacles, wallet, moleskine, and slr. Their basics are usually spread out in a way that describes them (neat or a little messy) and the picture is usually taken in a place or on something that adds to their personality (on their steel desk, on the bed, on a desk covered with magazine clippings etc). And basically, we think it would be cool if you guys sent us photos of your basics… so think about the items you own that are most essential, maybe items you favor above the rest; then take a clear picture and send it to urbangentblog@gmail.com. If we get enough entries we'll have a contest and you guys can choose the best. (include your name, location, and list all the items you've included).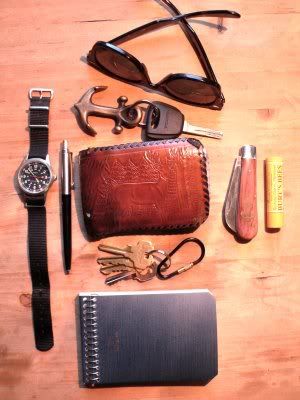 photos via fffound (we think).
---
2 Comments
---
Leave a Reply
You must be logged in to post a comment.