Throughout the fall/winter, BBC king Pharrell Williams has been seen sporting Christian Louboutin studded shoes instead of his usual comfy Vans. Known for their high-end stilettos with the signature red bottoms, often worn by the likes of Victoria Beckham and Rihanna, the folks at Louboutin are really upping the ante on men's shoes. Kanye once proclaimed himself Louis Vuitton Don… is Pharrell the new Louboutin Don? Nah, that sounds too corny. Check out Pharrell Williams rocking not one, not two, but three different kicks from Christian Louboutin's SS2010 shoe collection for men:
(lots more pictures after the jump)

shoe cost: $1200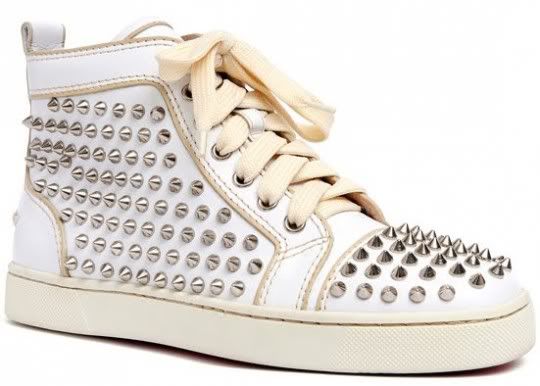 Christian Louboutin studded Louis sneakers
in 2 colorways, white and black.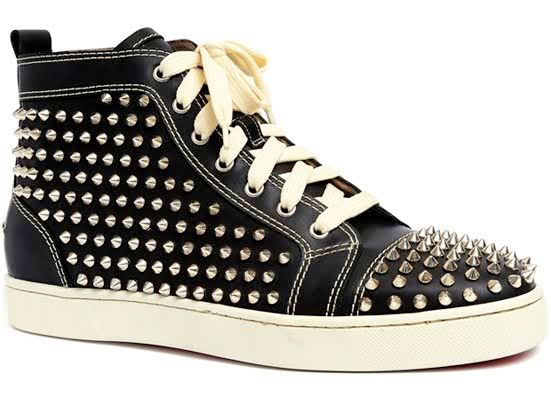 (chuckles) You gotta love that Pharrell stays true to
his simple tee and jeans
look. Here he's wearing washed embroidered helmet jeans from his
Billionaire Boys Club
label ($385). The louis sneakers look good with his usual slight v-neck and jeans, but the freddy flats don't quite coordinate, but he's Pharrell so we'll let it slide… this time.
Freddy Flat 'Las Vegas' shoes
(patent leather with spikes and signature red bottom).
One of the first, if not THE first official Christian Louboutin men's shoe,
in a Leopard print high-top nonetheless (April 2009).
So I guess it's official guys,
men's shoes
are expanding… and during a recession at that!
---
4 Comments
---
Leave a Reply