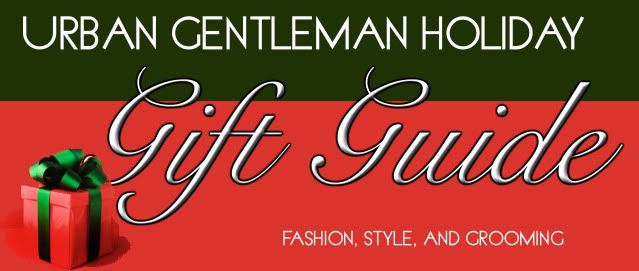 Okay, lets get down to business, you need gifts and you need them now. You're a guy or a gal who's in serious need of help on what to get: the fashion-forward stylish friend or man in your life (you know the one who technically dresses better than you), or the young up and coming urban gentleman who has watched a little too much of Run's House (particularly Diggy) and now wants to emulate everyone stylish (he's on a mission to have the best style, the sickest fashions, and is the only 13-yr old you know who wears glasses without prescription), or you're just simply looking for a unique solid gift idea that will appease your friend, brother, boyfriend, husband, dad– basically a guy or guys in your life that deserve (or don't deserve) a nice thoughtful gift.
Loyal Urban Gent readers already know the trends, but if you're not a regular go ahead and boost your style IQ by reading about the TRENDS in men style (seriously click on the link then come back to this article and continue reading). You want to choose a gift that will either compliment his style or up-it, and based on the current trends and your personal analysis of him you should be able to gauge how "fashionable" he is and get an idea of what you would like to purchase him.
From the current Urban Gentleman "What Do You Want for Christmas" Poll, it seems as if most guys want casual apparel for the Holidays, followed by dressy apparel, then electronics. So we're going to work with that. With that said, grooming items are always an easy surefire way to atleast bring on an authentic smile and thank you. Grooming items may not be on the very top of most gift lists, but a great smelling fragrance will be used everyday.
Okay so here's the approach: you call or text the guy you are purchasing the gift(s) for, and ask for his basic size information, "Hey ___his name___, I'm about to go holiday shopping and I just wanted to get your sizes just in case I buy you clothing?" You should get their pants/waist size (a number like 32, 34, 36), their shirt size (M, L, XL), shoe size, and dress shirt size just in case you opt for the dressy apparel (based on their neck and arm length you should get a number like 17/35 or 16.5/36). Coats, blazers, and jackets usually come as M, L, XL or 36,38,40 (which is the chest size) If you are buying someone a suit (how nice), be sure to get that information as well.
Here's a basic chart of the S-M-L conversions: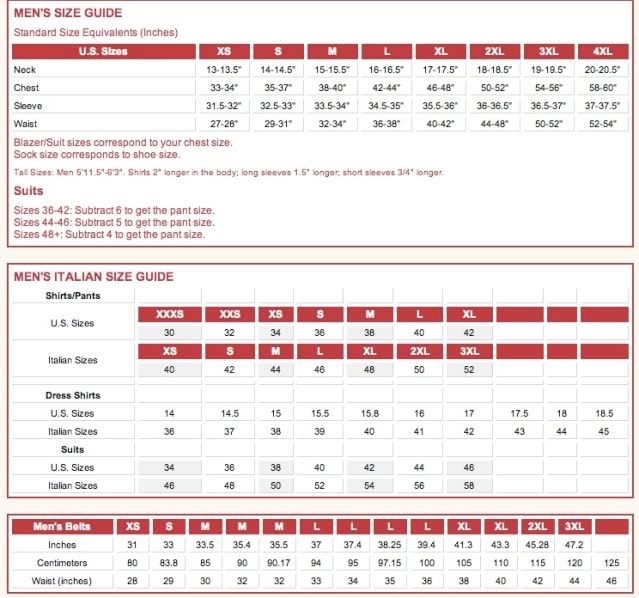 chart from Overstock
For more European & American sizing, go here.
I always try to, if possible, give gifts in pairs– it's fun to have more presents to open up, right? If having to choose from one pair of $150 jeans -or- one pair of shoes and 2 shirts at $150, most people would go with the latter. But at the end of the day quality is better than quantity (for the most part).
Obviously a Playstation, Xbox, Wii, and DJ Hero Renegade Edition with Jay-Z and Eminem will be on the lists of many young Urban Gentlemen. A flat screen, blackberry, GPS navigational system, or slr may be on the lists of all the other Urban Gentlemen. If you have the money and they don't already own it, I'll certainly suggest getting them one of the items above, but besides those fun gadgets I've listed a few specific gift ideas below. Note: though most of the suggestions combine two or three items, they can also be broken down into individual items that would make as great singular gifts.
THE URBAN GENTLEMAN
ULTIMATE MEN'S HOLIDAY GIFT GUIDE

Gadget-Friendly:
Watches & Headphones. Everyone's tired of the tiny earbuds, they are useful when working out, but when you're relaxing at home or at a friend's place you want headphones. We all thought cell-phones replaced the watch, but they're actually more popular than ever. Artistic, colorful, and creative looking headphones and watches are heavily in vogue, especially for the younger urban gentlemen.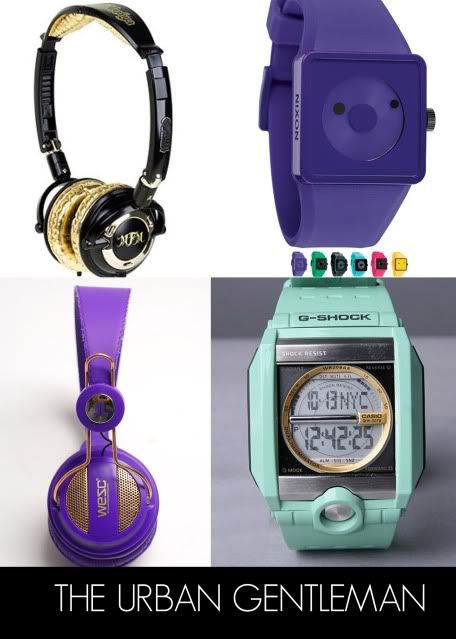 SKULL CANDY The Lowrider Mic'ed Headphones
, $39; Nixon watch, $100; G-Shock Japan limited edition watch, $80; Wesc Oboe headphones $55
Shop more watches here. Shop more headphones here
.


★ ★ ★ ★ ★
Lumberjack Hipster:
Plaid shirts, dark denim, and maybe a pair of boots while you're at it. For someone transitioning into being a trendier guy a few plaid shirts will help jumpstart his wardrobe. Dark denim jeans are a basic that every person needs, and the boots– well its Winter and if you have a larger budget a pair of boots would be the icing on the cake.
Plaid shirt
, $60;
Armani dark premium denim jean
, $125;
Timberland Men's Premium Boots,
$120 (free overnight shipping)
Shop more plaid. Shop more jeans. Shop more boots. Shop more button-downs and plaid shirts.


★ ★ ★ ★ ★

The Intellect:
For a stylish student who has preppier taste or wants to move over to a classic sustaining wardrobe- a messenger bag, cardigan, and 'father's readers', would really compliment his style.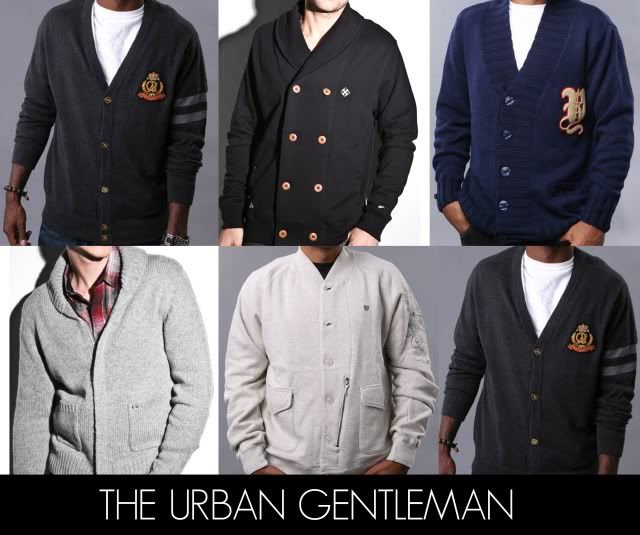 Cavi B. varsity club sweater, $46.99; Deep 10 black shawl sweater $96; RY cardigan sweater $125; Obey grey cardigan $103; Insiders fleece cardigan, $64.99; Cavi B. varsity club sweater, $46.99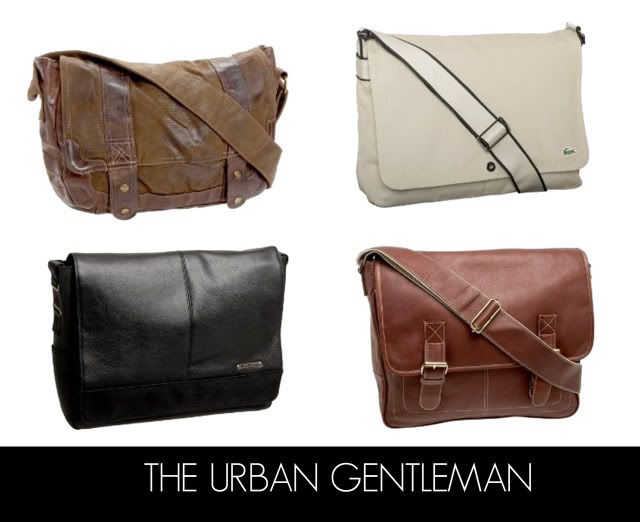 BedStu Sobel Messenger Bag
$90; Lacoste City Casual Large Messenger Bag
$100; Ben Sherman Premium Messenger
$119; Latico Basics Adventurer Messenger Bag
$149 (all messenger bags have free overnight shipping).
– Get the perfect pair of 'father's readers' here. More clear glasses and accessories here.
★ ★ ★ ★ ★

Simple Style:
Combine two essentials that exemplifies the style of the person you're shopping for. Denim jeans and oxford lace-ups. Denim jeans and sneakers. Sneakers and a graphic tee. Any combination you see fit.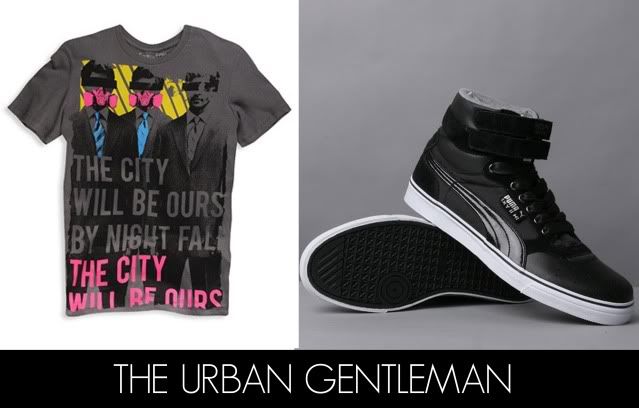 Shop the flyest kicks. Shop the high-end fly kicks. Shop more oxfords and other style shoes.
★ ★ ★ ★ ★

The Upgrade, the Businessman:
Many guys have enough casual clothing in their wardrobes and above all else need to seriously up their dressy attire. Suits are pricey, but would make as a very thoughtful gift, as would dress shirts, ties, cufflinks, and pocket squares. They are all nice additions to the closet of a business man or someone who needs a businessman upgrade.

Shop more dressy apparel. Shop more ties & accessories.
★ ★ ★ ★ ★
Groom Him:
If you don't know enough about a guy to buy them clothing, then colognes makes a for a great gift option. You can read a few of our cologne posts to get an idea of what fragrance might be best. Here's a great collection of Men's Fragrances.

Budget Friendly: $40ish or less.
If you have a small budget… no more than $50, but more like $20/$25, then I suggest getting a gift that compliments something they already have or plan to receive for the holidays. If they are going to get an ipod, then get them stylish headphones
or a digital docking speaker system
. If he's a sneakerhead who expects more fly kicks, get him a unique fitted hat. If his Christmas is going to be filled cardigans and blazers, purchase a quality scarf or men's messenger/satchel bag. If he's getting alot of money– maybe a new wallet
would be nice. When you don't have alot of money to spend thoughtful gifts are best, they show the person that you really do pay attention and care. If the linked items above didn't catch your eye, check out the budget finds below:
Men's messenger/satchel bags:

Men's wallets, hats, scarves, gloves:

The Urban Gent staff will give more Holiday gift ideas throughout the week. Merry Christmas, Happy Kwanzaa, Happy Hanukkah, Happy Holidays!
More Urban Gentleman Gift Ideas here.
---
Leave a Reply