So we've been running our "
His Basics" contest
. A fun simple contest in which readers can send in photos of their everyday basics / life's essentials. Voting for the first round of basics/essentials is over and the favorites have been chosen…
Two-way tie for 1st Place: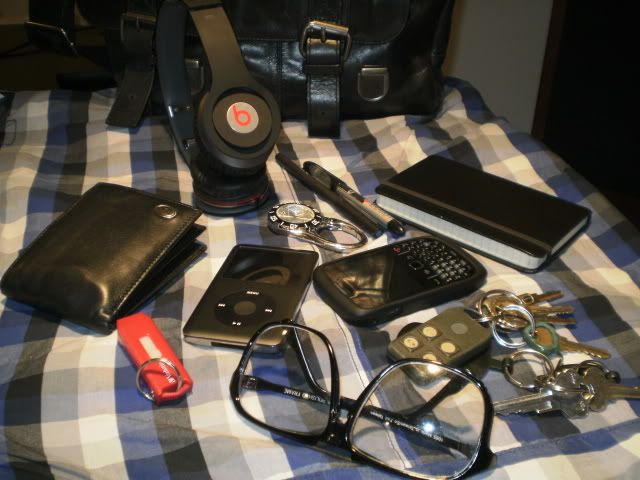 Roderick from Chicago
My Spectalces, House/Car Keys, Piccadilly Journal, Pens, Blackberry Curve, Belt clip watch, Beats by Dr. Dre Solo Headphones, 120 GB iPod, USB Drive, Nautica Wallet, and my Fossil Messenger Bag in the background.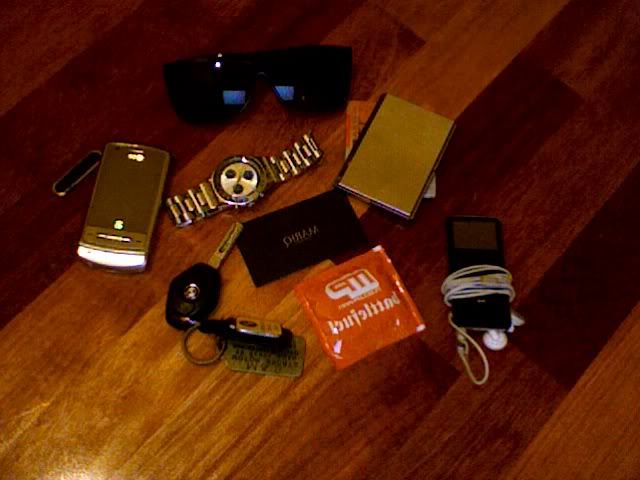 Eziq from Gold Coast, Australia
Shades bought from bluedame, Swatch Secret Agent Light Grey EU Flip 1998 Spring Summer Collectio, LG Shine Mobile Phone, BMW Z4 2004 car key, Business Cards (2-3 of them), Refurbished 2GB ipod, Card Holder for credit card, client's business card, I.D, Shopping Discount Cards & other cards, Battle Fuel (Formulated Supplementary Sports Food), AUD 20 notes.
Honorable Mention (came in 2nd):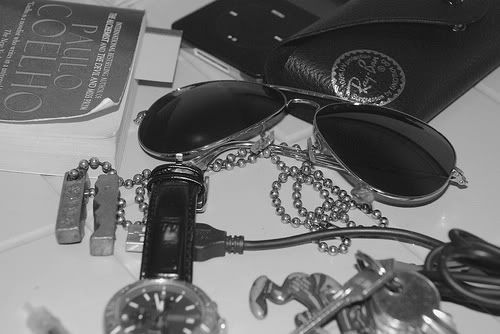 Essel from the Philippines
Ray-Ban Aviator shades-for those sunny days, Steel Necklace- liked the vintage look and abstract pendant, Fossil Watch- my ever trusty watch, Keys with Goofy key chain- had the chain for almost 10 years now! Ipod video, and my Witch of Portobello book-to keep me busy.
Do you think you have better essentials? We'll be having round two of His Basics soon, so be sure to email your entries: urbangentblog (at) gmail (dot) com.
---
4 Comments
---
Leave a Reply