At the start of the year we gave it to you guys
classic urban gentleman
style with
Jason Simon.
Now, it's time to switch it up, and display an urban gentleman who feels his uniqueness makes him stand out in any room. Local Urban Gentleman
Curran Swint
is from Philadephia, PA (an urban gent first! putting Philly on the map) and prides himself on mixing the traditional with the nontraditional. He's not only inspired by style icons such as Andre Benjamin, but attributes much of his unique style to the sartorial choices of the elders around him.
Presenting Curran Swint…
Down Vest: vintage custom House of Ra'oof; Denim shirt: Meezan Artcouture;
Pinstripe pants: RCVA; Plaid Tennis shoes: Paul Smith
Name: Curran Swint
Age: 22
Location: Philadelphia, Pa
Occupation: Personal Stylist, Event/Party Promoter
Style Icons: Andre 300, Kanye West, Pharrell, My father, and close friends
Favorite Quote: If you're not trying to succeed you're not in my class
Favorite Brands: Dsquared2, Energie, Scotch & Soda, Meezan Artcouture, and Paul Smith
Favorite Store: Thrift stores, J.Crew, Barneys, Urban Outfitters, and Kamouflage Concept Store
Favorite Piece of clothing: Pinstripe pants


Bow tie or tie: Bow tie
Flat front or pleated: Flat front
Shades, hat, or scarf: All three. Accessories compliment the outfit, but if only one, a hat.
Ultimate goal: I want to live a happy and prosperous life as a stylist/designer, with a well developed clothing label and my own clothing store.
Favorite Books: The Noble Qur'an
Hobbies: Skating, Traveling, Bowling, Shopping, and Music enthusiast
Grooming product of choice: YSL Cologne
Velor Blazer: vintage Members Only; Bag/Suitcase: Bally;
Green Glove: Lamb Skin; Merino Wool Turtleneck: Joseph and Lyman;
Pinstripe Pants: Energies; Glasses: Gucci; Wingtip Blutchers (shoes): Alfred Sargent
1. How would you describe your style? I'm a very versatile dresser with unique ideas on fashion. As fashion recycles itself, I am working to stay ahead of the trends. I pride myself on being a unique individual and trendsetter, so you never really know what I might wear on any given day. It's just important to you have to be dare to be different.
2. How did you become so stylish? I always wanted to be different. I would rather stand out in a crowd than blend in, I therefore take risks as well as criticism for being myself, but that's what fashion is about– taking risk. I also have always had older figures in my life who I looked up to because they were big fashion heads in their time, I feel as though they passed on the torch to me.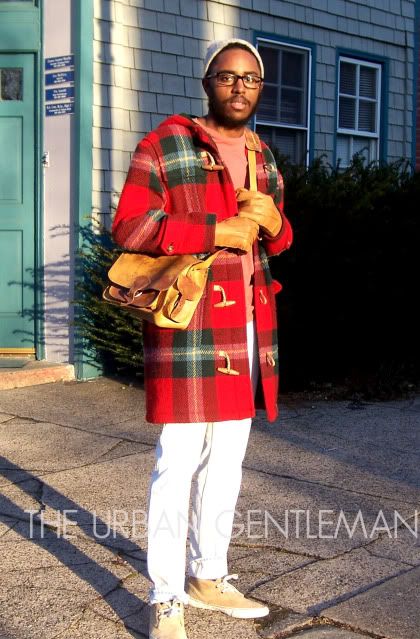 Leather Hunter Bag: customized vintage House of Ra'oof; White Skinnies: BDG;
Duffle Coat: Ralph Lauren; Glasses: Gucci; Sand Chukka Sneakers: Paul Smith
3. What advice would you give someone trying to find their personal style? When dressing be creative, dress in the colors and styles that best fits you. Look for styles and accessories that really speak to you. Essentially, just be yourself, don't dress to please everyone else, dress in a way that makes you feel good. PS- Don't be a label whore. Just because its Gucci or Louis does not mean it's hot. Forget the labels and focus on the style.
4. What's the best clothing advice you ever received? When you're shopping don't worry about whether or not you have items to go with the clothing pieces, just buy what you like and everything will come together.
Loafers: Ferragamo; Wool Scarf: vintage; Chinos: J.Crew;
Polo by Ralph Lauren Varsity Jacket
Get a piece of Curran Swint's '70s Prep' look:
Are you the next Local Urban Gentleman?
Answer the questions above and submit them to
urbangentblog @ gmail.com
along with 4 or more stylish pictures.
---
7 Comments
---
Leave a Reply