We've been holding on to this article since Feb 18th, sorry for the delay guys, 2010 has been crazy busy.
The task of creating this Spring/Summer 2010 was a bit more arduous than I had foreseen. When I initially began to outline this article in my moleksine I kept coming up short… nothing dramatically stood out, nothing new atleast, but then when I thought harder, just a little harder it became so clear. Check out..
The Urban Gentleman's Official
My standout show from the Spring/Summer 2010 shows was
Dsqaured2
. When glancing at their collection I could only think–, "Camp Anawanna we hold you in our heart and when we think about you, it makes me wanna…." Lol, only the 80's and early 90's babies will get that Nickelodeon reference. Dean and Dan's collection most favorably represents this spring. It's happy with the colors, yet masculine, and creative. It fits the current adventurous spirit many men are channeling this year.90s Summer Camp is all about embracing that enthusiasm and glee you had back at summer camp. Basically, you should be dressed and ready to go on almost any kind of adventure at a moment's notice– but just in 90s colored clothing and camping gear. Hi-top boats shoes and duck boots become staples. Paired with shorts and/or jeans, in every color and texture.
Get the Look:
90s looking graphic tees, rolled up shorts and jeans, well-fitting cargo shorts, hi-top boat shoes (or mid-top), duck boots, chukka boots/sneakers, boy scout or military shirts, 90s looking hats.
Remember when we
first reported
these pants… well the time is here. I saw a guy in harem pants yesterday and they actually looked pretty darn good. I saw one in them today and this guy wore them even better. Designers have gotten creative and are offering many different types of harem pants… maybe these are the new skinnys? Well, they probably aren't but as each month passes the amount of guys and gals wearing them seem to increase.This is the most avant-garde choice of all the spring/summer trends, if you dare to be different you should scoop atleast one pair.
Get the Look:
Harem pants, slippers, blazers, t-shirts, low-top sneakers. With Harem pants its all about proportions and editing. The easiest way to seamlessly integrate harem pants into your wardrobe is to first create an ensemble using trousers the same color as the harem pants… this can be any ensemble: casual, dressy, preppy, rock, etc. Now take away the trousers and replace them with the harem pants. From here the harems will either flow nicely or the other items you have on will look a little off. If it is the latter, then look in the mirror and try on different jackets/sweaters, shirts, and shoes until you get a look that you like.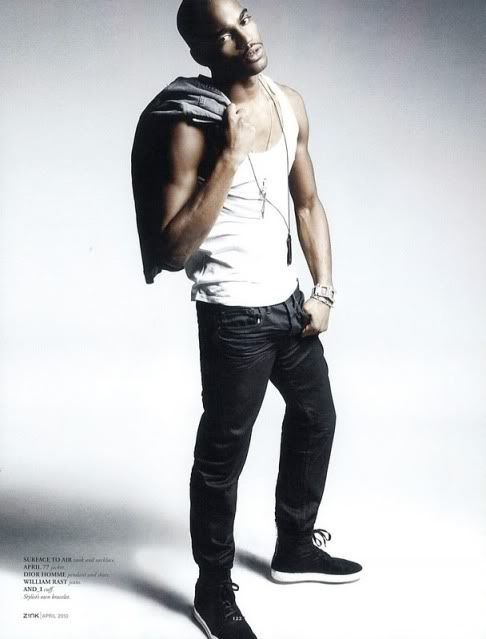 We're back to our rockin' American roots. T-shirt and distressed jeans if you're the simple american rocker type– but I say nothing but ripped and/or distressed jeans in a variety of washes, random ass t-shirts, random ass hair styles, maybe a blazer, maybe some lace-ups or maybe some velvet slippers. Basically do whatever you want, but keep it classic hardcore rock.
Get the Look:
T-shirts of all shapes, sizes, and colors. Distressed, ripped, torn, and/or slashed jeans. And anything/everything rock and roll!
www.theurbangent.com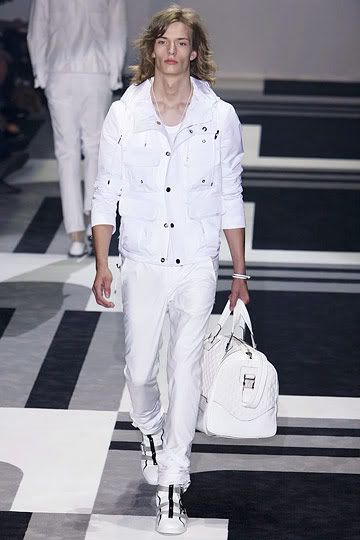 From stylish jackets to t-shirts to ripped jeans… everyone seems to be going completely white a bit more than usual. But not in the stereotypical linen and brogues kind of way, nah, the stylish gentlemen folk are whiting out in a scruffier, edgier, 'masculinely' polished type way… it's like there's some kind of unofficial "who can look the most fly in all white" contest going on.

Get the Look: Wear white on white on white. Atleast 3 white items on at all times.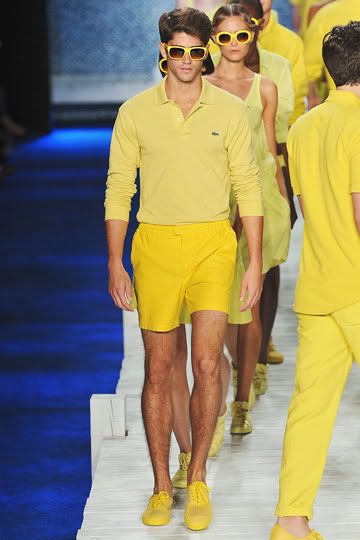 It's like we're refined 80s babies this year. We match it all, but in the most tasteful ways– sorta elegant, but mostly preppy.

Get the Look
: Wear the same color all over, or almost all over. Then prep it out by going sockless, adding a cardigan, maybe opting for a polo instead of a v-neck. If your 'color on color' is too much then break it up by adding a article of clothing or accessory that is white or complimentary to your base color.
The Urban Gentleman

Other Spring Summer 2010 Trends:
Colors: Orange, shades of blue, white, plaids
Accessories: colored sunglasses, buttons, colorful boat shoes, boots, bookbags, sew-on patches.

1.
Summer layers
– wearing a little, but alot of it (ie. tank, loose tee, a jean jacket)
2.
Booted Up
– this spring and summer is all about finding ways to integrate boots into your spring wardrobe. Hi-top boat shoes are easy for most guys, but integrating chukkas and desert boots may be a bit more challenging for some, buuuut if you can do it, if you can pull it off, well, you win 😉
3.
Shorts
(usually cargo)
over thermals
,
skinny jeans, even leggings
4.
Subtle military shirt
s
– we're not going into full combat anymore, keep your military flares a bit more discreet unless the occasion calls for full decoration.
5.
Printed slippers
(ie. monogrammed
velvet slippers
)
6.
Denim shirts
7.
Sockless
8.
Summer rolls
— rolling up pants and shorts and sleeves and and and, lol… nah, just kiddin'.
Must-Haves for the Spring and Summer:
– jean jacket
– high-top/mid-top boat shoes and/or desert boots
– bright colored hat
– pair of colorful sunglasses
– jean shirt
– clear pair of glasses
– slim-fit jeans
– white shorts, jeans, or trousers
– blazer
– a favorite plaid shirt
– harem pants/shorts (if you're bold enough)
More Spring/Summer Trends
Inspiration photos:
(Designers above: G-Star Raw, D-Sqaured, Gucci, Martin Margiela, John Richmond, Lacoste, Givenchy, Jean-Paul Gaultier, Costume National, Salvatore Ferragamo).
Photos from:
NYMAG.com
The Urban Gentleman
Stayed tuned for How to Get the Look for each trend &
the Urban Gentleman Spring Summer Trends photo shoot.
---
8 Comments
---
Leave a Reply