A little midweek celebrity style snack, take a look at what a few of our favorite urban gents have been wearing…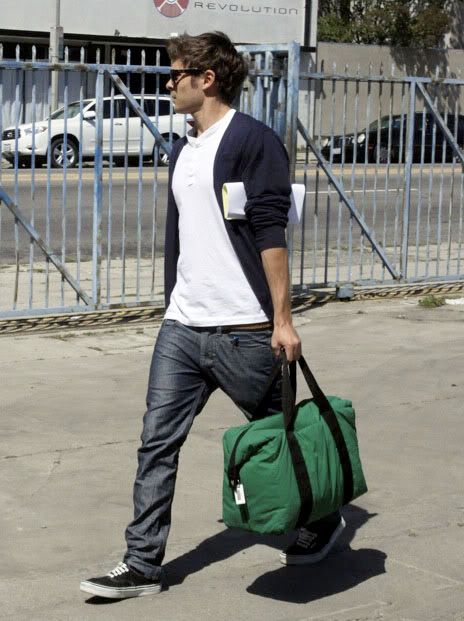 Urban Gent
Zac Efron
running errands in Hollywood, wearing a navy cardigan, white henley, wayfarers, and black Vans.

Usher keeps it simple in a pair of grey and maroon Lanvin sneakers
and distressed Ralph Lauren RRL jeans.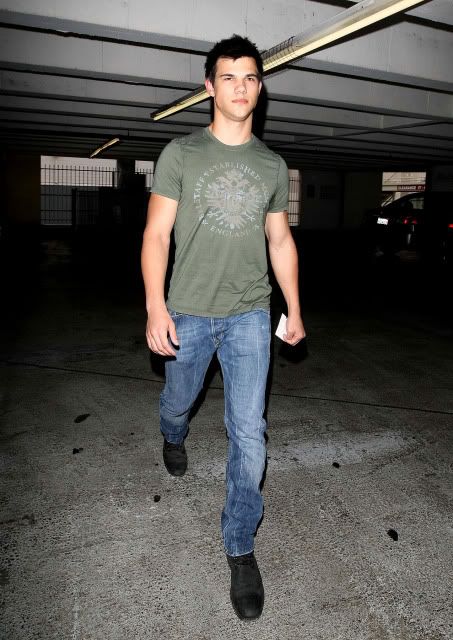 Taylor Lautner in a Bellstaff shirt,
distressed jeans, and and his favorite black boots.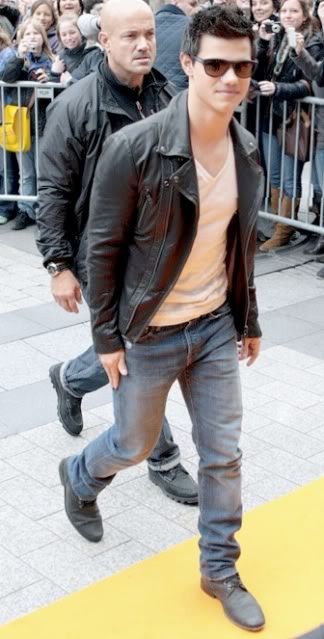 Taylor rockin' his version of the "American Rockstar" trend.
T.I.
in New York City. Wearing a BBC Ice Cream sweatshirt, Louis Vuitton Brazza wallet , Louis Vuitton Monogram Christopher backpack, and Maison Martin Margiela Line 22 sneakers. (And he stays connected with his Blackberry Bold and iPhone).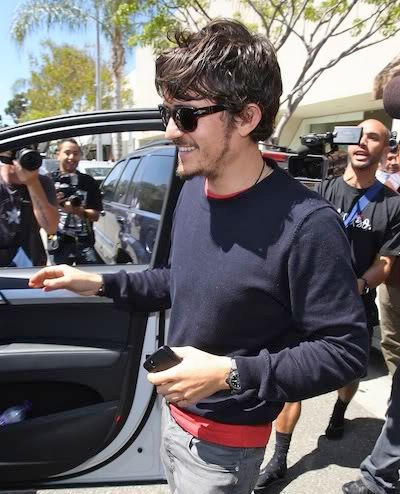 Actor Orlando Bloom in LA sporting a pair of
detailed Persol PO Crystal sunglasses.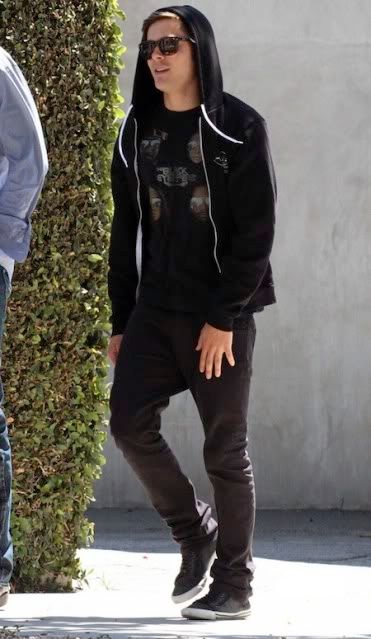 Actor Zac Efron in a Black Eyed Peas shirt, black skinny jeans,
tortoise Ray-Bans, and AllSaints double zip hi-top sneakers.

LOTs more Celebrity Style Photos below, click continue reading…


Scruffy in black, Actor
Brad Pitt
arrives
at the 'Kick Ass' Premiere in London, England.
Futboller David Beckham leaving Dave's Quality Meat with his wife and kids. He keeps it casual in a Stuntman Trucker hat, Ray-Ban gold aviator sunglasses, and Alife Chuck Naval sneakers ($125).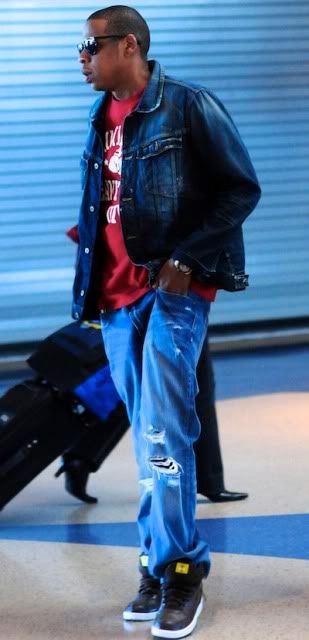 Jay-Z
out and about wearing a G-Star slim "Taylor" Denim Jacket, ripped jeans, Nike RT1 kicks, and Oliver Peoples "Daddy B" sunglasses. Though Jay's style game has stepped up as a whole, he still manages to have a few off days where his clothing is a bit sloppy. I'm all about loose-fitting/relaxed fit jeans when you're in a mood to be extra comfortable (like traveling through an airport, which Jay was doing), but loose-fit jeans usually go best with low-top shoes like Converse or Vans– especially if you wear your jeans a size or two too big, like Jay sometimes does.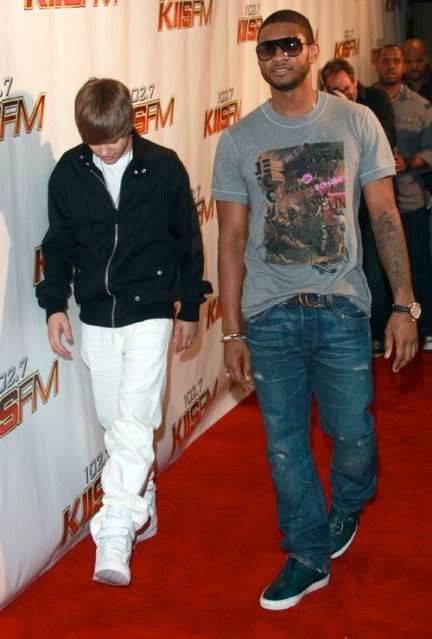 Usher
and teen star/young urban gent
Justin Beiber
walk the red carpet. Usher wears a pair of Marc Jacobs 306 sunglasses, his favorite Ralph Lauren RRL jeans, and green Raf Simons multi-buckle sneakers. Justin keeps it cool in black and white, sporting a pair of Supra TK Society sneakers.
Pharrell Williams
attends the 2010 Formula 1 Monaco Grand Prix wearing a BBC distressed print Hickory jacket, white v-neck, BBC Digi-Camo 3/4 cargo shorts, and a pair of Chanel Denim sunglasses.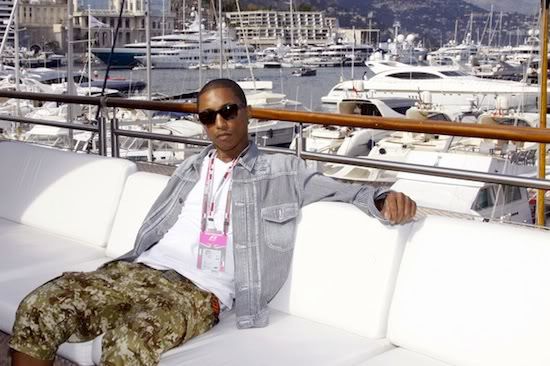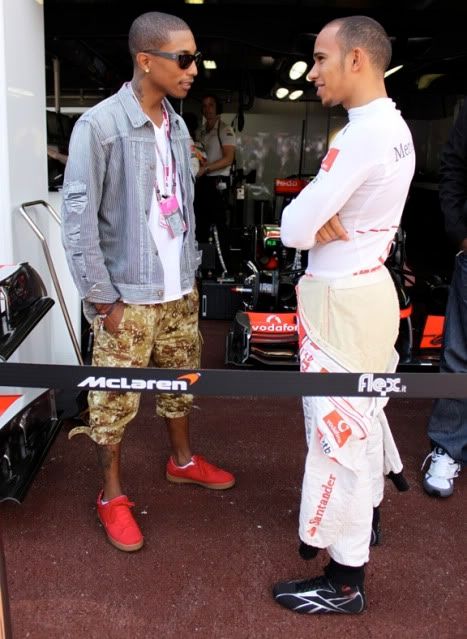 Pharrell and formula-one racer Lewis Hamilton chopping it up.
Pharrell in a BBC jacket and skully, his new staple eyewear: denim-covered Chanel shades, and I know you're probably thinking, "What kind of shoes are those? He wears those everywhere nowadays". Well, they're Billionaire Boys Club "NOTHING" Boutique Sneakers (coming in July) even
Bill Clinton wants a pair
…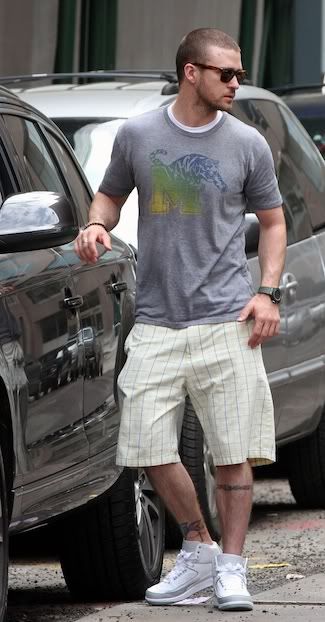 Superstar
Justin Timberlake
keeps it everyday cool in his wayfarers, plaid shorts, and a pair of Air Jordan 2 Retro 25th Anniversary sneakers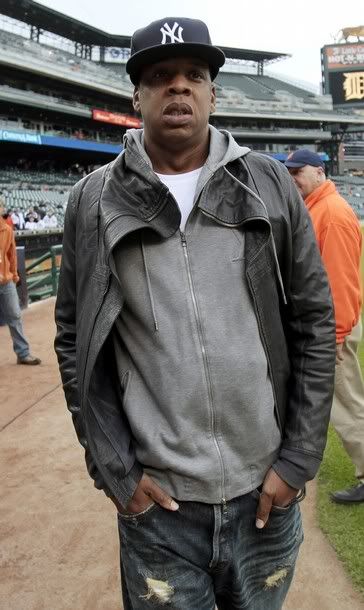 Jay-Z
at a Yankees vs. Tigers baseball game. He sports his signature NY hat, distressed, jeans, and a Rick Owens leather jacket.
David Beckham, wearing his usual Wrangler Blue Bell Destroyed Denim jacket. How does this guy manage to look like a model in every picture? He always keeps it
denim focused
in Wrangler… a little too much, hmmm, maybe he's their unofficial spokesperson of sorts?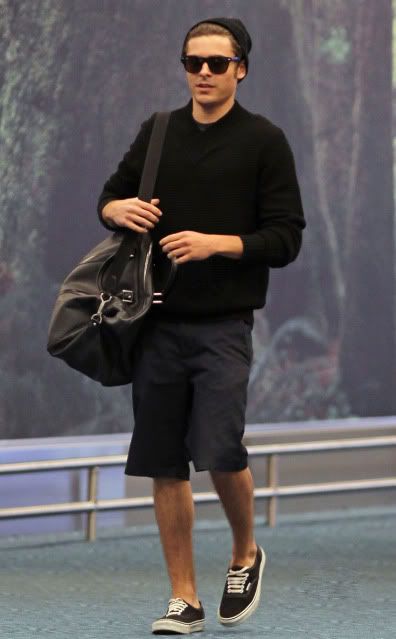 Zac
in a black v-neck knit sweater, his signature skully, black Vans, and tortoise Rayban wayfarers. He carries a Louis Vuitton travel bag. (PS- All Urban Gentlemen must have atleast one pair of
canvas shoes
for the spring and summer.)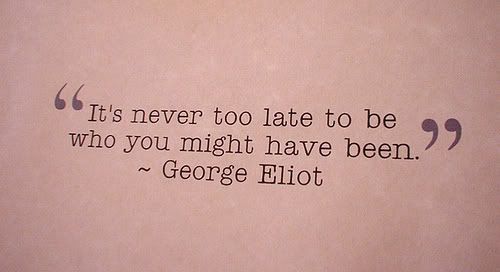 It's still springtime, but summer is around the corner. And I don't know why, but summer is synonymous with, well, yanno, going hard… pushing the limits… getting down to business… "hustlin" as some may say. Don't get me wrong, urban gents have to relax, but if there's anything you've ever wanted to do, any goals you've wanted to reach, what better time to do it than in
twentyten
… getterdone! lol, it's never too late.
Here's another classic video… with two of the absolute best— Sammy Davis Jr. and Ella Fitzgerald (it just does not get any better than Ella).
Medley of: I've Got You Under My Skin, You Came A Long Way From St. Louis,
You Are My Sunshine, Bee-Bom, One For My Baby
An American of color, Jewish, and Puerto Rican, the multi-cultural and multi-talented Samuel George "Sammy" Davis Jr. reigned supreme throughout his life as one of the greatest entertainers of all time. Not too many people can sing, dance, tell jokes, pantomime, act, do impersonations, play three instruments (vibraphone, trumpet, drums), and tap dance… but Sammy could.
We've watched a few of his videos, now let's take a look at his style.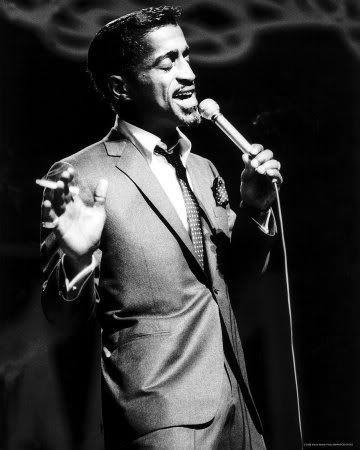 The 1950s were really all about conservatism. Tailored suits in shades of gray, navy, and brown were popular. A hat, pocket square, tie-clip, and cuff-links were as essential as having a belt– no man was complete without his accessories (or his cigarettes).
The style of 1960s is the style many men admire in modern times… slimmer fitting suits, fitted dress shirts, slim ties, and if you were in Hollywood, or let's say a member of The Rat Pack a sharkskin suit was a regular in your wardrobe.
Sammy's style was that of the times, with his own Sammy or hollywood touch like maybe an intentional loosened bow-tie and collar.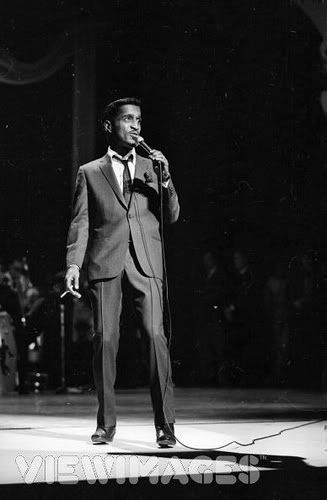 From the staple 50s/60s gray flannel suit to slim ties to Beatle boots, get a piece of Sammy's style below:
More Sammy: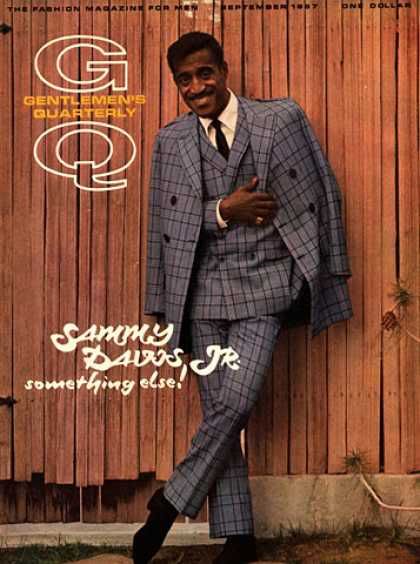 The First Man of Color to appear on GQ Magazine. 1967.
He's wearing a gray plaid Sy Devore double-breasted suit
with a slim black tie.
(Photographed by Milton Greene)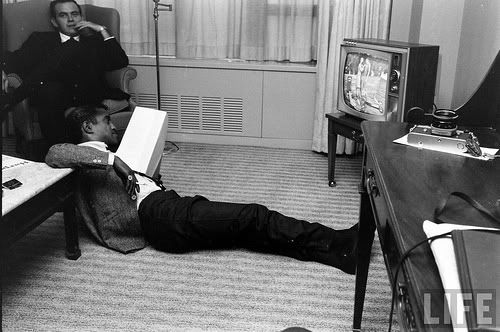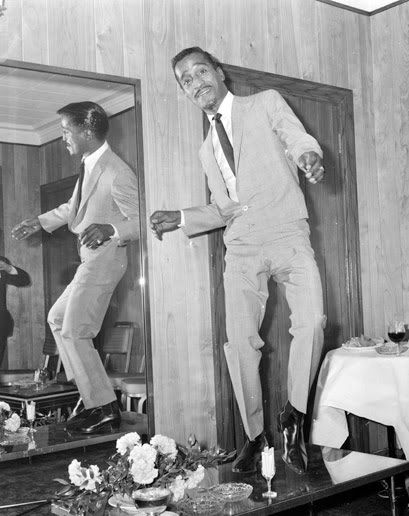 Always an entertainer, Sammy seizes this moment to tap dance on a table in his cropped two button suit and beatle boots.
Maybe we'll turn this into Sammy Davis Jr. week here at The Urban Gentleman… or a 'classics' week… just maybe.
Here we have a short duet between Sammy and Nat, where they both sort of mimic each others styles and mannerisms– something that was commonly done between entertainers in the 50s/60s.
"Birth of The Blues"
Frank Sinatra, Sammy Davis Jr, Dean Martin & Johnny Carson
Registered June 20, 1965 at Kiel Opera House St. Louis
I love how entertainers had to be some type of combination of a triple threat back in the day… sing, act, dance, be a comedian, play an instrument, or whatever else. So their shows were always extremely engaging… there aren't too many entertainers that fit that bill these days– but maybe this decade it'll be different.