A little over two weeks ago, I found myself watching the first 30 minutes or so of Steve Martin's
Father of the Bride
. Yeah, it's not my first choice in movies, but it happened to come on right after
Happy Gilmore
(or some other common TBS Adam Sandler movie), and the remote control was too far away to immediately turn the channel, lol.
While watching I couldn't help but notice Steve Martin's jean shirt, suit, and tie combination. He sported a baggy jean shirt, slightly over-sized blazer, double-pleated pants, and a fat tie that looked like it was made from my grandmother's drapes. And though the look wasn't the very best, it was a very common casually dressy look for the 90s. I've seen the look plenty of times when watching repeats of
Living Single
,
Friends
,
Seinfeld
, and even some of the later episodes of
The Cosby Show
.
Then last week (more like a week and a half ago) I watched an episode of
Oprah
that featured Will Smith. I silently chuckled to myself when I saw Will's ensemble– it was literally the modern version of Steve Martin's jean shirt and suit.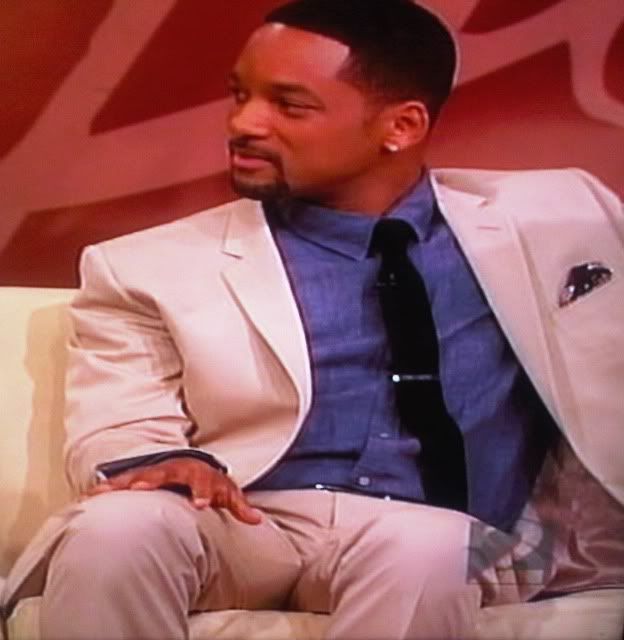 This picture really

doesn't

reflect how good Will's ensemble
looked on the show. (It was taken with my phone, lol)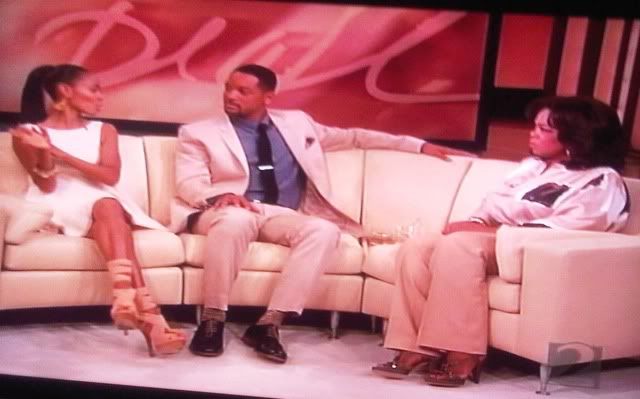 Will wore a khaki colored cotton jacket and pants, jean shirt, black tie with silver clip, flowery pocket square (looked like it may have been by Duchamp), striped socks, and black bucks. He looked great.
Not everyone can pull off a jean shirt and suit because the look is still very 90's-ish, and if paired incorrectly you'll just look like you got stuck in a 1995 episode of
Frasier
. But if done right, then it can be very stylish. The hands down best pairing of a suit and jean shirt would be: a well-fitting light summer suit that's cotton or linen, the jean shirt of course, a pair of bucks (bucks are a gentleman's summer dress shoe), and a pocket square. If the occasion calls for it you can also add a fedora and/or a skinny tie and tie-clip.
Get the
Updated
Jean Shirt and Suit:
Check out

Matthew Goode's

GQ jean shirt&suit looks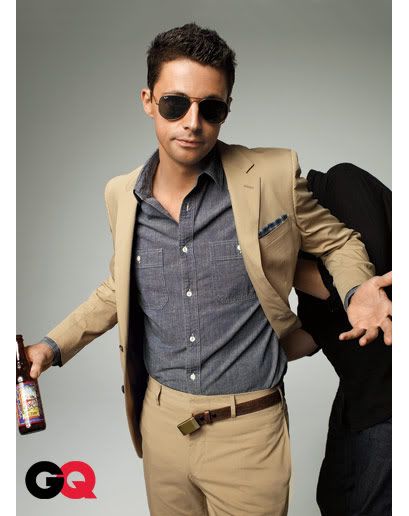 Cotton-blend suit

,

$1,790

, by Prada.

Shirt

,

$98

, and

belt

, by J.Crew.
Pocket square

by Jack Spade.

Sunglasses

by Ray-Ban.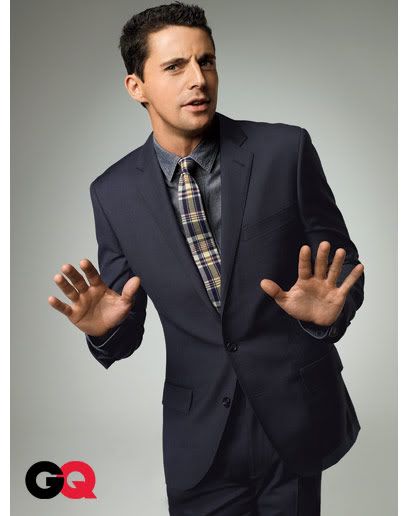 Wool suit

,

$1,295

, by Versace Collection.

Shirt

,

$65,

Martin + Osa.

Tie

,

$60,

by J.Crew.
More on the jean shirt here.
---
1 Comment
---
Leave a Reply