A brief interlude in The SchoolYard Wardrobe, to give you guys some vintage Back to School ads…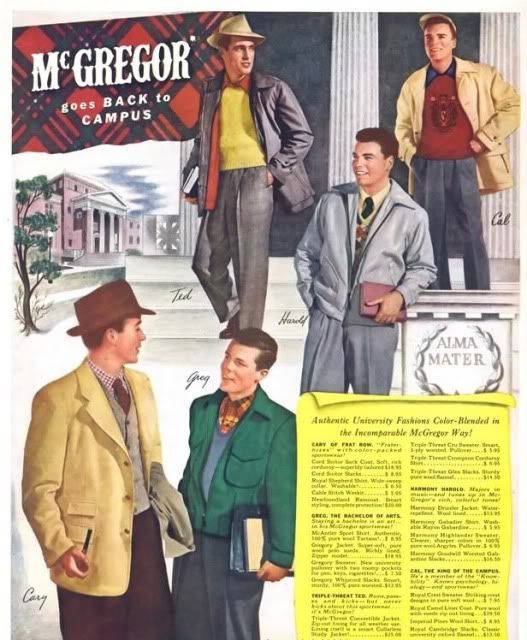 The headlines of the ad reads: "Authentic University Fashions Color-Blended in the Incomparable McGregor Way!" Cary of Frat Row. "Fraternizes" with color-packed sportswear! Greg. The Bachelor of Arts. Staying a bachelor is an art… in his McGregor sportswear! Triple-Threat Ted. Runs, passes, and kicks– but never kicks about this sportswear… it's McGregor!" Harmony Harold. Majors is music– and tunes up in McGregor's rich colorful tones! Cal. The King of Campus. He's a member of the Knowbility". Knows psychology, biology– and sportswear."
—
Lmao. You gotta love these old ads, they really SOLD it to you back then, huh. I'm loving the story behind each jacket and person.
Brief History: McGregor has been around since 1921, but gained it's popularity throughout the 50s and 60s. McGregor was known for their range of jackets worn by everyone from young rebels (James Dean in
Rebel Without a Cause
) to golf players (Doug "The Peacock" Saunders) to fathers on sitcoms (
Father Knows Best
). If you're interested in adding an authentic McGregor to the wardrobe search vintage stores and
eBay
.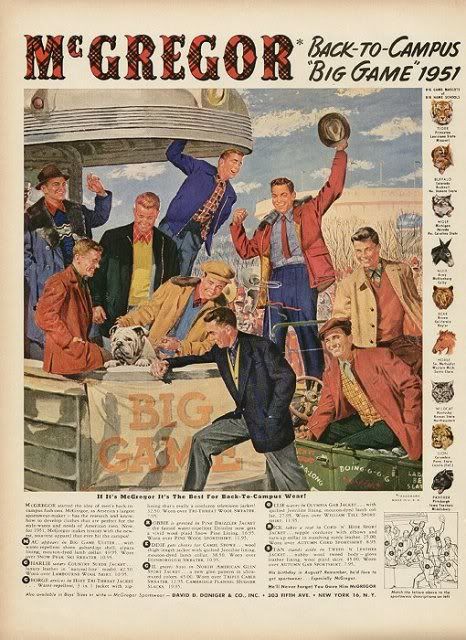 I really like this one, it's indirectly getting me pumped for football season.
(Let's Go GT and that Triple Option baby!, sorry couldn't help myself, lol)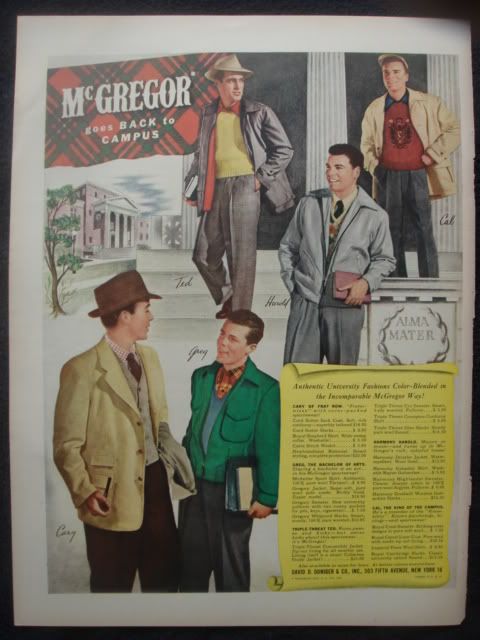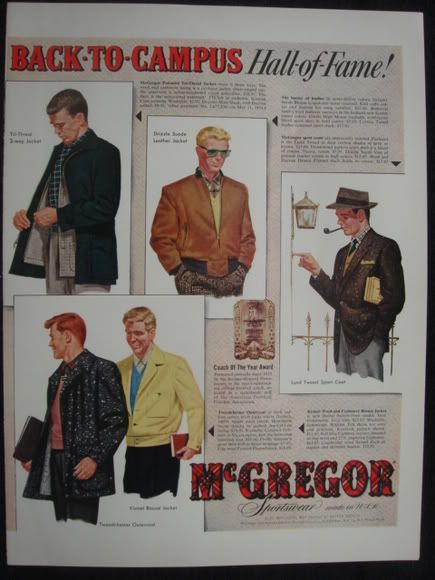 ---
Leave a Reply