From now until September 30, Men's Wearhouse is helping disadvantaged job seekers get a boost of self-confidence during the retailer's third annual National Suit Drive, the country's largest collection of gently used business attire.
The National Suit Drive, held at the more than 1,000 Men's Wearhouse locations throughout the country, collects men's and women's suits, shirts, jackets, ties, belts, and shoes to donate to approximately 200 local charities that support those in transition looking for work. For a complete list of store locations and charities involved, visit www.nationalsuitdrive.com.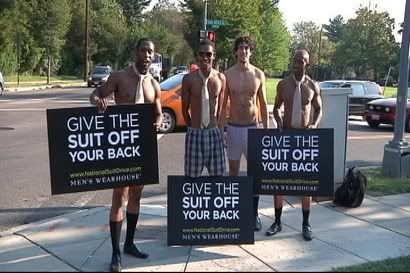 To encourage people to "give the suits off their backs," teams of bare-chested men descended upon five cities throughout the country to walk the streets. The teams promoted the event in New York City, Los Angeles, Chicago, San Francisco, and Washington, D.C. (To see the teams
in action, see the attached photo.)
Although the recession has affected a wide spectrum of the American workforce, 82 percent of
job losses have happened among men, according to the U.S. Bureau of Labor Statistics, due to the economy's particularly heavy impact on male-dominated industries like construction and manufacturing.
"With nearly one out of 10 working-age men unemployed in this country, the economic downturn has disproportionately hurt the male workforce," said George Zimmer, Men's Wearhouse founder and CEO. "By collecting and donating professional clothing, Men's Wearhouse aims to help men 'suit up' for job interviews and offset the 'mancession.'"
The National Suit Drive is Men's Wearhouse's largest yearly philanthropic event. This year, the company aims to top 100,000 articles of clothing in just one month. For every suit the company
collects, it will donate one dress shirt to the cause.
In addition to providing a tax receipt, Men's Wearhouse is thanking donors for their generosity with a 25 percent off discount on their next purchase at Men's Wearhouse.*
"In this difficult economic environment, it is even more important for job seekers to make a favorable first impression during an interview, and a great-looking suit sends a message of confidence and success," said Jerri Rosen, founder and CEO of participating nonprofit Working Wardrobes, based in Costa Mesa, Calif. "I encourage people to clean out their closets for a cause, as our extraordinary partnership with Men's Wearhouse has helped thousands of people get back to work."
So as always we encourage Urban Gentleman to be more than just stylish, but to philanthropic and give to those in need whenever possible. It is very important to give to the community and this is a very easy to do it. Look through your closet, maybe your dad's closest, grandfather's, friends, whomever's, and gather up suits/shoes/ties/dress shirts/etc that aren't being worn, then go to your local Men's Wearhouse and drop them off.
If you're on a college campus get your organization or fraternity involved, and give some kind of incentive or reward for those who donate the most suits/business attire.
The BEST thing about this drive is that the clothing donated will go towards helping out LOCAL men in need of business attire, so the people in your own community will get help. It's a pretty sweet deal. Oh and did I mention you get a 25% off coupon when you give? Yea, so it's win win anyway you look at.
Here's a list of the (gently used) items that can be donated:
1. Suits
2. Sport coats
3. Dress slacks
4. Dress shirts
5. Dress shoes
6. Sportswear (linen shirts, sweaters, casual pants, vests)
7. Outerwear (jackets, long coats, raincoats)
8. Ties and other accessories
Find your local Men's Wearhouse Location, www.menswearhouse.com
Get more information on the National Suit Drive, www.nationalsuitdrive.com

---
3 Comments
---
Leave a Reply