In conjunction with the
National Suit Drive,
Men's Wearhouse invited
The Urban Gentleman
to spend a little time in one of their stores for an exclusive shopping experience.
We visited the Buckhead store off Peachtree Rd. in Atlanta, and were very kindly greeted by the staff upon entering.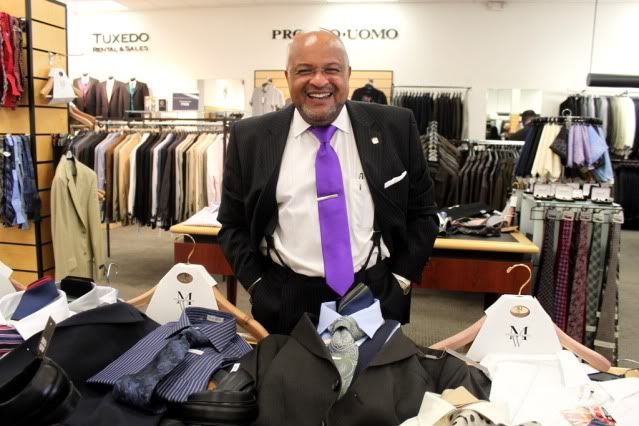 Buckhead store manager and Louisiana-native, Larry Hubbard, charmed us all afternoon, while giving us a few clothing facts and advice along the way– I'll sprinkle in a few of his words throughout. Let me start off by saying we truly had the complete Men's Wearhouse experience. We began in suits and sport coats, hit up pants and dress shirts, then worked our way around to accessories, shoes, and casual wear. Check it all out below:
First stop: suits and sport coats. Men's Wearhouse surprised us with their brand offerings, for some reason I figured they mainly carried house brands. I didn't know they carried Joseph Abboud, Hickey Freeman, Ralph Lauren, and Calvin Klein (just to name a few). And to be honest I was prematurely a little skeptical about the house brand they carried, but one of the best suits in the store was their own Pronto Uomo Signature. I'm actually quite critical when it comes to the look and feel of a suit or sport coat. This particular Pronto Uomo Signature jacket was very soft, and luxe, with the light sheen that every great suit should have (unless of course the material isn't supposed to, like seersucker, etc). Check out their suit collection, online.
Larry H. advice/fact #1: Whenever you store clothes from season to season, use cedar to keep the moths and little pest away. Or just stock up on cedar hangers.
Second-stop: find complimentary shirts, pants, shoes, and check out the spread. Men's Wearhouse offers a variety of styles to cater to a wide variety of guys, and while this is a good thing it makes it tough for an Urban Gentleman because you really have to filter through alot to get to the styles we like around here. So before going in, be sure to check out our archives for examples and maybe flip through a couple magazines.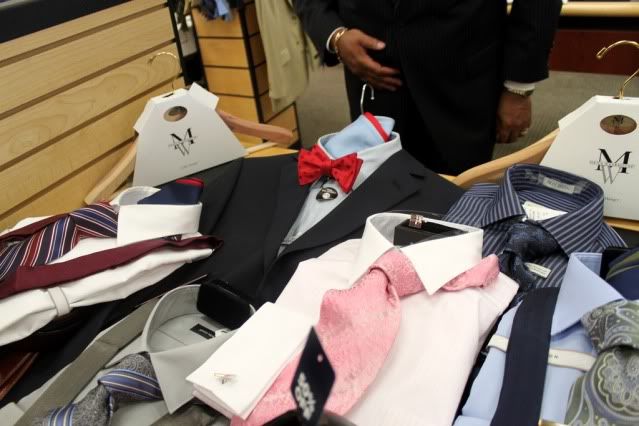 They created about 12 looks for us.
But if you're still at a total loss or don't have time to skim through a fashion mag, don't be too worried because they'll hook you up with a few customized choices catered towards your style. They created a spread of about 12 looks for us, and included everything from the cufflinks to convertible braces. I learned that Men's Wearhouse prides themselves in having the best customer service, and guaranteed us that we weren't getting this treatment because we're from The Urban Gentleman… they treat everyone like they're the only client. That could be hard to believe, but they were so cool and unpretentiously laid-back that we definitely believe it.
Third stop: try it on and get tailored. With their assistance we created two looks, one is featured below:
Larry H. advice/fact #2
: If you forget how to tie a bow-tie, just pull out the mini-guide you picked up from Men's Wearhouse. (or visit www.theurbangent.com)
Pretty clean, right? We wanted a simple
yet versatile layered fall/winter look.
The sportcoat is
Jospeh & Feiss Gold
, pants
Pronto Uomo Couture
.
We also got a
Ralph Lauren
sport coat, and
Kenneth Cole
pants.
(regular priced sport coats: buy one get one for $100)
(regular priced pants: two for $200)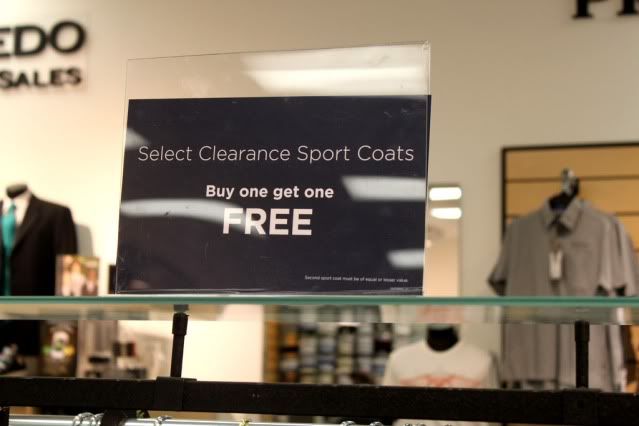 One of the highlights of our Men's Wearhouse experience would have to be discovering their sales racks– Buy 1, Get 1 Free. When I first read it I had to do a double-take. You can save over $500 if you take advantage of it. So the sales are pretty impressive, and I do believe they offer
similar sales online
.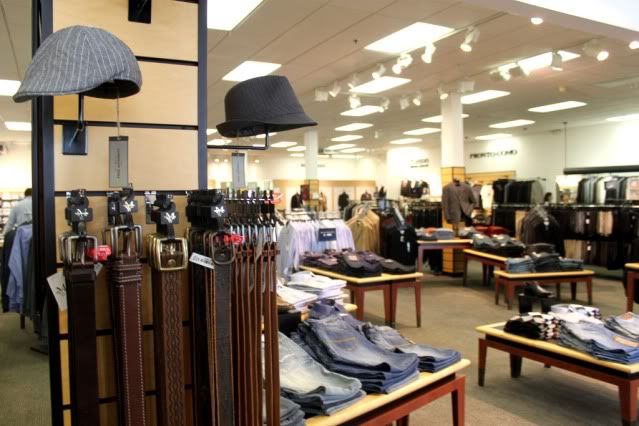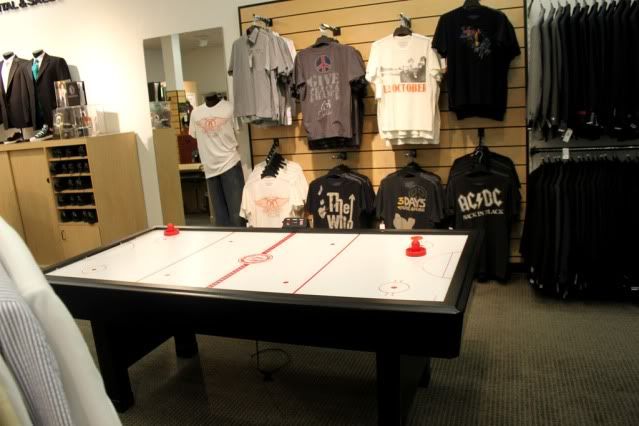 Fourth stop: check out casual wear and everything else they have to offer. The casual section includes an air hockey table. So you can play a quickie round while they create a few ensembles for you to try on.
Larry H. advice/fact #3: Deerskin is pre-flexed and pre-fit, so you don't have to break in deerskin dress shoes unlike most others.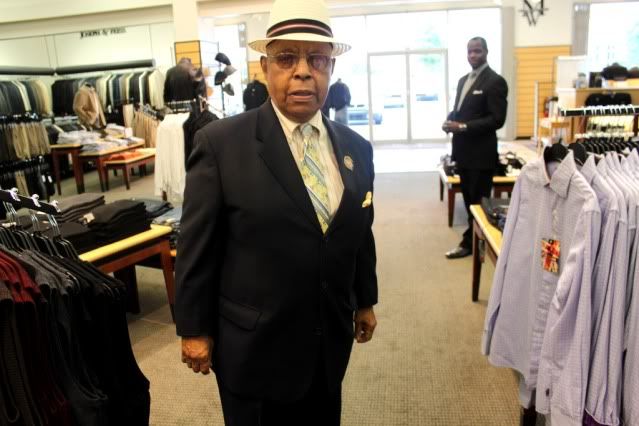 While there we ran into a piece of American history…
Ken Hudson,
one of the first black NBA referees. It's always great to meet a well-dressed old-schooler, he was coming back from some private NBA Hall of Fame event, and decided to drop in… sweet.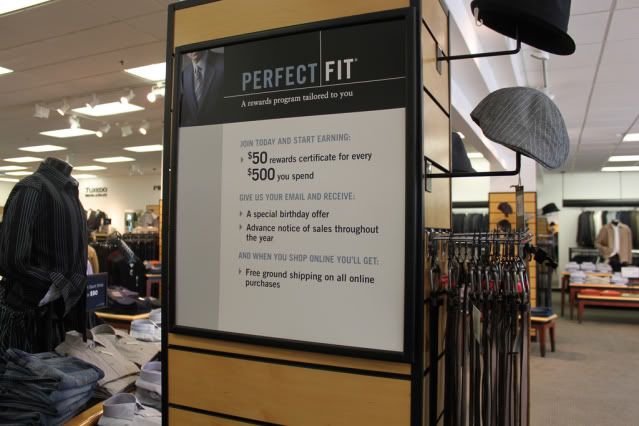 Join the
Perfect Fit
club to get exclusive discounts.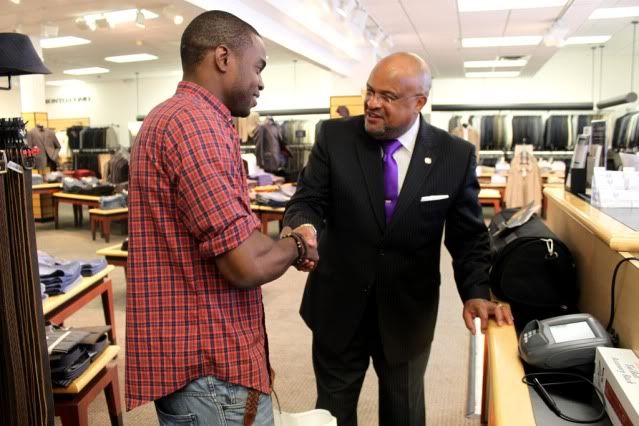 Final Stop: Check out and give back to the community. So when you get a chance be sure to stop by your local Men's Wearhouse. Its a great place to start when building a professional wardrobe because of the different price points– suits generally range from as low as $200 (or less) up to $1300. So basically as your pay check grows, so can the amount you spend on a suit there. And even if you already have a place where you purchase all your suits, it won't hurt to stop in to check out their buy one, get one free sales area– you never know what you can find.
Most importantly, please be a gentleman and gather up the gently used attire from your closet— khakis, shirts, ties, pocket squares, suits, sweaters, shoes, etc and donate them. I know everyone has something that is too small or too big or something that you bought but just never got around to wearing, well instead of dropping it all off at the Salvation Army take it all to Men's Wearhouse. The clothing you donate will be given to your local non-profits and help men in need in your city. To be a real Urban Gentleman one has to give to the community and this is a very easy way to do that. They have more than 1,000 locations, search for the store nearest you here.
There's only 10 days left for them to reach their goal of 100,000 donated items, so be sure to stop by there today or tomorrow! Support the National Suit Drive.
Forgot to show the shoes we chose…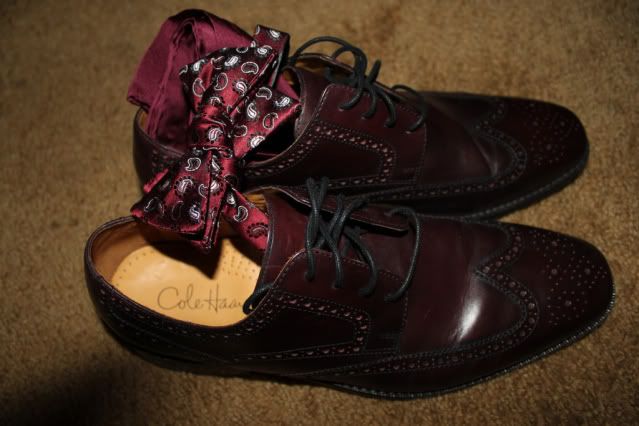 A Classic pair of "cherrywood" brown wingtip Cole Haans with the matching belt. A great fall and winter color.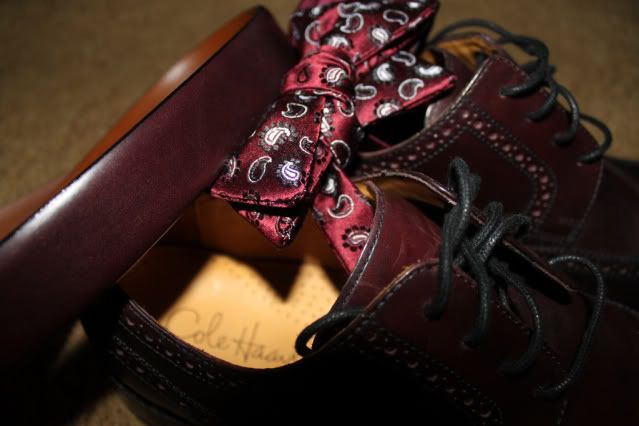 Special thanks to regional manager Mike, store manager Larry, Josh, Caitlin, and the whole staff for a great afternoon.
---
7 Comments
---
Leave a Reply