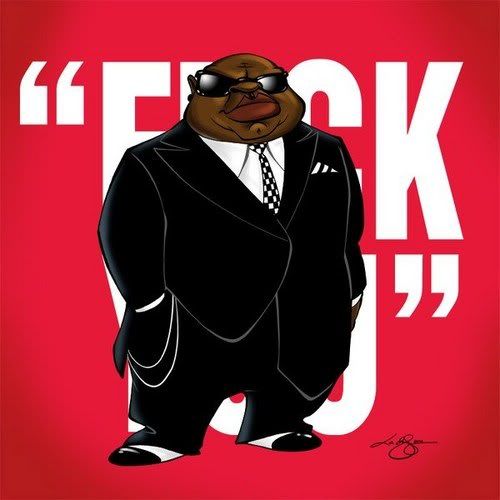 … it's just an undisputed fact of life. It doesn't get much better than Cee Lo Green. It was made official to me after I listened to "Cee-Lo Green… is The Soul Machine" years ago. And it has been further confirmed in the past few weeks of listening to his mixtape "Stray Bullets"…
Little Black Book, Talking to Strangers, Night Train, You Don't Shock Me Anymore, I Like It, The Secret. Sophistic@ted B!$ch, It it?, Super Woman Theme Song are my favorites (Yes, I named all but 4 songs on the album, two of which are intros and outros). The sounds of the mixtape literally take me through the past decades. He uses the best sounds of the 60s, 70s, 80s, and 90s to create a moving thoughtful album, focusing on relationships of course.
I've finally downloaded "The Lady Killer", and, well, Cee Lo is pretty much it when it comes to an artist that gives us music in it's full on untainted essence– with real lyrics (not randomess, degrading mess, fakeness to build a certain persona, or cookie-cutter pop). His wittiness, untouchable flavor, and unique perspective on life, women, and relationships allows his music to cross every other genre barrier. You can't put Cee Lo in a box, he's just one of those artist that stands alone.
Now some people may not feeeeel the greatness of Cee Lo off the first listen, but give it a few spins then come back later and listen again, I'm sure your musical senses will have set it… and you'll be vibing to the great Cee Lo like the rest of us.
To get the full effect of Cee Lo. It's best to atleast download: Cee Lo Green… is The Soul Machine, Stray Bullets, and The Lady Killer. For bonus, I'd download a couple of Goodie Mob and Gnarles Barkley albums (his two groups). You can get all of it HERE.
Download Stray Bullets torrent here.
---
1 Comment
---
Leave a Reply