Yesterday we gave you The 2010-2011 Men's Fall Fashion Guide featuring 5 trends/looks. Today we focus on one in particular, our personal favorite: American Workwear.
For this trend we followed our own rules… all-american everything, so only American brands. And we took it a step further by mainly using brands that are a lil' dated, aged, yanno, they go back some (in a good way). We pay stylish tribute to those classic hardworking American occupations, with our slightly modern day interpretations.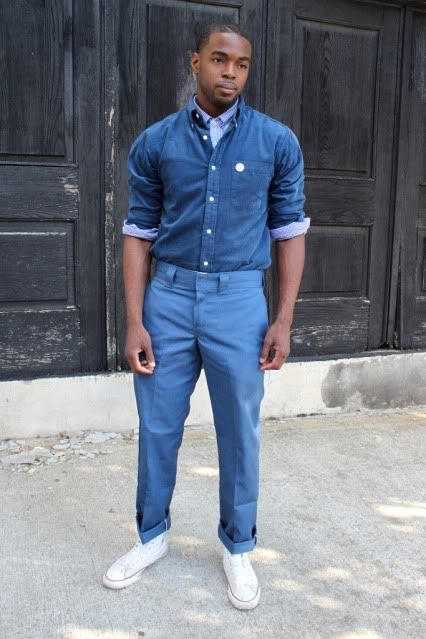 Ralph Lauren gingham. Vintage (label-less) corduroy shirt. original Dickies. Converse All-Stars
vintage Levi's jean shirt. Dickies. Frye footwear.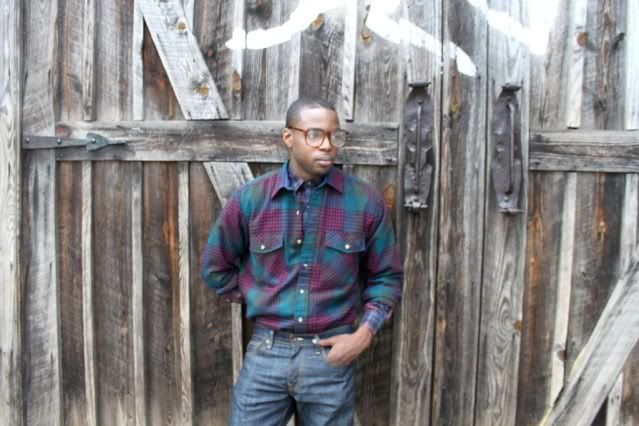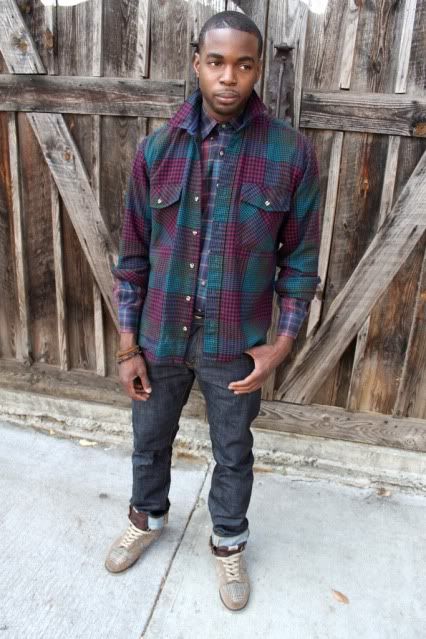 Levi Strauss & Co selvedge denim. Granddaddy's closet… yeah we pulled from my grandfather's closet for the double plaid action above. Both shirts are label-less.
Bugle Boy. Bill's Khaki's. Frye.
Bugle Boy shirt reads: "Authentic Adventure Garment. Style Resistant. DSA 100-71-C-1435. 100% Dependable Styling. Bugle Boy. Do Not Remove This Label" (seriously though, how dope is that?).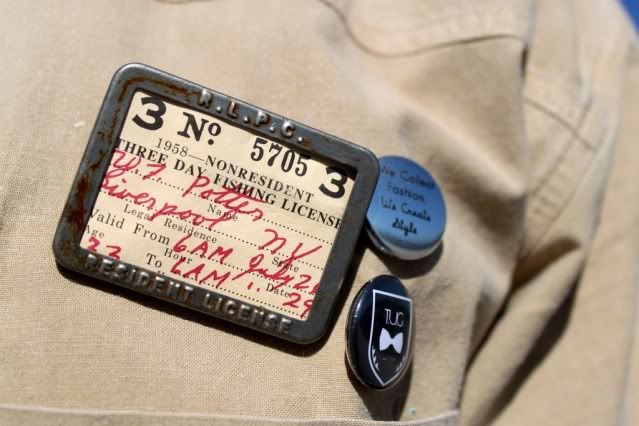 1958 Fishing License.
Get the Looks:
The History Behind T.U.G's American Workwear. Sometimes it's not enough to just say the label, sometimes you just gotta expound… So below we have a brief history of the fashion brands worn above.
Frye. Founded 1863, in New England, by John A.Frye. The Frye company is the oldest continuously operated shoe company in the United States. The boots were worn in the Civil War, by Teddy Roosevelt and his Rough Riders, and by many pioneers in the mid to late 1800's who headed from the East to the West.
Levi Strauss & Co. Founded in 1853, in San Francisco, California by Levi Strauss. The denim jean was created by tailor Jacob Davis and Levi Strauss. The first jeans were purchased and worn by gold miners during the California Gold Rush. Modern day jeans first appeared in the 1920s and were mainly worn by cowboys, railroad workers, and lumberjacks in Western America.
Bill's Khaki's. Founded in 1990 by Bill "King of Khaki" Thomas, in Pennsylvania. Once called the "Pants of the Gods" by GQ magazine, Bill's Khaki's draws its inspiration from a pair of WWII-worn khaki's Bill found at an army surplus store when in college. For him those khaki's were much better than the modern day ones. That thought grew into an idea to start a company that authentically captured and celebrated the America ideal. And that idea lead to Bill quitting his advertising job in Chicago and starting Bill's Khaki's.
Dickies. Founded in 1918, in Texas, by C.N. Williamson and E.E. Dickie. First named the U.S Overall Company, it was renamed in 1922 to Williamson-Dickie Manufacturing Company. Once worn by the US armed forces, Dickies is easily one of the most recognizable and classic American workwear brands.
Bugle Boy Industries. Founded in 1977, in Indiana, by electrical engineer William Mow. He founded the electronics company, Macrodata, in 1970 based on his invention of a unique method that tested large-scaled integrated chips. In 1976 due to an investigation by the SEC he sold his shares and left the company. Although the investigation was dropped, he vowed to stay away from the electronics design industry and found himself designing clothing instead. The company boomed in the 80s and 90s and sales nearly reached $1 billion for the privately owned US label. (Bugle Boy is no longer sold).
Converse All-Stars. Founded in 1908, by Marquis M. Converse, in Malden, Massachusetts. First only creating/selling winterized footwear, Marquis Converse tried something new and created the "Converse canvas shoe" for tennis. Then during basketball's US beginnings Converse invented the "All-Star" high top basketball shoe. Charles H. "Chuck" Taylor, an all American high school player, played for the Original New York Celtics (no relations to the Boston, Celtics), Buffalo Germans, and Akron Firestones. In 1921 Chuck Taylor joined Converse and improved upon the All Stars for basketball players, he became America's first endorsed basketball player. In 1923 Converse customized shoes for the New York Renaissance, the game's first all black pro basketball team. The "Rens" took the shoes to a whole new, unprecedented level of play (of course they did). With a then unbeaten record of 2,588 wins to 539 losses, the New York Renaissance became basketball's most successful team of all time. The Converse Chuck Taylor All-Stars are hands down one the most multi-functional pair of shoes. Although used initially for basketball, all-stars can historically be seen on paperboy's, athletes of all types, and factory workers alike– making it an easy pick to include in the American Workwear trend.
the New York Renaissance aka "Rens" Basketball Team

Ralph Lauren. Founded in 1967/1968 by Ralph Lauren (Lifschitz), in New York. In his early 20s Lauren attended school and worked at A.Rivetz & Co.. Originally a salesperson, he began designing ties for the company which inspired him to create his own line. So with his inspiration and designs, he acquired a $50,000 loan and started Polo Fashions in 1968. He began selling his men's line of ties to luxury retailers, starting with his own boutique within Bloomingdale's.
Grandfather's closet. Born in 1938 in southern Georgia, USA. This is the gentleman on the classic Urban Gentleman logo (featured above at the opening of the page). Thanks for letting us rummage your closet granddaddy!
Kanayo King. Cindy Samoht.

---
2 Comments
---
Trackbacks
Leave a Reply