H.I.M-istry grooming products were created by Darnell Love Henderson in 2004. Throughout life he faced skin care needs that he felt were being ignored by many companies. So he derived a line of products that would focus on the basic needs in men's skincare and would provide professional quality skincare products to men of all skin types and racial backgrounds.
H.I.M-istry, which stands for "Healthy Image Man", tackles many distinct needs like skin discoloration, ingrown facial hairs, anti aging, and more.
We were able to review a few of the products…
Blackberry Salicylic Cleanser: This cleansing gel provides an exhilarating, berry-clean freshness to help produce fresh looking clear complexion. An advanced deep pore resurfacing action increases cell turnover and help diminish the appearance of razor bump, acne break-outs and other negative affects on the skin. Ideal for normal/oily skin types.
Urban Gent Review: Smells great… like blackberries. Leaves my skin feeling cleansed and fresh.
Black Tea Bamboo Scrub: A mix of a Micro dermabrasion and light moisturizing cream. The effects of this scrubs natural ingredients provides a boost in skin cell shedding by manual exfoliation to give an all over healthy tone. The natural fruit ingredients causes mild skin peeling and are used on the face and body to treat acne, smooth the surface of the skin and diminish superficial signs of aging and negative effects on the skin (peels off dead skin).
Urban Gent Review: This product works well and definitely gives the skin a scrubbing. The scrubbing crystals are a little harsh, but no different from most scrubs.
OC-10 Serum: A lightweight serum that protects and revitalizes the skin with CoQ10 and Vitamin E to regenerate and defend the cellular matrix form environmental stress and premature aging.
Urban Gent Review: Feels sort of like a light-lotion. And very lightly moisturizes the skin, I still opt to use another moisturizer after/with this one.
AHA Clearing Pads: Deep strength exfoliator with combination of Alpha Hydroxy Glycolic, Lactic and Pyruvic Acids with Kojic, Bearberry and Licorice to exfoliate, inhibit skin discoloration, razor bumps. Use 2 to 3 times per week before bed.
Alpha Premier Fragrance: (Our Review): A nice everyday cologne. The woody scent makes it a perfect winter fragrance to try, purchase, here.
Purchase the above products, HERE.
OVERALL REVIEW: A good line of products that are scientifically created for every type of guy, with men of color in mind– so the product line gets a few extra points off back. It's very important to use these products in the proper order. I was initially using the scrub, then cleanser, then serum and I found my skin very lightly peeling in the middle of the day. But once I changed to cleanser, then scrub, then serum this went away. If you're in need of new products, then I'd give HIMistry a try.
Random Fact: HIMistry caught the attention of higher US officials (US government)– in a good way. The H.I.M.-istry (Healthy Image Man) line, including cleansers, toners, and scrubs, will be in 150 Army and Air Force Exchange Service stores across the country…. pretty cool. I guess that's what happens when you are able to specifically create products that are meant for a range of ethnicity groups.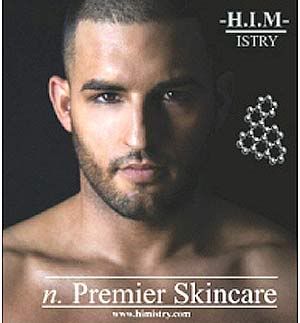 More from Himistry:
More and more men are looking for skin care products that cater to their needs. Men have thicker skin which tends to be oily and show signs of aging as testosterone levels decrease. Factors such as sun damage, lifestyle choices and nutrition play a significant role in skin condition. H.I.M-istry offers natural based Facial Care products formulated with cutting edge ingredients that moisturize, purify, repair and fight visible signs of aging and negative effect of the skin .
A man's skin is approximately 15% thicker than a woman's. Active sebaceous glands cause men's skin to be oilier with larger pores and a richer blood supply. Regular deep cleansing is a necessity to maintain a healthy complexion. Men's skin is also more prone to be dehydrated due to daily or frequent shaving. No matter your skin type, it is important to maintain a regular skin care regimen to keep pores clear, and healthy looking.
---
Leave a Reply