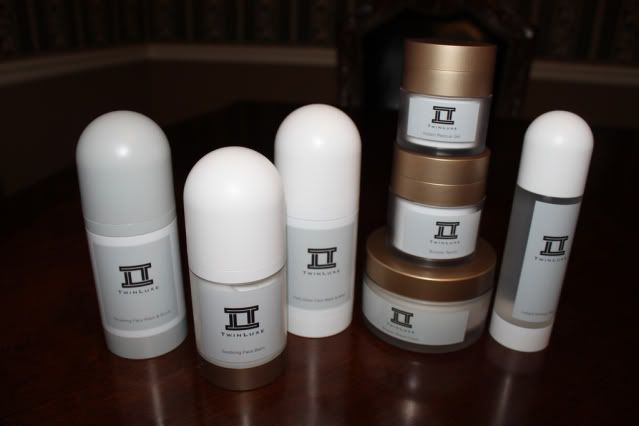 Twinluxe is a line of fine grooming products for the modern man. TwinLuxe's 'Shaving Skincare' line consists of multi-functional formulations with a 'TwinLuxe Blend' core of soothing Asian botanicals, such as Hydrolyzed Rice Protein and Centella Asiatica Extract, scientifically-proven to help strengthen skin tone, improve skin smoothness, and promote anti-aging properties.
Reviews below:
Renewing Face Wash & Scrub: The unique formula combines two professional treatments in one "every day product". Gentle microbeads in the softening formula exfoliate the skin, smoothing away roughness and prevent ingrown hair. Unclogged, exfoliated skin is the key to a close shave. The integrated nourishing cleanser unclogs pores, removes dirt and excess oil to promote glowing, fresh skin. The Renewing Face Wash & Scrub is a 2 in 1 essential for everyday use and for pre-shave preparation. For all skin types.
Urban Gent Review: It has a soothing eucalyptus mint smell and exfoliating beads.The Renewing Face Wash & Scrub is able to take off dead layer of my skin without irritation. I've used several exfoliaters in the past and many irritate my skin, this one does not.
Booster Serum: Customize shaving results – this intensive power serum revolutionizes any shaving experience. Pre-shave, apply to create an additional protective barrier between your skin and your blade. Post-shave, soothe any problem spots on your skin to help boost skin's ability to renew and fight irritation. Anytime, apply to problem spots on skin to help revive your complexion.
For all skin types.
Urban Gent Review: Using it pre and/or post shave, the Booster Serum has helped reduce my razor bumps.
Soothing Face Balm: This intensive, non-oily balm infuses just-shaved skin with a soothing botanical blend to hydrate and nourish without clogging pores. This long-lasting and gentle moisturizer is a refreshing boost to battle the look of fine lines and inflammation, while restoring healthy, glowing skin. After spritzing Instant Energy Mist onto skin, apply a pea-sized amount for entire face and neck. Repeat if needed. For all skin types – even the most sensitive.
Urban Gent Review: I mainly like the Soothing Face Balm because it's not greasy or oily, and it goes right into the skin. This is hands down one of the best moisturizers I've used because you can use a little and it goes a long way. My only complaint is the mild plastic smell, it's unappealing, but it doesn't linger so I suppose it's okay. But besides that the product works great.
Daily Detox Face Wash & Mask: This miracle 2 in 1 daily deep pore cleansing treatment can be used as a bacteria-fighting facial wash, or as a detoxifying, pore cleansing mask to balance skin before shaving. To use as a mask, use a generous amount and leave on face for a few minutes before washing off. This one step multi-tasking formula provides the benefits of a professional deep cleansing treatment, while nourishing and soothing the skin as an essential daily face wash or prior day night time pre-shave preparation.
For all skin types.
Urban Gent Review: The Daily Detox Face Wash & Mask is light (not thick) and has a nice eucalyptus mint smell. It does a good job cleaning my skin without overdrying it. After I finish using it my face definitely feels rejuvenated.
Others to try: Instant Energy Mist, Smooth Shave Creme, Instant Rescue Gel
Learn more about the complete line of TwinLuxe, here.
Purchase Twinluxe products, here.
---
3 Comments
---
Trackbacks
Leave a Reply