Sometimes I like to compare past trends, it gives me a stylistic look of designer's and people's mood from then to now. The Urban Gentleman has been around for almost 3 years now (come June/July 2011) so I figured, let's take a quick look back at the Men's trends from 2008-2011 (Fall and Winter trends).
Click on the header links below to open the different years in different tabs/windows to most effectively compare the trends by year.
2008-2009 Men's Fall Winter Trends:

The Blue-Collar Worker

College Cool

Eastern Inspiration

Geometric Retro Nerd (a favorite of many of the original Urban Gent fans)

Classically Simple

Jacket Fanatic
2009-2010 Men's Fall Winter Trends:
Conservative Dapper (our favorite last year)

Hard-Studded

Assorted Swank (voted your favorite last year)

It's a Man's World

2010-2011 Men's Fall Winter Trends:

All-American Workwear

The Schoolyard Kid aka The Prep

90s Steez

Plaid & Selvedge

Urbane Wanderer

CLICK BELOW TO READ MORE and for TREND ANALYSIS…
2008s/2009s are pretty darn similar to 2010s/2011s, huh?….
2008 was a hard year; the recession was really hitting people and the trends reflected that– people were dressing how they felt. Back in fall 2008, every other Friday I would walk back from Midtown or the Upper Eastside (work or a friend's place) to the East Village (home). And although the neighborhoods changed (each very unique architecturally) I'd see one common thread…. every other stylish guy looked like a vagabond. lol.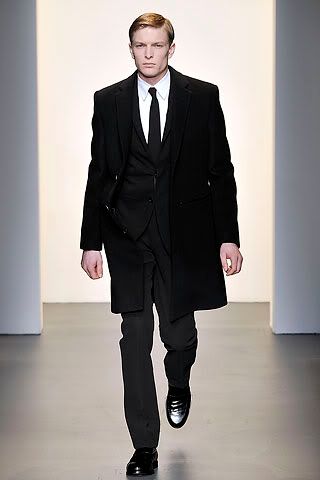 Then in 2009, things changed. Obama became President, and everyone felt so darn inspired, our moodiness was overcome with hope, and that was reflected in the style. Dapper is the only way to really describe it, every other guy was polishing up his look…. drawing inspiration from the styles of both Don Draper and Barack Obama.
And now, well, it seems to me the two have converged… we don't feel like vagabonds, but we like the emotions of a vagabond's sense of style, and we mix that with the elegance and perfection of a 50s/60s performer (we're talking about y'all Rat Pack) and the mindset of a prep.
The most noticeable change would really have to be the fit, it's gotten much skinnier over the past couple years, but now (in 2010) men just want their clothes to fit perfectly. Not too skinny, not baggy at all, most think, "just make my pants fit the way pants are meant to." A tailor can make a lot of money these days if they offer the right prices because more men are realizing the importance of, well, fit.
My most favorite change within the past years is the focus on quality American-made clothing. I know people who buy nothing but American made clothing… and I must admit, I'm also pretty biased at times too. It's not because I don't like clothes from other countries (because I so obviously do), it's just that so many American jobs have been lost over the past decade to companies moving overseas. So when a company decides to "stick to their guns" and pledge to always sport a "Made in USA" tag, well that's something to congratulate.
Remember when I used to always say how the best thing about men's fashion is that the trends change so slowly? Well in recent years, its gotten a beat quicker, but that statement still remains the same (with a few subtle changes here and there).
From 2008 to now what's you favorite trend? (Be sure to compare the past years).
---
4 Comments
---
Leave a Reply