The freshly-released, never before heard new single from Micheal Jackson, entitled "Breaking News" is now streaming on Michael Jackson's website. The song is from his album, MICHAEL, which will be released December 14th. Listen to the song here.
The Jackson family (his mom, sisters, even his children) does not believe it's really Michael. And to be honest, it does sound kind of funny… I think they may have done to this song what they did to some of Aaliyah's stuff after she past away. They mixed in her brother's voice to complete the movie Queen of the Damned (and a few of her other projects). I think they probably mixed in the voice of a Michael Jackson impersonator to finish the song. But who knows…
update: after to listening to it for a second time, this really does not sound like michael… i hope this is the only song on the album that sounds "fake".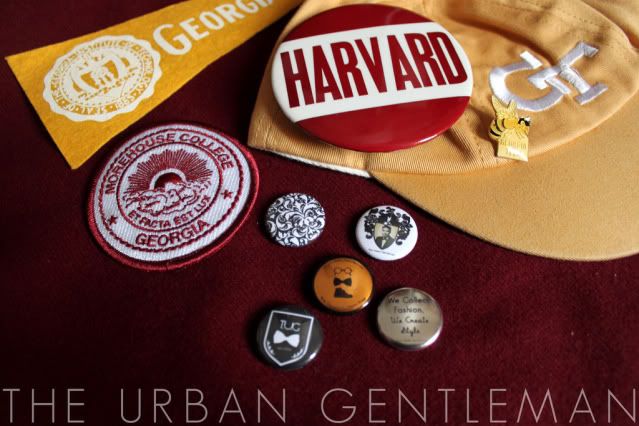 Finally, you can own a little piece of The Urban Gentleman, and a historic piece at that! We've created 5 pinbacks/badges in celebration of our relaunch (including two special edition gold/silver pinbacks).
First Edition Set of 5 includes:
– classic Urban Gentleman logo
– modern Urban Gentleman logo
– damask print (one of our favorite prints)
– Urban Gentleman motto, "We Collect Fashion, We Create Style"
– Urban Gentleman motto,"The Original Urban Prep"
The designs are classic, and can be worn in MANY ways: on a shirt, jacket, hat, shoes, bag, tie, suit jacket lapel, anywhere there's a soft enough surface our First Edition pinbacks will certainly enhance it. And most importantly these are meant for every type of style; whether you're a prep, a hipster, a rocker, or like to keep it street this is a must-have accessory.
**Each set comes in a classic, american made, individually hand-stamped, eco-friendly reusable cotton bag.
Own a piece of Urban Gentleman history and order your set today...
T.U.G editor Kanayo King can be seen wearing them in the American Workwear Lookbook.
Many brands have metamorphosed over the past few years, some to their detriment and others to their benefit; Cavi has experienced the latter. Originally starting with slightly baggier and slightly over-logoed clothing, Cavi is now creating clothing with a classic palette which has lead to cleaner, more tailored silhouettes.
Cavi is worn by celebrities like LeBron James, Jeremy Piven, Dwayne Wade, and Will Smith.
Taking on the military and utilitarian trend, Cavi's theme for their Holiday 2010 Collection is based around rescue: air, land, and sea. The collection features winter staples like the shawl-collar sweater, bubbler jacket, and thermal shirt.
Inspiration boards (plus video with Cavi's creative director Garth Cabral) …
In celebration of their Holiday 2010 Collection and website relaunch, Cavi has created the "Weekend in New York Sweepstakes" for a fan(s) to have the ultimate New York experience. Prizes include…
GRAND PRIZE:

– Round-trip airfare for two to New York City
– 2 nights at a luxury hotel
– 2 highly-coveted tickets to the New York Knicks vs Miami Heat game at Madison Square Garden on December 17, 2010
– A VIP table after the game at 10AK, the city's best night spot
– Private styling session
– Dinner with CAVI's Creative Director at the city's hottest new restaurant
– A $1,000 shopping spree
5 RUNNER-UP PRIZES:

– $100 gift card
To win, just enter your name and email, HERE.
Visit them on facebook and twitter. Cavi can currently be found at your local Macys.
Friday's surprise has been moved to Sunday, maaaybe Monday, but most likely Sunday, so be sure to check back!
Duluth Pack sent us a few items to try out and I must say, I'm loving all of it. The scoutpack, featured above, has become one of my new staples.
Duluth Pack. Founded in 1882 by Camille Poirer in Duluth, Minnesota. In the 1870s Camille started a small shoe store, then in 1882 filed for a patent on a new type of "packsack." It was a canvas sack, that closed with a buckled flap, had shoulder straps and other new features. It was known as the Poirer Pack, and is now called the original Duluth Pack. (below)
Click below to read more…
u·til·i·tar·i·an

–adjective
1. pertaining to or consisting in utility.
2. having regard to utility or usefulness rather than beauty, ornamentation, etc.
3. of, pertaining to, or adhering to the doctrine of utilitarianism.
–noun
4. an adherent of utilitarianism.
—Synonyms
2. practical, useful, functional, sensible.
The American Workwear trend is simply about having utilitarian style. Style that is based upon necessity and usefulness rather than it just "looking good". When you're working on the factory line, or on the ranch, or in a steel mill you have to wear clothing that matches the environment, that protects, and makes it much easier to get the work done. Even the old school paper boy had to be mindful to not wear garments that would not get in the way of his job.
Take this trend to another level and make it personal by choosing to base your workwear style on that of a particular industry or job. Perhaps that of a mechanic or maybe that of a hunter or maybe one of the many others we've mentioned over the past few days.
Get the Looks featured in our American Workwear Lookbook.