Last night the Beverly Hilton Hotel held the 68th Annual Golden Globe Awards in Beverly Hills. Check out the winners and the men of the red carpet, including Urban Gentleman favorites.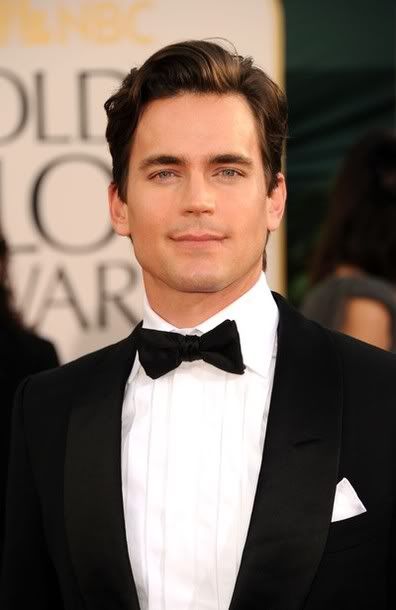 White Collar star Matt Bomer looked dapper.

Johnny Depp rocks his usual Bohemian-Eclectic style with his long hair, glasses, chain, boots, and overall relaxed look., complete with no tie. His label… all Ralph Lauren Black Label. With Martin Katz cufflinks. He opted for a shawl-collared jacket instead of the traditional notch-lapel.

Johnny Depp's man jewelry.
LL Cool J and wife Simone Johnson… he'll never let those Kangol hats go
Ryan Gosling was hands down one of my favorites in a black velvet Ferragamo suit, a white shirt with pearl buttons by Lavin, Hugo Boss black velvet bow tie, and black patent leather Ferragamos.
Inception star, Joseph Gordon-Levitt always brings it. Matter of fact he needs his own Urban Gentleman style profile very soon. Like a few others he donned navy at the Golden Globes. To be more specific a two-button notch lapel Prada suit. With a red button… I wonder what the button stands for– it looks good though.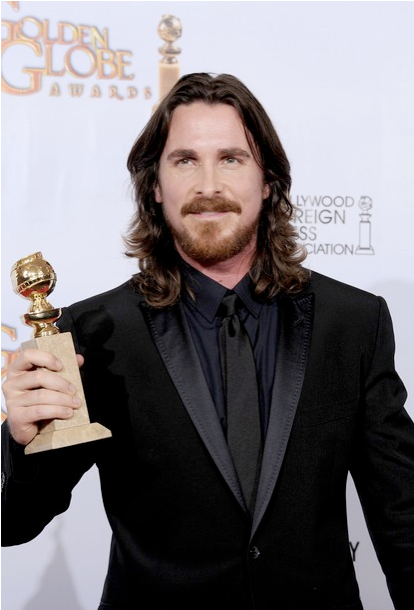 Best Supporting actor winner Christian Bale and wife Sibi Blazic. They've been matching in black all award-season long, maybe they'll switch it up for the Oscars, who knows. Christian hit the red carpet in Dolce & Gabbana from head to toe: black peal lapel tuxedo, black shirt, black tie, and black shoes. ( I do love a nice Dolce suit). Cartier cufflinks and watch.

And Christian's Fighter co-star Mark Walhberg mixes it up a bit (designer wise): Giorgio Armani tuxedo, shirt, black bow-tie, and Martin Katz cufflinks. His wife Rhea Durham looks great too.
LOTS more below –>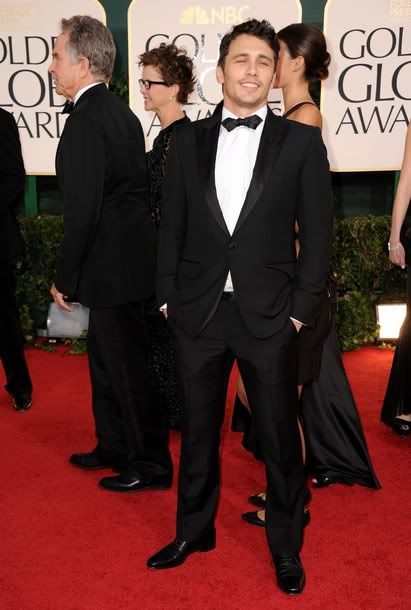 I started watching 127 hours the other day, but didn't finish it… I'll be sure to finish it before the Academy Awards though. James Franco wore a Gucci made-to-measure black Heritage two button tuxedo with satin peak lapel. With custom white dress shirt, black silk bow-tie, and black leather lace-ups.
The 26-year-old Social Network star Jesse Eisenberg follows the Dolce & Gabbana trend and wore a black tuxedo, white shirt and black tie– all by Dolce.

Mad Men star Jon Hamm treads the red carpet with girlfriend Jennifer Westfeldt. This guy is definitely the new Denzel, funny how a TV show can change people's perspective of you.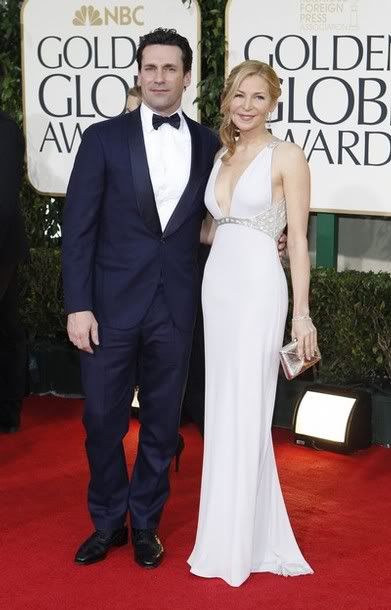 And it's also funny how much the light makes a difference… Jon's suit seems much more navy here than above.
Blair Underwood and wife.
T.U.G favorite Zac Efron took a lean classic approach in Calvin Klein. If he's looking a little buff to you, it's because he gained about 18 extra pounds for his upcoming movie, The Lucky One.
Never Say Never star Justin Bieber suits up in a 3-piece Dolce and Gabanna tuxedo. I think that's three points for D&G. Bieb looks great, kicks and all. He does look a liiitle on the slim side though, but he's a kid so it's probably a growth spurt that has him on the slim-side right now.

Robert Downey Jr. always adds a pop to the red carpet. And last night he gave it to us with a charcoal grey Prada suit, red satin tie with matching pocket square, Cartier watch, and black Prada Spazzolato shoes. I love the grey and red, but I don't, however, like the slits on the bottom of his pants… I think he's sort of short, so I get not doing cuffs, but a slit? Idk, it's awkward. He's with producer Susan Downey.



I love the way Robert subtly switched it up for the after-party. Just took the tie off, loosened the shirt, changed the way he wore his pocket square, and put on glasses.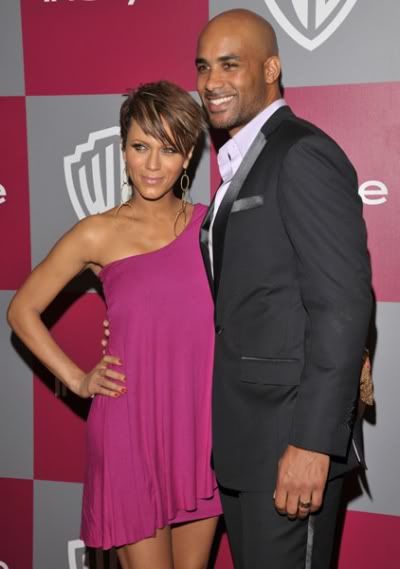 Boris Kudjoe and wife Nicole Ari-Parker at the Golden Globe after party.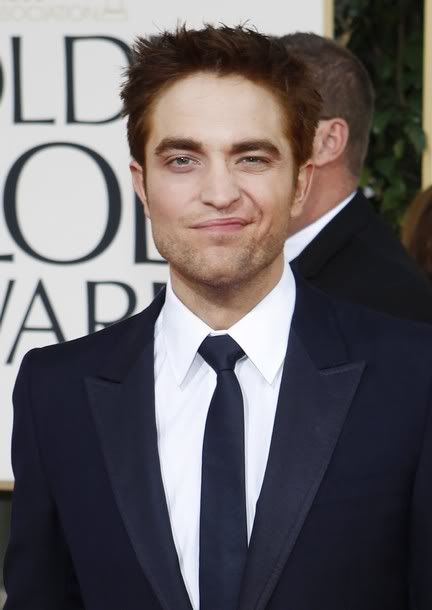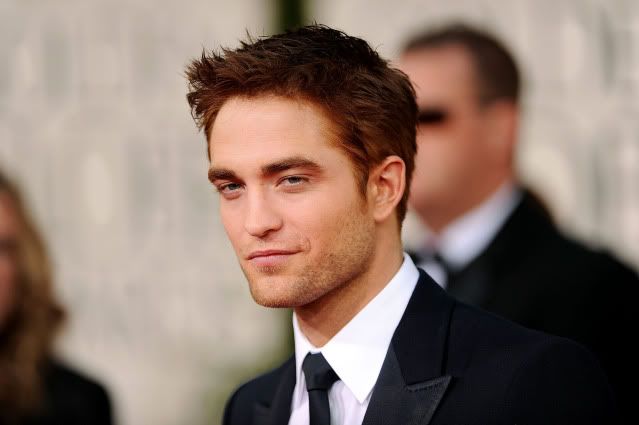 The 24-year-old Twilight star Robert Pattinson, was another T.U.G favorite last night, in a midnight navy Gucci made-to-measure one button tuxedo with matching midnight navy tie.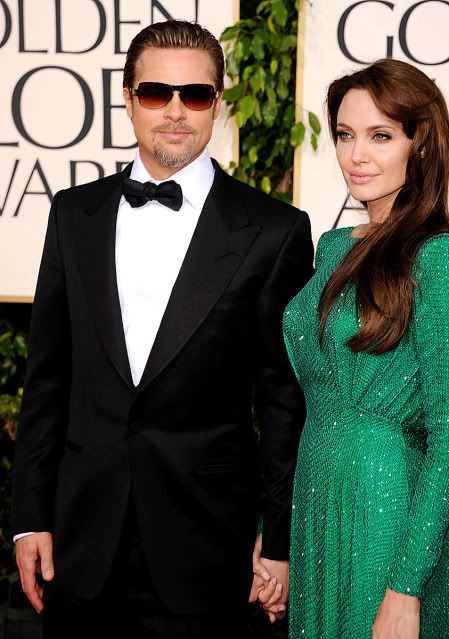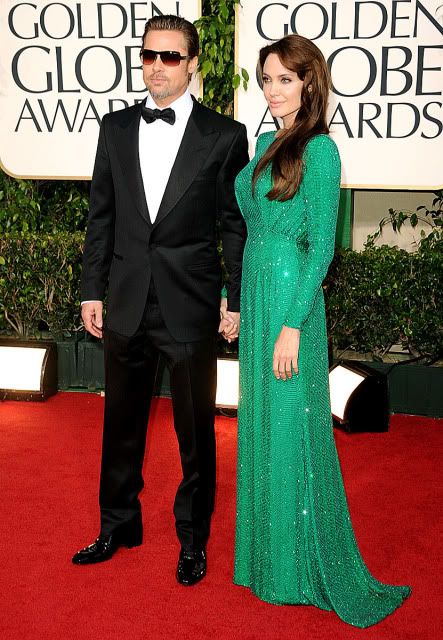 Hollywood's favorite couple Brad Pitt and Angelina Jolie looked great as well. Brad groomed up for globes, hair back, and facial hair perfectly neat. I don't know about the pepper goatee though, it adds unnecessary age to him. It should be the same color as his hair. He donned a Tom Ford suit, while wifey Angelina wore an emerald green gown encrusted with Swarovski crystals by Atelier Versace, Ferragamo shoes, and Robert Procop jewels. Also, Brad should have taken off the shades… sunglasses never look good on a black-tie red carpet.

Love & Other Drugs star Jake Gyllenhaal wore a Burberry Suit and black Ferragamo lace-ups.
Aussie actor Chris Hemsworth hits the red carpet in Giorgio Armani
Alex Pettyfer also in Giorgio Armani.

Ryan Kwanten in a 3-piece Hugo BOSS suit with a burgundy velvet bow-tie for a little pop. Before all designers started slimming there suits Hugo was doin' it. Hugo Boss has always had some of the best slim-fit suits, especially for slim guys.

So, let's talk trends, favorites, and tally the designers who had the most red-carpet looks.
Velvet and navy blue were the ways celebrity men stood out on the red-carpet. Velvet bow-ties have been popular on the red-carpet for a couple years now. They've just gone from being a bit saggy and romantic to straight.
If green was the color of the night for women (Catherine Zeta Jones, Angelina Jolie, Mila Kunis) then navy was the color for men. I loved all the navy on the red-carpet last night: Robert Pattinson, Jon Hamm, and Joseph Gordon-Levitt. Pattinson's navy Gucci was my favorite among the three.
Bieber's 3-piece D&G with matching kicks was a winner too (for a kid). Alot of people don't know how to do kicks on the red-carpet, but you almost always have to do patent leather black. His D&G's sorta give me flashes of the black dressy kicks from Clae's 2009 Spring collection.
Let's do an unofficial tally: Calvin Klein: 1, Burberry: 1, Dolce & Gabanna (D&G): 3, Ferragamo: 1, Giorgio Armani: 3, Gucci: 3, Hugo Boss: 1, Prada: 2, Ralph Lauren: 1, Tom Ford: 1. But of course we aren't counting every celeb, just a few… but still Dolce & Gabanna, Giorgio Armani, and Gucci seem to be favorites, along with Ferragamo shoes and Cartier cuff-links.
And as for Urban Gentleman Golden Globe Red Carpet favorites…. Robert Pattinson in the navy Gucci tuxedo, Joseph Gordon-Levitt in the two-button Prada, and Ryan Gosling in the black velvet Ferragamo with the tasseled Ferragamo loafers.

And as for the Golden Globe winner's:
Best Picture (Drama): The Social Network
Best Picture (Musical or Comedy): The Kids are All Right
Best Performance by an Actress in a Motion Picture (Drama): Natalie Portman – Black Swan
Best Performance by an Actor in a Motion Picture (Drama): Colin Firth – The King's Speech
Best Performance by an Actress in a Motion Picture (Musical or Comedy) Annette Bening – The Kids are All Right
Best Performance by an Actor in a Motion Picture (Musical or Comedy): Paul Giamatti – Barney's Version
Best Performance by an Actor in a Supporting Role: Christian Bale – The Fighter
Best Performance by an Actress in a Supporting Role: Melissa Leo – The Fighter
Best Director: David Fincher – The Social Network
Best Foreign Language Film: In a Better World

Best Screenplay: The Social Network

Best Original Score: The Social Network
Cecil B. deMille Award: Robert De Niro
photos: GETTY IMAGES

---
5 Comments
---
Trackbacks
Leave a Reply