**Happy New Year to you all! 2010 was great, and 2011 should be even greater. The world might just end next year, so make this year count! Lol, just kiddin'. (2012
is a pretty good movie though). But forreal, heed to the cliches' of following your dreams and living with a purpose. I found myself listening to Lauryn Hill the other day (her MTV Unplugged
album) and as usual she had some wise words, and spoke about "living" and doing what you love, doing something with a purpose, something that adds to the world not detracts or extracts from it… So that's our little T.U.G advice for 2011: Live & Live with a (positive) purpose.**
Alright, so yesterday I found myself flipping through a couple of magazines, yanno just checking up, peeping the styles, etc etc. And, well, after awhile I found myself totally uninspired. And the more I thought about it, the more it annoyed. So I decided that we were past due for a nice, Urban Gentleman street style round-up. I had a folder of looks I had been collecting from friends and sites around the net, buuuut somehow I can't find it… So I spent a little time collecting new ones (hopefully I'll find the other photos soon). Check it out:
Love this photo for some reason. It makes me happy. I guess because its original and reminiscent of classic slap-stick comedy, like the Three Stooges or something. The crew-neck sweat shirt pushed-up, the urbane wanderer backpack, the worn classic brogues… even the color story works, the orange socks and tan brown brogues match his hair. My only question is: how intentional did he put this look together? *pondering* The more I look at it, the more it looks like a ready-to-wear mix between Adam Kimmel and Comme Des Garcons.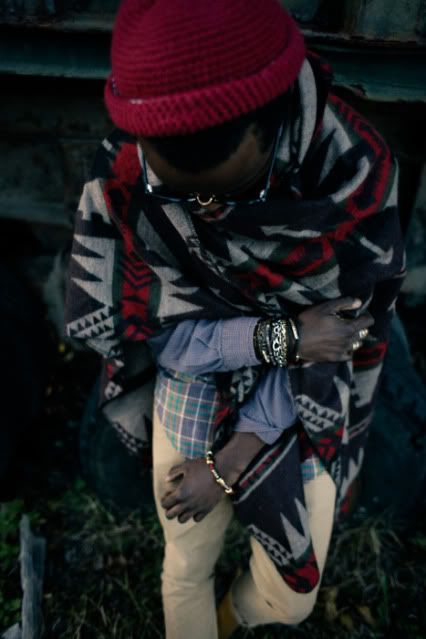 Gotta love the layering. Navajo print, plaid, corduroy, and knit.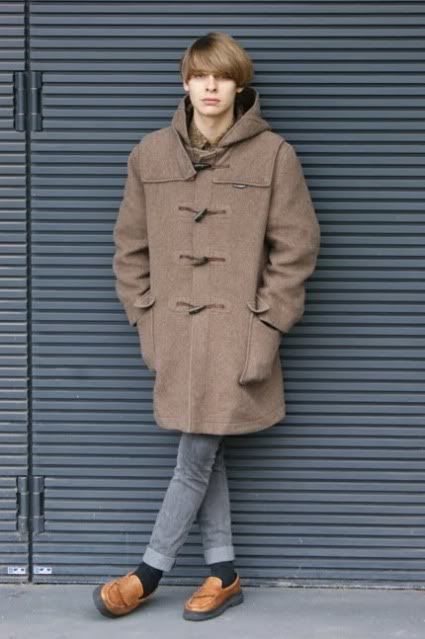 Usually I would never be attracted to loafers with such thick soles, but the thick-soled loafers work with this look. I'm digging the silhouette as well. Usually very skinny pants paired with a very full coat on a man can tend to look feminine, but this doesn't… therefore, I can dig it.
The weaved scarf is a winner.
Lots more photos below.
The shape his garments create are both interesting and sorta eery.
Chinese street style is great because its so common to see subtly unique ensembles. Over the top unique can be too much (which is also prevalent in Chinese Street Style), but something like this with mostly neutral colors makes it much easier to look at and get inspired from. Don't get me wrong, I would never rock this look, but its cool that somebody is rockin' it.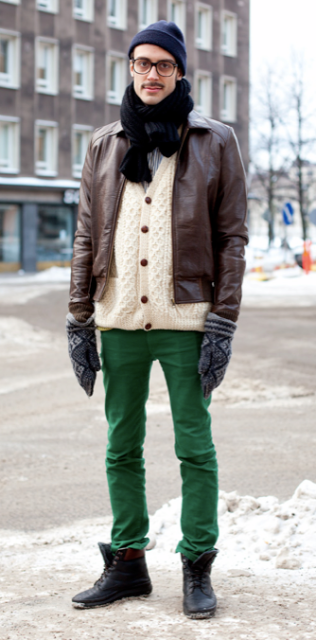 The sweater was handmade in Norway.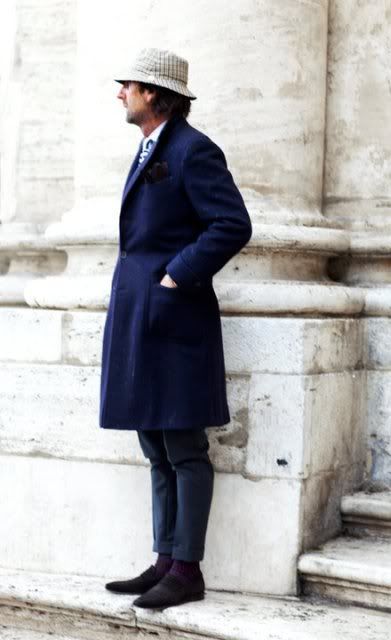 Peep the gloves in his breast coat pocket– that's what gentlemen do. Placing your gloves there instead of in your side pockets turns the gloves into a sort of "winter pocket square". And don't you just love how relevant socks are these day? It's such a great added style element. So be sure to have a variety of colors: dark purple, as shown above, along with navy, burnt orange, olive, gray, burgundy… traditional fall/winter colors.
This is "postcard" worthy Winter 2010/2011 natural style to me– it's the perfect simple mix of prep and rugged. The club collar, knit tie, scuffed up trousers, and hiking boots… simple and "in-trend".
When I look at this I see someone trying hard "to be stylish". Not that he was, he could very well be an extremely naturally stylish guy. But I see either A: a novice to style. In that case I applaud the efforts and encourage him to continue to try new looks. Or I see B: someone trying too hard. In that case, I also applaud the efforts, but would encourage him to either dial it up or dial it down. And honestly I can dig the blazer, feather necklace, the hair, and even the white tee. The pants and perhaps the boots are where things go astray.
There are lots of different looks in men's fashion and style these days, and in the streets, men's styles and trends continue to stay steady for the moment (which should make retailers happy). Denim on denim, cuffed pants, rugged boots and workwear inspiration, harem pants, and a nice mix of fit– from super skinny to double pleated and wide leg. Hard-bottoms galore, barely a sneaker in sight, navys, blacks, tans, and prep with splashes of color here and there. The differences I find that subtly or grossly stand out are the collars– on shirts and jackets. And not just how the collars are designed, but how they are worn. That's something to be cognizant of– do you button up your shirt all the way, or do you leave a button or two open. Do you fully zip your cowl-neck jacket or let it hang open? Do you pull the strings attached to your coat to create that crinkled look on the hood or neck, or do you leave it straight and perfectly neat? These small things can make a big difference.
Hope these photos provide a source of inspiration, and feel free to email us your personal street style photos: info (at) theurbangent (dot) com.
CREDIT: The Sartorialist, Black Fashion, Tommy Tom (for GQ), Street Peeper, Dam Style, Le Look, Stylelites, PimPumPam, Hel-Looks.
---
9 Comments
---
Leave a Reply