We're admittedly a little tardy with our Grammy coverage, but hey, better late than never, right? Here are a few photos from this past weekends 2011 Grammy Awards held at the Staples Center in Los Angeles.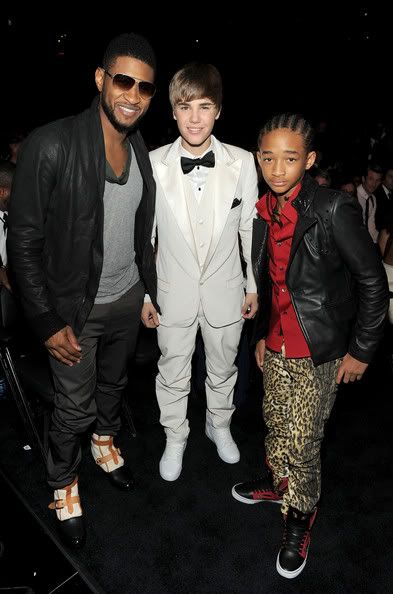 Usher Raymond in Vivenne Westwood, Justin Bieber in D&G, Jaden Smith
Mumford & Sons: Winston Marshall, Ben Lovett, Marcus Mumford and Ted Dwane in Burberry.
Mumford & Sons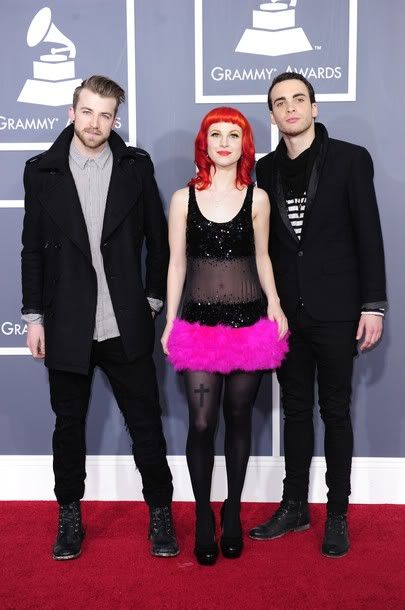 Paramore: Jeremy Davis, Hayley Williams and Taylor York of Musicians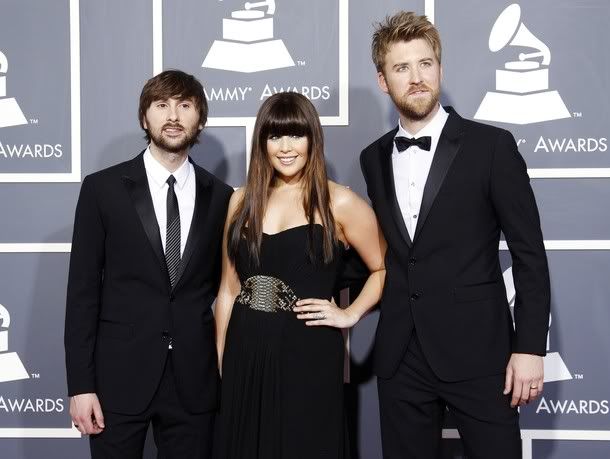 Lady Antebellum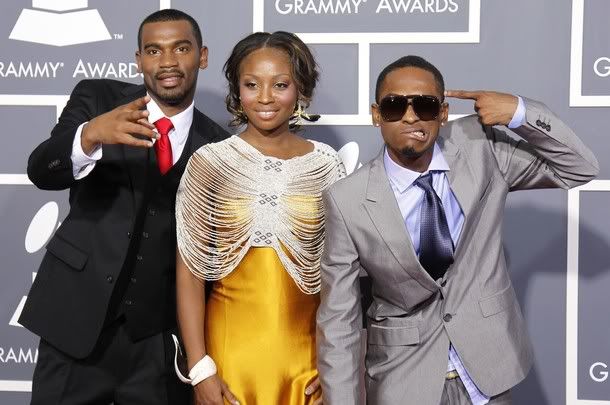 The popular Colombian music group, Choc Quib Town
The Kings of Leon
Drake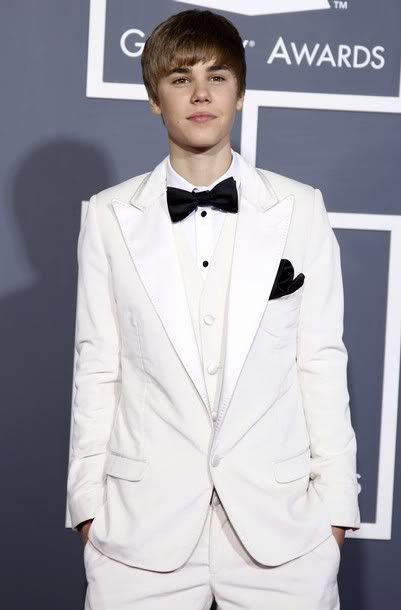 Justin Bieber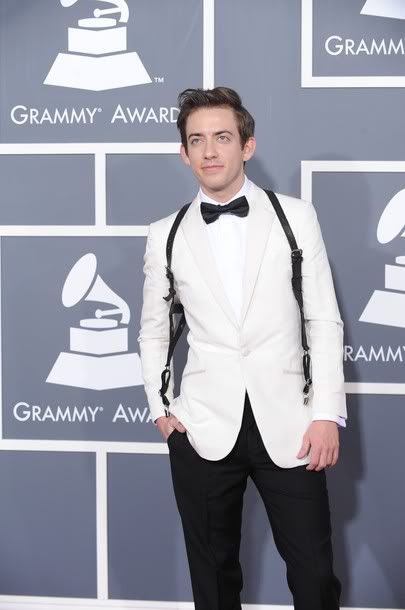 I'm not a Glee-fanatic by any stretch of the imagination, but Kevin McHale (the guy in the wheel chair) often cleans up well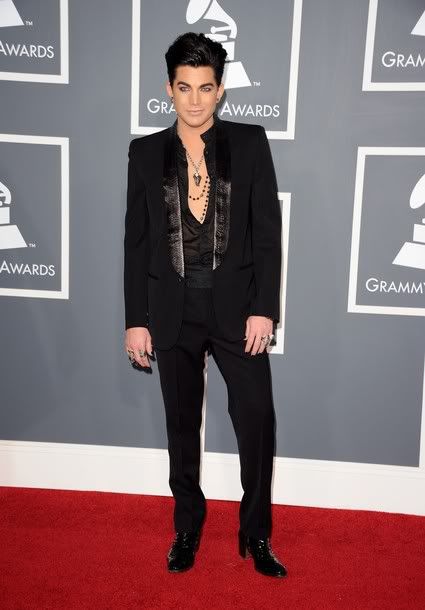 Adam Lambert

Check out LOTS more photos —>
Adam looks so much better than he did last year.
Carolina Chocolate Drops. I've been listening to their music for the last 2.5 months or so, and every time one of their songs randomly plays it always catches me a little off guard, because it's so different from everything else… even from all my other country music. It's just so… raw, and a more-so folksy country music.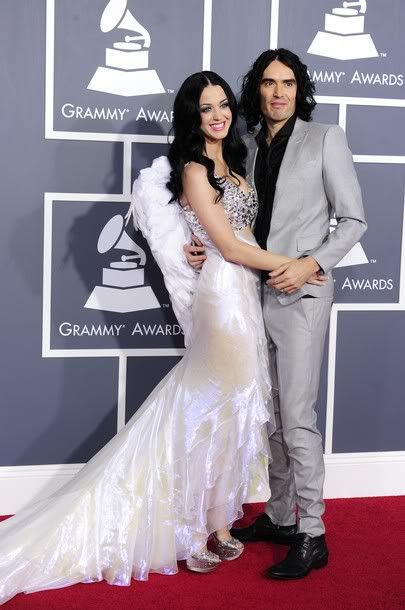 Katy Perry and Russell Brand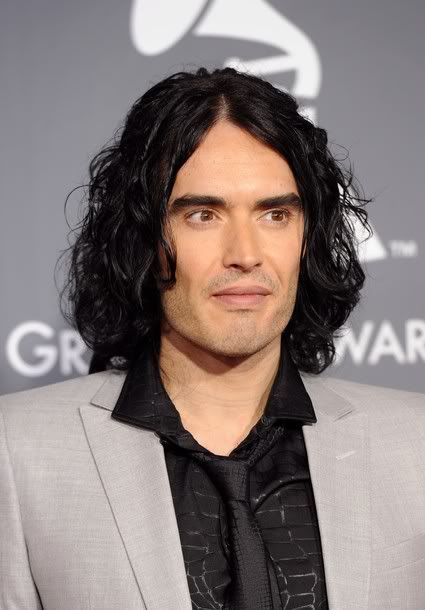 Russell Brand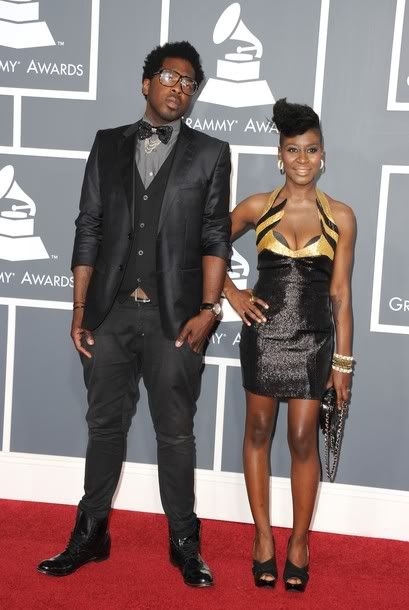 I Heart Stereo

Musicians Chris Wolstenholme, Matthew Bellamy and Dominic Howard of Muse
Lil Wayne, Nicki Minaj, and Tyga of "Young Money"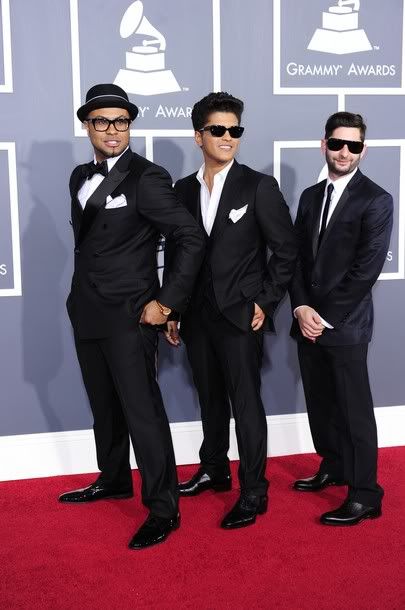 Singer Bruno Mars and the Smeezingtons
Adam Levine of Maroon 5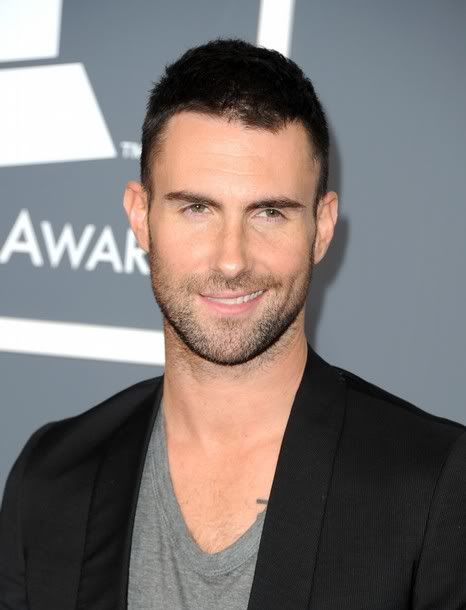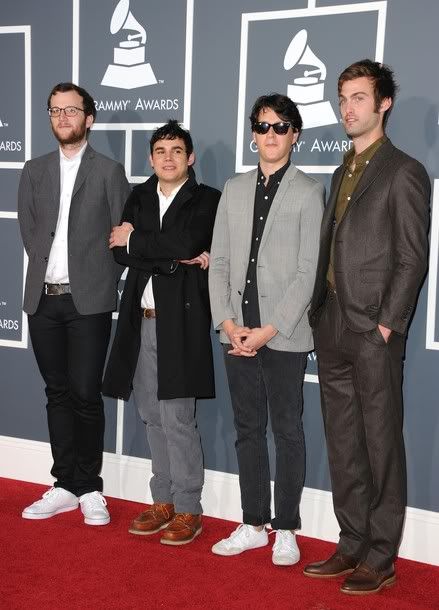 Vampire Weekend: Chris Baio, Rostam Batmanglij, Ezra Koenig and Chris Tomson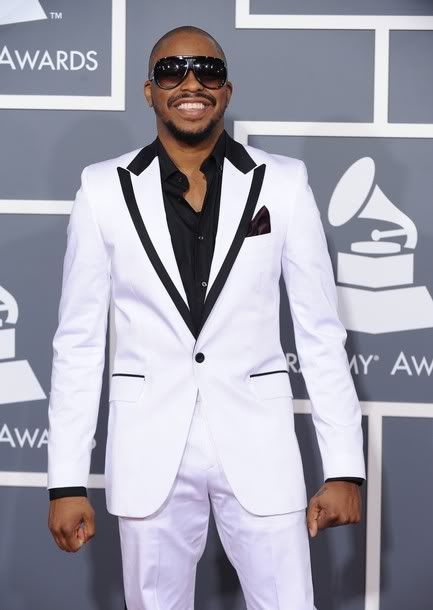 Raheem DeVaughn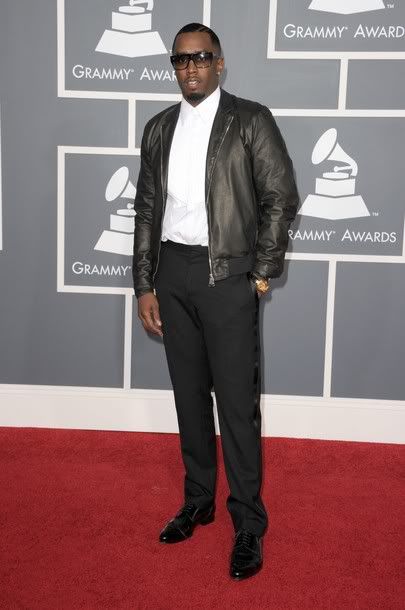 Puff Daddy aka PDiddy
Lenny Kravitz
Actors Lauren Miller and Seth Rogen
Usher

Musician Buddy Guy, winner of the Best Contemporary Blues Album award for 'Living Proof'
Country music group Lady Antebellum: Charles Kelley, Hillary Scott and Dave Haywood. They racked up this year and won Record of the Year, Song of the Year, Best Country Performance by a Duo or Group with Vocals, Best Country Song for the song for "Need You Now", and Best Country Album for the album "Need You Now," at the 53rd annual.
Best Dressed Men at 2011 Grammy Awards:

Bruno Mars- the guy was dapper from head to toe, and the hair really completed it all.
Adam Levine– I liked his very causally stylish get-up, definitely something that everyone can't wear, but he can.
Couldn't believe Usher was rocking those Vivenne Westwood boots, super-dope and ballsy move on his part… definitely a highlight for men's fashion.
Kings of Leon dressed exactly how a group should– simple w/ subtle matching, all tailored, immaculately groomed with different hairstyles… two thumbs up there.
Adam Lambert, I don't know quite how to say this, but he dresses… well, yanno what, sometimes it's hard to say certain things while trying to keep it "pc", so I'll just say I liked his look on him. He, always pays attention to detail, which I admire, his looks are 100% complete, which is something I can't say for everyone.
I also liked the ensembles of the men of Paramore– in the say way I dig Adam Levine's ensemble.
Raheem Devaughn and Kevin McHale both wore the white suits well. (alot of guys opted for the white suit this year, which is relatively common for music award shows.)
On a side note, why the heck did Esperanza Spalding win? Over Mumford & Sons, Florence + the Machine, Drake, AND Bieber. Bad or maybe just strange move on the part of the Grammys. For years they overlooked extremely talented (and relatively popular) artist like India Arie for Beyonce, and other talented artist have gotten written off the same way, so yea, because of those incidents many of us wrote the Grammys off and it became clear that popularity meant more than talent to them. But they choose this year to try to prove us wrong? But see, the thing is, is that proving us wrong would have been Mumford & Sons over Bieber or Drake, not Esperanza. With that said I'm incredibly happy for her and the jazz community, but giving her a Grammy for best new artist over the others just seems random. I'm not encouraging the Bieliebers, but I definitely understand their outrage.
---
2 Comments
---
Leave a Reply