Here's another hodgepodge of Valentine's Day Gift Ideas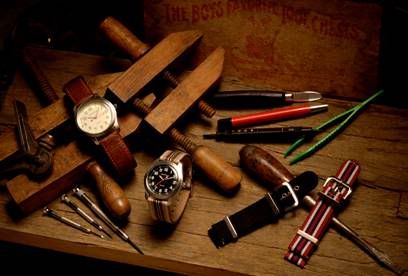 We meant to post this watch as a great Christmas gift idea, but unfortunately didn't get around to it. So we have our opportunity again with Valentine's Day. Tokyo Bay has a Do-It-Yourself Watch kit that will truly make any guy feel like a man.
The limited edition DIY tool box contains nine quality tools essential for 'do it yourself' watch repair, enabling the wearer to become the pro themselves. The DIY watch kit includes two mid size classic watch faces in a cream dial and black dial, alongside four different colored straps in military canvas, sporty nylon and hard wearing leather. Back up batteries and slug pins, which hold the strap onto the watch case, are also included to keep the watch in working order. All components put together create the ultimate in modern hand built watches.
Purchase it, here.
Kings Underwear, we gave away a ton of their stuff for Christmas. And since then we've had a chance to review them ourselves– very soft and comfortable stuff. So if you think your man will be purchasing Victoria's Secret for you, then maybe return the favor and get him King's Underwear.
RumbaTime watches would of course make for great mini V-Day gifts for friends and crushes. Maybe buy a bunch in red, pink, white, and black and just pass them out like the Santa of Valentine's Day.
More Gift Ideas:
Valentine's Day Gifts for Men, $25 or Less, click here.
Valentine's Day Gifts for Men, $100 or Less, click here.
Valentine's Day Gifts for Women, click here.
---
Leave a Reply