Kenneth Cole is partnering with HELP USA to raise "awearness" about the impact of HIV/AIDS on the homeless with the launch of a limited edition rain poncho.
The nylon unisex hooded poncho is reversible blue camouflage to solid black and tucks into a self-containing pouch, making it easy to carry around (briefcase, purse, backpack, or car).
"Military was one of the season's biggest trends so here we put a modern twist on camouflage. We created a unique unisex piece just in time for spring showers," – Kenneth Cole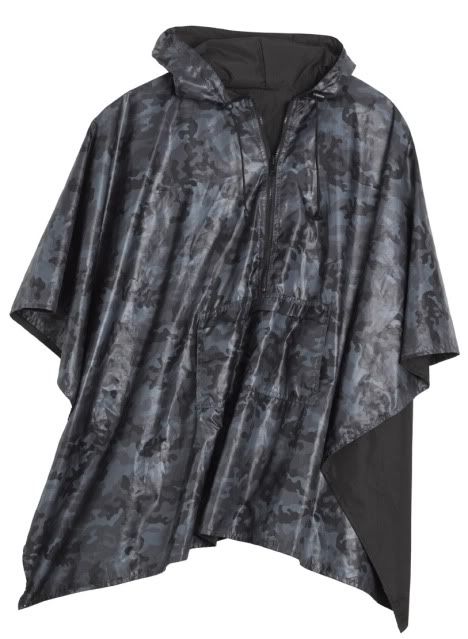 Buy the poncho, here.
Retailing for $60.00, the poncho is available exclusively at Kenneth Cole retail stores nationwide and at kennethcole.com now through May 30th, 2011. During this time, 100% of net profits from the sale of the rain poncho will go towards funding housing for homeless people living with HIV/AIDS. The mental health and emotional issues of dealing with an HIV diagnosis can often contribute to the patient becoming homeless. As a result, HIV is found in the homeless community in epic proportions throughout the United States with a median rate of HIV prevalence that is three times higher than the general population.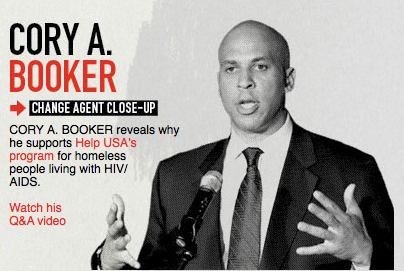 Cory A. Booker, Mayor of Newark, is being recognized as an official "Change Agent" by AWEARNESS, The Kenneth Cole Foundation, for his passion for social change and ongoing work with HELP USA. A "Change Agent" is a social activist who strives to help educate and encourage others to get involved. The Mayor's passion for politics and justice was instilled at an early age by a family committed to change. Booker lives his politics, often in unconventional and creative ways. His drive and commitment is an inspiration to audiences across the country.
"This is not a crisis we should resign ourselves to, but understand that we could actually do a lot about this," says Booker. Watch the complete interview with Mayor Cory A. Booker, here.
Check out more Kenneth Cole products below:
MORE INFO:

AWEARNESS, The Kenneth Cole Foundation, is a not-for-profit entity that raises awareness, increases prevention, supports education and eradicates stigma in the fight against HIV/AIDS. Each quarter the Foundation partners with a progressive, not-for-profit organization to help create awareness surrounding the issue of HIV/AIDS. As part of this program, an AWEARNESS "Change Agent" is selected, and their story of social activism is highlighted to inspire others to get involved. These interviews can be seen on the AWEARNESS website www.awearness.com.
HELP USA's mission is to provide housing and the supportive services necessary for the homeless and people in need to become and remain self reliant. Through the development of quality housing with on-site support services, HELP USA provides resources for its residents to become independent and self-sufficient. HELP USA breaks the cycle of dependency by addressing underlying causes in a way that respects the dignity of those they serve. HELP USA helps their clients help themselves.
The comprehensive continuum of services offered at HELP USA residences includes employment training and placement, life skills education, childcare, and domestic violence counseling. As clients build confidence and skills, they take control of their lives and find a new beginning.
---
Leave a Reply