Not too long ago, we covered the undeniable great stylings of White Collar's Neal Caffrey (Matt Bomer). Another USA star, whose style is pretty impressive is Covert Affairs' Jai Wilcox, real name Sendhil Ramamurthy.
I remember writing the Men's Hair Guide that displayed hair inspiration photos of several celebrities with various hair types. Moreover, I remember getting a comment from one T.U.G fan who was a little disappointed in the examples of Indian stars, saying he wanted better examples… I guess Kal Penn and Aziz Ansari wasn't cutting it, lol. It was an understandable comment, although let me just once again express how magnificently hilarious Aziz Ansari is– who doesn't love that guy? But anyway… Senhil Ramamurthy, though not initially on my radar has made his way there after I watched an episode of Covert Affairs. And he, dear T.U.G fan who wanted better examples of indian-american hair, is quite the dapper gent… Sendhil has plenty of hair examples for you to indulge in. Matter of fact before going on about his style, let's have an interlude to check out a few of his past hair styles/hair cuts…
Great grooming, huh? There's plenty more photos below.

Chicago-born, Texas raised Sendhil Ramamurthy definitely has a very relaxed, casual sense of style. Perhaps that's brought about by his Indian roots or even likelier, it's a side-effect from all that tennis playing (he's a great tennis player). Either way most of the time you will find Sendhil in a crisp pointed-collar button-up modern-fit blue or gray suit, and of course– no tie ( yes he's one of those guys who prefers to forgo a tie). Similar to his red carpet looks, when Sendhil is playing Jai Wilcox, former Yale Lacrosse players, on Covert Affairs he's often styled in navy or gray modern-fit suits as well, but with matching ties of course.
It's been said that Sendhil Ramamurthy is a very private person, so the paparazzi barely ever catch him out, but when they do he's often sporting a simple polo (sometimes Louis Vuitton), medium-blue wash denim, baseball cap, and shades (he's a fan of Lacoste eyewear).
Get Sendhil Ramaurthy Style below:

More Photos Below —> CONTINUE READING MORE >>>
The Royal Wedding has finally taken place, and Prince William and Kate Middleton have been wed. (They've been named the Duke and Duchess of Cambridge.) To be honest, I didn't really keep up with all the royal happenings over the past months, but I guess in some sense we all did because every single detail of their lives have been on every channel from CNN to Bravo. Not to mention that every talk show has had some sort of Royal Wedding segment… Stephen Colbert's was probably my favorite though (that guy really is hilarious).
So today, I was like– why not get in on the action? Pay a little homage to good ole Prince Willy 😉 .But of course with an Urban Gentleman twist… so we're giving you The Style of Prince William.
Overall Prince William has the simple, clean, and proper style we expect from modern day British royalty such as himself. His suits aren't slim-fit tailored, he doesn't wear brightly contrasting tie and shirt combos, I don't even think I've seen him go sockless since he was a young lad at university. William keeps it completely classic. He mainly wears navy suits (sometimes double-breasted), light blue button-ups with classic pointed medium spread collars, and navy and/or burgundy ties. When he goes casual he usually opts for simple polos paired with khakis, or crew-neck sweaters on-top of button-up shirts and trousers.
Get the Look:
Prince William and Kate

Back in 2000, People Magazine highlighted his style because at the time he was a little more fashion-conscious, even making fashion statements at times– once wearing a Great Britain flag waistcoat with the words "Groovy Baby" sewn on (he was 18 at the time). Now-a-days he isn't making such statements, but who knows what the future holds… Duchess Kate did wear an Alexander McQueen dress to the wedding paying homage to the late designer. So maybe, just maybe, we'll see them front row at a handful of fashion shows in the coming years.
More photos below –>
Prince William Biography
Born: June 21, 1982 / Birthplace: London, England / Best Known As: The elder son of Princess Diana and Prince Charles
Prince William Arthur Philip Louis Windsor is second in line to the British throne, following his father Charles, Prince of Wales. Prince William is the first son of Charles and the late Princess Diana, and the grandson of the current Queen Elizabeth II. Prince William attended Wetherby and Ludgrove schools, followed by Eton College and then the University of St. Andrews in Scotland. His good looks, athletic manner and royal status made him a popular public heartthrob during his teen years. On June 22, 2005 he graduated from St. Andrews, receiving an upper-second class honors degree with a focus in geography. He entered Sandhurst Military Academy in January 2006 and graduated in December of that year; in January 2007 he reported for duty in the Blues and Royals regiment of the Household Cavalry, and has continued military service since then. His younger brother, Prince Harry, graduated from Sandhurst and joined the Household Cavalry before him. Prince William began dating Kate Middleton, a fellow student from St. Andrews, in 2003. They broke up briefly in 2007, but reunited the same year. On November 16, 2010, Buckingham Palace announced that the couple were engaged to be married. The Royal Wedding was held on Friday April 29, 2011 at Westminster Abbey.
**The Queen conferred a Dukedom on Prince William of Wales. His titles are now Duke of Cambridge, Earl of Strathearn and Baron Carrickfergus. Thus Prince William is now His Royal Highness The Duke of Cambridge and Miss Catherine Middleton is Her Royal Highness The Duchess of Cambridge.
bio from: http://princeofwales.gov.uk/

See The Style of Prince William, HERE.

Prince William and both Prince Harry looking quite dapper in uniform, polo gear, and suits w/ bowler hats.
Prince William and Prince Harry with their mother Princess Diana

The Princes with their father Prince Charles, son of Queen Elizabeth II

Kate Middleton and Prince William on their graduation day from St. Andrew's University. This is probably one of the best photos I've seen of the two since it's more natural and less "posed".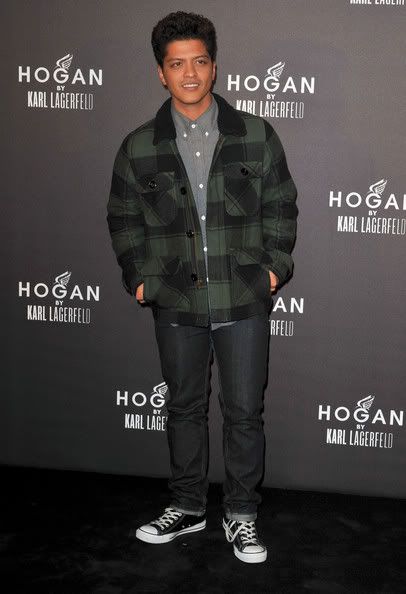 Bruno Mars in Obey Burlington Plaid jacket,
chambray button-down, and Converse All Stars
Zac Efron in Ray-ban aviators in gold, black straight leg jeans,
and black Converse All-stars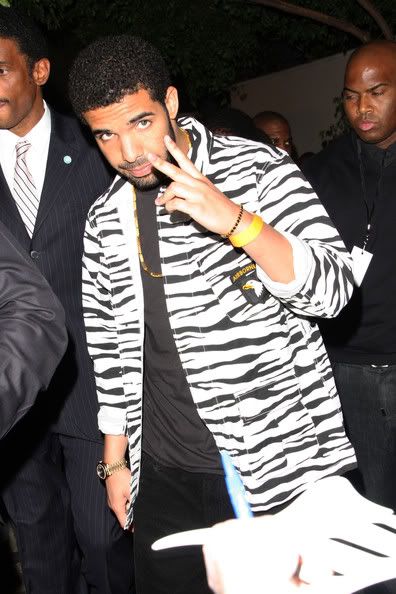 Drake in Supreme Zebra jacket
Zac Efron in New York– shades of black.
Cam Gigandet looking quite monochromatic in a gold/tan RRL Western shirt.
Daniel Craig in London; wearing shawl collar cardigan,
selvedge denim, and Alden wing-tip bluchers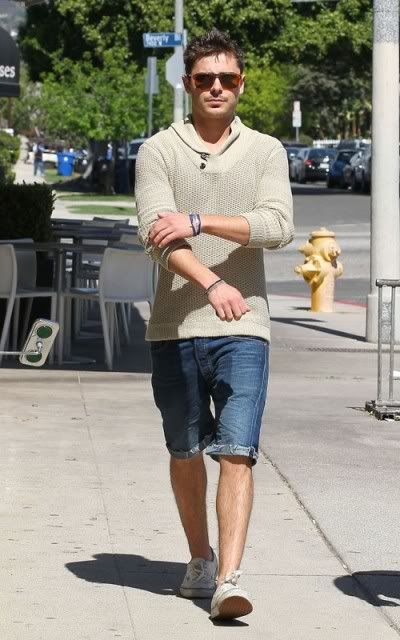 Zac Efron in Rag & Bone sweater, Persol sunglasses, Vans sneakers
Get Celebrity Style: