I've been meaning to mention this for awhile, but All Saints hands down has one of the freshest collections of military boots and worn-in shoes… "elegantly worn and rugged" as we like to call it 'round here (remember those Golden Goose kicks we featured back in the day, yea, well those were not elegantly worn, they were just sorta… dirty). And though we meant to put you on to them earlier, it seems like waiting worked out because many of AllSaints shoes are half off right now (sizes are very limited though, so if you want them be sure to order soon). A few of our favs…
Panel Dolice Boot // Was $250.00 // Now $125.00
Suede Recess Shoe // Was // $190.00 // Now $95.00
Venice Loafer // Was $200.00 // Now $100.00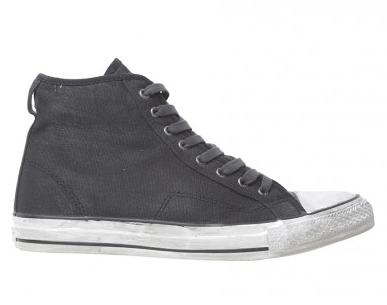 Lakers Hi Top // Was $90.00 // Now $27.00
Demise Boot // $315.00
Click HERE to see photos of celebrities rockin' All Saints boots.
Last night the Beverly Hilton Hotel held the 68th Annual Golden Globe Awards in Beverly Hills. Check out the winners and the men of the red carpet, including Urban Gentleman favorites.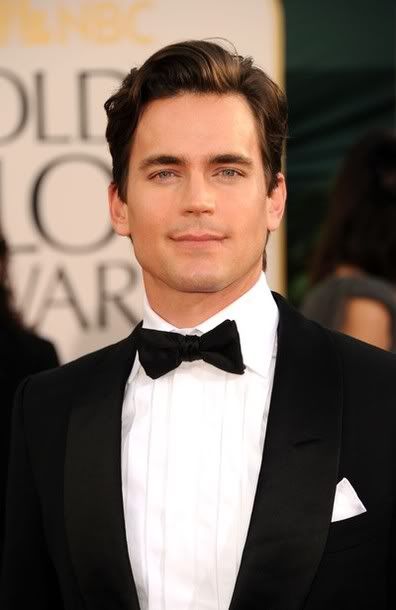 White Collar star Matt Bomer looked dapper.

Johnny Depp rocks his usual Bohemian-Eclectic style with his long hair, glasses, chain, boots, and overall relaxed look., complete with no tie. His label… all Ralph Lauren Black Label. With Martin Katz cufflinks. He opted for a shawl-collared jacket instead of the traditional notch-lapel.

Johnny Depp's man jewelry.
LL Cool J and wife Simone Johnson… he'll never let those Kangol hats go
Ryan Gosling was hands down one of my favorites in a black velvet Ferragamo suit, a white shirt with pearl buttons by Lavin, Hugo Boss black velvet bow tie, and black patent leather Ferragamos.
Inception star, Joseph Gordon-Levitt always brings it. Matter of fact he needs his own Urban Gentleman style profile very soon. Like a few others he donned navy at the Golden Globes. To be more specific a two-button notch lapel Prada suit. With a red button… I wonder what the button stands for– it looks good though.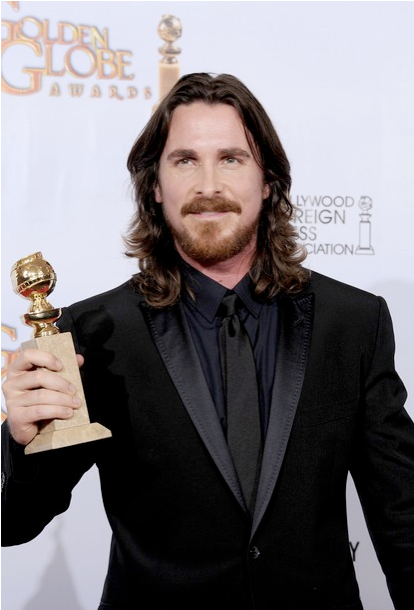 Best Supporting actor winner Christian Bale and wife Sibi Blazic. They've been matching in black all award-season long, maybe they'll switch it up for the Oscars, who knows. Christian hit the red carpet in Dolce & Gabbana from head to toe: black peal lapel tuxedo, black shirt, black tie, and black shoes. ( I do love a nice Dolce suit). Cartier cufflinks and watch.

And Christian's Fighter co-star Mark Walhberg mixes it up a bit (designer wise): Giorgio Armani tuxedo, shirt, black bow-tie, and Martin Katz cufflinks. His wife Rhea Durham looks great too.
LOTS more below –> CONTINUE READING MORE >>>
Kanye West leaving his NYC Hotel in a full length fur coat, faded black crew neck tee, black leather pants, python skin and leather paneled backpack, and Air Jordan Retro 3 sneakers. (Let's be honest… We expect these types of looks from Kanye these days)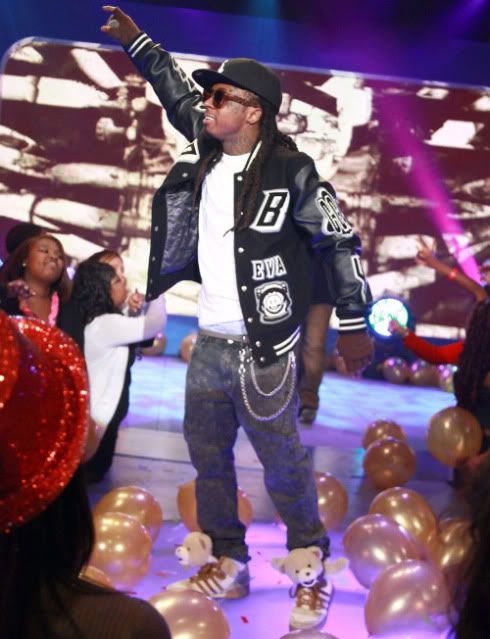 Seems like Lil Wayne truly is the poster boy for Jeremy Scott (remember him in the Fruition x Jeremy Scott Bart Simpson ensemble). He's recently been seen rocking the Jeremy Scott Adidas Teddy Bears. Jeremy Scott is on the Adidas Originals by Originals team and he's been busting out many creations that continuously to sell out. (Check Lil Wayne giving us a little 90s Steez with the acid wash jeans)
More photos below —> CONTINUE READING MORE >>>
Check out the latest in Celebrity Style
Usher, in Berlin for his tour rocks a pair of Dita Grandmaster Two sunglasses and a double-breasted military Burberry Prorsum Military Wool Felt Peacoat.
Zac Efron in Sydney, Australia hops out of an Audi (I only see him in Audis) Rayban aviators, a navy crew neck, and Levi's matchstick jeans.

Lil' Wayne in Las Vegas at Fruition boutique, wearing a limited edition Jeremy Scott x Fruition collaborative Bart Simpson crewneck sweater.
David Beckham on the Ellen Show wearing Burberry.
Scott Disick in New York City wearing a pair of Arfango velvet loafers.
CLICK BELOW TO SEE MORE Celebrity Style.