Check out the latest in Celebrity Style
Usher, in Berlin for his tour rocks a pair of Dita Grandmaster Two sunglasses and a double-breasted military Burberry Prorsum Military Wool Felt Peacoat.
Zac Efron in Sydney, Australia hops out of an Audi (I only see him in Audis) Rayban aviators, a navy crew neck, and Levi's matchstick jeans.

Lil' Wayne in Las Vegas at Fruition boutique, wearing a limited edition Jeremy Scott x Fruition collaborative Bart Simpson crewneck sweater.
David Beckham on the Ellen Show wearing Burberry.
Scott Disick in New York City wearing a pair of Arfango velvet loafers.
CLICK BELOW TO SEE MORE Celebrity Style.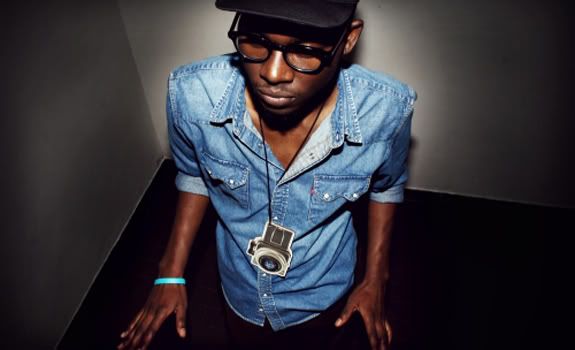 So I wrote this on Feb 16th (when I first started the article)
:
(Sigh of relief) finally finally finally [hip-hop] music is getting good again– and no I'm not talking about Drake, Kid Cudi, or even Wale (those guys are all really cool) I'm moreso speaking of the
Bobby Ray's
and Theophilus London's of the world– the artists with the unique versatile sounds.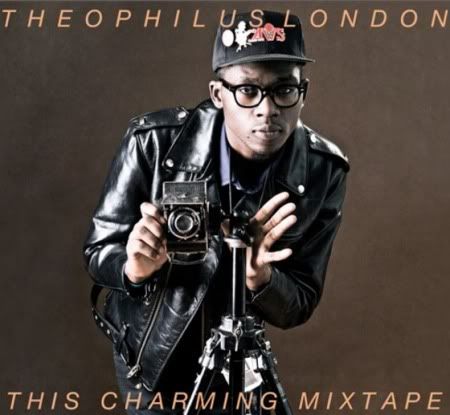 Theophilus London first grabbed my attention when I heard his remix to Solange's "Sand Castle Black x Blue" a year or so ago. Since then I've been secretly addicted… a few of my favorites from his charming mixtape: "Want You for Myself" (Peter Hadar featuring Theophilus London), "Grey X Sage" (his remix to the international hit Sabali), and "Always Love You" (a poppy electronic version of Whitney Houston's hit song).

And now on May 31st:
Well, I've spent the last three weeks entranced with his latest mixtape, I Want You. Between his new album and Janelle Monae's The ArchAndroid, minus a few rounds of Ella, Sammy, and Frank, it seems like the new-wave of music is all my itunes player knows. (Oh and Lykke Li has been getting alot of play too)
His cover of Marvin Gaye's "I Want You", Tweets "Oops", and the mysteriously erotic beats of "Soles Of Fire (Chauffeur)" float around in my top three. (The first 57 seconds of Soles Of Fire, can't be described as anything but sexy, the beat goes hard and it's also very sexy). Matter of fact, just listen to it yourself…
… pretty damn sexy, huh? Yeaa, I already know 😉
The Style of Theophilus London
Theo's style can't just be categorized as hipsterish… it's more like a direct ode to the past, 96% vintage 4% new school. He likes layers– lots of em, swanky college or NBA snap-backs (90s style), blazers, button ups, jean outerwear, corduroys, classic frames (he usually sports brown tortoise shell by Oliver Peoples, clubmasters, or classic clear wayfarers), and whichever kicks complete his raw vintage 70s/90s look. Mr.London's style is actually reminiscent of past local urban gentleman Curran Swint.
To authentically get Theophilus's style you'd have to spend your days in vintage and thrift stores and on sites like etsy and ebay. And I know its often hard to dig through the thousands of threads these stores have, but you have to get in the mindset of shopping there like it's the only option you have, lol. Once you lock-down on that mindset it'll be much easier to have visions for the clothing these stores offer (and it wouldn't hurt to have some inspiration photos in your pocket or on your phone).
But if you don't have the time for all that,
well you can scoop his look below:
Get the

London Look

:
Complex Mag had one of the freshest Theophilus spreads,
They sort of created a refined version of his look…

HAT
BY NO MAS;
SUNGLASSES
BY OLIVER PEOPLES;
BLAZER
BY OPENING CEREMONY;
BELT
BY LOUIS VUITTON;
JEANS
BY SHIPLEY & HALMOS;
SNEAKERS
BY NIKE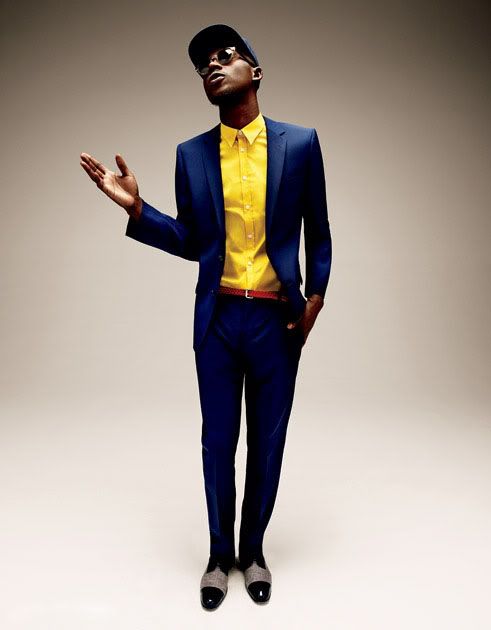 HAT
BY NO MAS;
SUNGLASSES
BY MOSCOT;
SUIT
BY HUGO BOSS;
SHIRT
BY ACNE;
BELT
BY J.LINDEBERG;
SHOES
BY BOSS ORANGE
SUNGLASSES
BY SUPER;
JACKET
BY J.LINDEBERG;
TURTLENECK
BY RALPH LAUREN PURPLE LABEL;
PANTS
BY NOM DE GUERRE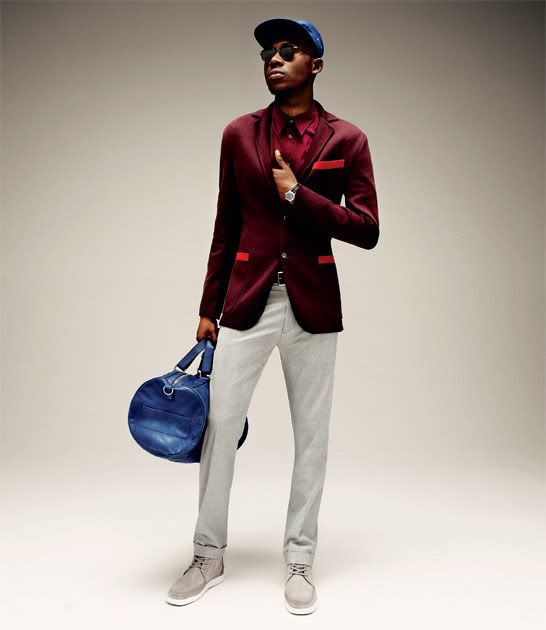 HAT
BY MAIDEN NOIR;
SUNGLASSES
BY CALVIN KLEIN;
BLAZER
BY LOUIS VUITTON;
SHIRT
BY ACNE;
BELT
BY C.P. COMPANY;
PANTS
BY J.LINDEBERG;
SNEAKERS
BY CLAE;
WATCH
BY BELLUM CONCEPTS;
BAG
BY HUGO BOSS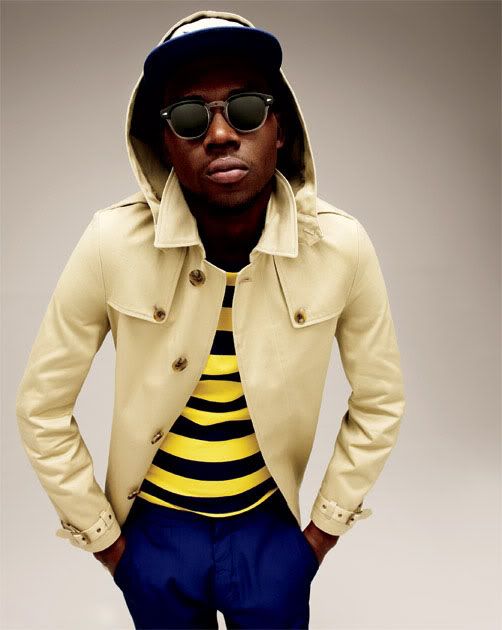 HAT
BY AMONGST FRIENDS;
SUNGLASSES
BY MOSCOT;
TRENCH COAT
BY NOM DE GUERRE;
T-SHIRT
BY RALPH LAUREN PURPLE LABEL;
PANTS
BY C.P. COMPANY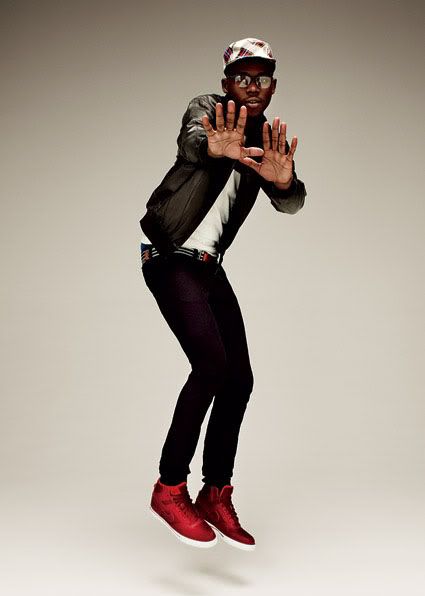 HAT
BY STUSSY DELUXE;
GLASSES
BY BALENCIAGA;
JACKET
BY Y-3;
SWEATER
BY VICTOR GLEMAUD;
BELT
BY J.LINDEBERG;
JEANS
BY LEVI'S;
SNEAKERS
BY NIKE
And as far as his album, well…
"Shortly before we got his third mixtape I WANT YOU, Theophilus London released a DIY promo video for the track "Life Of A Lover". The record loops lazily to show us a new look: pretty girls dancing with each other at a show, young dudes headnodding, the crush of cameras and hard flash that now follows us everywhere we go, a cut to Theophilus in monochrome riding in a Vespa gang through Chinatown en route to Brooklyn and then back to the dance—a mic cord drifting slowly in and out of the frame and his hand reaching out to bring a girl on stage. That is all and this is it: inspired by Marvin Gaye's self-imposed European exile and controversial performance of the national anthem at the 1983 NBA All Star game, I WANT YOU is a collection of dark jams that restlessly examines the promise of love beyond lifestyle. Touching on LA electrofunk, UK indie, tropical escapade and obscure afropop you never knew existed, these are stories from the way we live now: missed connections and misunderstandings, video chats and retweets, returns and deliverables. We know today is all black everything but more to the point: this is now noir as we know it. And this is Theophilus London."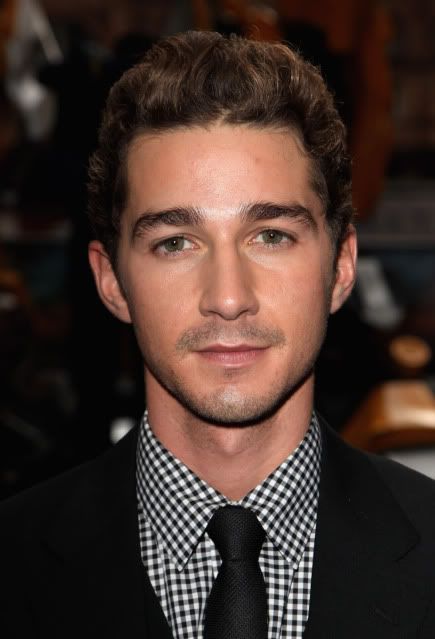 He first caught our eye on Disney's Even Stevens as a mischievous teenager and ultra annoying younger brother. Then his overall "swag" changed to the world on July 3, 2007 when he starred in the blockbuster hit Transformers…
After Transformers, there was Indiana Jones, then Eagle Eye. And I must say, that's where Mr.LaBeouf truly metamorphized in my eyes. About an hour into Eagle Eye I said to myself, "Hmmm, this guy has really grown up", as he went from the lil' kid on Even Stevens to the handsome action-movie stud who has a secret taste for island chicks, lol (ie. Rihanna,). Then there was Transformers II, and in his latest film, Wall Street: Money Never Sleeps, he just, well, he just exemplifies the looks of an Urban Gentleman.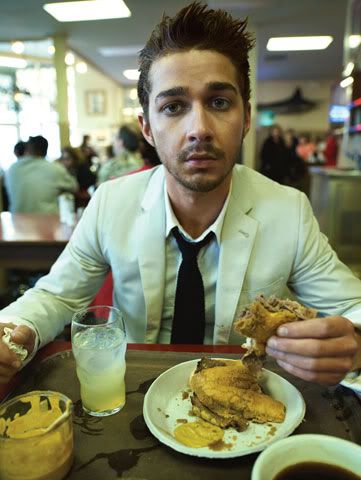 Suit and shirt

by Thom Browne New York.
Tie

by Ralph Lauren Black Label.
Shia's charisma, comedic charm, and seemingly bad boy behavior keeps us all captivated… and patiently awaiting his next move.
Jock it, Love it, Own it.
The Style of Shia LaBeouf
Are all the fly guys double-dressing these days? Seems that way.
Bobby Ray
isn't the only one that has two noticeably different styles, urban gent Shia does too. Check out the scruffy vintagey casual and meticulously polished dressy style of Mr. LaBeouf.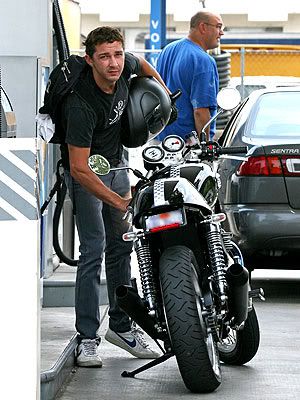 Casual or Dressy Shia gives it to us old-school cool from the skinny ties to skinny jeans and characterized canvas lo-tops.
Casual:
Retro-inspired or vintage tees and plaid button-ups are how he likes his shirts, with the occasional cardigan or vintage jacket for that extra carefree umph. His jeans are always skinny and in some shade gray, black, or blue. Authentic Vans, PF Flyers, and Nike Sweet Classics are usually his shoes of choice. And lastly, Shia usually accessorizes with a vintage hat, vintage belt, retro-frames, and an occasional backpack (nothing beats the one he got from Egypt,
below
).
Get the Look: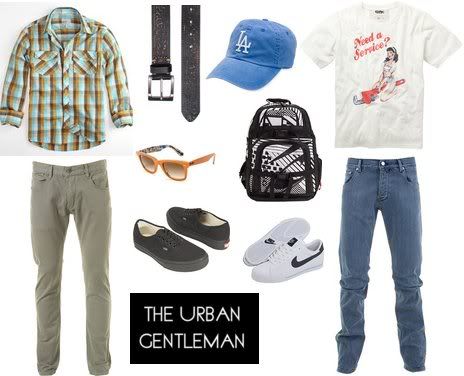 When Shia dresses up, expect nothing but perfect slim-fit suits, skinny ties, and all things that are
Sammy Davis Jr-esque
.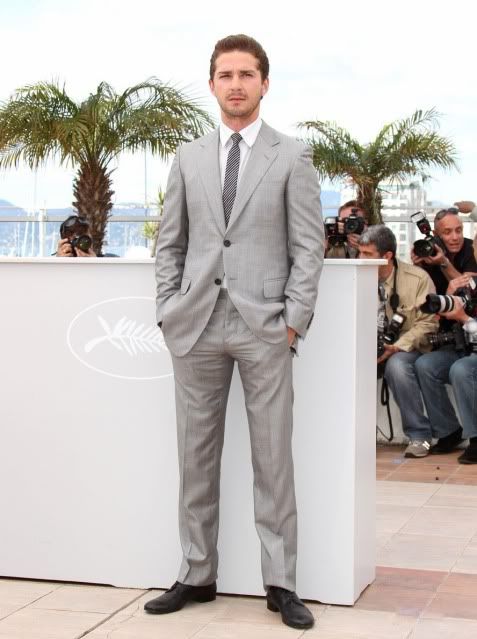 Shia LaBeouf and girlfriend/co-star Carey Mulligan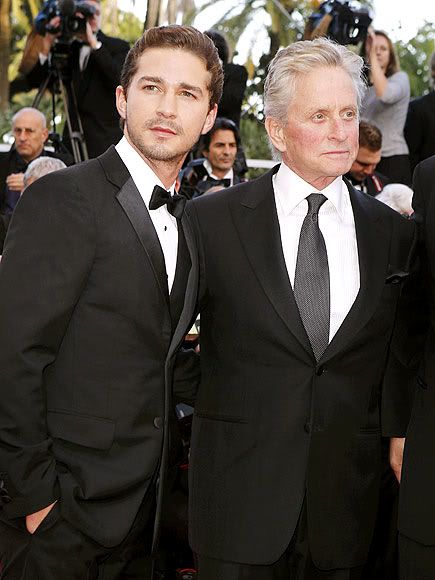 Shia and Michael Douglas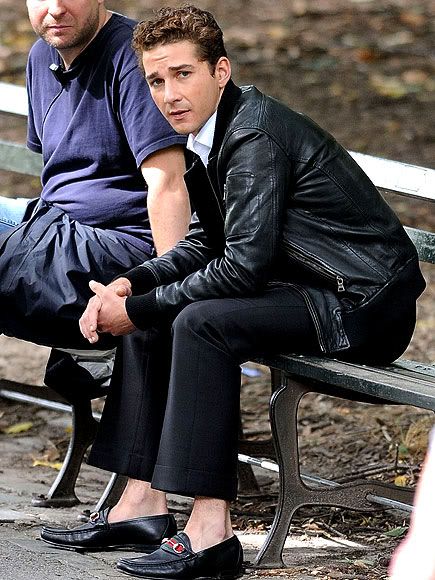 Gucci 'loafing' on the set of his movie.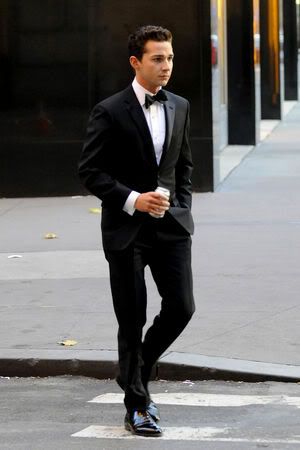 His casual ensemble in France is much different than his casual style in Cali. Shia wears a basic blue button-down, black sweater, black jeans, and black oxfords.
Get the Look:
More LaBeouf: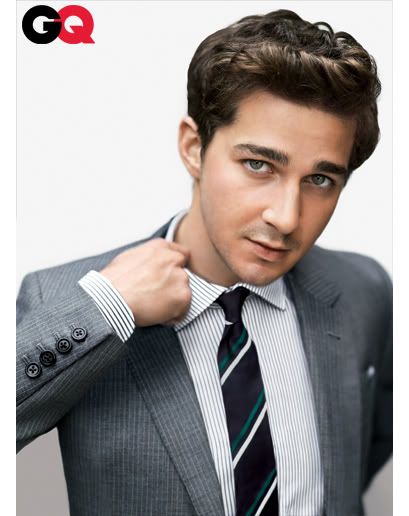 "He's so money", Shia in his latest
GQ
spread.
Wool suit

, $518, by Club Monaco.


Shirt

by Spurr.

Tie

by Band of Outsiders.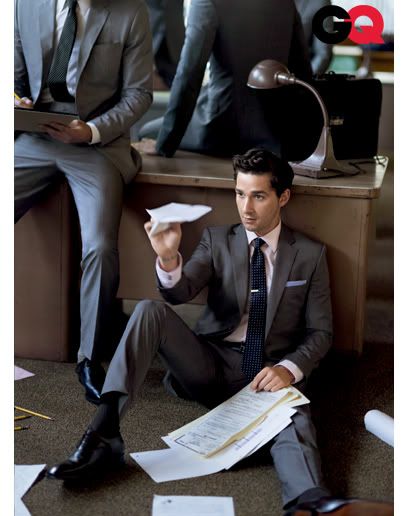 Wool suit

, $895, by Boss Black.

Shirt

, $295, by Jil Sander.

Tie

, $150, by Alexander Olch.

Shoes

, $595, by Salvatore Ferragamo.

Socks

by Pantherella.

Pocket Square

by J.Press.

Tie bar

by Thom Browne New York.
Wool three-piece suit,

$1455, by D&G. Shirt, $430, by Neil Barrett at Jeffrey.

Tie,

$175, by Dior Homme.

Shoes

, $950, by Ermenegildo Zegna. Mackintosh (in hand) by Gucci.

Tie bar

by Thom Browne New York.

Briefcase

by Bottega Veneta.

Shia filling up his 'Heavy Chevy'

Shia has had several surgeries on his left hand
(that's why its in bandages in so many photos)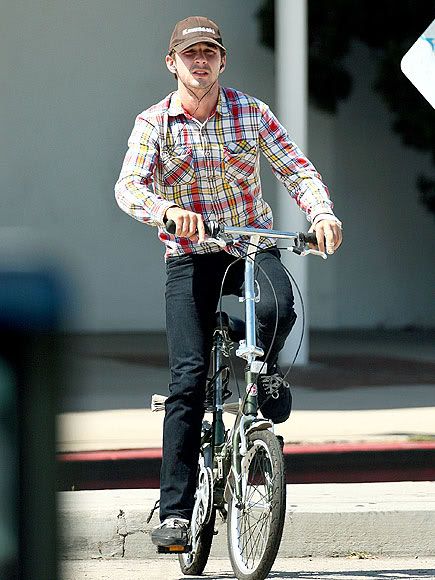 A little midweek celebrity style snack, take a look at what a few of our favorite urban gents have been wearing…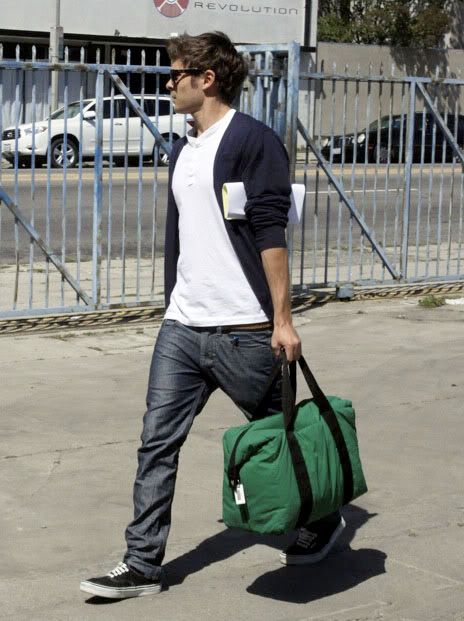 Urban Gent
Zac Efron
running errands in Hollywood, wearing a navy cardigan, white henley, wayfarers, and black Vans.

Usher keeps it simple in a pair of grey and maroon Lanvin sneakers
and distressed Ralph Lauren RRL jeans.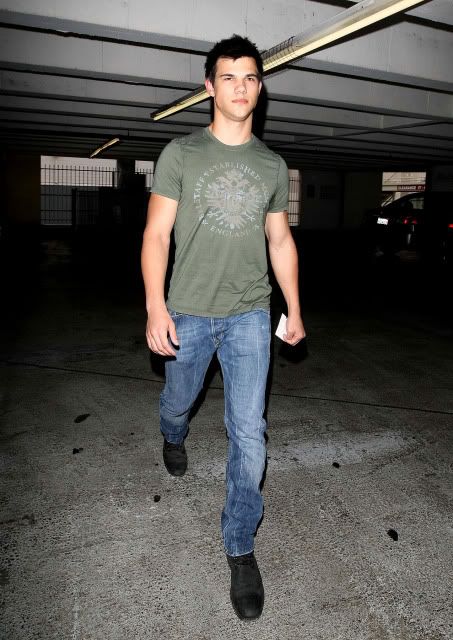 Taylor Lautner in a Bellstaff shirt,
distressed jeans, and and his favorite black boots.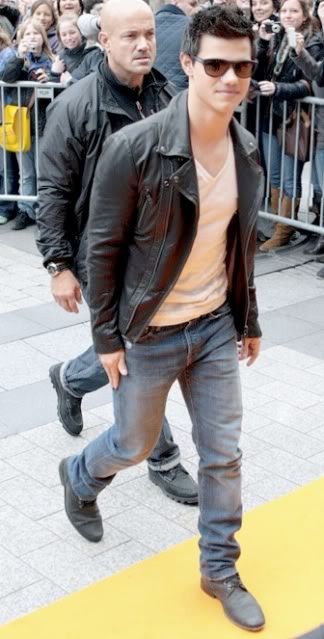 Taylor rockin' his version of the "American Rockstar" trend.
T.I.
in New York City. Wearing a BBC Ice Cream sweatshirt, Louis Vuitton Brazza wallet , Louis Vuitton Monogram Christopher backpack, and Maison Martin Margiela Line 22 sneakers. (And he stays connected with his Blackberry Bold and iPhone).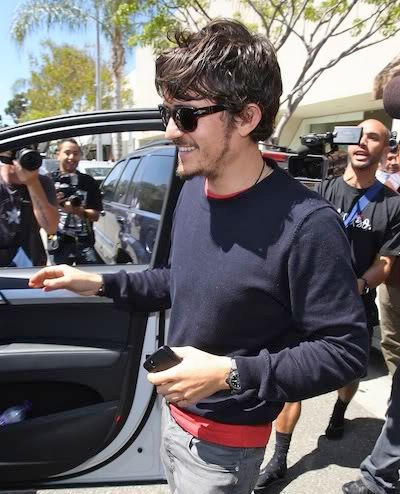 Actor Orlando Bloom in LA sporting a pair of
detailed Persol PO Crystal sunglasses.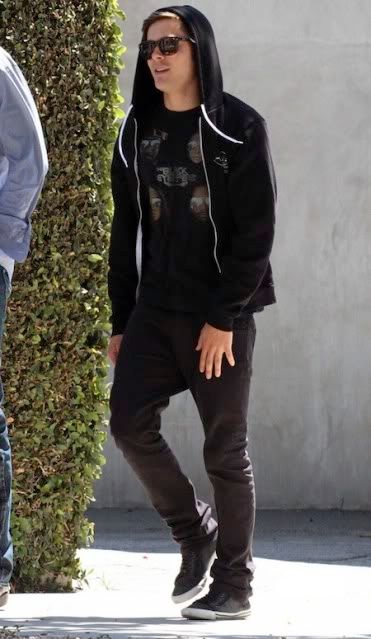 Actor Zac Efron in a Black Eyed Peas shirt, black skinny jeans,
tortoise Ray-Bans, and AllSaints double zip hi-top sneakers.

LOTs more Celebrity Style Photos below, click continue reading…


Scruffy in black, Actor
Brad Pitt
arrives
at the 'Kick Ass' Premiere in London, England.
Futboller David Beckham leaving Dave's Quality Meat with his wife and kids. He keeps it casual in a Stuntman Trucker hat, Ray-Ban gold aviator sunglasses, and Alife Chuck Naval sneakers ($125).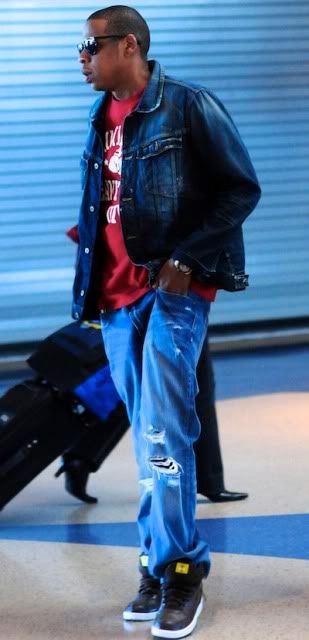 Jay-Z
out and about wearing a G-Star slim "Taylor" Denim Jacket, ripped jeans, Nike RT1 kicks, and Oliver Peoples "Daddy B" sunglasses. Though Jay's style game has stepped up as a whole, he still manages to have a few off days where his clothing is a bit sloppy. I'm all about loose-fitting/relaxed fit jeans when you're in a mood to be extra comfortable (like traveling through an airport, which Jay was doing), but loose-fit jeans usually go best with low-top shoes like Converse or Vans– especially if you wear your jeans a size or two too big, like Jay sometimes does.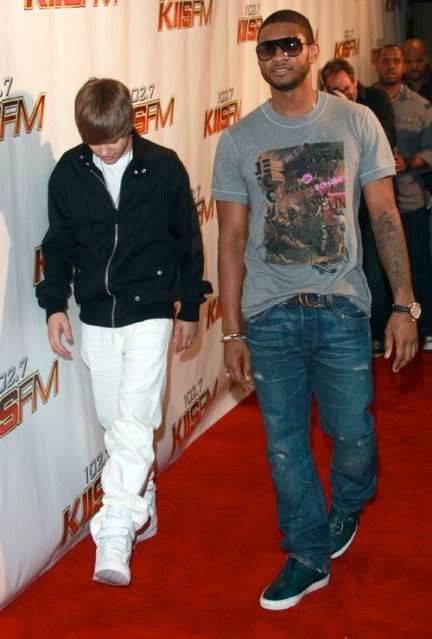 Usher
and teen star/young urban gent
Justin Beiber
walk the red carpet. Usher wears a pair of Marc Jacobs 306 sunglasses, his favorite Ralph Lauren RRL jeans, and green Raf Simons multi-buckle sneakers. Justin keeps it cool in black and white, sporting a pair of Supra TK Society sneakers.
Pharrell Williams
attends the 2010 Formula 1 Monaco Grand Prix wearing a BBC distressed print Hickory jacket, white v-neck, BBC Digi-Camo 3/4 cargo shorts, and a pair of Chanel Denim sunglasses.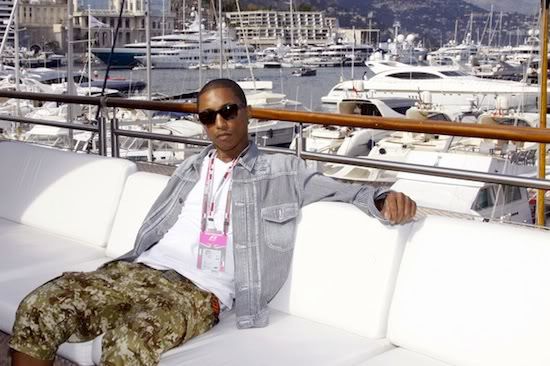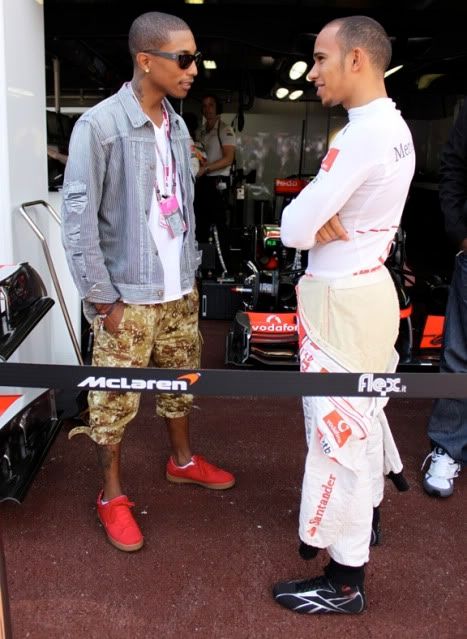 Pharrell and formula-one racer Lewis Hamilton chopping it up.
Pharrell in a BBC jacket and skully, his new staple eyewear: denim-covered Chanel shades, and I know you're probably thinking, "What kind of shoes are those? He wears those everywhere nowadays". Well, they're Billionaire Boys Club "NOTHING" Boutique Sneakers (coming in July) even
Bill Clinton wants a pair
…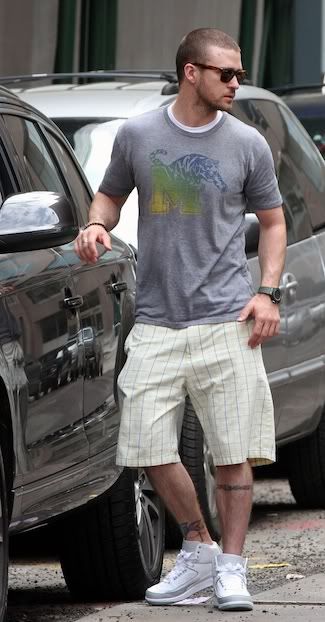 Superstar
Justin Timberlake
keeps it everyday cool in his wayfarers, plaid shorts, and a pair of Air Jordan 2 Retro 25th Anniversary sneakers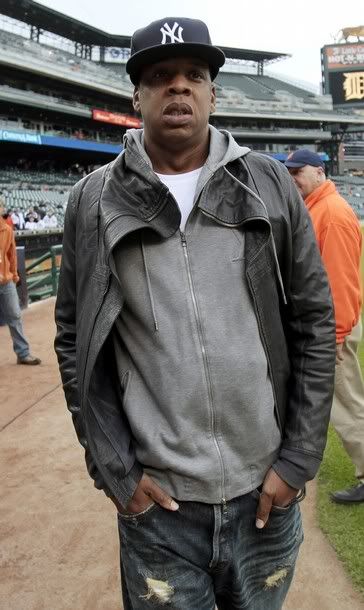 Jay-Z
at a Yankees vs. Tigers baseball game. He sports his signature NY hat, distressed, jeans, and a Rick Owens leather jacket.
David Beckham, wearing his usual Wrangler Blue Bell Destroyed Denim jacket. How does this guy manage to look like a model in every picture? He always keeps it
denim focused
in Wrangler… a little too much, hmmm, maybe he's their unofficial spokesperson of sorts?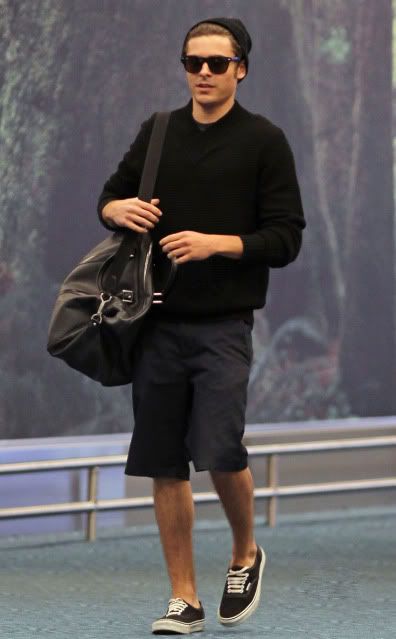 Zac
in a black v-neck knit sweater, his signature skully, black Vans, and tortoise Rayban wayfarers. He carries a Louis Vuitton travel bag. (PS- All Urban Gentlemen must have atleast one pair of
canvas shoes
for the spring and summer.)