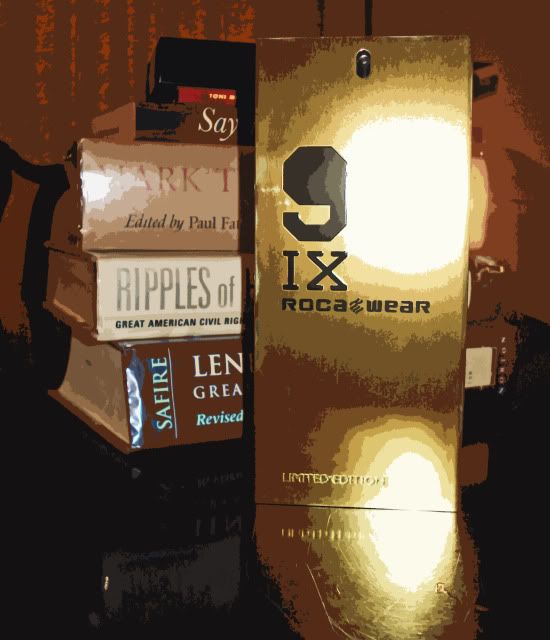 I haven't written a cologne review in ages, so this weekend (or next) I'll have to have a sit-down at a department store cologne counter… to give you guys the latest of the greatest colognes in my humble opinion. Nevertheless, I have had a chance to review Rocawear's newest fragrance, 91X Rocawear Gold Limited Edition.
"The fragrance is inspirational, street savvy, authentic, and sexy masculine. Rocawear has now taken the fragrance to a new level by making the bottle a cool and sharp accessory.
The fresh, woody, aromatic scent of 91X Rocawear Gold came from the infusion of mix of Asian Coriander, Mandarin Zest, and Living Cantaloupe with the spike Lavender, Geranium Leaf, and suede accord.
"
I must admit, I had my doubts about this fragrance, but it smelled pretty good. It indeed had that traditional masculine cologne smell with a mix of something extra- perhaps the asian coriander and mandarin zest. I liked the initial smell (first few seconds) better than the ending initial smell (starting at about 15/30 seconds), but then the final/lingering scent is nice. (I hope that made sense). My favorite aspect of 91X Rocawear Gold would have to be the bottle- when laying flat it looks like a bar of gold, very fitting to Jay-Z's image. Overall, its a nice masculine cologne, and I'll give it a
3/5.
Definitely a solid gift choice for guys that want to smell "like a man".
So
Mr.Sean Diddy Combs
has a new fragrance out- he's calling it,
"I Am King"
. The cologne hit stores in December. He has plans to use our new President, Barack Obama, to promote it in an effort to "redefine the perception of African Americans". I'm not sure how a cologne will do this– mind boggling to me. I figured if an African-American wants to redefine the perception of African-Americans he'd start with himself… idk, maybe it's just me. Anyway when I go on my next fragrance testing adventure, I'll try to remember to smell it…. I mean,
Unforgivable
is pretty great.
Today I traveled to Macys Herald Square with a friend. While at the uberLarge Macys I decided to check out some of the new fall fragrances. I smelled about 14 colognes (I didn't have time for many more) and two of the colognes I found were pure perfection. These two colognes will make perfect gifts for yourself, upcoming birthdays, or for Christmas, check them out:
Pour Homme by Versace

Masculine smell with a hint of spice.
Gucci by Gucci

Masculine smell with a smidge of sweet.
Honorable Mention:
Eau Fraiche by Versace
This was also one of my favorites as well.
You can find these fragrances at macys.com or nordstrom.com, but I recommend getting them from an online discount fragrance place or eBay. If you buy these fragrances from the actual stores you'll probably get some free gifts– samples of other colognes etc.
As I hung out with one of my friends this past weekend, I was consistently mesmerized by his scent. The cologne he wore was intoxicating- made me feel like the hotel manager chick from Ocean's 13, you know- when Matt Damon's character seduced her with his cologne- remember that scene? on the rooftop? anyway- that's how I felt.
The cologne is by the late
Yves Saint Laurent
- it's called
Body Kouros
"C'est mon nouveau parfum prefere"

From my understanding Yves Saint Laurent has some of the best colognes. My friend went on to tell me stories about the cologne- women grabbing him at the club asking him what he's wearing and so on. You can buy the cologne from most department stores, but he generally gets his colognes as gifts from France (since his family lives there). He also told me that even though colognes smell the same worldwide, he thinks the French versions (European versions perhaps) seem to last longer- which I found quite interesting. . . but they're all the same so they last about the same. Most YSL colognes should last from 6-10 hours on average.

I've done some research on this cologne and YSL Body Kouros has gotten some of the top reviews since it's arrival in 2000. I also found that there are several Kouros colognes, two other top ones are the original Kouros and Kouros Sports. The best thing about the YSL colognes is that they all have extremely reasonable prices especially Body Kouros. . . I wonder if Clive Christian No.1, the most expensive men's fragrance, smells as good, hmmmm. . .

*Remember that most women don't like very very strong harsh scents; masculine fresh scents are the best. Strong scents can be appropriate for certain events though, like if you're going to a red carpet event at night or maybe even when you're just hanging with your guy friends. Stronger scents are also great for older gentleman, you young chaps should certainly stick to lighter scents.
Cindy from The Urban Gentleman

Your smell or scent is important. It's extremely vital and it's one of the grooming basics along with hair, nails, and teeth (check out the article from earlier this month about grooming basics). You should always smell good, unless you just finished practicing a sport, building something, or working out- even then you should quickly shower and dabb on a nice scent.
The best way to choose a cologne is to go into a mall and try on different scents. This is the best way because colognes smell differently on different people- and it's important to know if the cologne mixes well with your body scent. If you don't have time to go into the store and pick out one or if you're buying cologne as a gift, I'm going to make it easier for you. . .
List of the Best Men's Colognes:
- Unforgivable by. Sean John
*This is surprisingly my top pick. For some reason it's a cologne that I automatically wanted to not like. But every other time that I compliment a man on his cologne he says it's "Unforgivable". . . that risqué ad that Diddy has seems to hold truth.
- Dolce & Gabbanna
[Classic D&G, The One, Light Blue]
- Burberry:
Burberry Brit for a bold smell
Burberry Summer for a lighter smell.
-
Must de Cartier Pour Homme
Men with a "taste for expensive things" seem to fancy this cologne.

- Issey Miyake
*This another one that I seem to compliment, but this only smells good on certain men. It's very important to only lightly use this cologne b/c it can easily become overwhelming.

- Creed
Some men swear by this cologne, they say it really attracts women.
Common, Popular, & Classic Colognes
These colognes always seem to make the list of best colognes. I don't personally like them all (some are too bold), but as a whole they are good choices.
1. Aqua de Gio Armani
2. Aqva Bvlgari
3. Cool Waters by Davidoff
4. Hugo by Hugo Boss
5. PI by Givenchy
6. Calvin Klein: Euphoria & Eternity Summer
BEST place to smell/test cologne: Nordstrom – they have the best collection of high-end colognes and they have the most helpful attendants.
BEST place to buy cologne: Macys – they always have sales, and they almost always give away extra gifts with their cologne purchases
BEST online store to buy cologne: eBay – they have almost every fragrance for the lowest price on the internet.
*Tip: In between smelling colognes make sure you smell coffee beans. Why? Because coffee refreshes your sense of smell. Most high-end stores, like Nordstrom, will have small glasses full of coffee beans next to the colognes.