It's the Holidays and many of you will be doing alot of mingling, whether it's at your company's holiday party or at your family's Christmas/Hanukkah/Kwanzaa dinner. As always, we here at the Urban Gentleman endorse looking your best at these functions and of course looking your best starts with grooming. Yeah, let's put the clothes and shoes aside for a second, and get to the core. We've already written many articles on
basic grooming
,
skincare
,
moisturizers
,
manscaping
,
chap-stick/lip balms,
even the
best soaps for men
, but we don't have too many that focus on
hair
.
Shampoos, conditioners, and styling gels will come at a later date, besides we've reviewed many of those items in the past. Today, we'll focus on styles.
So here's a collection of men's hair styles, many of them great, some creative, some okay. I know every guy has a different hair texture, but these days with the massive amounts of styling tools and products, most of the hair looks below can be achieved on almost any hair type: curly, straight, or wavy.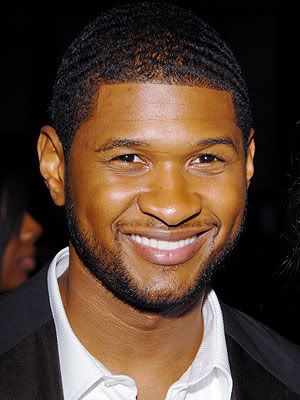 I figured we'd start with the classic line-up and waves. I know many men love this style and put in
serious work
to get those perfect sea-sick waves. What's the trick again guys? Always brush from back to front, right? with a boar bristle brush.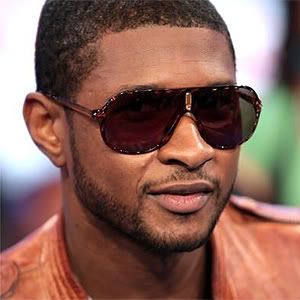 Usher Raymond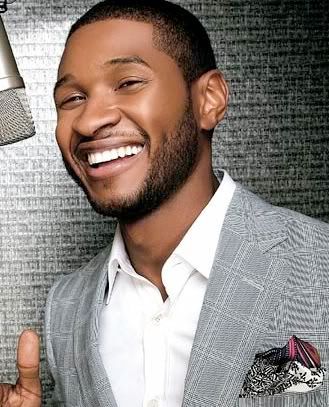 Usher's Raymond's
hair and overall grooming is always immaculate– thanks to his now ex-wife and stylist Tameka Foster Raymond. It's always nice to have a woman around that can help keep you well styled and groomed.
I'm a huge fan of
Zac Efron's hair
, his hairstylist/barber continually updates his look. He's like the male version of Rihanna. His latest hairstyles, all featured here, are my favorite. Above he sports the classic short cut, combed over and back, with a side part. This hairstyle embodies the
Conservative Dapper
trend , you'll instantly look like a character from Mad Men.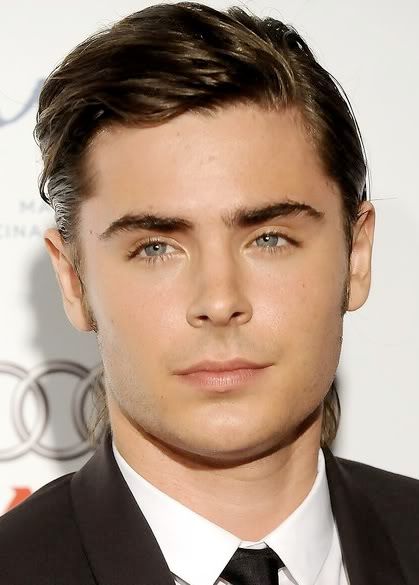 This is a looser longer version of the hairstyles above. Also very handsome especially with a little 5'oclock shadow.
In this photo, Zac's hair is also cut short with a side part. But the part is less obvious and the hair is cut in more layers on top, then swept backwards. Also, one of my favorites.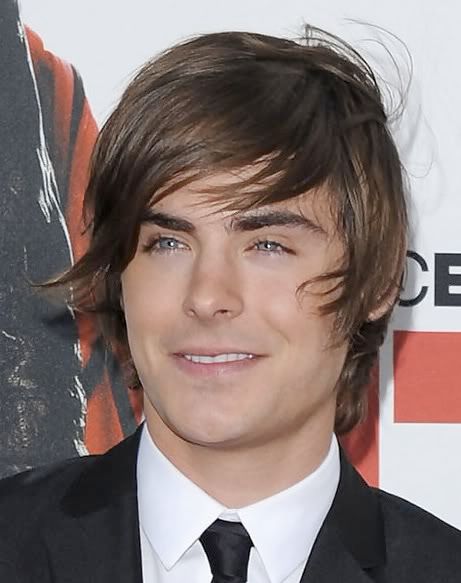 I'm not a fan of the swept-over/"mop-top" hairstyle on most guys, unless it's on someone 17 or younger. Zac sported these when he was in his teens, through-out high school musical, and once (from what I can remember) this year, I hope he's done with this look.
The slightly spiky hair is a staple for most celebrities these days. It's pretty easy to style and maintain without having to go to the barbershop or hair salon. Cut it shorter on the sides, longer in the middle, then use your favorite product to create fun messy spikes. When you're done it's suppose to look like "neat messy bed-hair"– if that makes any sense.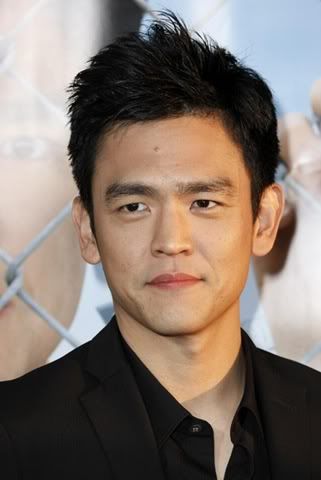 John Cho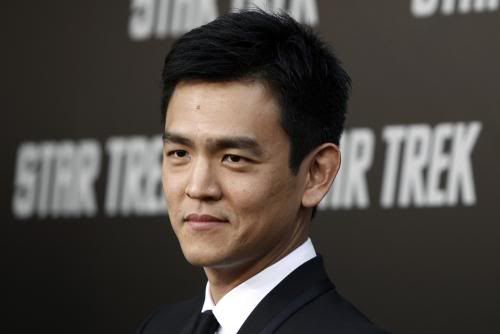 I think I'm just a sucker for classic men's hairstyles because, like Zac, I think John's hair looks the best like this.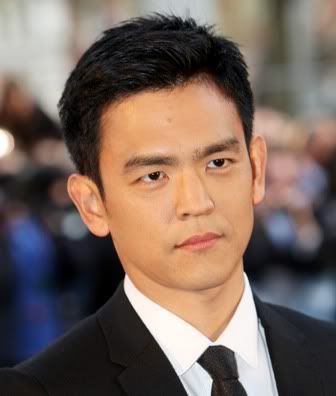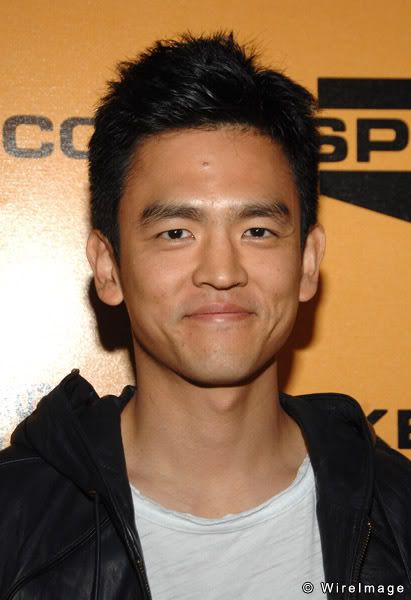 John Cho
For ease of browsing the rest of the hair gallery will be divided by background/ethnicity and (somewhat) hairtype.

1. Men of color/African-American: Curly/wavy hair textures
2. Asian/Pacific-Islander/Indian: Straight/wavy hair textures
3. European-American/Caucasian/Latino: Straight/curly hair textures

Men of Color/"African-American"
Andre' Benjamin
Not everyone is a fan of this 50s/60s hair-do, but I adore it. Why? Well because it flows along with his preppy southern-boy Benjamin Bixby look- it gives him character. The girl version of him or of this hairstyle would have to be Janelle Monae, she also sports a reto hair style (an afro-curly pompadour to be exact).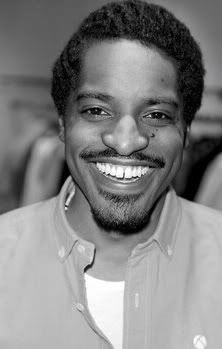 Andre' Benjamin
No this isn't a conk, lol, which for those who don't know is a hairstyle worn from 1920s-1960s where American men of color would straighten their hair and style it into a pompadour (examples: Nat King Cole, Chuck Berry, Little Richard, James Brown). To get this hairstyle Andre' probably uses a texturizer, moisturizing conditioner, or styling product that makes the extreme curls in Black-American hair looser, creating a wavier hair-texture. Definitely, don't try this at home, go to a salon or barber when first trying to achieve the look.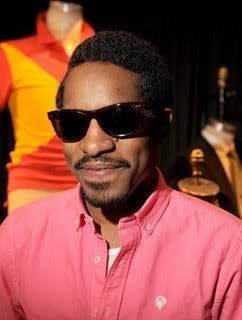 Andre' Benjamin
Everyone shouldn't attempt to wear this hairstyle. It's take a certain attitude, personality-type, and overall style to successfully pull it off.

Will Smith
You can't go wrong with a mini shaped-up fro and dark taper.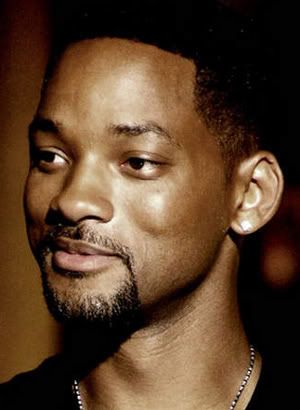 Will Smith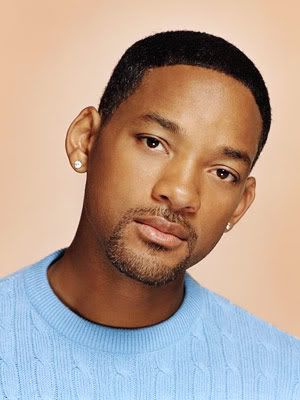 Will Smith

Kanye West
His
808s and Heartbreak
look, further boosted the
trend
of ambiguous faux-hawks. It's hard to walk out the house and not see atleast one person with a faux-hawk, I'm sure its that way in every part of the world.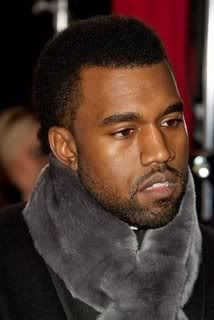 Kanye West
Afro-mullet. 4 words= not a good look. I felt what Kanye was doing– his girlfriend was bald, and his label mate, Rihanna, has fashionable hairstyles, but I just wasn't a fan of this look of his. Maybe the mullet can safely return in about 5 years, who knows…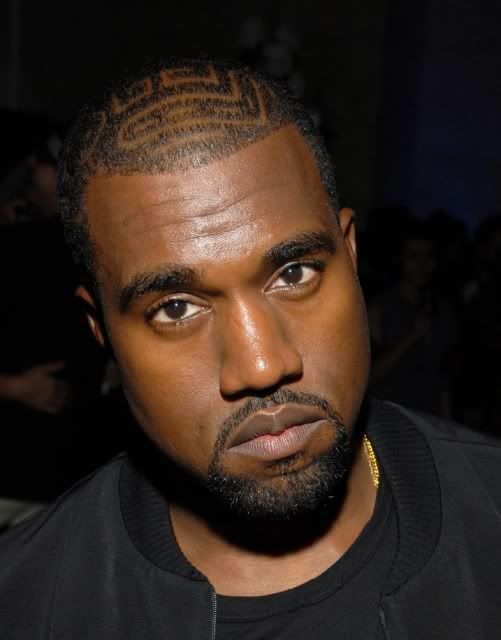 Kanye West
Artistic expressions through hair has always been a trend in the Black-American community– with men and women. Though distracting, I thought this cut of his was kind of cool. I mean, why not do it? Now of course, this is excessive for the average guy, I most likely would not recommend this to someone unless they had a distinct personality, but as an artist this is just another non-harmful way to express yourself.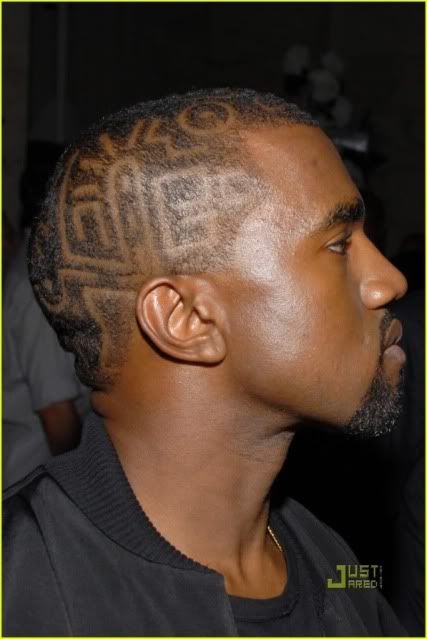 Kanye West (side view)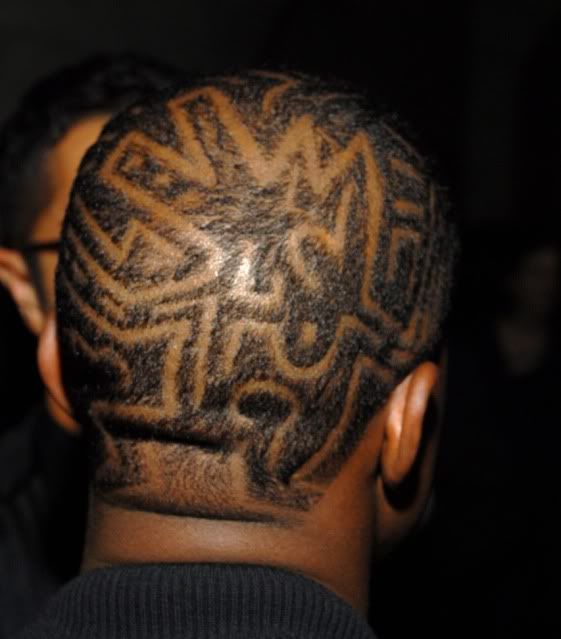 Kanye West (back view)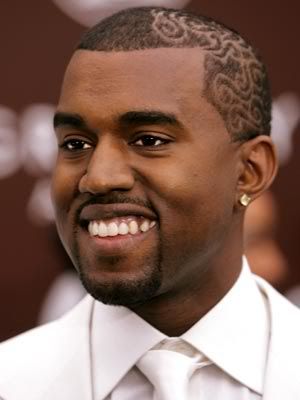 Kanye West with artistic swirls cut into his hair.
This design was only on Kanye's left side.
John Legend
keeps his hair is small twists. If you want this look it's best to go to a salon. Depending on your hair-texture you can get a similar curly look with a texturizer or a conditioner that brings out the natural curls in American of Color/African-American hair.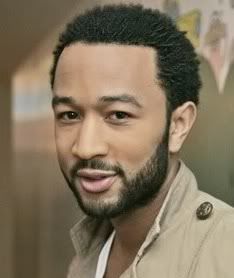 John Legend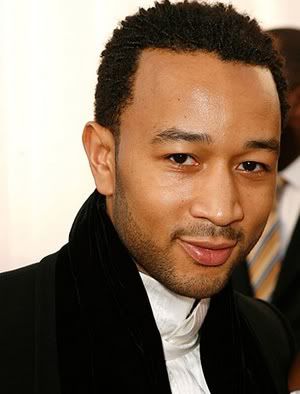 As you can see John's hair is usually the same,
he only makes changes to the thickness of his beard.

Ludacris.
Very-low afro-fade, with strategically cut side-burns.
———————————————————————————-

Asian/Pacific-Islander/Indian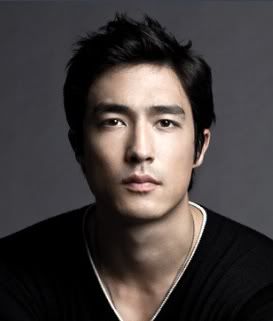 Actor Daniel Henney (from X-Men Origins Wolverine)
I honestly can't get enough of this guy, he's so hot (sorry guys, lol), and his hair is always perfect. He's definitely a good source of hair inspiration for men with a similar hair type.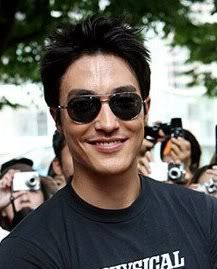 Daniel Henney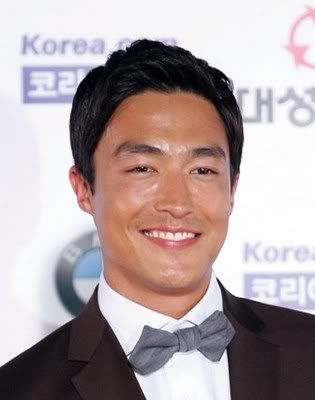 Daniel Henney

I love his hair here. Simple, elegant, and extremely healthy. Doesn't his hair look extraordinarily healthy, he should be endorsed by a men's hair care line.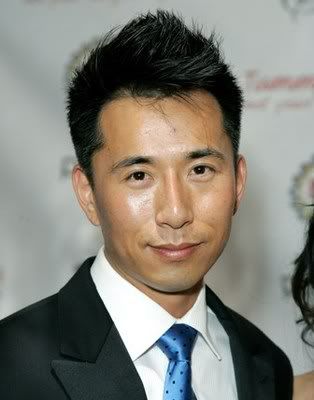 Actor James Kyson Lee (from Heroes)
The faux-hawk is still a fashionable hair-style of choice, it just doesn't have the impact that it once did since every other fashion forward guy wears one.


Daniel Dae Kim (from tv show LOST)
I often find that a person's hair looks best when they work with the natural texture of their hair.

Daniel Dae Kim

Aziz Ansari
Do you guys ever watch him on NBC's
Parks & Recreation
? . He's hilarious, and makes the show in my opinion. If he wasn't on it I most likely would not watch it. (I randomly discovered the show one day on Hulu when I needed something extra to watch– and just like
Community
it grows on you.)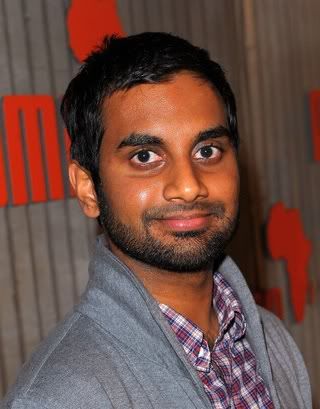 Aziz Ansari
I'm a fan of his simple low-cut. It's low-maintenance (depending on how fast your hair grows) and stylish.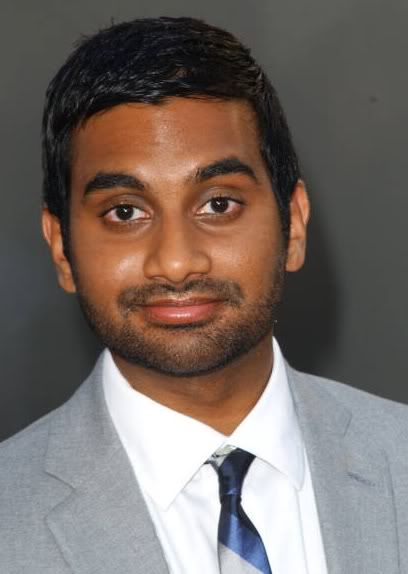 Aziz Ansari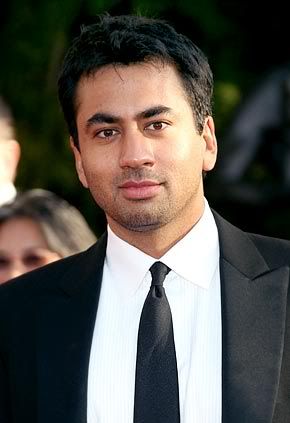 Kal Penn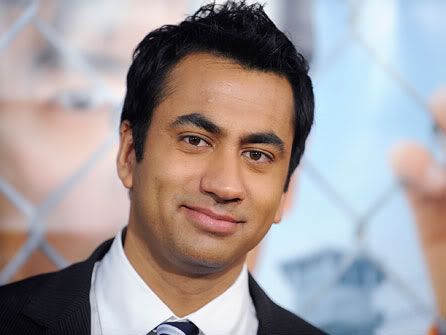 Kal Penn sports a very subtle faux-hawk.
———————————————————————————-

European American/Caucasian/Latino

Ed Westwick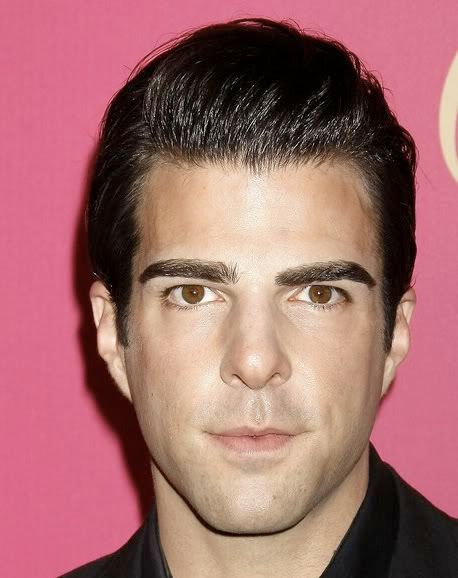 Zachary Quinto
A perfectly styled short and straight hair cut, that forms a small pompadour. His eyebrows seem to be shaped as well. If you have bushy eyebrows try to keep them tame and neatly trimmed.

Robert Pattison
So this is vampire hair I suppose, nah I'm kiddin. He does however resemble Wolverine, lol, hmmm? I really do like his hair though– all-over messy bed-hair combed back a little. Actually, maybe I don't like this…. I like the hair I'm just not sure if this is the best cut & style for his face though. (sigh) Okay, I do like it on him, but it just looks better from afar it appears overly done up-close.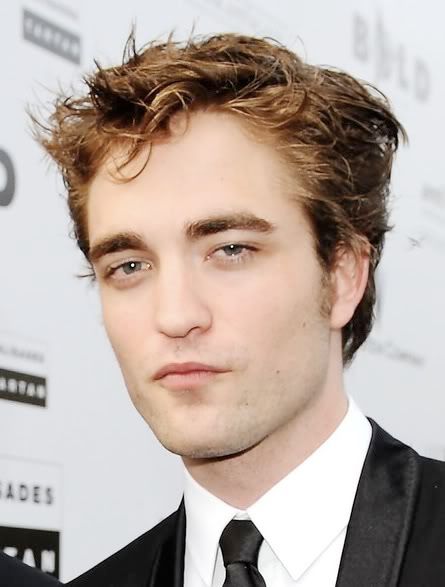 Robert Pattison
It's as if the style above just fell.

Johnny Depp
I'm not a fan of this hairstyle, for some reason, it often time comes off as creepy or strange. However, people like Johnny Depp can get away with it.

Russell Brand
Keeps his hair long with loose natural curls.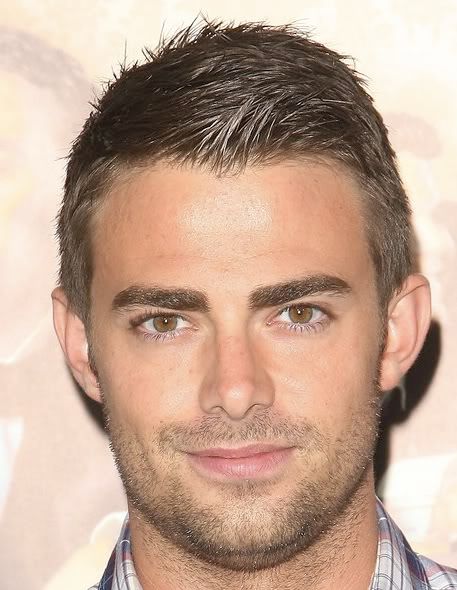 Jonathan Bennett

Matt Damon with his usual tapered/crew cut.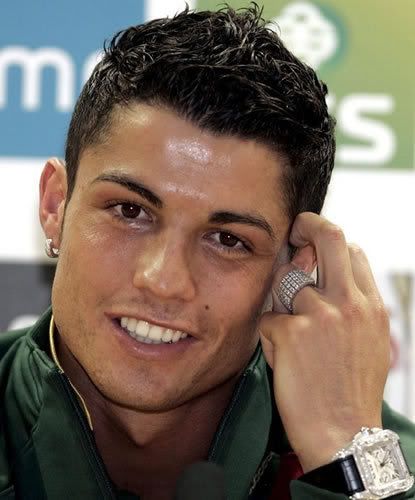 Soccer/Futbol player
Ronaldo Cristiano
reminds me of
David Beckham
when it comes to his hair, he's had an assortment of hairstyles over the years. Here he wears a slightly curly faux-hawk.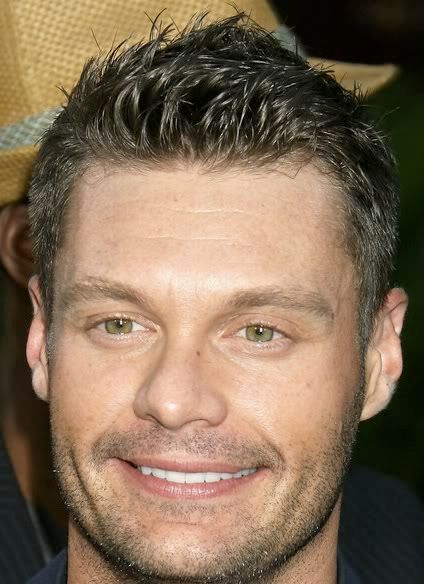 Ryan Seacrest is probably one of the originators of the spiked hair trend.

Taylor Lautner

David Beckham
He's had every hairstyle in the book from short crew cuts
to mohawks to faux hawks, as pictured above.
Even if you aren't going to a family gathering or holiday party, these photos can help inspire a new-look for 2010. Have you been rocking your hair the same way for the past few years? If so, it's time to switch it up. Find your favorite hairstyle above, print this page out, and hang it on your mirror or wall just so that the idea of the new cut can properly sink in (maybe ask a few friends how they think the hairstyle would look on you), then when the time is right, take it to your barber and try it out.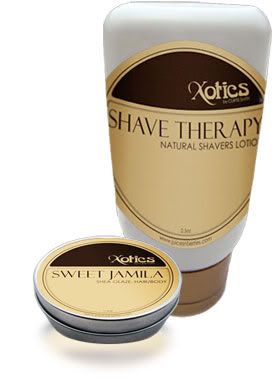 Hand made products the leave the hair and skin smooth and moisturized. Used by celebrities like Diddy, Usher, Ne-Yo, Nelly, and Dwayne Wade. The shave therapy soothes skin after shaving and can easily be used as a total body shaving creme.
Noted benefits of Sweet Jamila:
– Adds moisture and strength to hair (perfect as a leave in condition.)
– Helps against breakage and give hair body & manageability.
– Rich in vitamins A, D, and E, and omega-six that tones the skin.
– Reduces fine lines and wrinkles.
– Soothes dry, abused skin and protects against moisture loss.
– Works as an antioxidant and natural sunscreen.
Purchase both products at janellebeauty (they are now sold out).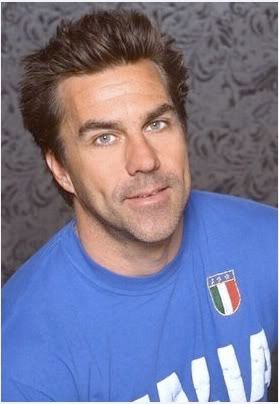 Hi guys,
One grooming issue that I have somewhat neglected is "the hair"– I know it's easy for me to say get a nice haircut and keep it clean, but sometimes you guys want a little bit more. Well, thanks to the good folk at Gillette, I had an opportunity to interview celebrity hair stylist,
Mitch Stone
. He has styled for the cast of major Hollywood films like
Angels & Demons
,
Tropic Thunder
,
Bobby
,
X-Men: The Last Stand
, and
8 Mile
(you know, Eminem's movie)– just to name a few.
Hopefully you will get a few good tips that you can implement into your hair routine.
—THE INTERVIEW—
So what is a typical day like in the life of Mitch Stone during this time of year?

Mitchell:
Well, crazy usually:) It is a busy time of year. I have been doing interviews, identifying and talking about trends and doing shoots!
Which celebrity's hair have you styled?
And of them all who is your favorite to work with and why?
Mitchell:
Too many:) But, my favorite male celeb to style is Ewan McGregor – he is professional, humble and just a great human being! As well as Al Pachino , he's a blast! And I love to work with Sean Penn very much..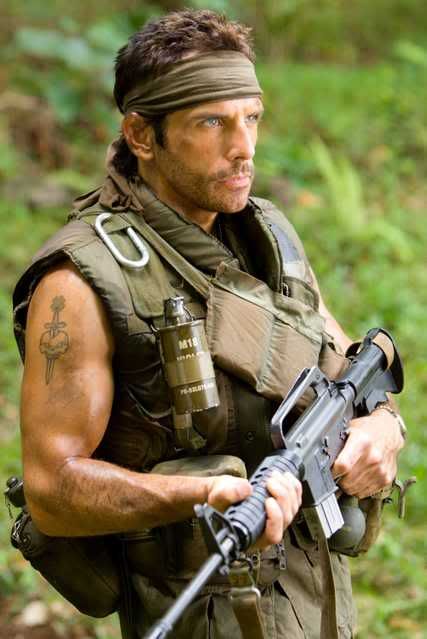 Ben Stiller in Tropic Thunder

I heard you were the hairstylist for Ben Stiller in Tropic Thunder, that movie was hilarious… how was it styling for such a funny guy? Any good stories from days on the set?
Mitchell: I loved watching the whole gang work together! I will say that shooting in Kaui for 4 months was very difficult in terms of weather relating to hair. I would have LOVED it if the Gillette styling products were out then because they last long and cover the bases for so many different types of hair, in so many different climates, ie: humid, beach, hot, cold:)
It's award season for the stars and it'll soon be prom season for alot of young guys, what styles do you recommend for black-tie/special events… What are popular styles for the stars on the red carpet?

Mitchell: Well, I really have been seeing a modern 40's look – shorter on the sides with a bit of tousled length on top like Robert Downy Jr., Zack Efron, and Josh Brolin. The length can be locked into place (perfect for Prom) by using a gel (like Gillette Power Gel ) on towel dried hair with a dash of spray to quicken the dry time. Then keep your hands out of it:)
What tips can you offer for the lazy or extra busy guy, that doesn't want to spend time on his hair- you know the type that pretty much just rolls out bed and goes…What's the absolute bare minimum all men should do for their hair?
Mitchell
: All you need to do is shower, grab a dollop of product, emulsify for a few seconds – which is basically rubbing it between your hands to warm it up — distribute throughout…and walk away!
A couple of years ago a lot of the male celebrities would have highlights and frosted tips- is that still in? What are the "in" hair styles for men these days?
Mitchell
: Not sure who or why highlighted and frosted tips came to be, but thank god they are no more!
IN styles are short, defined and textured
like Daniel Craig in James Bond. There's also the never die Faux Hawk, or just the handsome, short, parted Brad Pitt, George Clooney look. Again, the 40's modern version – shorter on sides, longer on top, handsome and sexy rolled into one!
What types of food can my urban gent add to their diet that would help them to maintain healthy hair?
Mitchell:
Anything green! Colloidal minerals with Trace elements
, which are found in organic fruits and vegetables! Watch you hair and nails grow like a weed!
A lot of my readers spend a good bit of time in the gym, should they take any hair extra precautions?..
Mitchell:
Dont get it caught in the treadmill.
Also, make sure to wash with a deep cleaning shampoo after a work out, to really remove the dirt and oil.
Can you give some general hair maintenance tips for different hair textures.
Straight hair:
Keep it trimmed up, it will stave off the stringy look!

African-American hair (more curly and textured textured):
Keep a good conditioner around and stay away from oily products.

Asian hair
(thick hair): Use a silicone type product to keep it shiny and smooth (and Gillette Sculpting paste to add texture! )

General curly/wavy hair:
Gillette Mess Constructor to keeps it in place, but with a matte finish. Make sure you use a good conditioner often too!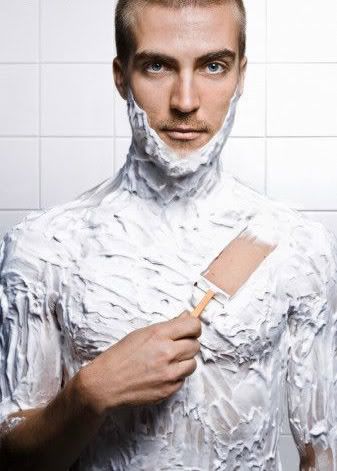 There are many options to removing your unwanted hair….
Please note: Most African-American males have to put more care into shaving. Here's some shaving advice for African-American males… (this mainly is for facial hair).
Applying a shaving lotion after shaving will reduce the appearance of redness. This is also great for women after shaving legs, bikini lines and underarms.
Be sure to always use a clean blade when shaving with a razor. This can be best achieved by only using new blades and discarding ones that have been previously used three or more times.
If you use an electric razor, replace the rotary blades or foil after a few months. Of course if you're required to shave daily, you may have to replace them sooner. This can be a headache since many rotary blade components cost more than half of what the entire razor is worth.
While shaving with a handheld razor, always shave in the direction of hair growth. Most hair on men's faces, slant downward, so be sure to shave in that direction. This is also important around the neck areas since shaving against the grain is one of the main causes of pointy, sharp hairs that can burrow back into the skin.
Don't stretch your skin while shaving. Pulling your cheeks, chin or neck while shaving in order to get a closer shave, can cause darkness and discoloration of underlying skin tissue. This is especially true for light and fair-skinned Black men who have dark, prominently textured hair.
Watch what you eat. A lot of skin irritations may subside if certain foods are avoided. Fatty foods, foods containing oils, cholesterol and sodium, can make your skin more susceptible to damage while shaving.
Give up on razors and use a depilatory. Depilatories work well on most skin, but not on all. They can remove facial hair in a matter of minutes, but just like blade shaving, can cause a bit of irritation and redness. Be careful not to use alcohol-based aftershaves or creams immediately after using a depilatory. Mixing the two is like throwing flames onto your face.
Grow a beard. This may not be the best solution for those required to shave daily, such as the military and other business professions. But if you can swing it, why not? You will totally eliminate the razor bump worries and ingrown hair issues. Even better, you can get rid of those sharp blades!
More advice (some tips may repeat).
• Always use a sharp razor blade and discard old blades after 4-5 uses. You might think this is excessive, but dull blades force black men to go over the same area of skin again and again, increasing the chances of irritation and improperly cutting hair. This goes for electric razors, too: replace the blades after every few months of use.
• Reduce your number of shaves by shaving every other day. Giving the skin time to heal will allow hairs to grow straight through the skin's surface, without forcing too-short hairs back into the skin. Frequent shaving too close to the skin will trap hairs inside the follicles.
• Exfoliate! Exfoliating with a gentle scrub removes the top layer of dead cells and allows hairs to grow out more easily. It also helps soften skin, clears pores and evens out patchy skin tones.
• Many African-American men benefit from using a single-blade razor, or a DE razor. One doctor said, "I highly dissuade patients who suffer from razor bumps from using triple or quadruple blade razor systems. The closer the shave, the worse the razor bumps will be."
• Always shave in the direction of hair growth. While shaving upward seems to give a closer shave, shaving in the hair's direction reduces irritation and the likelihood of hairs growing back into the skin. Don't pull skin taut when shaving since this can also cause ingrown hairs to form.
• Soften hairs before shaving by massaging warm water into the beard area and then applying a professional-grade, highly-lubricating shave creme. Allow it to sit on the face for a minute or two to completely coat hairs before shaving.
• Follow a shave with an after-shave solution that contains hydrating ingredients like aloe, witch hazel and tea tree extract like a post-shave repair creme to cut down on redness and discomfort. Stay away from products that contain alcohol since this can dry skin out and provoke an ashy appearance in black skin.
• Resist the urge to simply pluck ingrown hairs out. A new hair will just grow again, and you'll be facing the same exact problem.
• Most importantly, take your time when shaving. Everyone's been guilty of the 30-second shave on Monday morning, but shaving slowly and with care can dramatically reduce nicks, cuts and abrasions that can aggravate razor bumps.
• If you find that you are suffering from severe cases of inflammation or razor bumps, talk to your doctor or dermatologist. You may be a candidate for electrolysis (a low-level current is used to destroy follicles) or skin depilatories (chemical creams that soften and minimize growth).tips via menscience and mybrotha
Don't forget to moisturize as well- especially in the winter.
"Bald is Beautiful" – Jay-Z
When I first learned of Jay-Z and Diddy waxing there private areas, I thought it was pretty funny. I thought to myself "Okay Diddy- I can definitely see that, but Jay-Z iounno that's a little much". But at the end of the day I do know guys that shave in places that are typically only shaved by women and swimmers. I can totally see why men would do it- cuz no chick wants her man to look like Chewbacca down there, lol, but waxing??? Waxing just seems like it would be too painful for men. . . I mean c'mon putting hot wax down there ripping off the hair- pretty graphic picture, huh? I can just feel pain. . . I mean most women can't even do it because of how painful it is.

Remember that scene from The 40-Year-Old Virgin? When Steve Carell's character got his chest-waxed? Soooo painful! I just can't see why a man would wanna go through that, but I guess Beyonce and Cassie prefer their men hairless. . .
Let's be real no one's surprised that Diddy gets bikini waxes
Check out this excerpt I found from one site:
*
Men Brazilian Waxing
is a hair removal on everything in your bikini, two sides, genital, testicles, gap between the butt and anus with wearing a paper thong. Leave you completely nice and clean, smooth and silky feeling. With a Brazilian wax, you'll never have to worry about "escaping tendrils" again.
A Brazilian wax is not something you should undertake at home; it's definitely a professional procedure. You'll never be able to reach all the spots and crevices a professional can, and really, wouldn't you rather have somebody else making sure you're perfect?
If you think you want to try to be baby's bottom smooth you should try to choose products that won't irritate your skin. I would recommend using whatever you see your mom and/or sister uses- if they have really good skin. There's an Australian wax called Nad's for Men Hair Removal Strips that is a favorite. You can find it on Amazon for the low.
Check out there
website
So, let's be real guys- do you shave down there? Would you wax down there? I have to know your thoughts on this interesting topic.