It's the beginning of the year and the coldest part of winter is about to hit. So, we wanted to suggest a few under coat layering options. I styled 3 looks on TUG ambassador Ben Swann to pay homage to early 1900s America, mixing hard edge workwear with southern sensibilities.
A Man's Winter. So what is a man's winter? It's stylish, yet simple. Detailed, but not ostentatious. It's a layered tribute to his favorite styles. And it provides the opportunity to showcase his entire essence in one glance.
1: Desert Bixby
Faded desert palette meets good ole boy. Stag Provisions, the company that provided our threads, is a Texas based company, so we mixed in a of bit southwest flavoring for the first look. The sandy coloring of the entire ensemble, the shirt pattern, and of course the desert boots gives us SW. While the shawl collar sweater, argyle socks, and fedora gives us classic casual 1950s southern gentleman.
I especially love this look without the cardigan… its so simple and refreshing. Although many of us naturally wear dark colors in the winter, lighter hues display beautifully in crowds full of humdrum gray and black apparel.
WINTER COAT: This look should be paired with a classic peacoat – navy, olive, tan, or beige.
Scroll the options below:
STYLE DETAILS: Universal Works Olive Shawl Cardigan; Alex Mill Horizontal Donegal Shirt; Save Khaki Slub Twill Jeans; Yellow Luke Fedora; Clarks Desert Boot; Timex Weekender Watch; Garrett Leight Harding Sunglasses; Wooden TUG Pinback; Vinatage Beaded Bracelet; Bronze Pin.
It's no secret that fashion can be pretty cyclical, and the 90s are making a huge comeback in casual streetwear at the moment. I'm not talking about pagers, mood rings, or rolling up one pant leg. Think ripped jeans, flannel shirts tied around the waist, snapback caps worn backwards, and Starter jackets. Yep, those jackets you probably had as kid are cool again.

Beyond being on-trend, they're a really cool way to rep your city or favorite sports team. So when I had the chance to visit Chicago for the first time, I wanted something that paid tribute to this great city and its legendary basketball team. The Chicago Bulls Starter jacket became my uniform while exploring the streets. As we walked from the Virgin Hotel to the SkyDeck to Millennium Park with the Cloud Gate, more popularly known as the "Bean", the "Windy City" lived up to its name, but I was warm in my jacket. We passed through shops, the Chicago Theater, and Costel Iarca's art gallery, and the satin finish of the jacket helped me stand out without being flashy.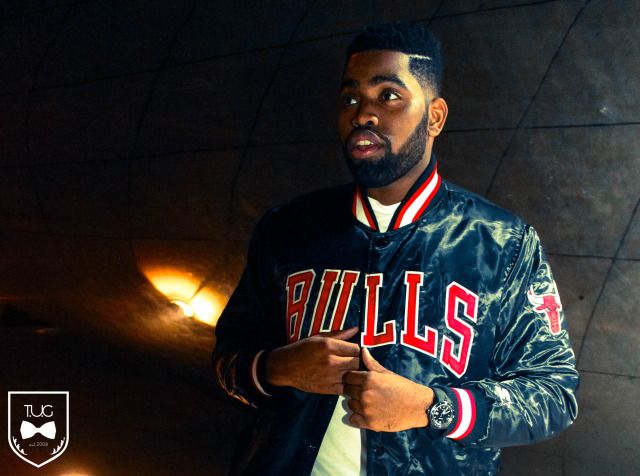 The company's latest collaboration, Starter x VILLA, is a collection of four capsules highlighting a mix of college and NBA teams. Needless to say, my favorite is the all black Chicago Bulls 72-10 Jacket. Check out the collection here, and tell us which is your favorite in the comments.
C.I for The Urban Gent
We've vowed to do 3 profiles for our Men of USA, first we had White Collar's Neal Caffrey, second Covert Affairs' Jai Wilcox, and lastly we'll cover Suits' Harvey Specter (played by Carnegie-Mellon graduate, Gabriel Macht). Harvey Specter truly is the epitome of high-life living, and its constantly shown in the series, take the last episode for example– not only was he perusing around in a new Mercedes S-Class, but one of the guest characters commented on his "$12,000 suits".
He dresses like I expect modern day men in power to dress– widespread and cutaway collars dress shirts, thicker tie-knots (none of that skinny sh*t), double vented suit jackets, and suits that aren't slim, but just very well tailored (so they're often confused as "skinny"). oh and lets not forget he sports more ticket pocket suits than any other TV series character I know, and he likes a 3-piece suit every now and then.
Get Harvey Specter's Wardrobe Fashion and Style below:
Not too long ago, we covered the undeniable great stylings of White Collar's Neal Caffrey (Matt Bomer). Another USA star, whose style is pretty impressive is Covert Affairs' Jai Wilcox, real name Sendhil Ramamurthy.
I remember writing the Men's Hair Guide that displayed hair inspiration photos of several celebrities with various hair types. Moreover, I remember getting a comment from one T.U.G fan who was a little disappointed in the examples of Indian stars, saying he wanted better examples… I guess Kal Penn and Aziz Ansari wasn't cutting it, lol. It was an understandable comment, although let me just once again express how magnificently hilarious Aziz Ansari is– who doesn't love that guy? But anyway… Senhil Ramamurthy, though not initially on my radar has made his way there after I watched an episode of Covert Affairs. And he, dear T.U.G fan who wanted better examples of indian-american hair, is quite the dapper gent… Sendhil has plenty of hair examples for you to indulge in. Matter of fact before going on about his style, let's have an interlude to check out a few of his past hair styles/hair cuts…
Great grooming, huh? There's plenty more photos below.

Chicago-born, Texas raised Sendhil Ramamurthy definitely has a very relaxed, casual sense of style. Perhaps that's brought about by his Indian roots or even likelier, it's a side-effect from all that tennis playing (he's a great tennis player). Either way most of the time you will find Sendhil in a crisp pointed-collar button-up modern-fit blue or gray suit, and of course– no tie ( yes he's one of those guys who prefers to forgo a tie). Similar to his red carpet looks, when Sendhil is playing Jai Wilcox, former Yale Lacrosse players, on Covert Affairs he's often styled in navy or gray modern-fit suits as well, but with matching ties of course.
It's been said that Sendhil Ramamurthy is a very private person, so the paparazzi barely ever catch him out, but when they do he's often sporting a simple polo (sometimes Louis Vuitton), medium-blue wash denim, baseball cap, and shades (he's a fan of Lacoste eyewear).
Get Sendhil Ramaurthy Style below:

More Photos Below —> CONTINUE READING MORE >>>