Not too long ago, we covered the undeniable great stylings of White Collar's Neal Caffrey (Matt Bomer). Another USA star, whose style is pretty impressive is Covert Affairs' Jai Wilcox, real name Sendhil Ramamurthy.
I remember writing the Men's Hair Guide that displayed hair inspiration photos of several celebrities with various hair types. Moreover, I remember getting a comment from one T.U.G fan who was a little disappointed in the examples of Indian stars, saying he wanted better examples… I guess Kal Penn and Aziz Ansari wasn't cutting it, lol. It was an understandable comment, although let me just once again express how magnificently hilarious Aziz Ansari is– who doesn't love that guy? But anyway… Senhil Ramamurthy, though not initially on my radar has made his way there after I watched an episode of Covert Affairs. And he, dear T.U.G fan who wanted better examples of indian-american hair, is quite the dapper gent… Sendhil has plenty of hair examples for you to indulge in. Matter of fact before going on about his style, let's have an interlude to check out a few of his past hair styles/hair cuts…
Great grooming, huh? There's plenty more photos below.

Chicago-born, Texas raised Sendhil Ramamurthy definitely has a very relaxed, casual sense of style. Perhaps that's brought about by his Indian roots or even likelier, it's a side-effect from all that tennis playing (he's a great tennis player). Either way most of the time you will find Sendhil in a crisp pointed-collar button-up modern-fit blue or gray suit, and of course– no tie ( yes he's one of those guys who prefers to forgo a tie). Similar to his red carpet looks, when Sendhil is playing Jai Wilcox, former Yale Lacrosse players, on Covert Affairs he's often styled in navy or gray modern-fit suits as well, but with matching ties of course.
It's been said that Sendhil Ramamurthy is a very private person, so the paparazzi barely ever catch him out, but when they do he's often sporting a simple polo (sometimes Louis Vuitton), medium-blue wash denim, baseball cap, and shades (he's a fan of Lacoste eyewear).
Get Sendhil Ramaurthy Style below:

More Photos Below —> CONTINUE READING MORE >>>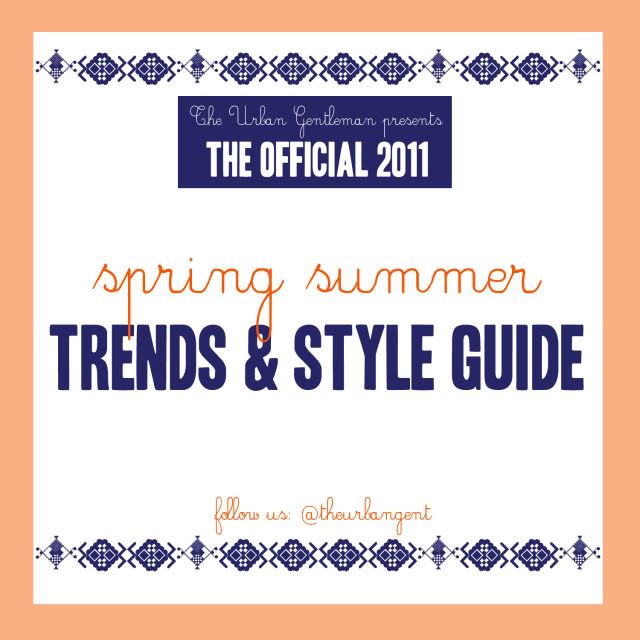 The world of men's fashion has really matured over these past few years, and the trends certainly reflect that. Baggy to extra-skinny to "fits just right", no accessories to over accessorized to "masculinely accessorized just the right amount", but best of all I feel like we've finally managed to combine the styles of different cultures and decades to create a sort of modern day celebration of men's fashion. And this season's trends continues this celebration…
Presenting The Official Men's Spring Summer 2011
Fashion, Trends, & Style Guide.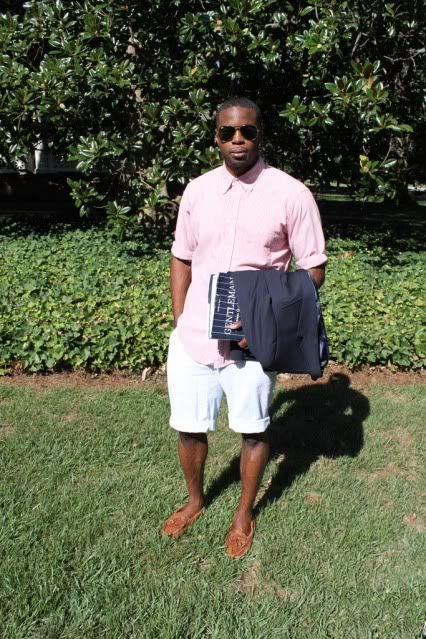 Insouciant Prep. We've been internationally prepping it out for a minute, and now it's just our lifestyle so we can be more relaxed with it. You don't have to be bow-tied, striped socked, oxfords with matching vest and pocket squared-up for every single look. Keep it simple– button down with rolled up sleeves, shorts with a print of some sort, and deck shoes or loafers worn sockless.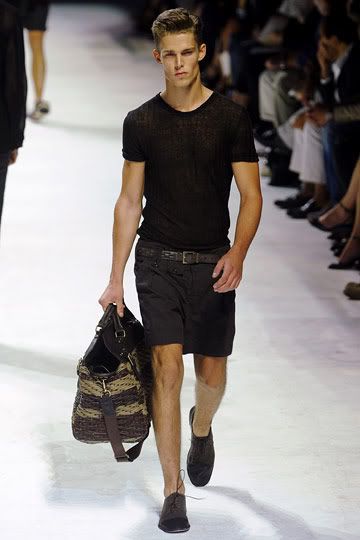 Dolce and Gabanna

Summer Black. Even more consistent than white, designers flooded their Spring Summer 2011 shows with black. Simon Spurr, John Varvatos, Louis Vuitton, Burberry, Y-3, Balenciaga, Yves Saint Laurent, Jeremy Scott and the list goes on. So when you're feeling "New York" or just a little moody– as Jay-Z said, opt for "all black everything", black shirt, black shorts, all black everything.
Get the Look: SUMMER BLACK look book, HERE.
Michael Bastian

City Refined. It's simple classic urban gentleman type dress, but adapted to the summer sun. Basically being spiffy and immaculately well-groomed wherever you go. Casually wearing well-tailored suits more than the average guy, loafers and oxfords even in casual settings. Double breasted blazers and crew neck shirts, paired with trousers that show a little ankle and shoes that compliment.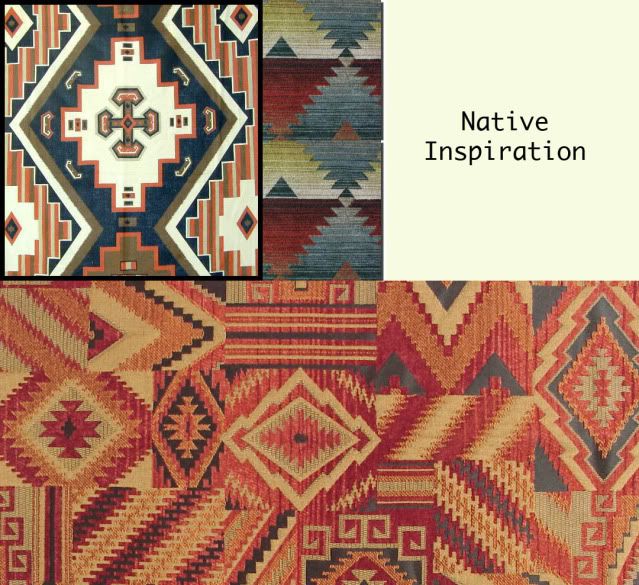 Native Inspiration. Whether we're talking cowboys and indians or Aztec, Mayan, and Inca civilization being inspired by the natives of North, Central, and South America is probably my favorite trend of the summer. The fashion elite, both male and female, have made native prints their new plaid. And because of its lack of being in many designers collections (for men) and the sheer fact that many folk just don't know how to coordinate native prints, you won't see everyone walking around in it (which is a bonus). The best way to approach this trend is to keep it simple by focusing on collecting specific native pieces– a vintage Navajo print blazer, an Aztec patterned rucksack, even a bolo tie.
MORE TRENDS & ESSENTIALS BELOW –> CONTINUE READING MORE >>>
For your "on the go, I need to know" conveniences we created the Men's Fall Winter Trends Pocket Guide. That included this seasons must-haves for any and all stylish gents. Now we'll get a bit more specific. So go ahead, and bookmark it…

The Urban Gentleman presents

2010 – 2011 Fall Winter Fashion, Style, and Trend Guide

All-American Workwear. We're pulling up bootstraps and going to work. This ain't for the wannabe's or pretty boys its for the men that have work to do, have success on the brain and are taking steps to do it… wait a sec, that got kinda preachy. Okay, but seriously All-American Workwear is about the work ethic frame of mind in that hardworking American way… so that means all the labels for this look have to say "made in USA". USA made classic boots and sneakers, khakis, denim, creased pants, monochromatic tones that closely mimic the attire of hardworking Americans- like mechanics, railroad workers, cattle-herders (yea, I said it), etc. But we just add a few refined Urban Gentleman touches.
Get The Look:
More of this tomorrow.

*****
The Schoolyard Kid aka The Prep. Inspired by the new Ivy Style of our Schoolyard Wardrobe, this guy is the walking spokesperson for, "The Official Prep Handbook", but with a new age Urban Gentleman twist. He doesn't mind showing a little ankle in the summer, and in the Fall he knows to stock up on a variety of socks to keep warm (and stylish).
Get The Look:
For more ivy style / prep / schoolyard kid.
*****
90s Steez. It's like this, everything cool about the 90s is all we wanna sport from the boxy denim jackets, to the not cool then, but are cool now shirts… we're even rockin' the hairstyles—that means the parts, Kid 'n' Play boxes, and Zac Morris haircuts. Color blocking, opposing patterns, cross colors, 90s cartoons gear, did I already mention denim?, shirts tucked in, and most things signature early-mid 90s. We'll be bringing you a sweet taste of this next week.
Get The Look:
*****
Plaid and Selvedge. And the plaid goes on, we've just upgraded its bottom half. As mentioned in the Fall Winter Men's Fashion Pocket Guide… it's almost a "go premium, or go home" situation these days. Obviously its not That serious, but every gent has to have atleast one pair.
Get The Look:
*****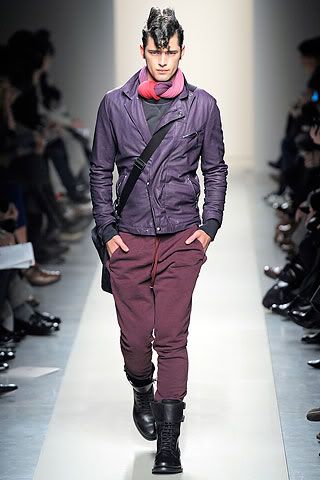 Urbane Wanderer. This guy is a dreamer, he's on a mission to greatness and he's slightly hush about doin' it. He probably carries a rucksack (equipped for life's travels). You probably know his wardrobe– he invests in few articles of clothing… because almost everything he wears is specific, sometimes meticulously chosen: his jacket, his beaten up boots, his signature hat, maybe his scarf. He collects pinbacks, he likes classic vintage things, and really respects those with good style.
Get The Look:
photos by: The Urban Gentleman, (mechanic: the sartorialist.blogspot.com), runway: nymag.com

Okay, we have something more to hold you guys over until our, well, "surprise."

We've created a Mini Pocket Guide for
Men's Fall|Winter 2010-2011 Trends and Styles
. This covers a few basic fall & winter trends that all
Urban Gentlemen
should know…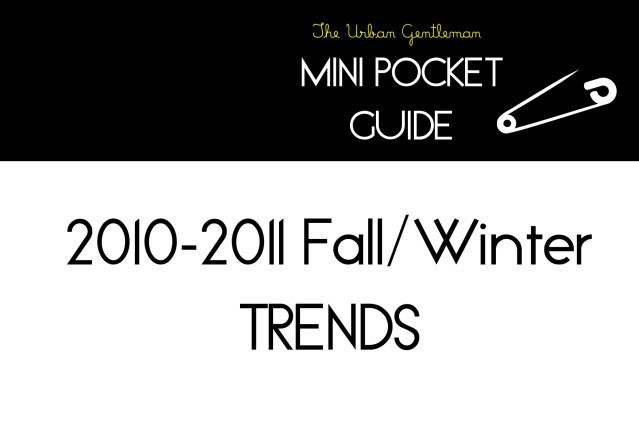 Crew necks:
You may or may not have noticed the change, but designers are slowly switching back to the classic crew necks and moving away from the wide scoop necks and trendy v-necks. Of course you can still do a slight V if needed, but a classic crew will suit you, and all your masculinity, best.
Selvedge Denim: Everywhere I go, I find myself getting into "deep" conversations about selvedge denim… people are obsessed, some are a bit too passionate (usually the newbies), but it's understandable. Be sure to invest in atleast one pair of selvedge denim.

MINI Lesson on Selvedge Denim: "What is Selvedge/Selvage Denim?"
Selvedge denim is basically premium denim, its the crème de la crème of the denim family. "Selvedge" describes the way the fabric is produced. The denim is made on a shorter loom, making the time to create them longer. In a pair of selvedge jeans you can actually see where the weaving stops and is finished by the loom… long story short: if you flip a pair of selvedge jeans inside out you can see the production and "self-edged" finish. The quality is higher, the fabric is heavier and more durable, and more thread is used to create them. Some companies mark their jeans on the selvedge with a woven stitch in a certain color. Some even mark the inside selvedge line with their company's name.
What folks love most about selvedge denim is that you can "wear them in" yourself- so no fake wear marks (even though these days some companies will scuff em a bit). Within 6 months of wearing them the jeans will customized to your body… some will argue longer times, many people wear their's for a year without washing to "completely" break them in… honestly the "breaking in" time all depends on how often you wear them.
***
Classic Boots: Whether it's vintage or workwear inspired, you must have a pair of quality classic boots. Some may go with duck boots, others may opt for chukkas, while the manliest will be keen on rugged utility boots. Choose your favorite brand and style in a color that fits your wardrobe and make it your staple. Or choose several to increase your fall and winter footwear options.
Hint Of Camo:
You heard it here first. Just give em a hint of fatigue this fall and winter. Unless you're a solider, we need not see you in all over army fatigue… not yet anyway. Just a hint… a jacket, socks, a bag, whatever you like.
Canvas: Whether you sport a canvas backpack, watch, or jacket… its the chosen material for so many stylish things these days.
Stay Tuned for the Complete Guide.