The Urban Gent x H&M

We never got a chance to announce it, but earlier this summer H&M asked us to contribute to their style guide, here's the feature (it was up on their website August/September):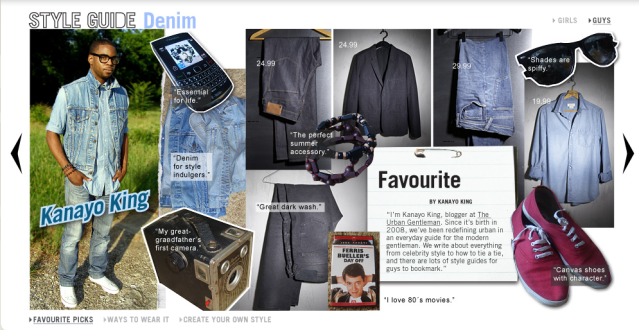 Pretty cool, right? Thanks for the feature H&M! When building one's wardrobe on a budget, H&M is a great store to shop at to find the latest trends, visit them
here
.
H&M x The Urban Gentleman 2010 Style Guide featuring Kanayo King
I've recently become an avid reader of your blog and I appreciate all of your tips, caveats, and suggestions regarding men's fashion and style. With that said, I was wondering if you could opine on color theory with respect to fashion/putting outfits together. I have a hard time coordinating (as opposed to matching) colors and patterns (What should I wear my baby blue Dunks with? (or) What can I wear with a fire red pique polo?). At the end of the day I just end up looking like a monochrome. Help! lol.
Answer:
Thanks for reading the blog! Okay, so you have an issue with coordinating and matching colors– there are many things you can do to overcome that minor glitch:
1. Match/coordinate 2 colors at a time- one neutral (navy, black, khaki, brown, gray, white) and one color- yellow, blue, red, orange etc.
2. Fashion and art coincide and there are certain colors in art that "match" or "belong together"- purple and yellow, green and red, blue and orange- those are complementary colors. You can wear different shades and tints of those colors together.
3. Then remember that there are color families like brights, emeralds/jewel-tones, pastels. For example, all pastel easter egg type colors will coordinate because they have the same light tone. Colors like burgundy, hunter green, navy, plum purple, burnt orange, and deep gold (aka old gold) will coordinate well, as will basic crayon-box colors- red, green, blue, yellow.
4. There are also colors that coordinate or go together because they represent a certain season or country and we see them over and over again: red, white, and blue -or- yellow, black, and green -or- red, green, and black -0r- purple, silver, and black -0r- burgundy, white, and heather grey… there are a plethora of these combinations.
With keeping all of that in mind, you will more easily be able to match patterns and designs. For example, if you have a hunter green striped button up- you can pair that with dark khaki pants (neutral) and a navy or burgundy cardigan (same deep color family) -or- you could pair it with navy trousers and a plum or old gold cardigan… and with this color family brown accessories opposed to black usually look best… so brown loafers, brown belt. These are often the colors traditional, old-english, ivy type designers use.
Another technique to keeping your colors cohesive and stylish is by adding a splash of color (sometimes opposing color) to a neutral or one shade palette. For example, if you're wearing black and white you'll add a splash of red, sherbet orange, hunter green, or whatever color you like -or- if you're wearing all red you can wear one yellow piece.
You can also do this with patterns- if you're wearing a navy plaid shirt and navy pants you can add an electric purple sweater, or shoes, or bag… This can also be used for shades/tints/tones- if you're wearing all jewel-tone colors- turquoise, emerald purple, etc then you could wear one pastel piece.
All in all go with the colors that feel right. Color evokes a particular mood and its always good to pair the same moods together. If you're wearing a happy yellow, pair it with a happy blue and happy green. If you're a bit shy of colors then follow the sapuer rules of 3 principle– never match more than 3 colors at a time… I think that's a good rule for everyone because few people are able to successfully match more than 3 or 4 colors.
So baby blue dunks or fire red pique polo?
– Baby blue dunks with rugged stonewash jeans, and a light yellow polo or a graphic tee that has yellow and baby blue.
-Fire red pique polo with purple baggy skinny jeans, and shoes that have some red or purple in them -or- if you're more fashionable then wear a pair of blue high-tops that match in tone.
You just have to try out different color combinations- look at them in the mirror and see what you like. Also watch the men's runway shows and see how designers pair colors.
And don't worry about looking too monochromatic this season because its in

Here are a few photos:

here i've paired a plaid shirt with purple jeans.
The shirt consists of two main colors- red and blue. when you mix red and blue what color do you get? purple. This is an easy technique to use to coordinate colors- white, black, and gray -or- yellow, blue, and green -or- blue, white, and light blue, etc etc.
etro spring 2010
If you need help matching patterns, textures, and colors- just go through Etro's past collections. No one coordinates patterns like Etro.… so many colors, and styles you'll learn alot by just spending a few hours browsing their collections: 2005-2010. Their color and pattern palette is very bold, so you may not agree with the looks they create- it may be too overwhelming for some you, but look past that and focus on the coloring- it's quite beautiful.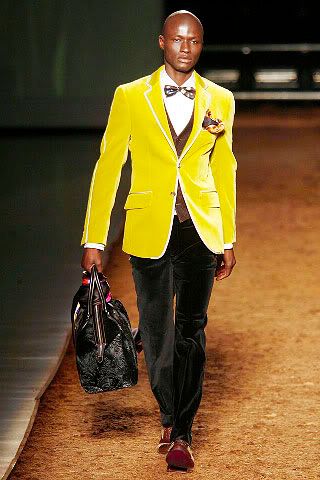 etro fall 2008
For a more traditional color palette, look through Ralph Lauren's past collections.
Also check out the Local Urban Gentlemen- they do a superb job at coordinating.
And here's a few more photos I pulled from the Urban Gentleman archives: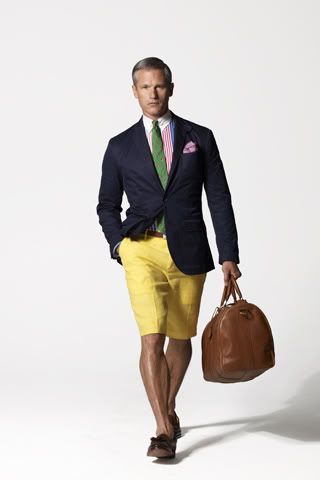 his color palette is basically gold, white, black (= gray)
then he adds splashes of colors with the blue shoe string
and purple croc murse.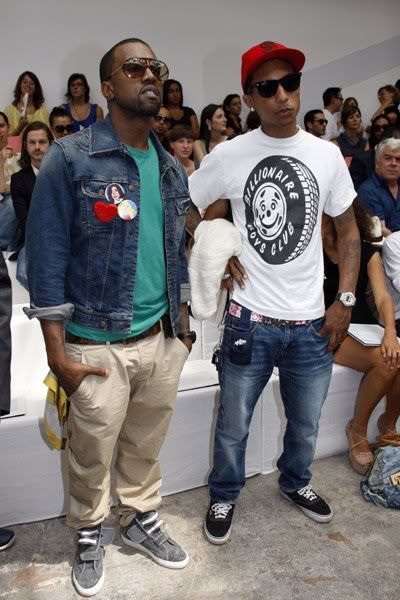 this picture isn't the best to show for an example, but its good enough.
pharrell-
note his basic coloring, then pops of color with the red hat and belt.
kanye-
he's working with a nice color palette- mixing neutrals- gray, khaki, and jean, then a pop of color with the green. he wears brown accessories- belt and shades.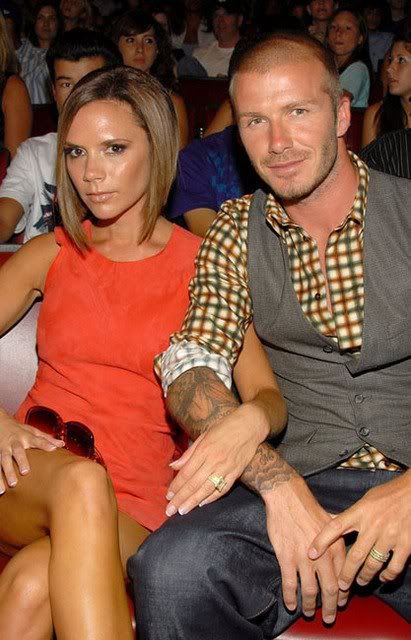 there's nothing like having a pretty lady to match your fly 😉
david and his wife victoria coordinate flawlessy (without being too
matchy matchy). their color palette is sort of autumn-like.
burnt-orange, basil/olive green, warm gray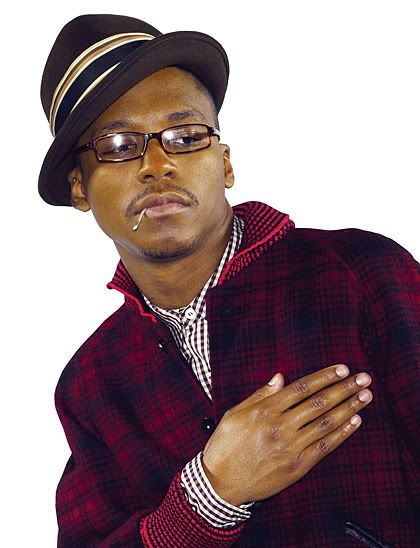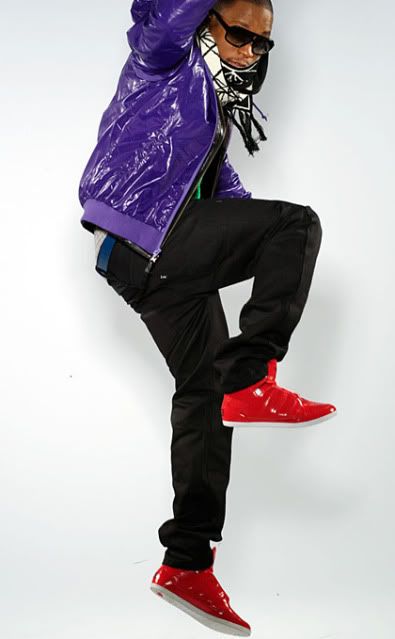 this is where texture and color come into play.
coordinating colors are easiest when you also match the texture.
here lupe sports patent leather jacket and shoes
both are crayon box colors- red and purple.
black is usually a great neutral for crayon box colors.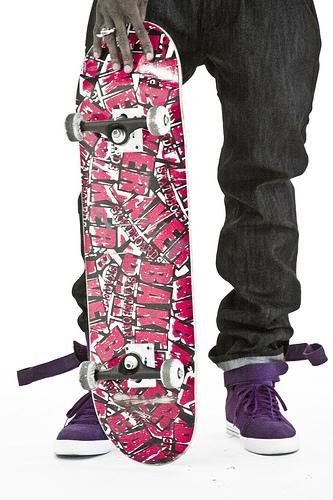 First, let me start out by saying I think skaters are cool– they just are. I had a friend who dated a skater once… a few times last year we went to Union Square (New York) and watched her bf and his friends skate (in this randomly blocked off area). It was fun and the guys were really chill. It seems to me that skaters are the new "rockstars" of sorts… they're cool, get loads of cash from sponsors, everyone wants to be like them, and the list goes on. There are alot of great skaters out there: Jereme Rogers, Terry Kennedy, Paul Rodriguez, Stevie Williams, Ryan Sheckler, etc etc. But today I will only focus on two of the "skater kings":
Terry Kennedy
and
Jereme Rogers.
For those who aren't versed on the skater world- you may know Terry Kennedy from his dramas with ex girlfriend Angela Simmons- yeah Rev Run's daughter. And Jereme Rogers well his recent
mushroom shenanigans
has lot of people shaking their heads laughing, but you also may have seen have him hanging with rockstars like Travis Barker on occasion.
Quicky Bios:
Name:
Jereme Rogers
Hometown: Boston
Years in the game: Four (pro)
Signature trick: Backside flip
Name: Terry Kennedy
Hometown:Long Beach, California
Years in the game: Seven (pro)
Signature trick: Fakey stuff down handrails
I think it goes without saying that the typical skater style is… the stereotypical hip-hop style. I say stereotypical because these days most categorical "hip-hop" artist dress preppy or "
urban prep
" or they just do their own thing- which could mean wearing suits or dressing like a nerd. The baggy jeans, graphic tees, fitted hat, and bling bling can truly only be seen in movies or tv shows, on certain rappers, and on skaters kings.
Up first….
Jereme Rodgers
: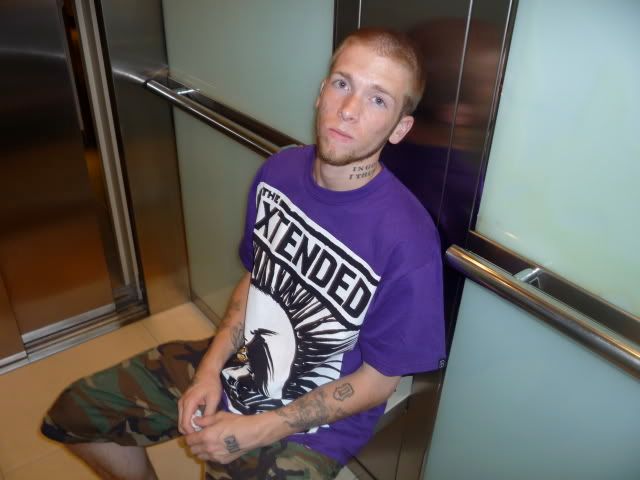 Jereme reminds me of some of the guys I went to high school with. He just seems like he's really laid back and always up to have a good time.

Terry Kennedy
Terry is seemingly one of the freshest skaters alive with his blinged out grills, chains, and he even has his own line of shoes and apparel-
TK Fly Society
by Supra. His shoes have been worn by the Fall Out Boys, Lil Wayne, Heidi Klum, and Souljah Boy just to name a few.
Overall, to get their looks it doesn't take too much:
graphic tee + baggy jeans + fitted hat + fresh kicks (Supra) + blinged out necklace = The Pro Skater Look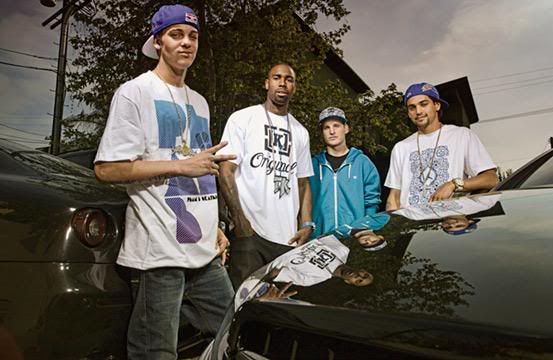 Popular brands
among
pro skaters
range, but they usually wear the threads of their endorsers plus whatever they feel is hot: DVS Shoes and apparel, Supras, Fly Society, KR3W clothing, Famous Stars and Straps, BBC, Nike SB, Nixon watches, RS by Sheckler, New Era fitted hats
Where to buy these brands? … they all have a website.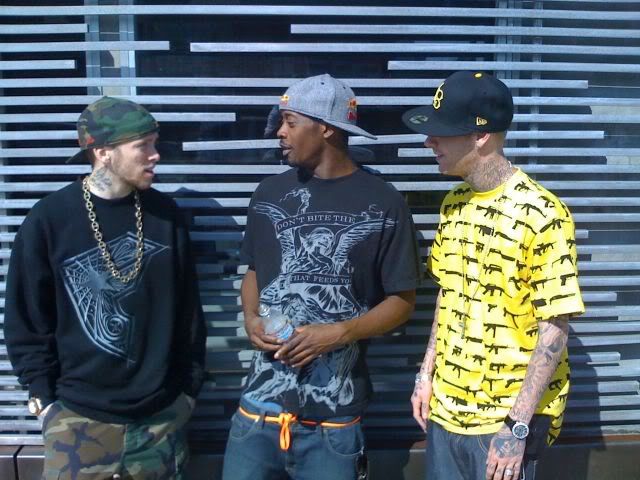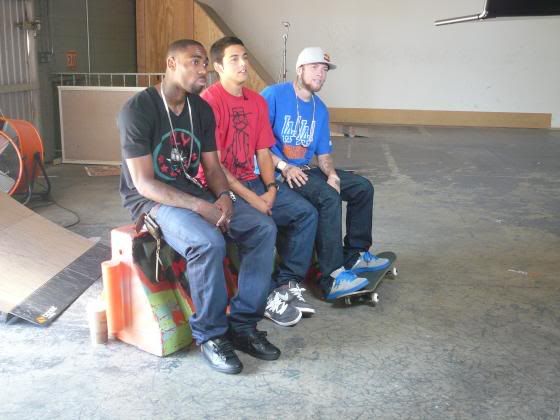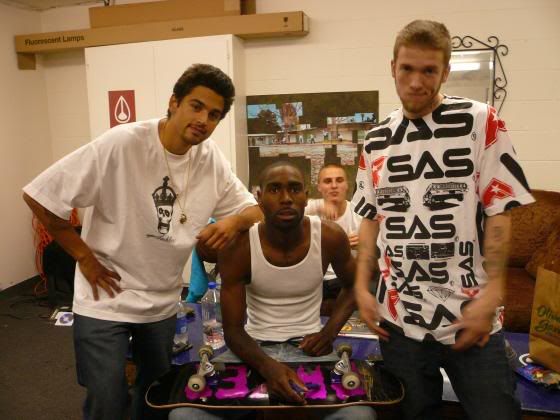 Both guys along with buddy Paul Rodriguez have a website called SK8SITE (go figure). And on it it has everything a skater fan could possibly want… videos, photos, event info, etc etc.
So what's your take on skater style?
Long time overdue. I've probably gotten an email a day asking me to post up information on what I think you guys should wear for the spring and summer… this should have been posted in late February/ early March,
buuut
its cool because global warming has many of us still feeling winter on certain days… spring on others… there have been days in Atlanta and NYC in which I felt like I experienced every season and type of of weather within ONE week…. But anyway, we have about another 5 (maybe 6) warm months to look forward to and my list of spring/summer looks will have you guys fully prepared.
(<—- I wrote that in April,

geeez

I really don't why I procrastinated with this article,

lol

… anyway its here,

yay

!)
There's nothing more refreshing than seeing Americans go back to the basics. Focusing on simplicity and ease, the "Farmer's Delight" look is the spring version of the
blue-collar worker.
.. but instead of dressing like you're working in factories and coal mines you dress like you're about to plow the cornfields.
Get the Look: Plaids, gingham, stripes. plain tanks, suspenders, rolled up jeans and sleeves, khakis and cords, fedoras, grandpa reader glasses… combining rustic colors and bold solids work best.
Designers for this look: Paul Smith, Junya Watanabe, Z Zegna
Wayfarers, band jackets, and ripped jeans- its time to party, let's Rock n Roll! Retro Bandstand is a mixture of the 50s/60s and 80s… think James Dean "Rebel without a Cause" meets Michael Jackson "Thriller" plus a bit more… let's add The Beatles in the mix too.
Get the Look: Alot of denim- ripped and worn, retro glasses, basic shirts and basic color combinations mixed with overly glamed or basic band jackets. Everything you wear should be well fitted.
Designers for this look: Gucci, True Religion, BBC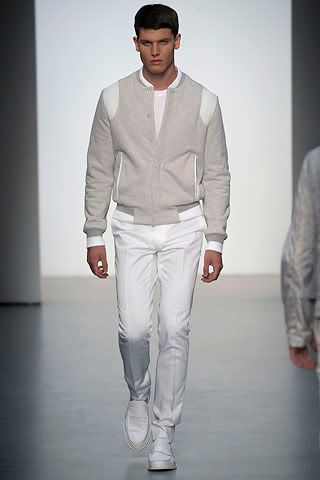 *Pale Ambitions:

Spring's

Monochromatic
Earlier this year I wrote about the monochromatic trend that has been showing up in many designer collections over the past 3 seasons -and- upon trendsetting stars. Well, Spring's Monochromatic seems to revolve around 3 main colors: khaki, grey, and white. Keeping it clean and simple for spring is the high-fashion thing to do.
Get the Look: Flat front pants, light blazers, windbreakers that look like baseball jackets, basic tees, man capris (lol, sounds sort of funny to say that), and skinny ties. To take this look to another level pair your khaki/grey/white with a pastel sorbet color (ex. pink, green, yellow.)
Designers: Calvin Klein, Alexander McQueen, Lacoste
"You look like you don't care, yet your work is impeccable." That's what people will say when you rock this look. This is the new-baggy… no it's not gangsterish instead it's care-free and beggarly. It's all about seemingly oversized clothes that may leave some mistaking you for being destitute (but don't worry it's only a mistake).
Get the Look: Harem pants, exaggerated cardigans, loose fitting button-ups, and wide leg trousers. This trend can be best accomplished with visiting your local thrift store- just one visit to a Salvation Army and you'll atleast have 2 articles of clothing to rock.
Designers: Junya Watanabe, Bottega Veneta, Burberry Prorsum
Barack Obama has inspired us all. He has even inspired people who have, well, completely hated America for atleast 8 odd years to have hope in the US of A once again. Many designers have candidly said that Mr.President has had alot to do with their design choices these days, some even creating logos based upon their renewed since of patriotism (i.e Justin Timberlake/William Rast). The point is– we're proud. So rockin' red, white, and blue has Neeever felt sooo good.
Get the Look: loafers with no-socks, ray-ban clubmasters, polos, leather goods (belts, shoes, watches, murses/manbags ), canvas shoes, khakis, baseball jackets, you should always look like you're about to go sailing or to a barbecue.
Designers: Ralph Lauren, Marc Jacobs, Michael Kors
Some people are tired of the bold bright colors and seemingly random pairing of styles from opposing decades. Their answer: Technically Polished. This look is Exactly how it sounds… hair should be perfect, facial hair well-groomed, suits perfectly fitted, obvious matching, and very clean straight-line silhouettes.
Get the Look: Keep it simple. Nicely fitted blazers and suits, satin ties, loafers and lace-ups, light colored button-ups, and white pocket squares. Combine black with a light neutral color.
Designers: Tommy Hilfiger, Louis Vuitton
* original Urban Gentleman trends
+men.style.com inspired.
__________________________________
Best Designer for this Seasons Trends:
Band of Outsiders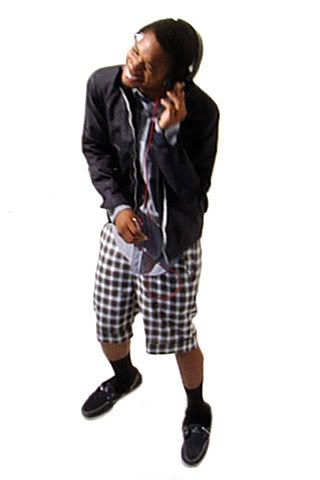 They cleverly combined many of this seasons freshest looks: Mr. America, Clodhopper, Retro Bandstand all covered, and they even used Charles Hamilton in their ads to boot!
(DSqaured came in a close second, followed by Gucci.)
Best Star to watch for this seasons Trends:
I Hate to be
soo
cliche, but
Kanye

West
.
Well, no I can't say him because it's way to cliche' so I'll say,
Zac

Efron

.
(And to be honest they're both neck and neck…
with a slight edge to

Zac

because he just seems so amazingly cool.)
Whether he's premiering a movie or cruising around Hollywood with girlfriend Vanessa
Hugdens
,
Zac
Efron
is always sporting the latest trends.
Must-haves for the Spring/Summer
:
– plaid shirt
– wayfarers or the modified wayfarer (aka "the lady gaga glasses)
– jean jacket or light weight baseball jacket
– canvas shoes
– worn or ripped jeans
– a pack of quality white tees
– gold jewelry is still hot on the scene
– consider putting a "ring on it" with a silver knuckle ring
The thing I love most about these trends- they're RECESSION PROOF. Over half of these trends can easily be created by simply taking a trip to your own closet… perhaps depending on your closet. Everything else can be found at a variety of stores– from Target to Bloomingdales, Salvation Army to TJ Maxx or Filene's Basement.